Rainbow Tissue Paper Craft for Kids
Posts may contain affiliate links, meaning that I may earn a commission if you use a link provided.
Do your kids love rainbows? This rainbow tissue paper craft is definitely perfect for them. Not only is this rainbow kids craft fun and easy to make, but it's super affordable as well. Also, it's the kind of kid's art project that will take a bit of time to make, which makes it an excellent activity for a rainy day.
You can find almost all the supplies that you need for this project at your local Dollar Tree. Sometimes they even carry the canvases. If you don't have a Dollar Tree, consider Walmart. Walmart has a large selection of craft supplies at great prices. Either way, this rainbow tissue paper craft can be made for next to nothing.
Let your kids have fun picking out the shades of colors they want for their rainbows. It's a great way to teach children the colors of the rainbow, but who says they can't use pastel colors or even tissue paper that has glitter on it?
This colored tissue paper craft is so easy that kids of all ages can do it with a little help. Once your kids have made a tissue paper rainbow, think of other shapes they could make using this method. You could make the shapes as intricate as you want, depending on the age of your child. For example, the next project might be a tissue paper hot air balloon.
Even if you don't plan on doing this rainbow tissue paper craft with your kids right away, it's fun to take ideas and create little kits with all the needed supplies. Then, when you do need a rainy-day activity for the kids, you've will have a fun arts and crafts project all ready to go.
Rainbow Tissue Paper Craft Materials:
Tissue paper in a variety of colors
Small white canvas
White school glue
Pencil
Cotton balls
Rainbow Tissue Paper Craft Instructions:
With your canvas in a horizontal position, draw a rainbow shape from the bottom of the canvas off to the left and near the middle, all of the way towards the top right corner and running off the canvas. This will create the look of a rainbow running off of the canvas. This is just a rough guide and will be covered up with tissue paper, so do not worry if your lines are not perfect. You can view the photo for reference on how to create this shape.
Tear small strips of tissue paper and roll them into balls in the palm of your hand. Do this with one color at a time.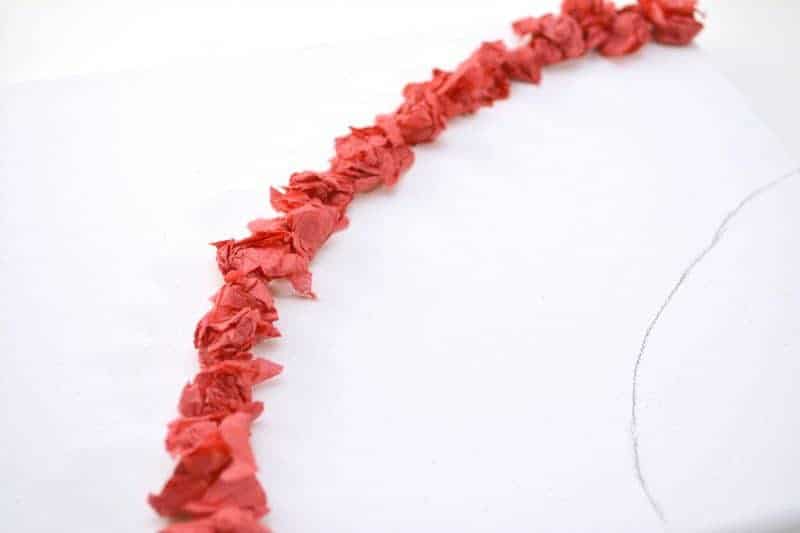 Use white school glue to create a thin line of glue on the outside edge of the rainbow shape you have drawn.
Press a single color of tissue paper balls in a row on the line of glue you just put down on your canvas.

Repeat steps 2-4 with the remaining colors of tissue paper, until you have filled in the entire rainbow shape you had drawn on your canvas.

Gently stretch out a few cotton balls to form puffy clouds.

Use glue to attach these cotton ball clouds to the bottom of your canvas where the rainbow shape starts.
Shop Rainbow Tissue Paper Craft Supplies:
Elmer's School Glue 12 pack
Medium Sized Cotton Balls (Pack of 500)
Tissue Paper, Assorted Colors, 100-piece
8×10 in. White Canvas, Pack of 10
More rainbow crafts you might enjoy:
Pin for Later: