Posts may contain affiliate links, meaning that I may earn a commission if you use a link provided.
Pepperoni bread is going to become your new go-to appetizer, snack, or easy dinner. Roll out store-bought bread dough and layer it with pepperoni and mozzarella cheese slices. Brush with an egg, sprinkle some Italian seasoning over the top, and bake it until it's golden brown. It's perfect on its own or dipped in warm marinara sauce!
If you enjoy this cheesy pepperoni bread, you're sure to love my pull-apart hot Italian sliders — perfect for game day or a family gathering. Or why not start your day with this yummy crescent roll breakfast pizza? For a cozy dinner, nothing beats my kid-friendly pizza pasta casserole.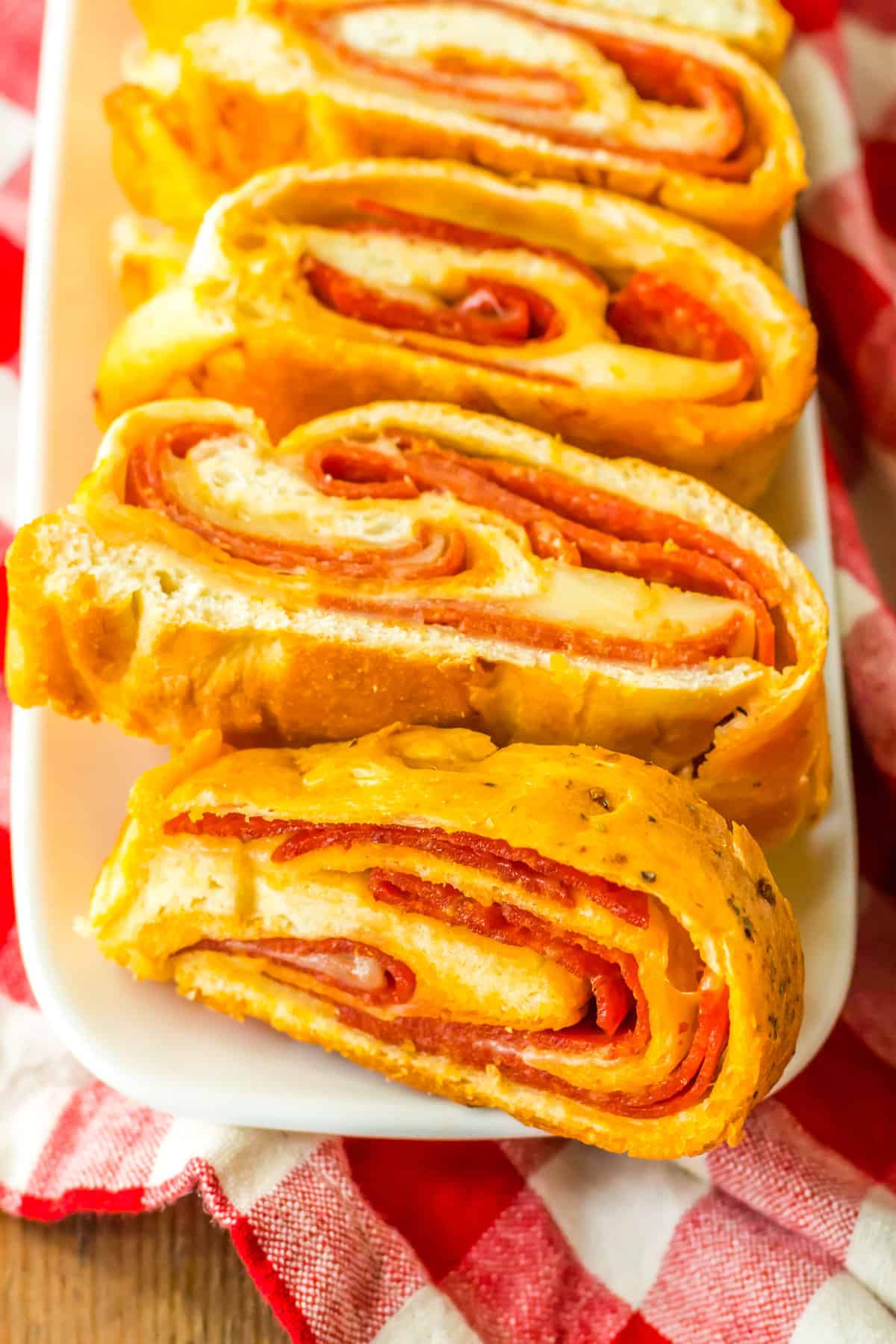 Get ready for a fun twist on pizza night with this tasty pepperoni bread recipe. It's so easy and starts with frozen bread dough that's thawed, rolled out, and layered with zesty pepperoni and melty mozzarella cheese.
This yummy bread can be an appetizer or a main course when served with a big green salad. Pair it with marinara, pizza sauce, or tangy ranch dressing for dunking for a new family favorite.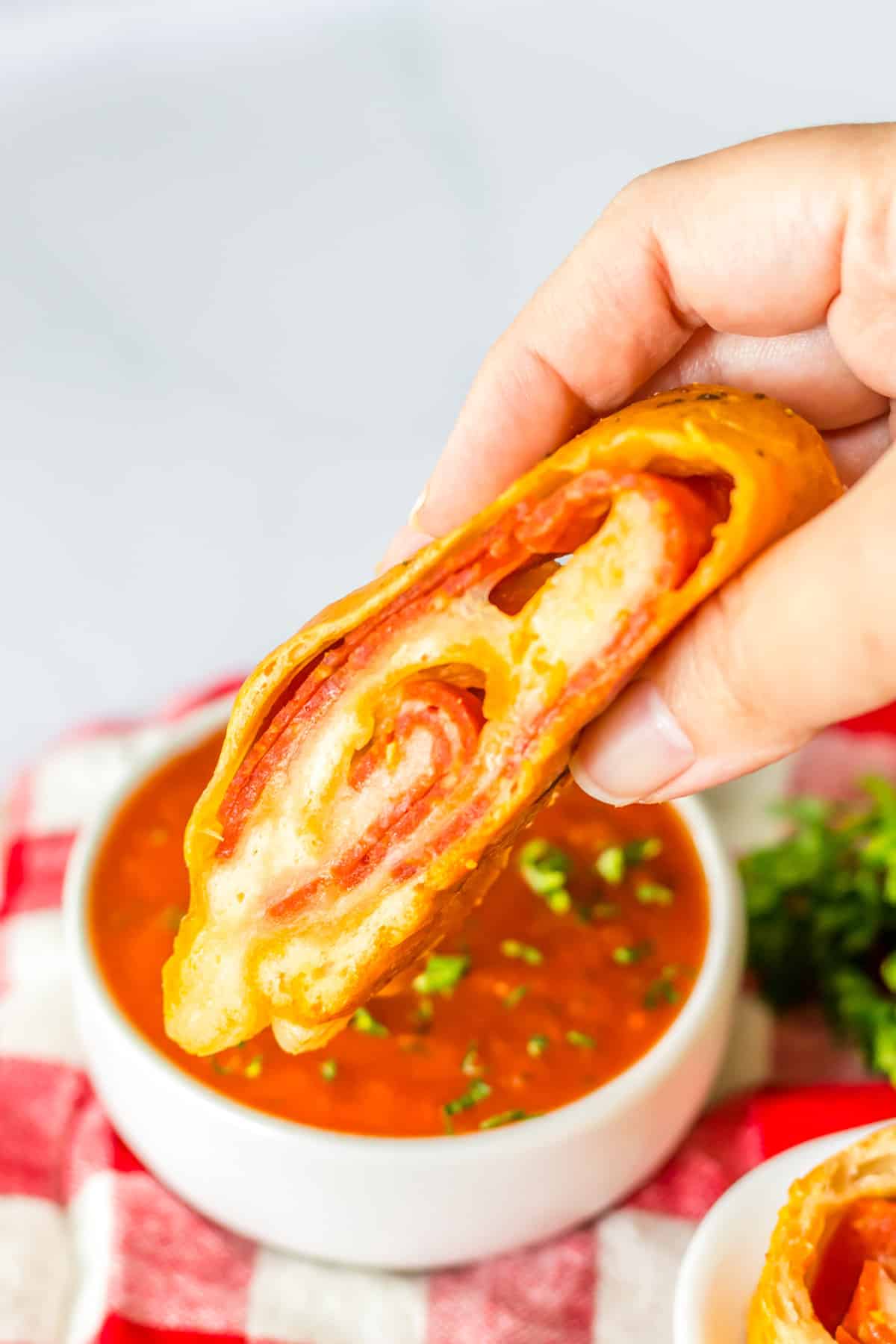 It's a great finger food for parties or game days when you need a crowd-pleaser that everyone will love. Plus, if your kids get tired of sandwiches in their lunchboxes during the school year, this easy pepperoni bread is the perfect alternative. It tastes excellent even cold!
Ingredients for Pizza Bread
This section includes ingredient notes and substitution options. Get all measurements, ingredients, and instructions in the printable recipe card at the end of this post.
Let's get started on this easy recipe. Here's what you'll need: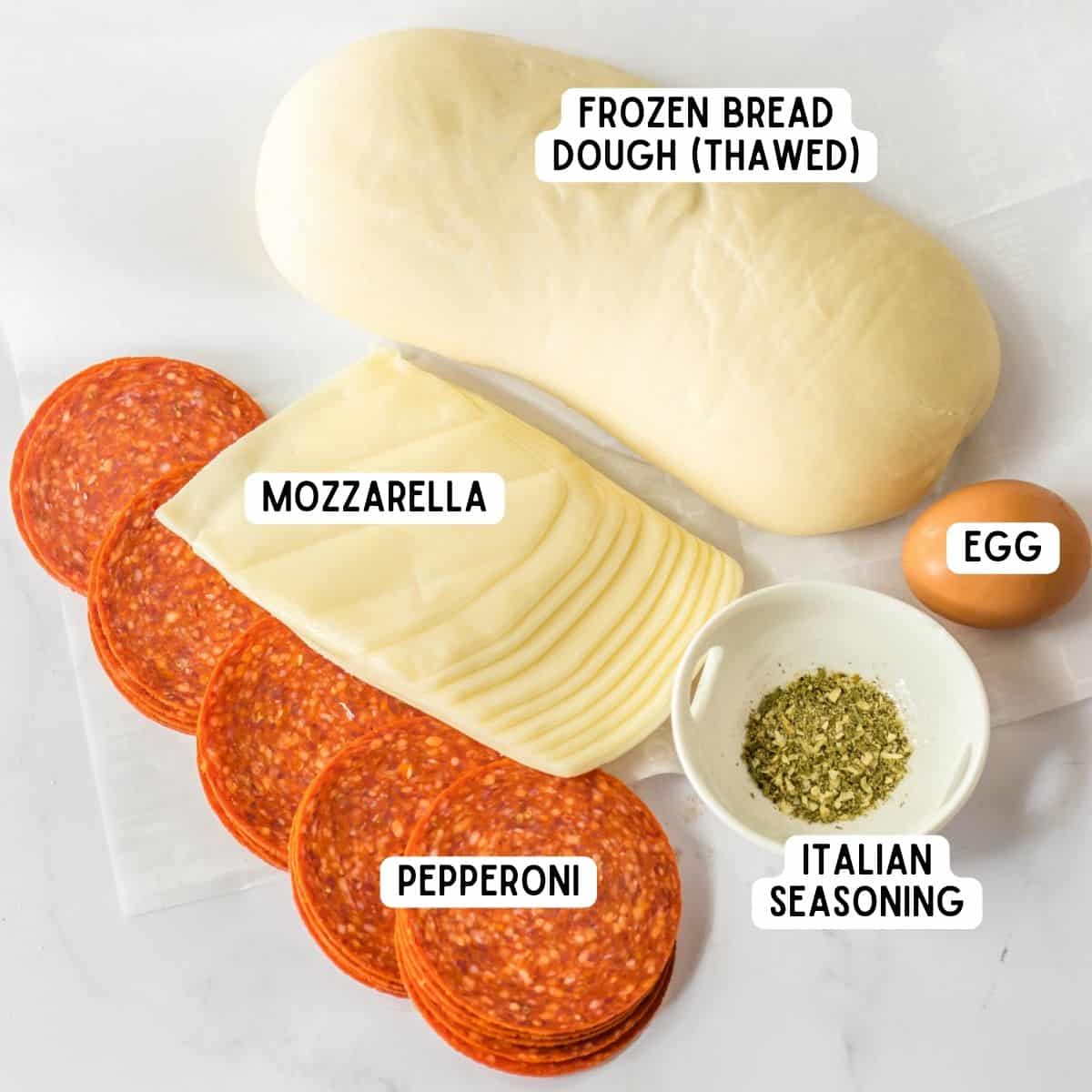 Frozen Bread Dough — Make sure the loaf of bread dough is completely thawed before proceeding. This is a quick and convenient option compared to making dough from scratch, but you can use your favorite homemade bread dough if you'd like.
Sliced Pepperoni — Savory and slightly spicy, slices of pepperoni are what give the bread most of its flavor. Don't skimp on the pepperoni!
Sliced Mozzarella Cheese — Sliced mozzarella is easier for building your pepperoni bread, but shredded mozzarella (about 2 cups) works, too. You can also substitute sliced provolone.
Egg — Brush a little egg over the bread before putting it in the oven so it gets nice and golden brown on top.
Italian Seasoning — Use store-bought Italian seasoning or make your own with basil, oregano, rosemary, thyme, and marjoram. Pizza seasoning is a great alternative.
Pizza Sauce or Marinara Sauce — This is optional, but it's great for dipping the bread in. I don't recommend putting it inside the loaf of pepperoni bread, but rather using it as a dipping sauce.
Equipment Needed
Ready to make this pepperoni bread recipe? Grab these kitchen tools to get started:
parchment paper
baking sheet (sheet pan)
rolling pin
measuring spoons
How to Make Pepperoni Bread
This section shows you how to make the recipe with step-by-step photos and instructions. For the full printable recipe, see the recipe card below.
Step 1: Heat the oven to 350°F, and line your sheet pan with parchment paper.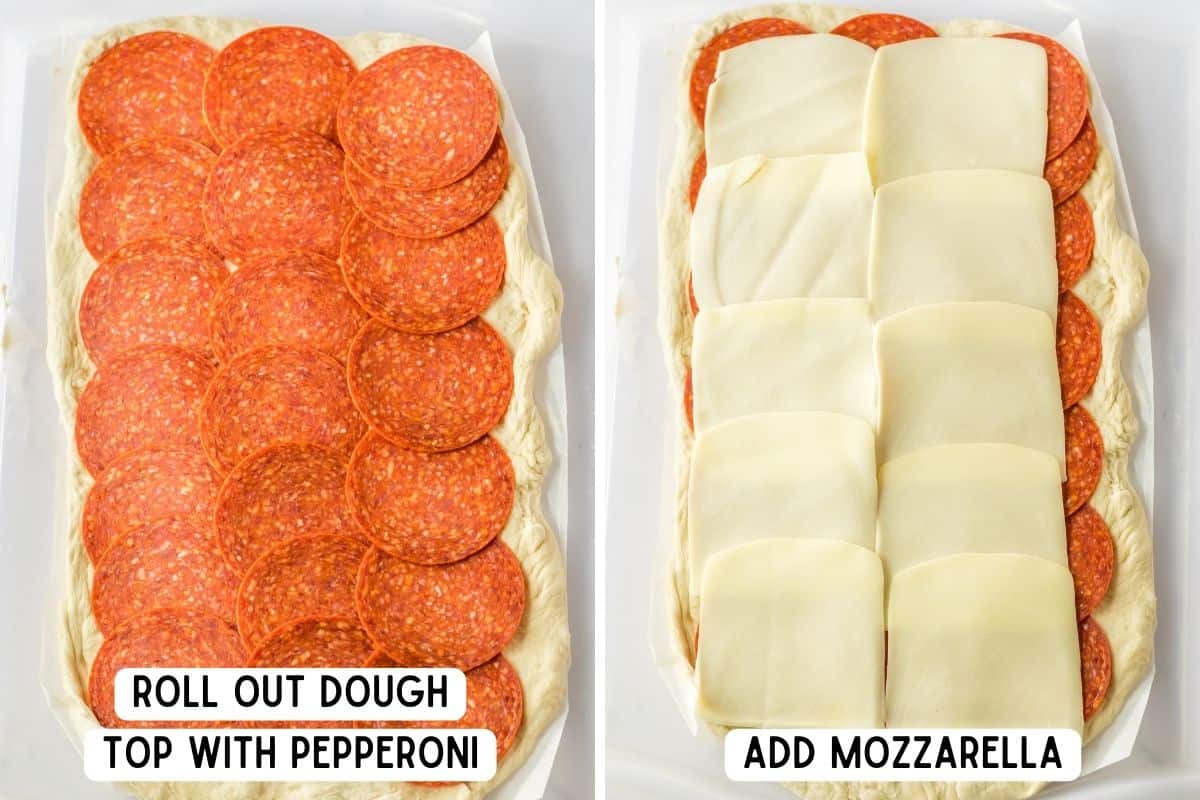 Step 2: Lightly flour your work surface. Use a rolling pin to roll out the thawed bread dough into a large rectangle. Aim for about 8 x 12 inches.
Step 3: Place pepperoni slices all over the dough in a single layer. Leave a little room at the edges for rolling and sealing the dough.
Step 4: Cover the pepperoni with slices of mozzarella cheese.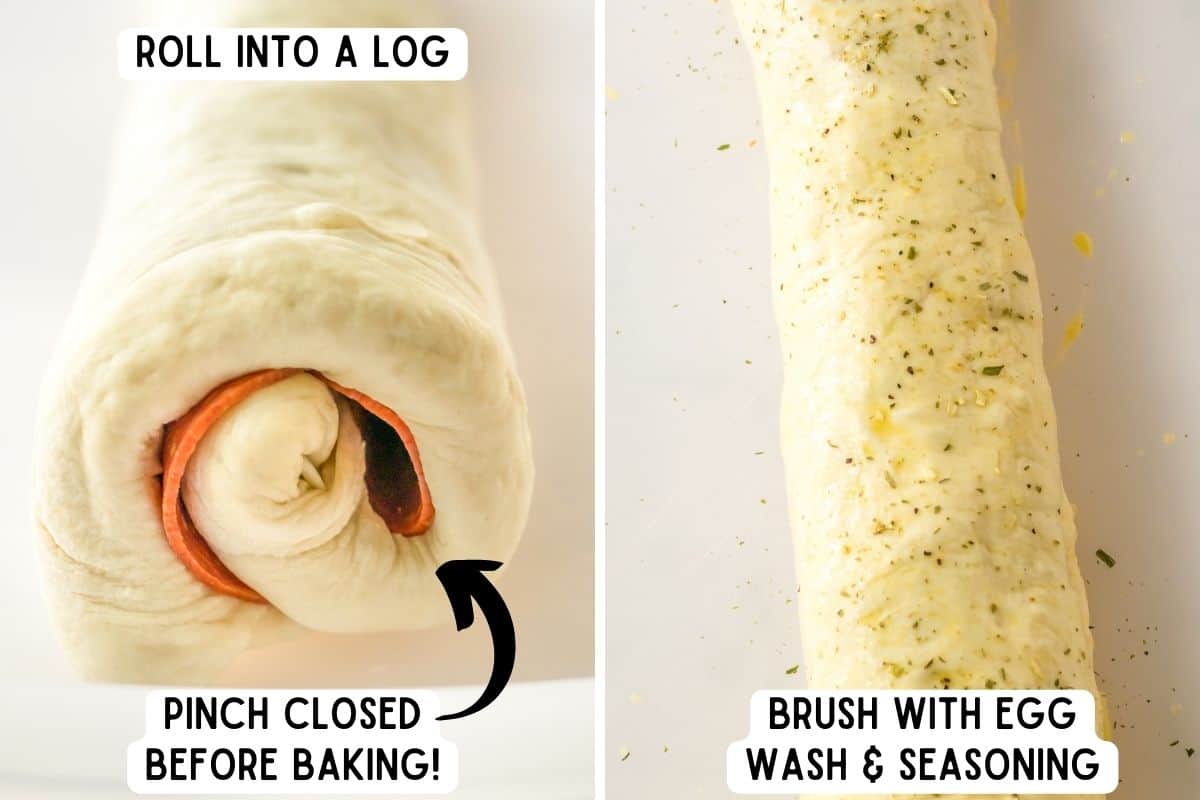 Step 5: Roll the bread dough into a log length-wise (on the long side). Seal the ends and seam by pinching the dough together, using a little water if needed. Place the dough seam side down on the prepared baking sheet.
Step 6: Beat the egg in a small bowl. Use a pastry brush to brush the egg over the top of the dough. Sprinkle with Italian seasoning. Use a sharp knife to make 4 small cuts in the top of the dough. (This is called scoring the dough and the cuts act as vents to allow steam to release, helping the pizza loaf bake evenly).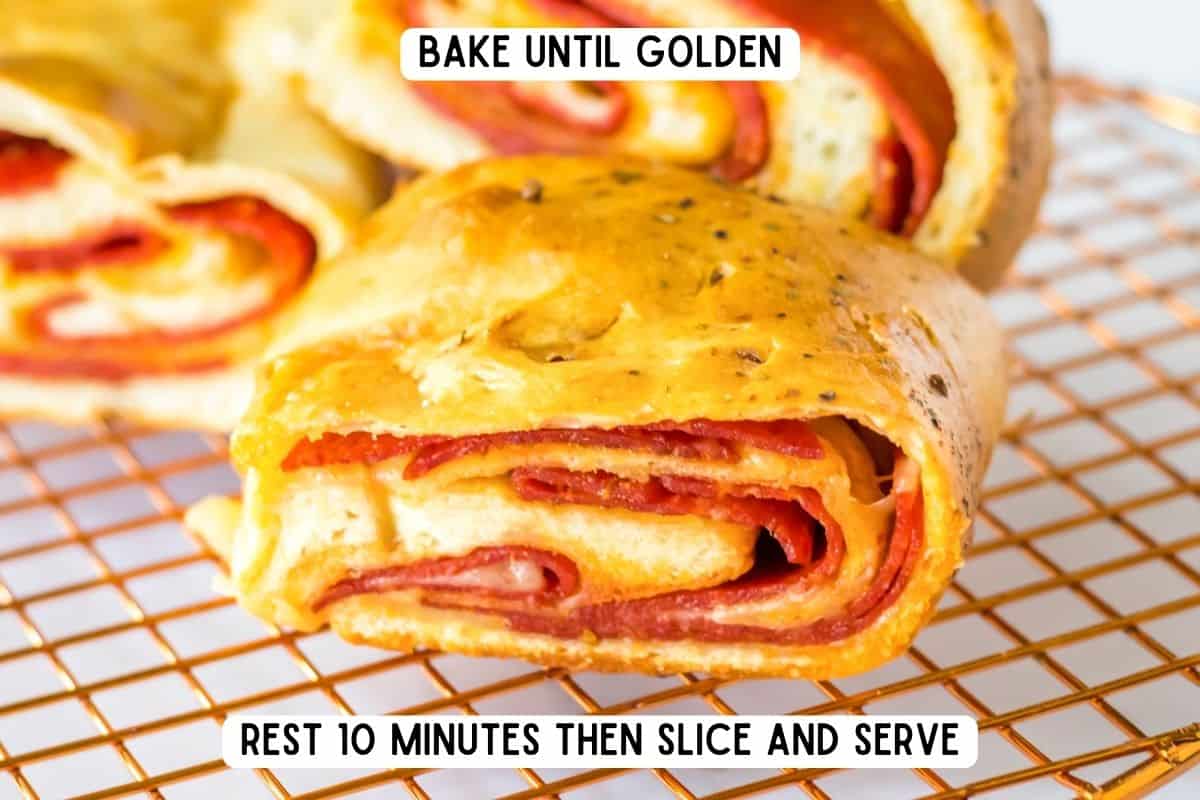 Step 7: Place the pan in the oven and bake for about 25-30 minutes or until the bread is baked through and golden brown.
Step 8: Let the pepperoni bread cool for 10-15 minutes on the baking sheet before cutting it into even slices.
Step 9: Serve the sliced pepperoni bread with marinara sauce, pizza sauce, or ranch for dipping.
Serving Suggestions
Serve with my homemade pizza sauce or a side of marinara sauce for dipping. A nice, big salad is the perfect accompaniment to this pepperoni bread if you want to enjoy it as a main dish.
Storage and Freezing
Refrigerator: Store leftover pizza bread in an airtight container in the refrigerator for up to 3 days.
Freezer: Freeze the prepared bread for up to 3 months in a zip-top bag or a freezer-safe container. Thaw in the fridge overnight.
Reheat in the oven at 350°F for 5-10 minutes until warmed through. You can also warm the bread up in the microwave in 30-second increments, but you'll get the best results from the oven.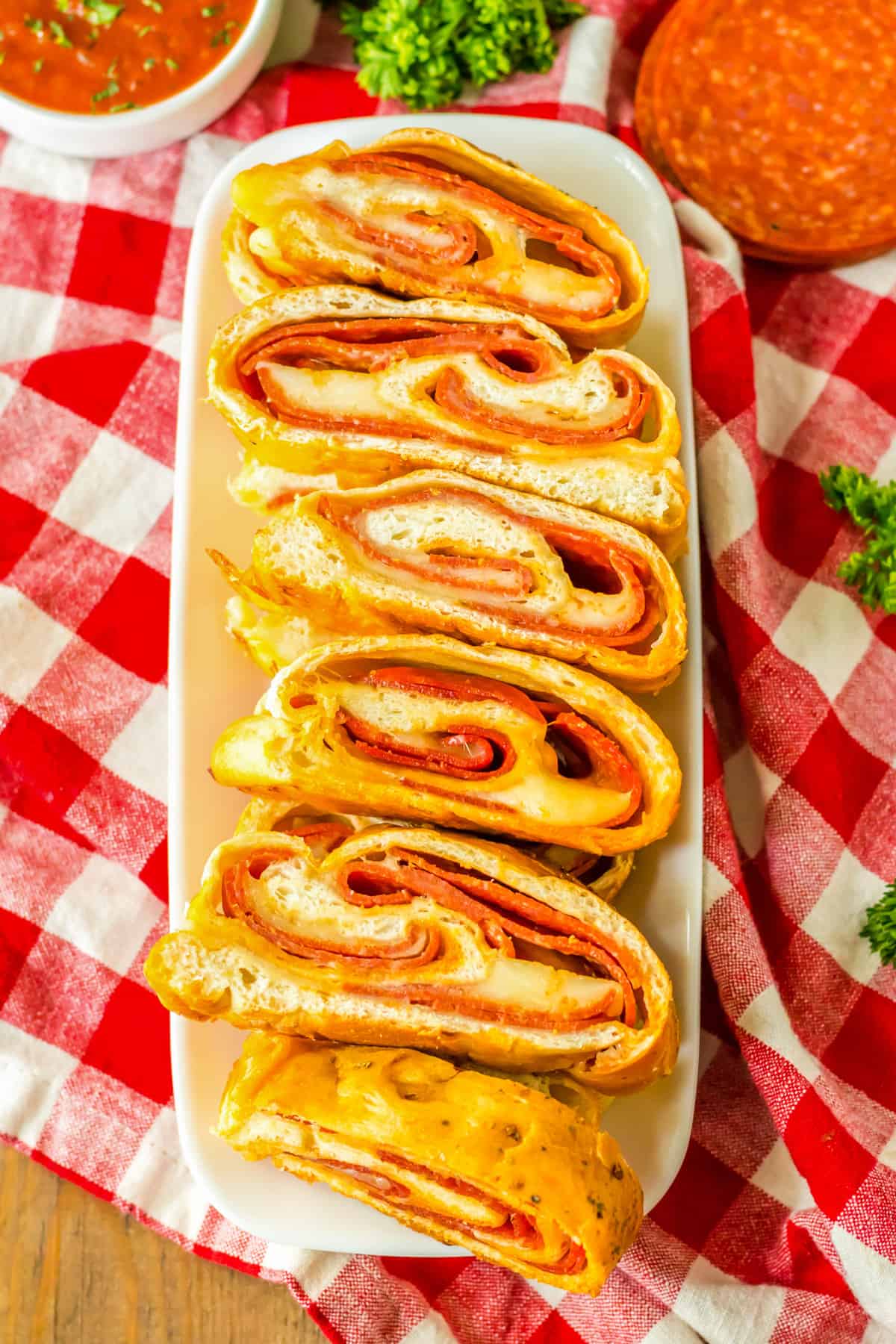 Easy Pepperoni Bread Tips and Tricks
Follow the instructions on your bread for thawing.
If you want to prepare this dish in advance, roll the bread with the fillings, cover it tightly, and refrigerate it. When you're ready to bake, give it an egg wash, sprinkle with Italian seasoning, score, and pop it in the oven. Remember to adjust the baking time as it might take a bit longer if you're starting with a cold loaf.
Let the bread cool for at least 10 minutes after baking. This makes it easier to slice and also helps the cheese set, keeping it from oozing out when you slice into the bread.
For best results, reheat the pepperoni bread in an oven, toaster oven, or air fryer to maintain the crispy exterior. While you can reheat it in the microwave, it can become a little chewy.
Additions and Variations
Swap the cheese. Instead of mozzarella, you may enjoy provolone, pepper jack, or white American cheese. Try different versions to see which one you like best!
Top with extra seasonings. After the egg wash, sprinkle with garlic powder, grated parmesan cheese, and/or red pepper flakes for a different flavor.
Add veggies. Make this more of a pizza bread by adding some veggies to the mix. Diced bell peppers, onions, or mushrooms are all great choices. You only need a little of each, though, to avoid overstuffing the bread, which will cause it to ooze out.
Try different meats. Add or substitute other types of meat like salami, ham, or cooked and crumbled Italian sausage to add more flavor. Use turkey pepperoni for a lighter version.
Add olives. Black or green olives, chopped finely, could be a good addition to the filling. The briny flavor pairs well with the pepperoni and cheese.
Brush with melted butter or olive oil. Instead of the egg wash, give it a buttery flavor or use the Italian classic, olive oil.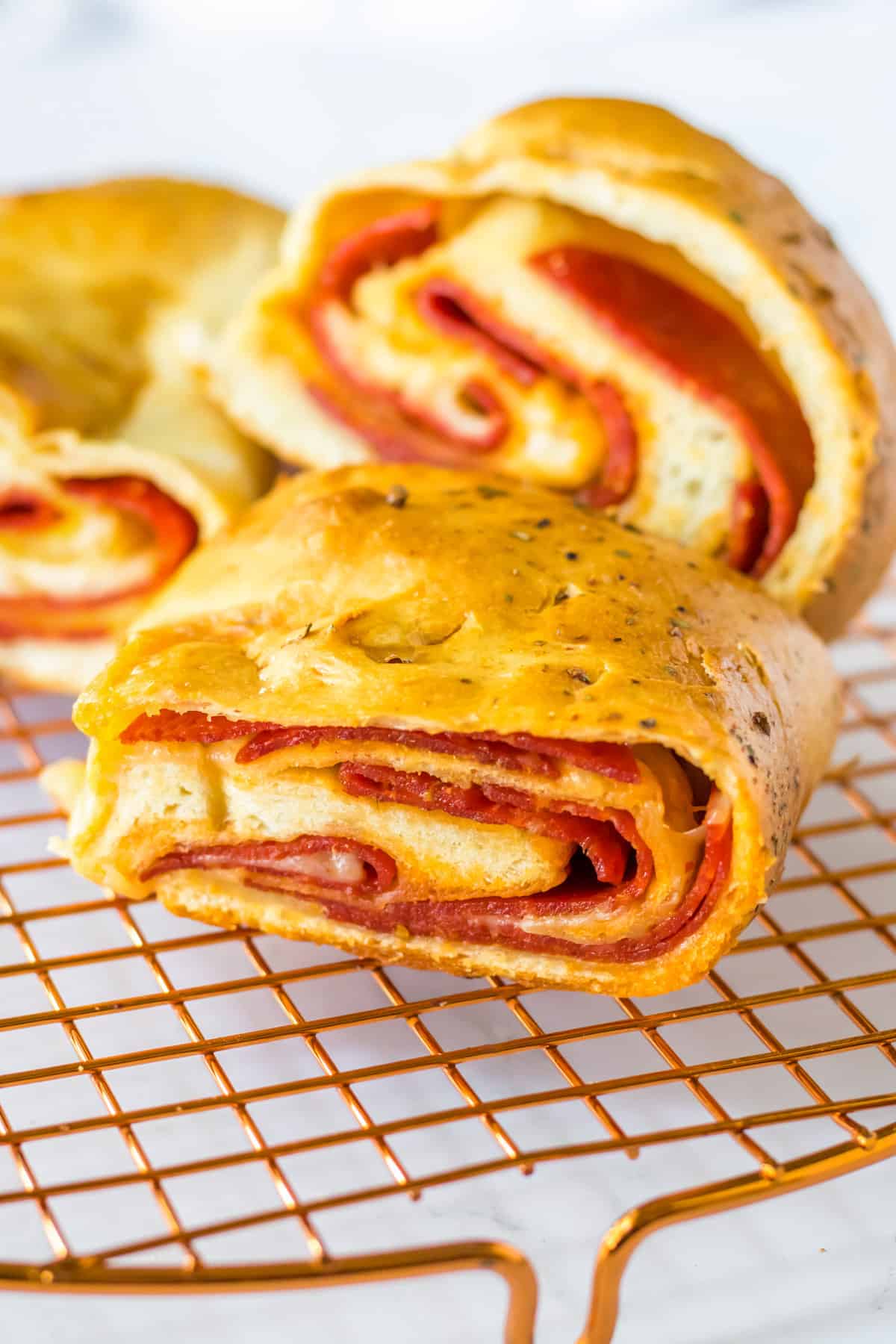 Pepperoni Bread Recipe FAQ
Can you freeze pepperoni bread?
Yes, you can freeze pepperoni bread. After baking, allow the bread to cool completely. Then, wrap it tightly in aluminum foil or plastic wrap and place it in a freezer-safe bag. It can be frozen for up to 3 months. To eat, thaw it in the refrigerator overnight and reheat in the oven.
What's the best way to reheat pepperoni bread?
The best way to reheat pepperoni bread is in the oven or a toaster oven, which helps to maintain its crispy crust and soft interior. Preheat your oven to 350°F, cover the bread in aluminum foil to prevent burning, and heat for about 5-10 minutes or until it's warmed through.
Can you leave pepperoni bread out overnight?
I don't recommend leaving pepperoni bread out overnight since it contains dairy. Even though the ingredients like pepperoni and cheese are typically safe at room temperature for a couple of hours, it's always best to err on the side of caution and refrigerate it. When ready to eat, simply warm it up in the oven or enjoy it cold.
Is pepperoni bread the same thing as a pepperoni roll?
No, pepperoni rolls originated in West Virginia and are balls of dough that are stuffed with pepperoni only and are baked into soft, fluffy rolls whereas pepperoni bread is baked into a loaf. Pepperoni rolls were a popular meal for miners who worked long hours and needed shelf-stable foods since refrigeration wasn't around then. They're still popular now — so much that pepperoni rolls are West Virginia's state food!
More Game Day Appetizer Recipes
Want some game day appetizers you know your friends will love? These recipes are always winners:
Recipe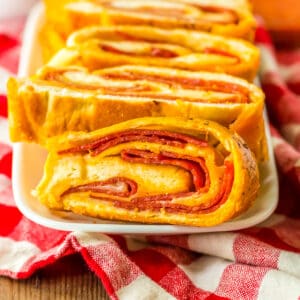 Recipe
Pepperoni Bread
Pepperoni Bread is a fun twist on pizza night. Made with frozen bread dough, pepperoni, and mozzarella, it's perfect for game day or a snack.
Ingredients
1 pound frozen bread dough thawed
⅓ pound deli sliced pepperoni about 5 ounces
½ pound sliced mozzarella cheese about 8 ounces
1 large egg
1 teaspoon Italian seasoning
pizza or marinara sauce for dipping, optional
Instructions
Preheat your oven to 350 F. Line a baking sheet with parchment paper.

On a lightly floured surface, use a rolling pin to roll the dough out into a large rectangle (about 8 x 12 inches).

Cover the dough with a layer of pepperoni slices, overlapping a bit as needed.

Top with the mozzarella cheese slces.

Starting with the longer side, roll the dough into a log. Place the dough on the lined baking sheet with the seam side down.

In a small bowl, beat the egg. Brush the beaten egg on top of the dough and sprinkle with the Italian seasoning. Use a sharp knife to score the top of the bread 4 times.

Bake for 25-30 minutes, or until golden brown.

Allow to cool for 10-15 minutes on the baking sheet before slicing and serving.

Serve with warn marinara or pizza sauce for dipping, if desired.
Notes
Follow the instructions on your bread dough for how to thaw. You will likely need to thaw the dough in the refrigerator for several hours (or overnight).
Store leftovers in an airtight container in the refrigerator for up to 3 days.
For a spicy kick try adding some pepperoncinis or jalapenos.
Try sprinkling some grated parmesan on the top before baking.
Nutrition
Calories: 444kcal | Carbohydrates: 37g | Protein: 19g | Fat: 23g | Saturated Fat: 10g | Polyunsaturated Fat: 2g | Monounsaturated Fat: 8g | Trans Fat: 0.4g | Cholesterol: 82mg | Sodium: 1001mg | Potassium: 112mg | Fiber: 2g | Sugar: 0.4g | Vitamin A: 301IU | Vitamin C: 0.01mg | Calcium: 205mg | Iron: 1mg
Did You Make This Recipe?
Share it with me on Instagram @crayonsandcravings and follow on Pinterest @crayonsandcravings for even more!