This post has been sponsored by The Hershey Co. All thoughts and opinions are my own.
As a mom, I want to make Christmas the most magical time of year for my son. That is why we are starting 3 fun new holiday traditions this year.
Holiday traditions are a great way to spend time together as a family and make memories that will last a lifetime. They are also something for the kids—and us parents—to look forward to each holiday season.
Tradition 1: Building a Candy Cabin.
What better way to have fun as a family during the holidays than to build a candy cabin out of our favorite candy?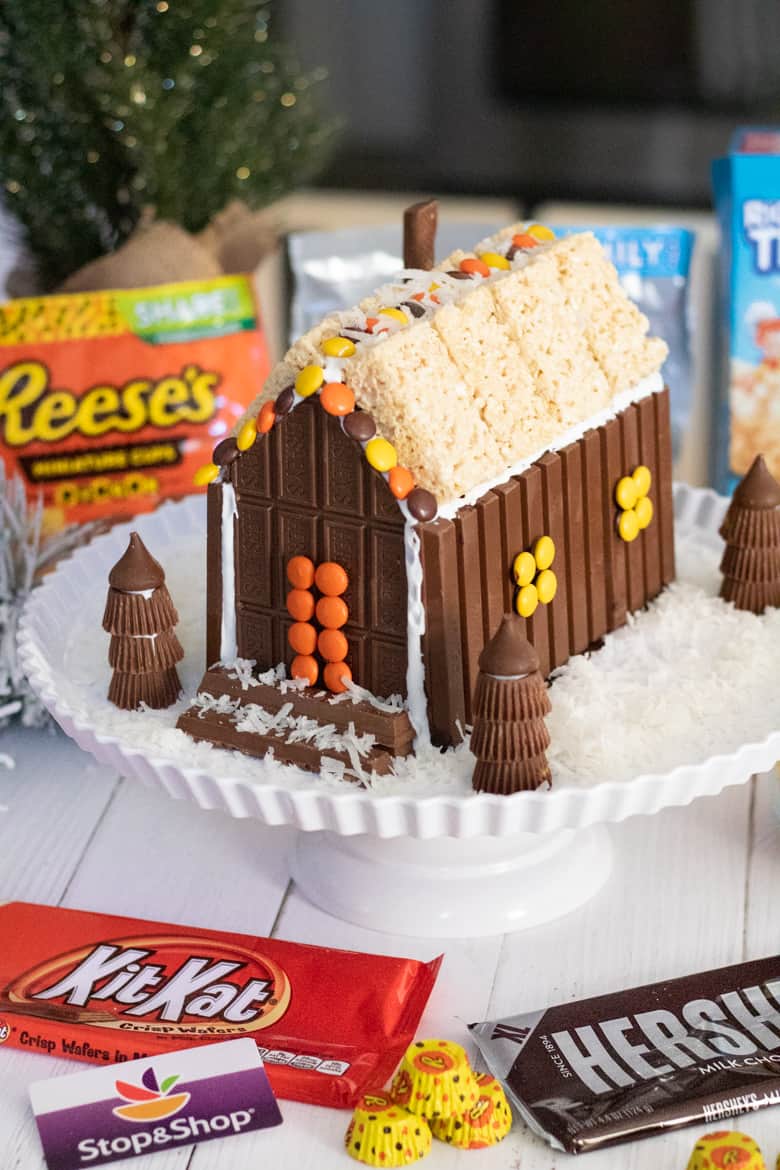 Made using HERSHEY'S Milk Chocolate XL Bars, KIT KAT® XL Bars, Family Size HERSHEY'S KISSES Milk Chocolates, Share Size REESE'S Peanut Butter Cups, REESE'S PIECES Candy, and Kelloggs Rice Krispies Treats, this is one sweet cabin—literally!
I picked up all the supplies for our candy cabin at my local Stop & Shop. I found all the candy in the candy aisle and the Rice Krispies Treats in the cereal aisle. I can always rely on Stop & Shop to have everything I need at great prices. Plus, I love how tidy and organized the store always is when I visit. Create your own Candy Cabin and Shop Now!
Candy Cabin Supplies:
2 HERSHEY'S Milk Chocolate XL Bars
3 KIT KAT® XL Bars
1 bag Family Size HERSHEY'S KISSES Milk Chocolates
1 bag Share Size REESE'S Peanut Butter Cups
1 bag REESE'S PIECES Candy
1 box Kellogg's Rice Krispies Treats
icing
Coconut flakes (optional)
How to Make a Candy Cabin
I love how our candy cabin combines all of our family's favorite treats.
We used KIT KAT® XL Bars (hubby's favorite) as the base to our cabin and HERSHEY'S Milk Chocolate XL Bars (my personal fave) as the front and back walls.
TIP: Soak your knife in hot water for 60-90 seconds before cutting to make cutting the HERSHEY'S Milk Chocolate XL Bars easier. Your knife will basically melt right through the chocolate!
We added 2 more KIT KAT® XL Bars to our cabin to form the remaining walls. We topped our cabin with Kellogg's Rice Krispies treats to make a roof. Crispy and delicious Rice Krispies Treats are one of our son's favorite snacks, and I am known to enjoy one every now and then as well.
Next, we had fun getting creative and decorating our chocolate cabin.
TIP: If you are having trouble getting your icing to hold, try using melted chocolate. We melted pieces we had cut off from our HERSHEY'S Milk Chocolate Bars and used them to help secure parts of our candy cabin. The melted chocolate seemed to hold much better than the icing—who knew?!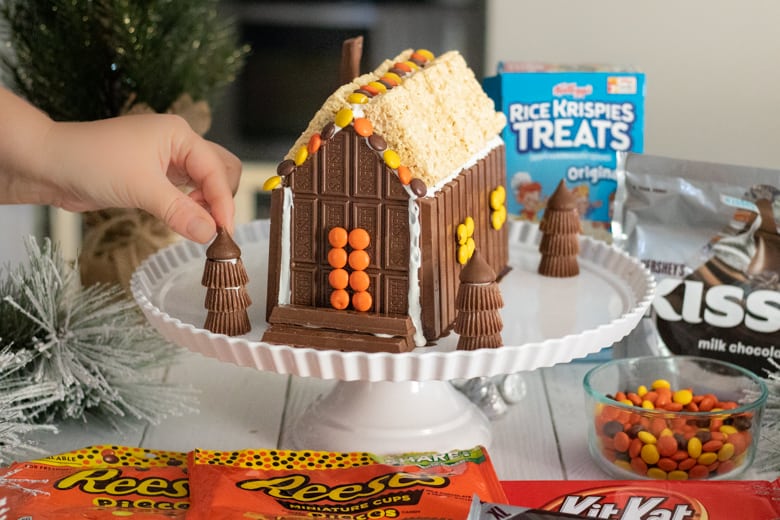 We added a chimney and front steps with pieces from a KIT KAT® XL Bar and used REESE'S PIECES Candy to make windows and a door.
Then, we made cute little trees for the cabin's yard using REESE'S Peanut Butter Cups topped with HERSHEY'S KISSES.
Side note: I enjoyed a REESE'S Peanut Butter Cup for the first time in a while and oh my goodness—I had forgotten how amazing they are! REESE'S Peanut Butter Cups are seriously like bite-sized tastes of heaven!
As a finishing touch, we decided to sprinkle coconut flakes around the cabin to look like freshly fallen snow.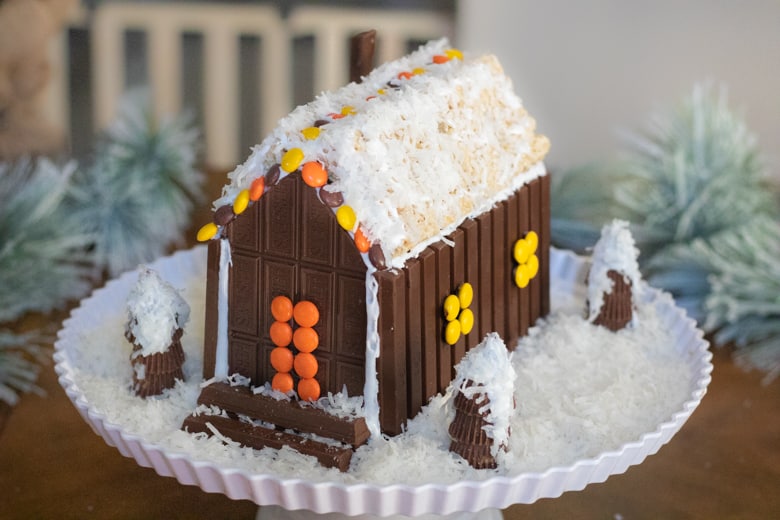 We then went even further and used icing to glue more coconut flakes to the roof of our cabin and on the tops of the trees. Snow is a lovely winter scene!
It was so much fun to work as a family to decorate our candy cabin, and we love how it turned out.
Best of all, we have plenty of extra REESE'S Peanut Butter Cups, REESE'S Pieces, and HERSHEY'S KISSES leftover. Lots of delicious treats to keep us from digging into our beautiful cabin before Christmas!
Tradition 2: Making an Ornament
Starting this year, we are making it a tradition to make a new ornament to hang on our Christmas tree each year. This way, each Christmas, we get to enjoy all the homemade ornaments we made in previous years.
We eased into this tradition by making a simple jingle bell filled ornament for our tree this year.
Tradition 3: Using an Advent Calendar
Advent calendars are a great way to count down and build excitement in the days leading up to Christmas.
I filled the bags in our advent calendar with HERSHEY'S KISSES and small toys such as Christmas finger puppets, animal figurines, tops, etc…
As a child, I always looked forward to opening my advent calendar each day. Now I am excited to start this wonderful Christmas tradition with my son as well. I know that he is going to love opening a bag each day and finding a small goodie or two inside!
I hope that you enjoyed learning about the fun Christmas traditions that we are starting this year and that they inspire you to start new traditions with your family this year. Holiday traditions like these are a great way to make family memories that will last a lifetime!
Don't forget to pick up your candy cabin supplies on your next visit to Stop & Shop!
Pin for Later: