Double Chocolate Coca Cola Cake
Posts may contain affiliate links, meaning that I may earn a commission if you use a link provided.
Deliciously moist and fudgy, this Double Chocolate Coca Cola Cake recipe is inspired by Cracker Barrel's fan-favorite dessert. It's easy to make and perfect for any occasion. Enjoy this chocolatey treat with a big scoop of ice cream and a cherry on top for an unforgettable dessert.
Want more Coca-Cola recipes? Try my Coca Cola Meatballs and Coca Cola Fudge — they're so good.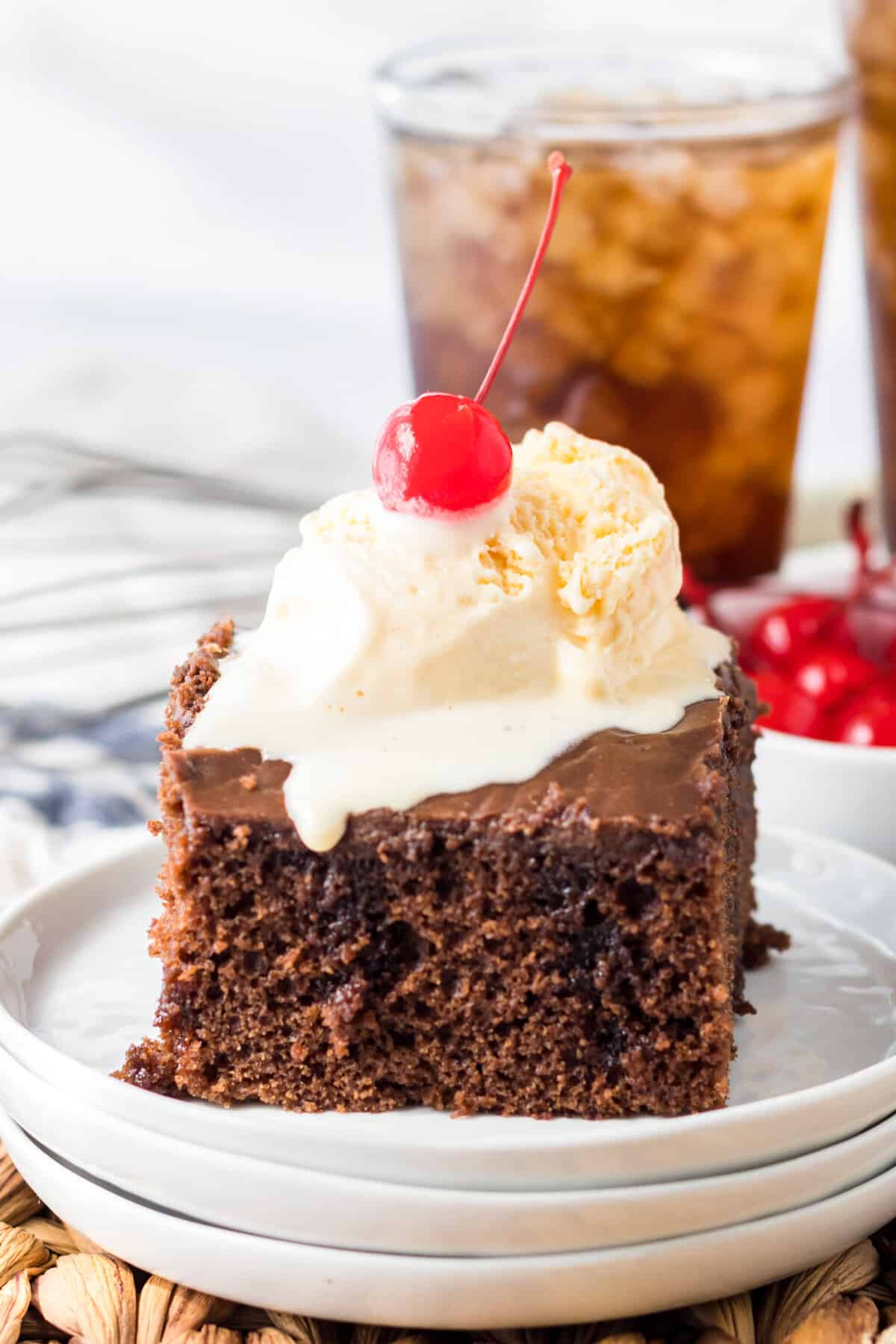 Have you ever tried the Coca Cola Cake from Cracker Barrel and wished you could recreate it at home? Well, now you can do just that, and it's way easier than you'd think.
Using mostly pantry ingredients along with eggs, buttermilk, butter, and Coca-Cola, you'll have a rich, double chocolate dessert that your family and friends will RAVE over. It's seriously one of the best desserts ever.
The hot chocolate frosting gets poured over the top of the warm cake creating a layer of fudgy chocolate icing that I just can't get enough of.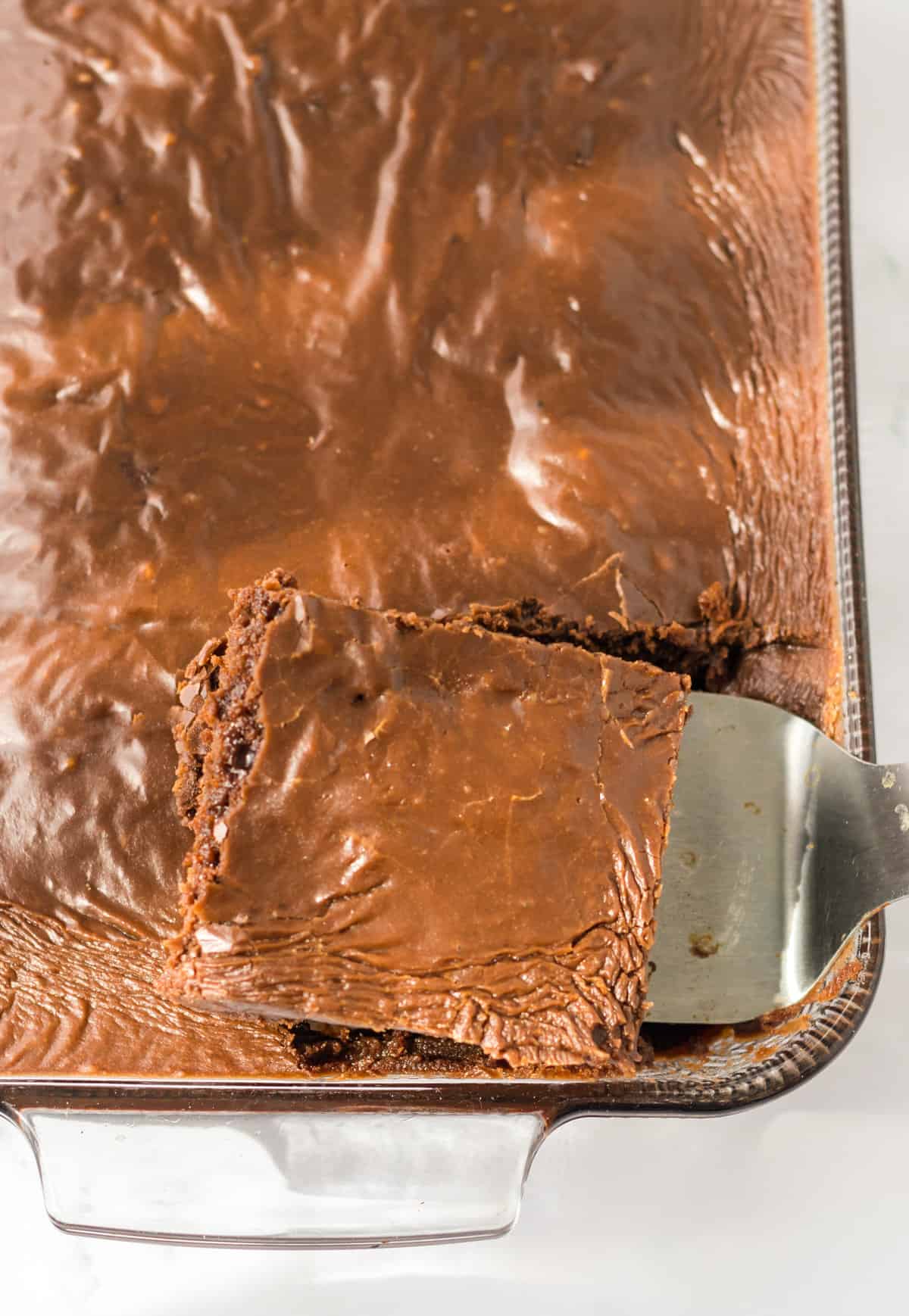 The one important thing you need to keep in mind for this recipe is to NOT use diet soda. You need the full-calorie, full-sugar version to get all that sweet flavor. It's an indulgent dessert, so it's not the time to skimp on calories. However, if you're a Dr. Pepper fan instead of Coke, you can try that instead. The cherry versions of either brand also work beautifully in this recipe.
For now, grab your apron and gather your ingredients to get started on this moist chocolate Coca Cola cake.
Ingredients for Coca Cola Chocolate Cake
This section includes ingredient notes and substitution options. Get all measurements, ingredients, and instructions in the printable recipe card at the end of this post.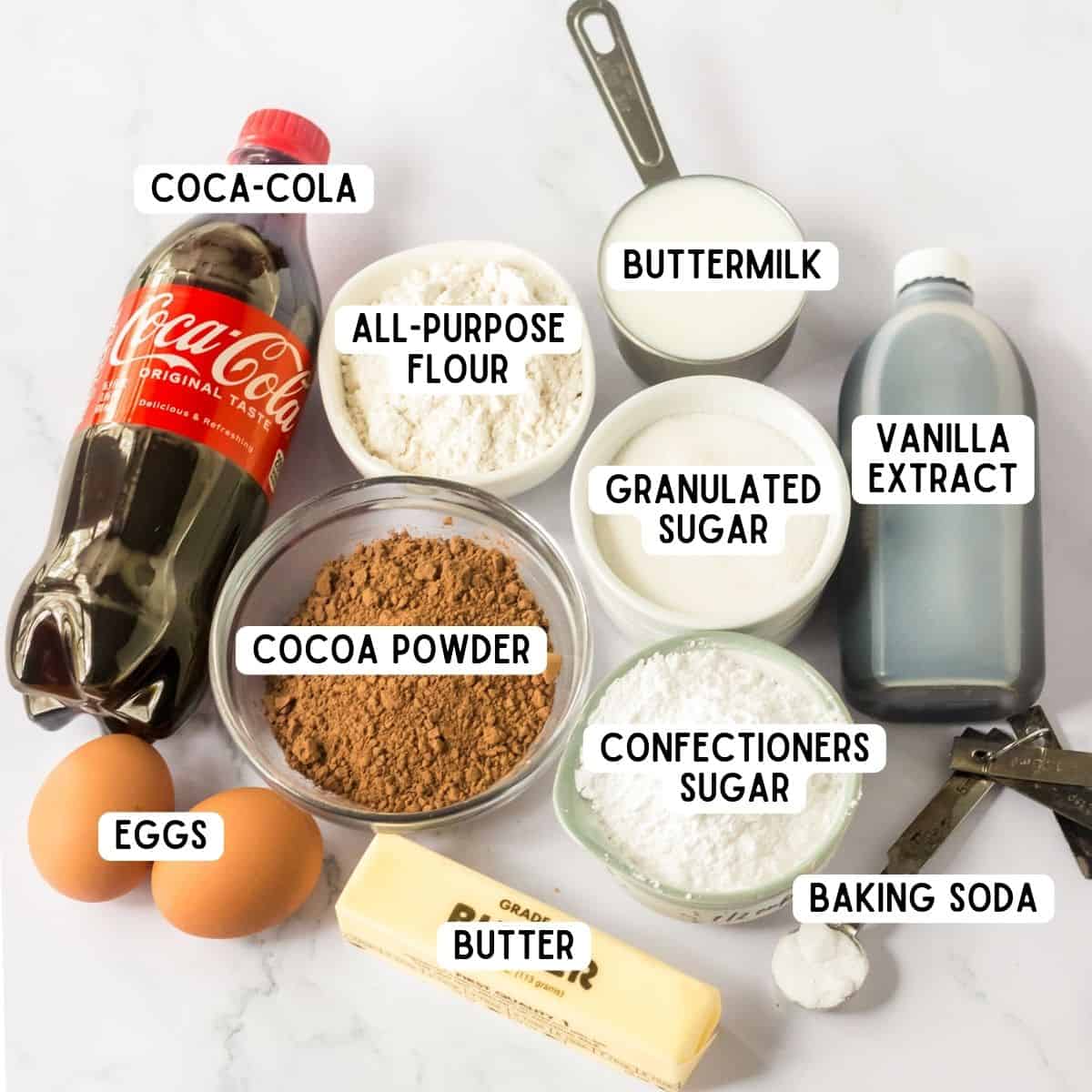 Flour — No cake-flour needed, just regular all-purpose flour for this chocolate cake recipe.
Granulated Sugar — Regular white sugar adds sweetness to the cake batter.
Baking Soda — This ingredient is a leavening agent that reacts with the acid in the buttermilk and soda to help the cake rise in the oven.
Coca-Cola — I recommend real Coca-Cola, but you can use the cherry-flavored version or Dr. Pepper instead, if you prefer. Vanilla Coke is good, too. But please do not use diet soda.
Butter — I use salted butter for this recipe. If you're using unsalted butter, just toss a pinch of salt into the cake batter and frosting.
Cocoa Powder — Make sure it's unsweetened! This is what gives the cake and frosting its delicious chocolate flavor.
Eggs — Eggs help provide structure and bind ingredients together.
Buttermilk — Adds a hint of tangy flavor that helps balance out the other flavors.
Vanilla Extract — Use pure vanilla extract for the cake batter and the frosting to enhance the flavor profile.
Confectioner's Sugar — Powdered sugar is used for the fudgy icing only (not the cake batter). It'll create a smooth, creamy texture that's perfect for pouring over this chocolate Coca-Cola cake.
Equipment You'll Need to Make Chocolate Coke Cake
Nothing fancy here — you don't even need an electric mixer! Just basic baking tools for this easy recipe including:
a 9×13 baking pan
mixing bowls
a whisk
a saucepan
measuring cups and spoons
How to Make Coca Cola Cake
This section shows you how to make the recipe with step-by-step photos and instructions. For the full printable recipe, see the recipe card below.
Step 1: Heat your oven to 350°F. Prep a 9×13 baking dish with nonstick spray, and set the pan aside.
Step 2: Add the granulated sugar, flour, and baking soda to a large bowl. Whisk the dry ingredients together, and set aside.
Step 3: Place the butter, Coca-Cola, and cocoa powder in a small saucepan over medium heat. Bring the mixture to a boil, whisking constantly.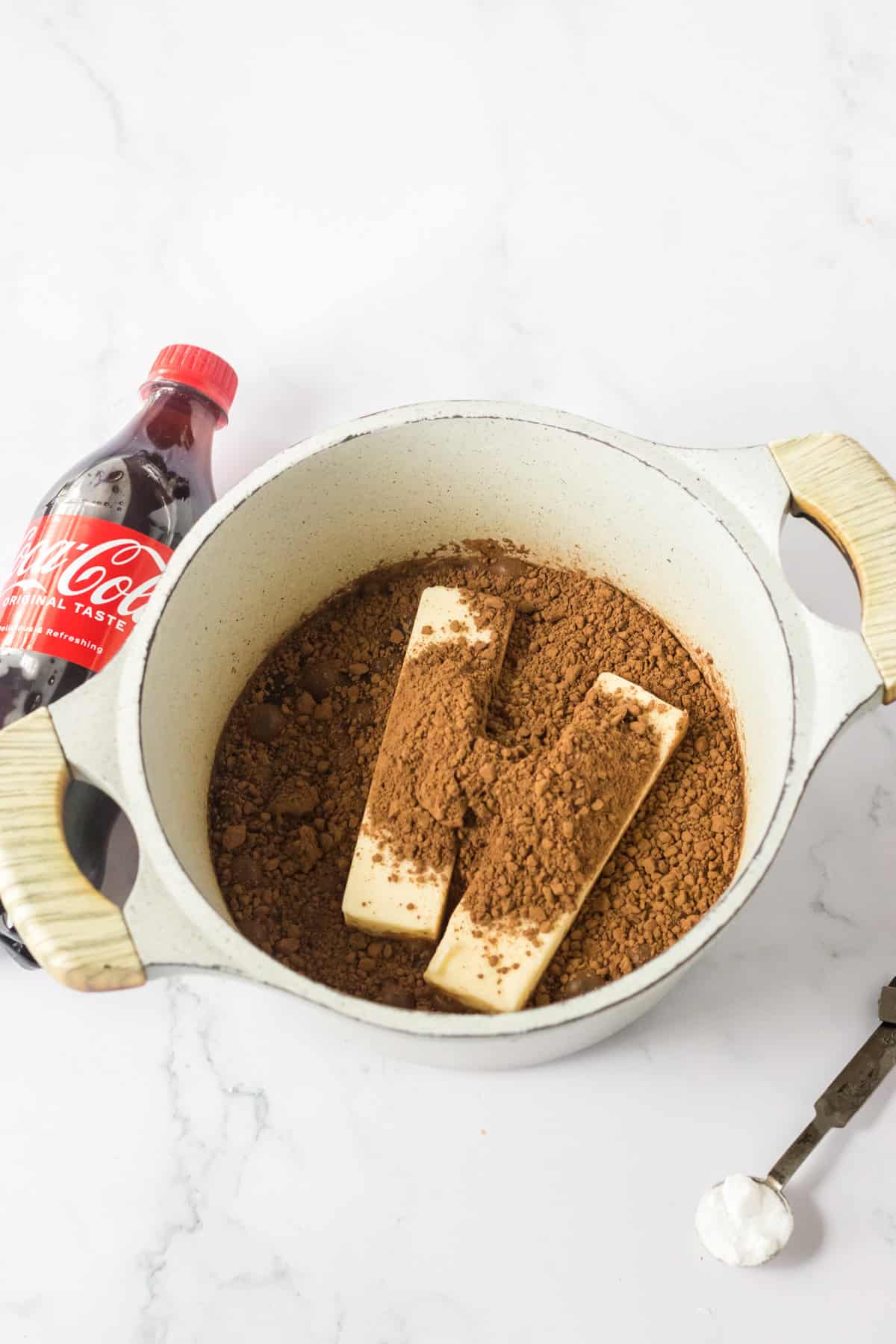 Step 4: Once it starts to bubble, remove from the heat and immediately pour the boiling cola mixture over the flour. Stir to combine, but do not overmix the ingredients.
Step 5: Mix in the remaining ingredients — eggs, vanilla extract, and buttermilk.
Step 6: Pour the cake batter into the pan and bake for 30 minutes or until a toothpick inserted in the center comes out clean. A few moist crumbs on the toothpick is fine.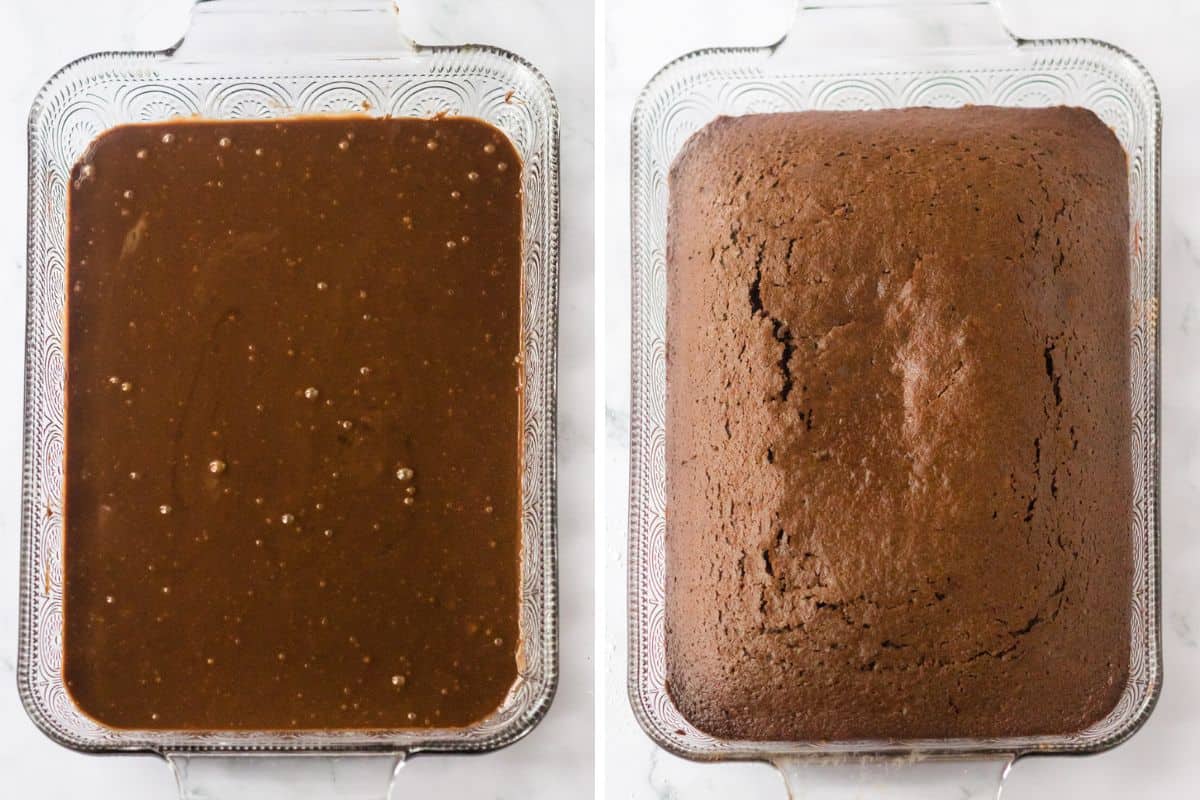 Step 7: Remove the cake from the oven, and begin preparing the frosting immediately.
Step 8: Add the butter, soda, cocoa powder, and vanilla to a medium-sized saucepan over medium heat. Bring the mixture to a boil. As soon as it's boiling, remove the mixture from the heat and whisk in the powdered sugar until the frosting is smooth and well combined.
Step 9: Immediately pour the hot frosting over the top of the cake.
Step 10: Let the frosting set up for about 10 minutes and then serve as a hot cake. Alternatively, you can let the cake cool slightly or completely before serving. It tastes great refrigerated too, almost like a frosted brownie!
Serving Suggestions
You can serve this decadent cake hot, warm, or cold. Add a big scoop of ice cream and a cherry on top to make it extra-indulgent.
Storing and Freezing
Room Temperature: Store leftover cake at room temperature on the counter for up to 2 days. To maintain moisture, use a cake cover or plastic wrap over the cake.
Refrigerator: Store cola cake in an airtight container in the fridge for up to 4 days.
Freezer: To freeze Coca Cola cake, let the cake cool completely and cut into individual slices. Wrap the slices in plastic wrap or aluminum foil. Then, place the wrapped slices in a freezer bag or freezer-safe container.
Thawing: To defrost, remove the slices from the freezer and thaw in the refrigerator for several hours or overnight or at room temperature for an hour or two. Warm cake gently in the microwave if you prefer it heated.
Tips and Tricks for Making Cracker Barrel Coca-Cola Cake
Make sure your eggs and butter are at room temperature. It'll help them blend more easily into the batter and frosting, resulting in a smoother texture.
Don't overmix the batter. Mix the ingredients until just combined to avoid overworking the gluten in the flour, which can lead to a dense, chewy cake instead of a fluffy one.
To ensure your cake is cooked through, insert a toothpick or cake tester in the center of the cake. It should come out almost entirely clean with just a few moist crumbs clinging to it.
Short on time? Try making this cake with a boxed cake mix, substituting Coca Cola for the water in the recipe instructions. Top with the delicious frosting recipe listed below!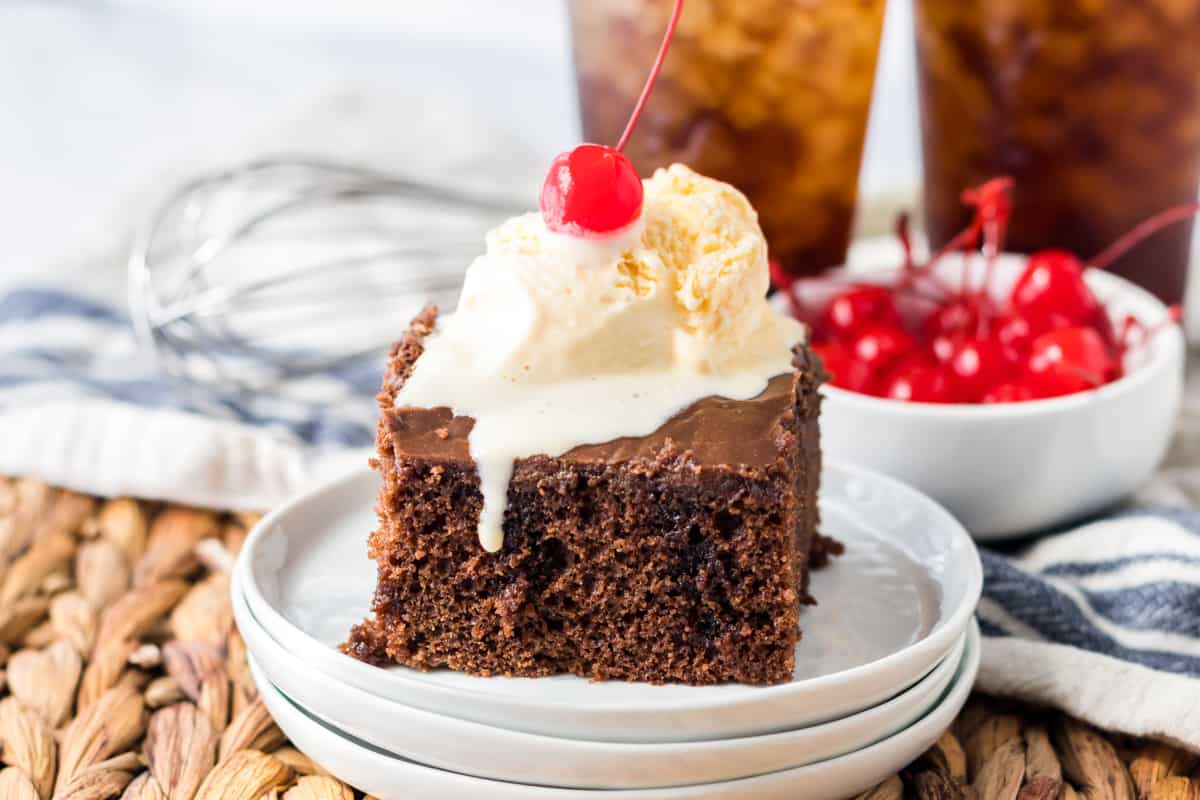 Additions and Variations
Customize with toppings. Add some chopped nuts, chocolate chips, or a drizzle of caramel sauce to the top of your fudgy cola cake.
Make a mocha Coca Cola cake. Add a teaspoon or two of instant coffee or espresso powder to the cake batter for a coffee-infused twist.
Add peanut butter frosting. Instead of this double chocolate version, top the chocolate Coke cake with a creamy peanut butter frosting for a delicious chocolate-peanut butter combination.
Coca Cola Cake FAQ
What is Coca Cola Cake made of?
For this copycat recipe, you'll need flour, granulated sugar, baking soda, cola, butter, cocoa powder, eggs, buttermilk, and vanilla for the cake. For the fudge frosting, you'll need butter, cola, cocoa powder, vanilla, and powdered sugar.
Can I use a different type of soda instead of Coca-Cola?
Yes, feel free to experiment with other types of soda like Dr. Pepper or Cherry Coke. However, I recommend avoiding diet sodas, since they may not yield the same results and will not add the right amount of sweetness to the recipe.
Can I make this cake gluten-free?
Absolutely. Replace the all-purpose flour with a gluten-free flour blend that's suited for baking. Follow the package instructions for the amount to use plus any adjustments you may need to make to the temperature or baking time.
Can I use unsalted butter instead of salted butter?
You can, and in most dessert recipes, unsalted butter is preferred. But for this cola cake recipe, I recommend adding a pinch of salt to both the cake batter and the frosting if you're using unsalted butter. It will help cut through the sweetness and balance out the flavors.
Does Cracker Barrel have Coke Cake?
Yes, as of 2023, this cake is still available at Cracker Barrel restaurants on the dessert menu.
Cracker Barrel Copycat Recipes
Can't get enough of that down-home country cooking that Cracker Barrel is known for? Try these copycat recipes!
Recipe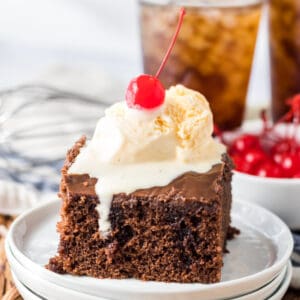 Recipe
Double Chocolate Coca Cola Cake
You have to try this Double Fudge Coca Cola Cake, a copycat Cracker Barrel recipe that's a fan favorite for its rich, fudgy, chocolate flavor. With a delicious chocolate frosting that's a breeze to prepare, this delightful cake combines chocolate and Coca Cola for a sweet and indulgent dessert.
Ingredients
Cake
2 cups all-purpose flour
2 cups granulated sugar
1 teaspoon baking soda
1 cup Coca-Cola
1 cup salted butter
6 Tablespoons unsweetened cocoa powder
2 large eggs room temperature
1/2 cup buttermilk
1 teaspoon vanilla extract
Frosting
1/2 cup salted butter
6 Tablespoons Coca-Cola
3 Tablespoons unsweetened cocoa powder
1 teaspoon vanilla extract
4 cups confectioners sugar
Instructions
Preheat oven to 350 degrees. Spray a 9 x 13 pan with nonstick spray and set aside.

In a large bowl whisk together the flour, sugar, and baking soda. Set aside.

In a small saucepan over medium heat bring the Coca-Cola, butter, and cocoa powder to a boil while whisking. Once it comes to a bubble, remove it from the heat immediately and pour it into the flour mixture. Stir to combine. Mix in the eggs, vanilla, and buttermilk.

Pour into the pan and bake for 30 minutes, or until a cake tester or toothpick inserted into the center comes out almost entirely clean.

Remove the cake from the oven and immediately make the frosting.

In a medium saucepan over medium heat, bring the butter, Coca-Cola, cocoa powder, and vanilla to a boil. As soon as it comes to a boil, remove from the heat, and whisk in the confectioners' sugar until it is smooth and well combined.

Immediately pour the frosting over the cake.

Let the frosting set for about 10 minutes or so then slice and serve.
Notes
Try adding chopped walnuts or pecans to the frosting for some crunch.
Serve cake warm, room temperature, or chilled.
Do NOT use diet soda.
Store at room temperature for up to 2 days or in the refrigerator for up to 4 days.
Nutrition
Calories: 450kcal | Carbohydrates: 71g | Protein: 3g | Fat: 19g | Saturated Fat: 12g | Polyunsaturated Fat: 1g | Monounsaturated Fat: 5g | Trans Fat: 1g | Cholesterol: 67mg | Sodium: 224mg | Potassium: 85mg | Fiber: 1g | Sugar: 57g | Vitamin A: 574IU | Calcium: 24mg | Iron: 1mg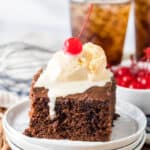 Did You Make This Recipe?
Share it with me on Instagram @crayonsandcravings and follow on Pinterest @crayonsandcravings for even more!