Posts may contain affiliate links, meaning that I may earn a commission if you use a link provided.
Christmas Tree Cupcakes are a fun and easy Christmas party dessert recipe. Homemade vanilla cupcakes are frosted with green buttercream and topped with candies and sprinkles to mimic a Christmas tree.
Another Christmas cupcake recipe to try are these Christmas tree cone cupcakes. They are topped with sugar cones that are then decorated as Christmas trees.
Or for a super simple holiday treat try my 3 ingredient pretzel hugs or no-bake Christmas tree treats.
Christmas Tree Cupcakes
These cupcakes are so simple to make, totally adorable, and always the talk of the Christmas party.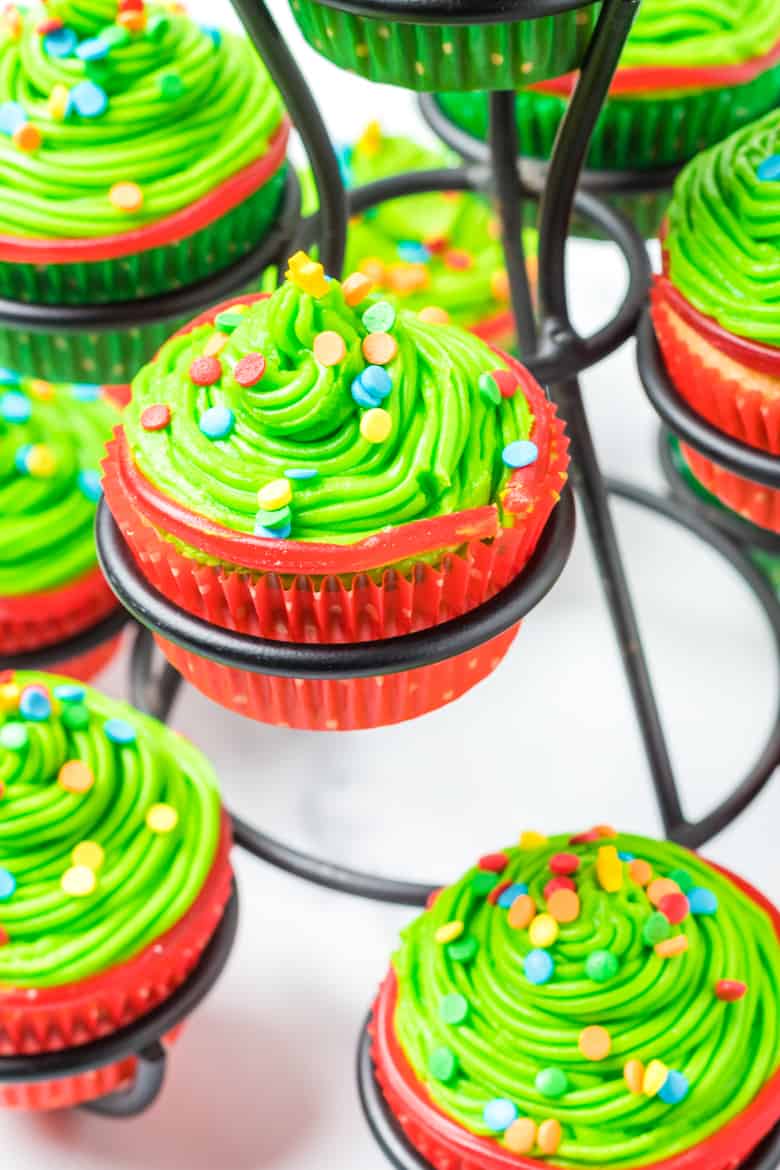 Serve them up for a bake sale, holiday party, or as a special treat to greet your kids after a long day.
No matter what, you will leave these cute Christmas cupcakes!
Here's what you need
Vanilla cupcake ingredients
Cake flour
Baking powder
Baking soda
Butter
Milk
Sugar
Eggs
Vanilla extract
Frosting and decorating supplies
Green buttercream frosting
powdered sugar (optional)
Best Food Coloring To Color Frosting
You can usually purchase green frosting in the supermarket this time of year, but if you can't find any just pick up a tub of vanilla and some food coloring.
A gel food coloring is a great option when you are adding food coloring to frosting. I find it can help give you a light or bold color depending on how much you add, without adding flavor to your cupcakes.
I prefer the Wilton Gel Food coloring brand, but feel free to reach for whatever you prefer.
Cupcake Flavor Alternatives
Not sure you want to serve up a plain vanilla cupcake? Go right ahead and reach for any flavor of cupcakes you want. Chocolate would work well. Or even red velvet! Get creative or go simple.
You can also use a boxed cake mix to make your cupcakes if you don't want to make a homemade cupcake. That is totally fine to do and to be honest, the magic of these cupcakes is all in the decorating anyway.
How to Make Christmas Tree Frosting Cupcakes
Okay, so now you have all your ingredients, including your green frosting, and you have decided on what flavor cupcakes you will be making.
It's time to get baking!
The first step is to work on whipping up the cake batter. Mix it up until it is creamy in texture.
Next, you will fill your cupcake holders about 2/3 of the way. Just know that the fuller they are the bigger the cupcakes will be.
Bake in a preheated oven and then allow them to fully cool on a baking rack before decorating. Otherwise, the frosting will not stay well on the cupcake.
Once your cupcakes are fully cooled you can go ahead and make or grab your frosting. Then you can begin the fun part–decorating!
With your cooled cupcakes, you will begin to pipe your green frosting.
I used an open star tip to pipe. The open star tip will make the ridges in the tree needed to hold the sprinkles.
If you don't have a decorating tool or piping bag you can make do with a plastic baggie with the tip cut off.
Start by making a quarter-size circle in the center of the cupcake. This is the circle you will trace the frosting around to form a tree. The circle will also prevent the frosting from sinking in the center.
Next, starting from the outside, slowly frost the cupcake in a swirl pattern, with each layer slightly overlapping the other. Continue until you are in the middle of the cupcake. Push the icing down and quickly pull up to form the tree tip.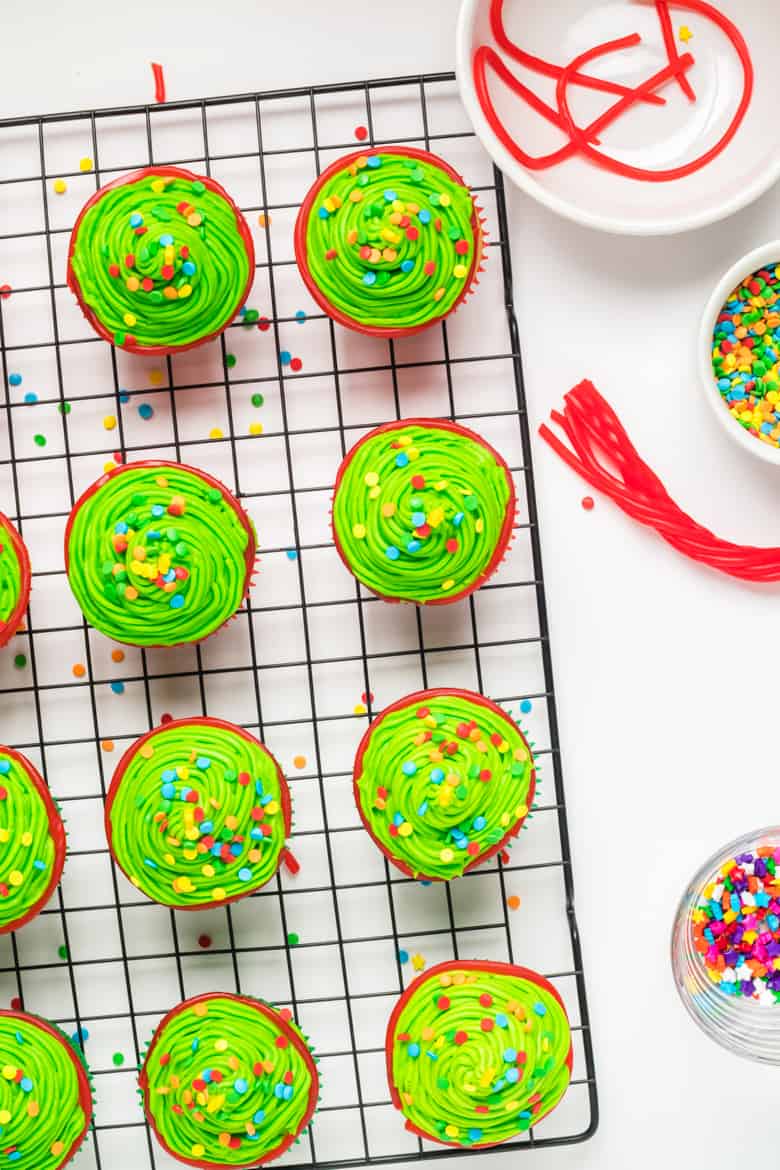 Add sprinkles, a star, and a string of Twizzler around the edge to finish them off, then admire your beautiful cupcakes!
Optionally, you can sprinkle with a bit of powdered sugar to mimic freshly fallen snow.
Storing Cupcakes
You will find that with buttercream frosting it stores best refrigerated. Put your cupcakes in an airtight container and then store for 3-5 days in the fridge.
If you want to eat at room temperature then let them sit at room temperature to warm up a bit.
More of our favorite Christmas treats
Recipe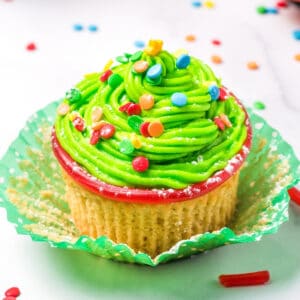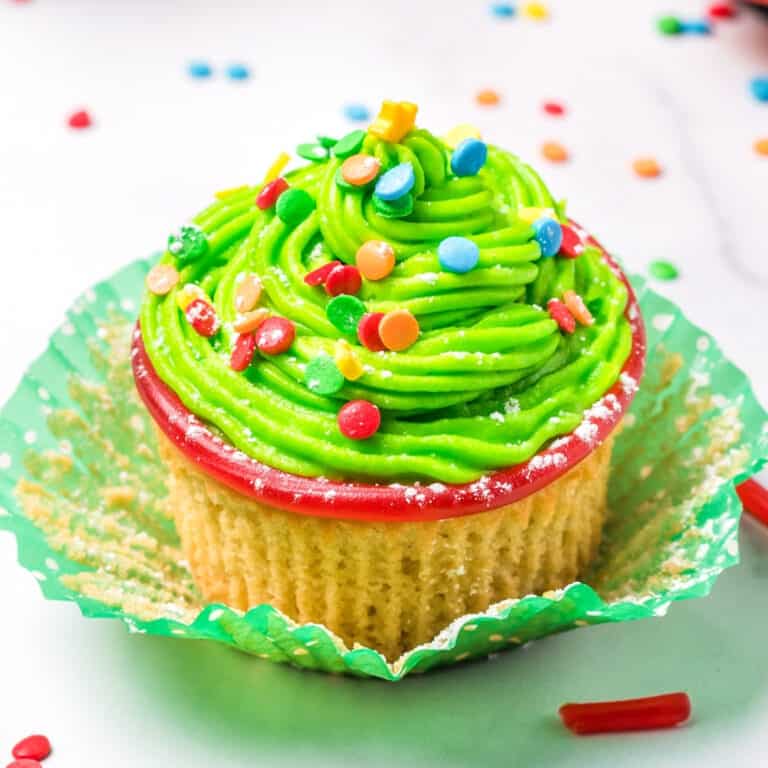 Recipe
Christmas Tree Cupcakes
Homemade vanilla cupcakes frosted with green buttercream and decorated to look like beautiful Christmas trees.
Ingredients
2 cups cake flour
¼ tsp baking soda
½ tsp baking powder
½ cup salted butter softened
1 cup granulated sugar
½ cup milk
3 large eggs
¼ Tablespoons vanilla extract
2-3 Twizzler Pull 'n' Peel Candy peeled into strings
16 oz. green buttercream frosting
confectioners' sugar optional
Instructions
Preheat oven to 350 F. Line a muffin tin with cupcake liners and set aside.

In a large bowl, mix cake flour, baking soda, and baking powder. Set aside.

In a medium-size bowl, cream butter and sugar. Add eggs and whisk. Then, add milk and vanilla and whisk to combine. Add to the dry ingredients in the larger bowl and mix until smooth.

Pour batter into your cupcake tin, filling each liner ⅔ full.

Bake for about 22 minutes, or until a toothpick inserted in the center comes out clean.

Remove from the oven and allow cupcakes to cool completely before you begin to decorate.

Scoop the frosting into a

piping bag

with an

open star tip

*. Make a quarter-size circle in the middle of the cupcake. Starting from the outside, slowly ice the cupcake in a swirl pattern, with each layer slightly overlapping the other. Continue until you are in the center of the cupcake. Push the icing down and quickly pull up to form the tree tip.

Wrap a string of Twizzler Pull 'n' Peel candy around the bottom of the cupcakes to make a tree skirt.

Add rainbow sprinkles and a star at the top. If desired, you can also sprinkle with powdered sugar to mimic snow.
Nutrition
Serving: 1g | Calories: 441kcal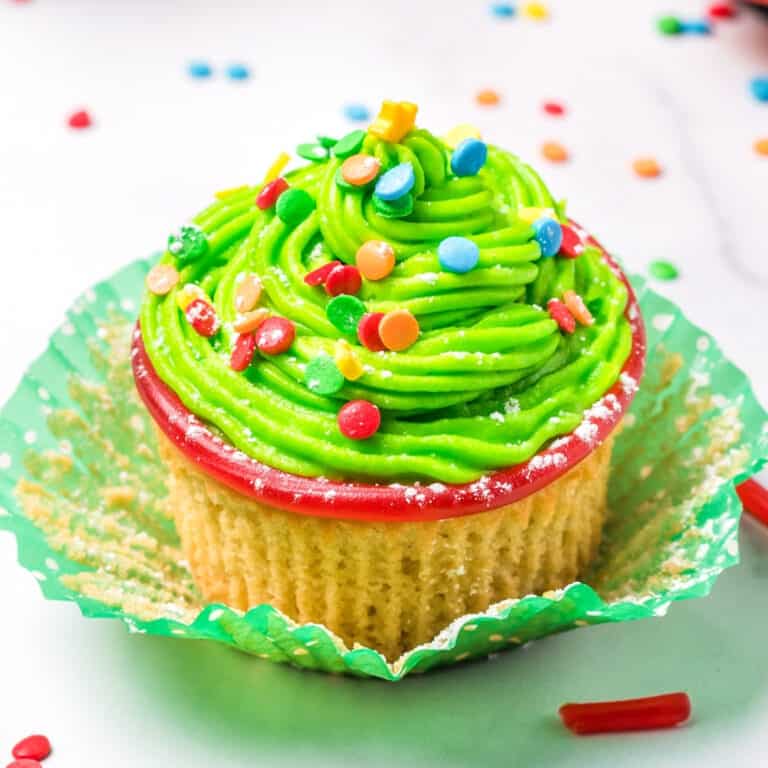 Did You Make This Recipe?
Share it with me on Instagram @crayonsandcravings and follow on Pinterest @crayonsandcravings for even more!
Pin for Later: