Posts may contain affiliate links, meaning that I may earn a commission if you use a link provided.
Christmas tree meringues are a light, airy, and festive Christmas cookie! This is the perfect holiday treat that offers a gorgeous presentation for family and friends. If you love meringue cookies, these Christmas meringue cookies will be the star of your Christmas celebration.
Serve the cookies up at a holiday party, or as a treat for the end of a night. Best of all these Christmas tree cookies are so easy to make, and I bet you can't eat just one of them.
For more recipes that look like Christmas trees, try our Christmas Tree Cupcakes, Charcuterie Board Christmas Tree, Crescent Rolls Christmas Tree, and Strawberry Christmas Trees.
Another great thing about these meringue Christmas tree cookies is that they are naturally gluten-free. For another gluten-free Christmas cookie recipe give my Italian Amaretti cookies a try.
These Christmas Meringue Cookies…
are made with simple ingredients.
can be made in advance.
are a fun holiday treat for parties, bake sales, etc.
make a delicious Christmas gift to give to loved ones who enjoy nibbling on sweets.
can be decorated with any sprinkles you want for a fun and festive feel.
Ingredients Needed
This section includes ingredient notes and substitution options. Get all measurements, ingredients, and instructions in the printable recipe card at the end of this post.
Eggs – Make sure to let your eggs come to room temperature before whipping them.
Vanilla – Adds the perfect warm, sweet flavor to the meringue cookies.
Cream of Tartar – This ingredient is essential for getting that fluffy stand-tall tree you are needing.
Sugar – Granulated sugar is what you will use for this cookie recipe.
Food Coloring – Gel food coloring is what I prefer, and you can go as light or as dark of a green as you would like for this recipe.
Sprinkles – The sprinkles really help transform the meringe cookie into a festive Christams tree. I used clear and gold sprinkles to look like lights and a star for the topper of the tree. Rainbow nonpareils would also be fun to use!
Variations to Recipe
Flavoring – Flavor your cookies as you would like. Almond, peppermint, orange, or any other extract can be used in place of the vanilla in this recipe.
Powdered Sugar – Instead of sprinkles you could just do a star at top and dust with powdered sugar to look like snow.
Color – Feel free to change up the color of your Christmas tree meringues. Turquoise, pink, or other colors could be fun.
How To Make Christmas Tree Meringue Cookies
This section shows you how to make the recipe with step-by-step photos and instructions. For the full printable recipe, see the recipe card below.
Step 1: Start by whipping the egg whites until they become foamy.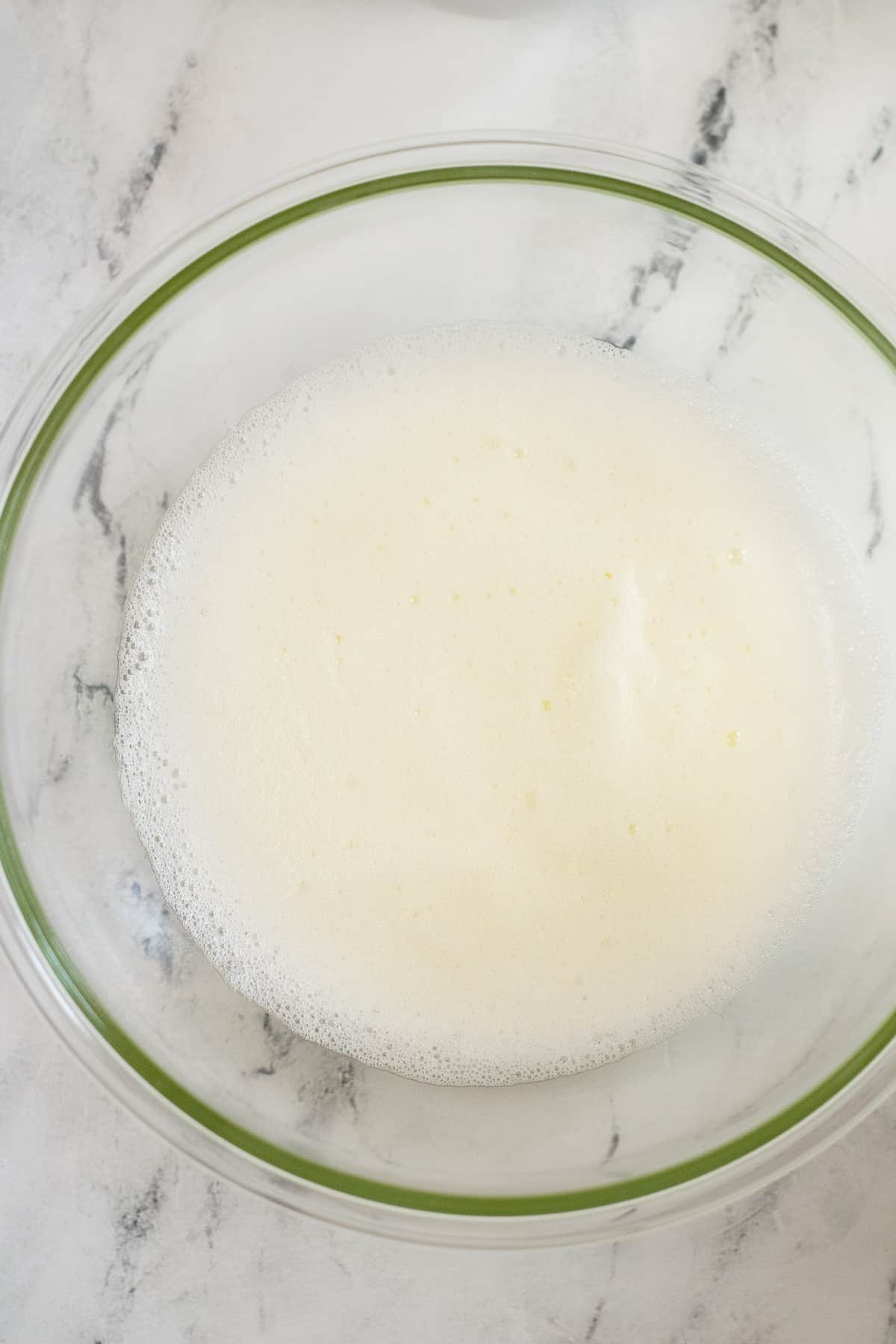 Step 2: Now you will add in the cream of tartar and the sugar and continue to beat until it creates stiff peaks. As you can see the meringue will hold up on the mixer attachment when lifted out of the bowl.
Step 3: Next you will add the green food coloring and vanilla.
Step 4: Transfer the mixture into a piping bag with a large star tip and pipe out your trees on a lined baking sheet. Top with a star and some festive sprinkles.
Step 5: Bake for 1 hour at 225 F, rotating your baking sheet halfway through. When they have finished baking, turn off the oven but do not open the door. Leave the meringues in the oven until they have cooled completely (1-2 hours). At this time they can be removed from the oven and served, or stored for later.
Storing
Store the cookies in an airtight container for up to 5 days. When exposed to air you will find the cookies begin to soften. Make sure if you stack your cookies, that you place parchment or wax paper in between the layers.
Pro Tips For Making Meringue Cookies
Use a hand mixer or stand mixer. This is going to help speed up the process of making these cookies. Otherwise, you will be whisking for a very long time. It is essential you get stiff peaks when whipping.
Decorate the cookies before they bake. That way the sprinkles are baked with the cookies. Otherwise, you will find the sprinkles fall off if you try to sprinkle on once the cookies are done.
Make sure to allow the cookies to cool in the oven for 1-2 hours after the cookies are done baking. This is essential.
Do not open the oven door. Opening the door will release the heat and could cause your cookies to fall flat. Turn on your oven light if you feel the urge to check on them.
More Christmas Dessert Favorites
Recipe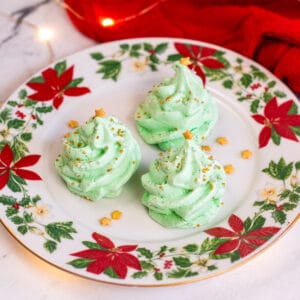 Recipe
Christmas Tree Meringues
Christmas tree meringues are a light, airy, and festive Christmas cookie. Plus, they are easy to make with just 6 simple ingredients!
Ingredients
4 egg whites room temperature
1 cup granulated sugar
⅛ teaspoon cream of tartar
½ teaspoon vanilla extract
green gel food coloring
festive sprinkles for decorating
Instructions
Preheat the oven to 225 F. Line a baking sheet with parchment paper and set aside.

Use a hand mixer or stand mixer fitted with the whisk attachment to whip the eggs whites on medium-high speed until foamy.

Add the cream of tartar. Then add the sugar gradually, mixing well between each addition. Continue whipping on high until stiff peaks form.

Stir in the vanilla and a few drops of green gel food coloring. Add more food coloring as needed until desired shade of green is reached.

Spoon into a piping bag fitted with a large star or closed star tip. Pipe onto the prepared baking sheet in swirls to create small tree shapes. Immediately top with sprinkles to decorate the trees.

Bake for 1 hour, rotating your baking sheet halfway through. When they have finished baking, turn off the oven but do not open the door. Leave the meringues in the oven until they have cooled completely (1-2 hours).
Nutrition
Serving: 1g | Calories: 36kcal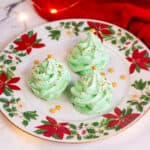 Did You Make This Recipe?
Share it with me on Instagram @crayonsandcravings and follow on Pinterest @crayonsandcravings for even more!