Posts may contain affiliate links, meaning that I may earn a commission if you use a link provided.
This post has been sponsored by Ferrara. All thoughts and opinions are my own.
My favorite holiday is just around the corner: Halloween!
And I can finally say that we are all ready for the big day. Our costumes are picked out, our house is decorated, and our candy bowl is filled. Make that, was filled. It looks like I have to refill it yet again!
Thankfully, there is a coupon for $1.50 off 3 Fun Size Bags at Stop & Shop—which makes it the perfect time to stock up and save on all our family's favorites: Butterfinger®, Crunch®, 100 Grand®, and Baby Ruth®.
I love the unique peanut buttery flavor and crispety crunchety® texture of Butterfinger®. In fact, Butterfinger® has been my go-to candy bar for as long as I can remember!
My husband is all about caramel, so his faves are Baby Ruth® and 100 Grand®.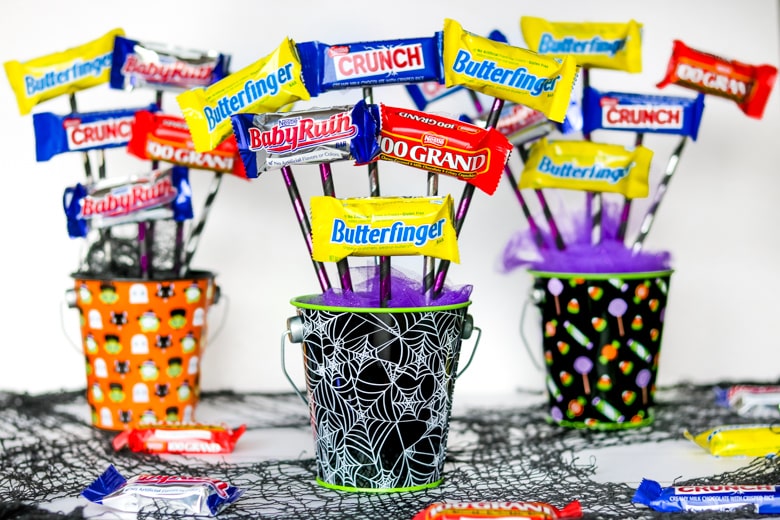 I figured, what better way to share the fun of the Halloween season than by gifting our favorite candy to all the special people in our lives?
So, in addition to refilling our candy bowl at home, I use some of the candy I purchased to make these fun and festive Halloween candy bouquets.
Halloween Candy Bouquets
Candy bouquets take just a few minutes to make and are a terrific Halloween gift for friends, family, teachers, and neighbors.
They work great as Halloween party centerpieces as well. You could even play a game to see which lucky person at the table gets to take the candy bouquet centerpiece home at the end of the night.
How to Make Candy Bouquets
Materials:
container – bin, basket, or oversized coffee mug
floral foam block
wooden skewers
paper straws
Fun Size Butterfinger®, Crunch®, 100 Grand®, and Baby Ruth®
filler – deco mesh, paper shreds, or tissue paper
Tools:
tape
scissors
sharp knife
Instructions:
Place the foam block inside of your container. Use a sharp knife to trim your foam block to fit, if necessary.
Slide a paper straw over a wooden skewer, making sure to leave enough of the wooden skewer sticking out of the bottom to push it into the foam block. Use tape to secure a piece of candy to the top of the wooden skewer. Place the other end of the skewer into the foam block.
Repeat, placing the skewers into the foam at different angles and heights to give the bouquet a nice shape.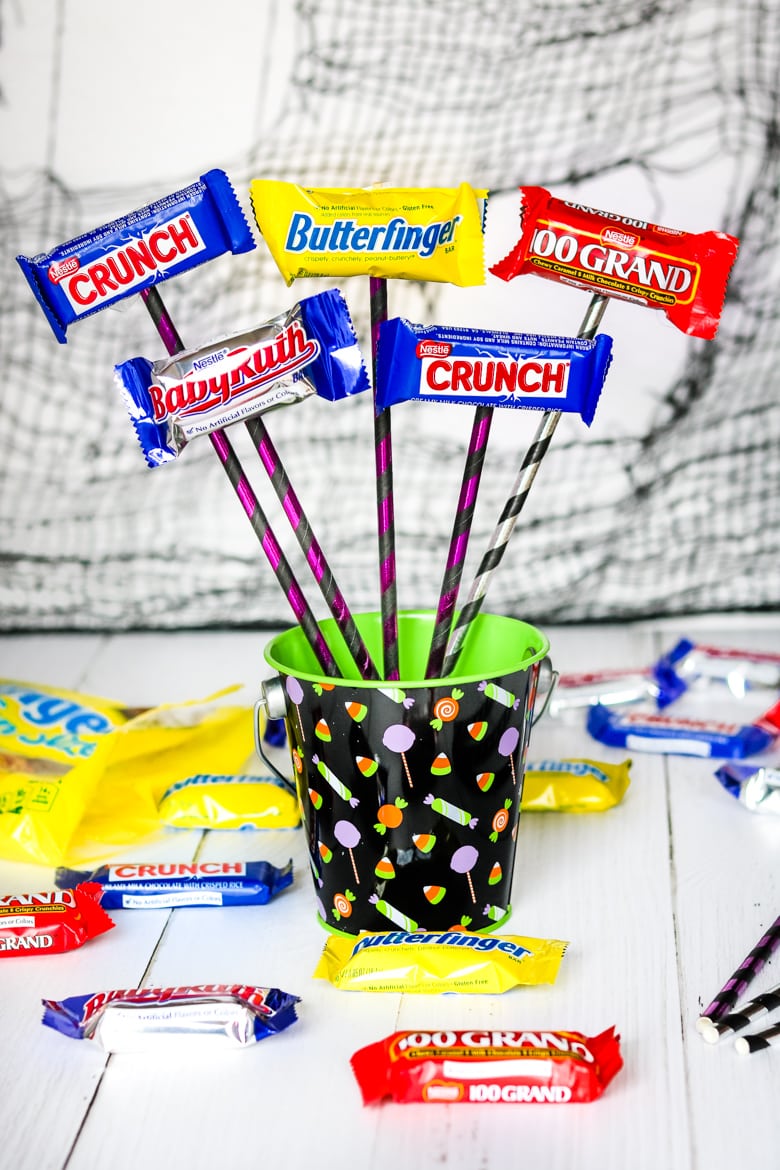 Depending on the size of your container and the length of your skewers, you may need to cut some of them. I decided to trim some of my skewers in order to make each row of my bouquet a different height. To cut your skewers, use scissors or a utility knife to score the skewer all the way around. Then, carefully bend it back and forth and twist it a bit until it breaks in two.
Once all the skewers are in place, tuck deco mesh around the base of your bouquet and in-between the skewers to cover up the foam block. Tissue paper or paper shreds would work as well.
That's it—your candy bouquet is ready to gift.
It is always fun to surprise someone with a little gift such as these Halloween candy bouquets. The way I think about it, it is totally worth 10 minutes of my time to put a smile on someone's face!
Halloween Candy
The fun size candy bars are perfect for candy bouquets and also great for handing out to trick-or-treaters.
I found fun size bags of Butterfinger®, Crunch®, 100 Grand®, and Baby Ruth® in the seasonal section of my local Stop & Shop, near the other Halloween products.
Do you have a Stop & Shop nearby? I love shopping at my local Stop & Shop because they carry all my favorite brands at great prices.
If you don't have a Stop & Shop nearby, you can find the same deal at your local Giant Food, Food Lion, or Hannaford instead.
I hope you enjoy making these fun candy bouquets and that you and your family have a very happy Halloween!
More Halloween Candy Recipes & Ideas