Easter Bunny Butt Cookies
Posts may contain affiliate links, meaning that I may earn a commission if you use a link provided.
Adorable Easter Bunny butt cookies make a super cute Easter dessert that both kids and adults will love. Make these fun Easter cookies with this from scratch recipe or buy sugar cookie dough and icing to save some time!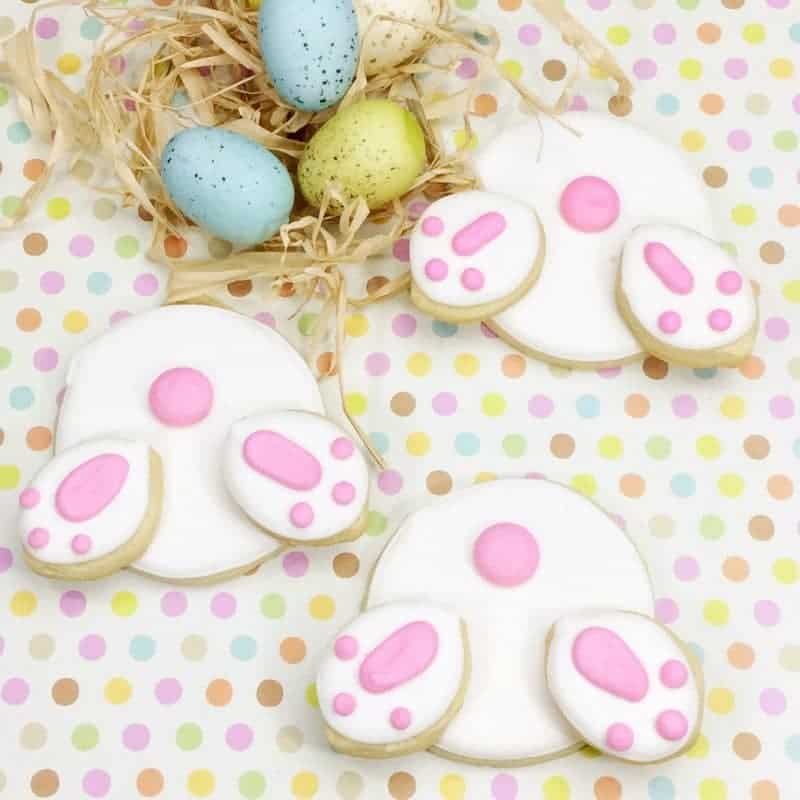 Are you looking for cute Easter desserts that your kids are sure to love?
These Easter Bunny butt cookies are absolutely adorable!
Not only that, but they taste amazing. Imagine the looks on your kids' faces when you give them cookies that look like bunny butts! For another fun bunny butt idea try these adorable bunny butt pancakes.
Of course, your kids would also love to help make these cookies with you.
Related: Don't forget to leave this treat out for the Easter bunny!
These Easter cookies would also be the perfect treat for bake sales. If you want something that is sure to capture everyone's attention, this will certainly do it.
You could wrap the bunny butt cookies individually in cellophane baggies or plastic wrap so that everyone can still see how cute they are.
If you're pressed for time, don't be afraid to just grab a roll of sugar cookie dough from the store to make these cookies. They'll be just as cute, but much quicker to make.
You can also purchase royal icing from the baking section of almost any grocery store if you are looking for a shortcut on the icing as well.
However you make these fun Bunny butt cookies, everyone is sure to love them!
More Fun Easter Dessert Ideas
Recipe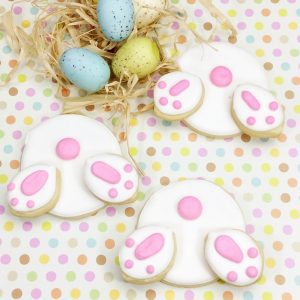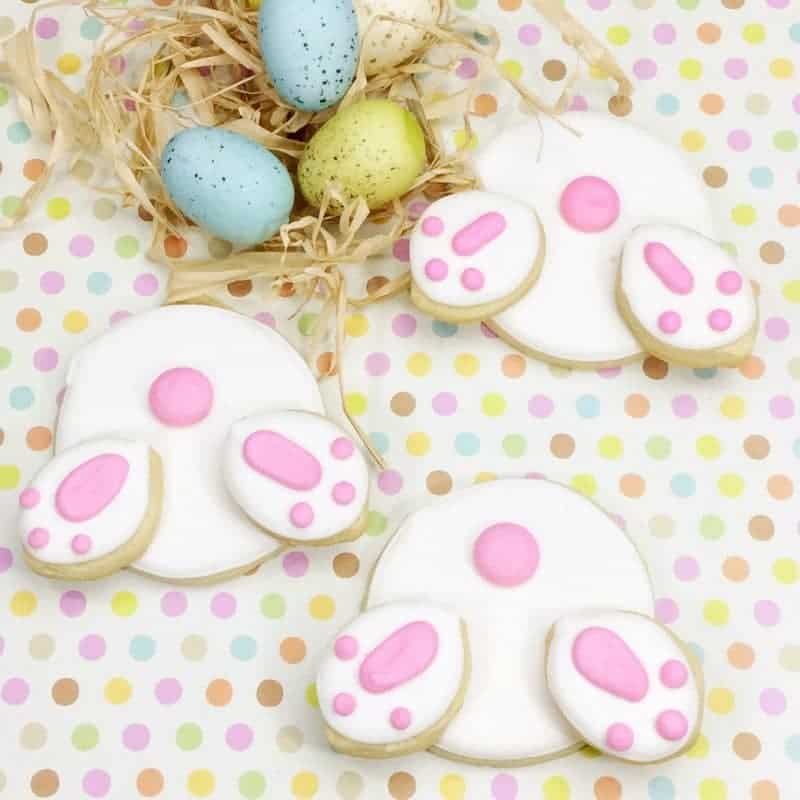 Recipe
Bunny Butt Cookies
Adorable Easter Bunny butt cookies make a super cute Easter dessert treat for the little ones.
Ingredients
For the sugar cookie dough:
1 cup unsalted sweet cream butter
1 1/2 cup confectioners' sugar
2 teaspoon vanilla extract
1 large egg
2 1/2 cup all-purpose flour
1 teaspoon cream of tartar
1 teaspoon baking soda
For the royal icing:
3 egg whites
1 teaspoon cream of tartar
1 teaspoon vanilla
4 cup confectioners' sugar
pink gel food coloring
Instructions
For the sugar cookies:
Preheat oven to 350 degrees and prepare a baking sheet with parchment paper or silicone liner.

Using a standing mixer, cream together the butter, powdered sugar, vanilla and egg until creamy and well combined.

In a large bowl, mix together flour, cream of tartar and baking soda.

Gradually mix in the flour mixture into the wet ingredients until well combined and a dough forms.

Place dough on a cutting board or silicone mat sprinkled with flour. Sprinkle some additional flour onto the dough itself and roll it out until it is about 2 inches thick.

Using the cookie cutter, cut out your cookies and place them onto the cookie sheet.

Bake cookies for 8-10 minutes.

Remove from oven and allow to cool for a few minutes, before transfering to a wire baking rack to cool completely.
For the royal icing:
Using a standing mixer, mix together egg whites, powdered sugar, vanilla and cream of tartar until well combined.

If your royal icing mixture looks too watery, add in more powdered sugar (max 2 cups) until your icing begins to thicken.

Continue to mix until icing is white and stiff with peaks (about 5-7 minutes).

Scoop some icing into a bowl and add pink food coloring. Mix until well blended. Spoon the pink icing into a piping bag and place into the refrigerator to use later.

Spoon some white icing into another piping bag.

Using the remaining white icing, add in 2-4 tablespoons of water into the white icing and mix until combined. Pour into a squeeze bottle.

Using the white icing in the piping bag, pipe a line around the edging off all your cookies. Then, place the remaining icing in the piping bag back into the refrigerator.

Using the squeeze bottle, fill in your cookies with white icing.

Allow icing to set before continuing. For best results, allow to set overnight.
To Decorate:
Once icing is completely dry, use the white piping bag to add a small dollop of icing onto the back of the egg-shaped cookies to act as a glue. Then, stick the egg-shaped cookies onto the circle shaped cookies to act as the bunny's feet. (Reference picture to see proper placement of feet.)

Using the pink icing in a piping bag fitted with a #2 tip, add the details to the feet and pipe on a pink dot for the bunny tail. (Again, reference picture to see where we placed the tail and details on feet.)

Allow cookies to set completely (1-2 hours) before enjoying!
Notes
You can use store bought sugar cookie dough if you are pressed for time.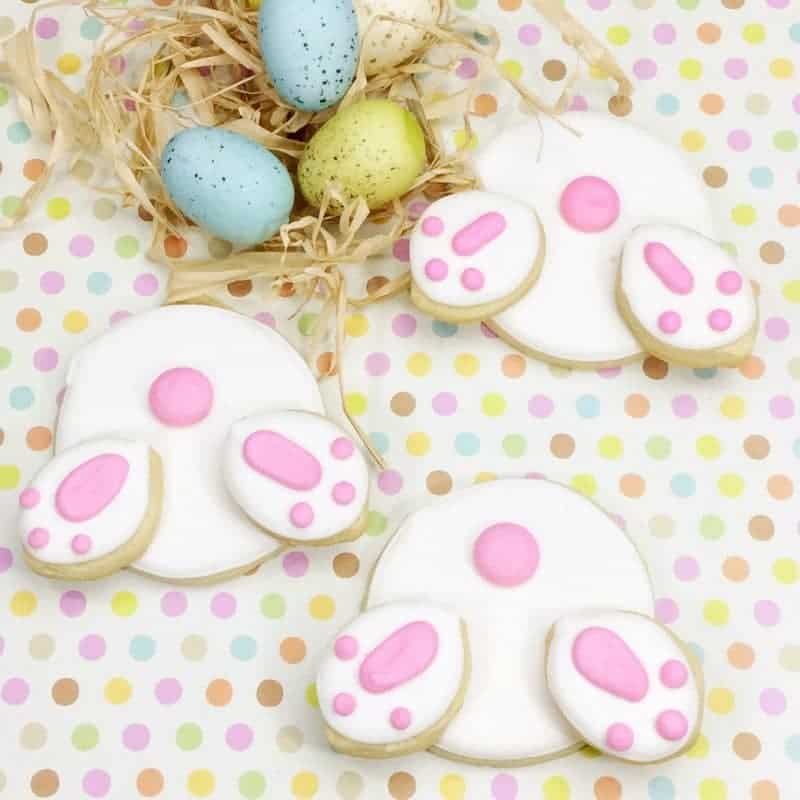 Did You Make This Recipe?
Share it with me on Instagram @crayonsandcravings and follow on Pinterest @crayonsandcravings for even more!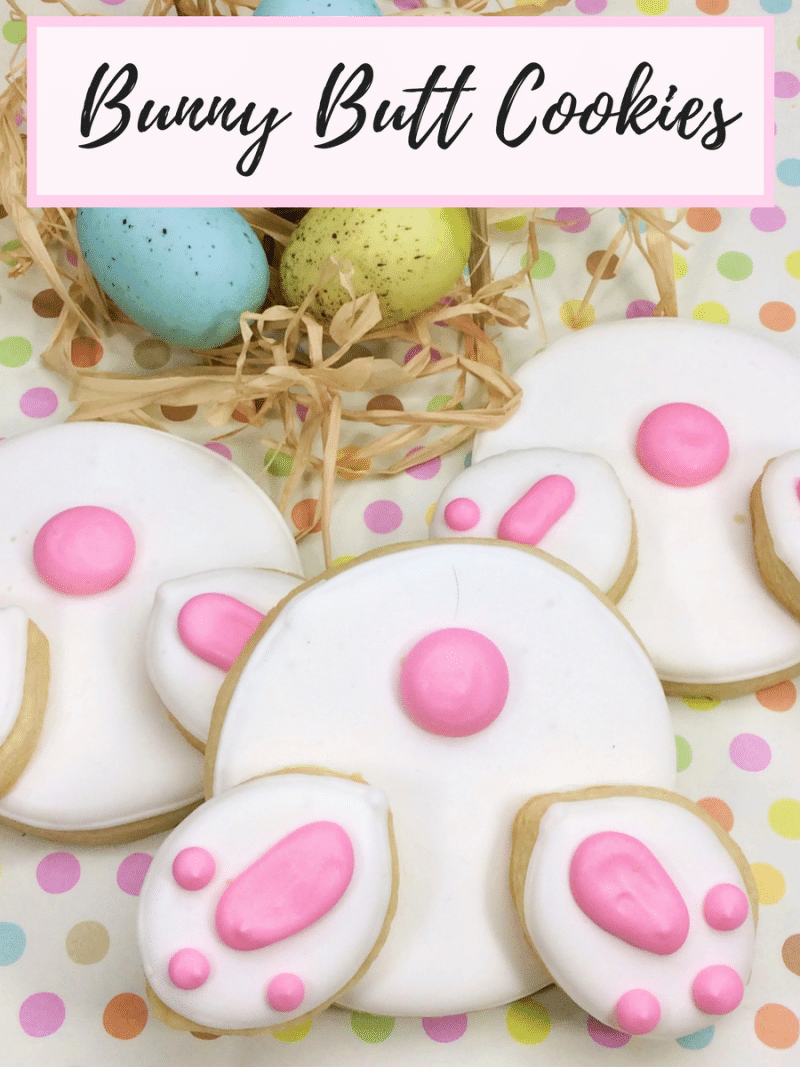 This fun Easter cookie recipe was shared on Meal Plan Monday.