Posts may contain affiliate links, meaning that I may earn a commission if you use a link provided.
A skinny peach lemonade recipe made using fresh peaches. With no sugar added, this skinny lemonade makes the perfect guilt-free beverage for summertime.
Do you love a fruity drink but hate all the calories?
If so, I have the perfect lightened-up lemonade recipe for you.
This delicious skinny peach lemonade recipe may be made without sugar, but like our watermelon lemonade, this summer drink is full of flavor. With no sugar added, it cuts the calories big time.
Instead of sugar, this skinny lemonade is sweetened with Truvia, a natural stevia-based sweetener.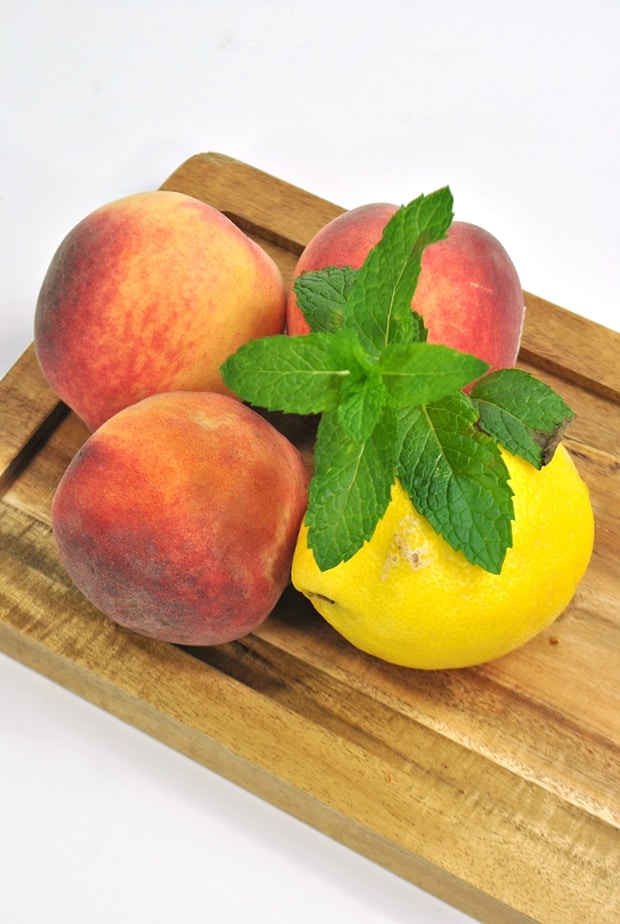 Best of all though is that this peach lemonade is made with real peaches just like our peach bundt cake. The fresh peaches give your lemonade an authentic taste that you just don't get from canned peaches.
This fresh lemonade is truly the perfect drink to enjoy in the summertime. Especially right now when peaches are at their best.
If you're not a peach fan, you can make this skinny lemonade recipe using another fruit instead. You could try the recipe with strawberries, blackberries, raspberries, or even plums. Try different flavors and see what you like best.
This would be the perfect drink to serve alongside the burgers, hot dogs, and pasta salads at a summer BBQ.
It would also be a nice upgrade if your child wants to set up a lemonade stand. Because who can pass up a nice fresh glass of strawberry lemonade? Not me, that's for sure!
Either way, everyone is going to love this fresh homemade lemonade.
Lemon-lovers, have you seen these strawberry lemonade jello shots!
Recipe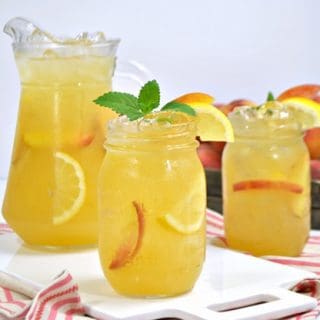 Ingredients
4-6 ripe peaches
4 cups water
1/4 cup Truvia
1 cup lemon juice freshly squeezed
ice
fresh mint for garnish (optional)
Instructions
Chop 2 cups of peaches, removing pits and seeds but leaving the skin on.

Heat peaches, water, and Truvia over medium heat in a medium sized saucepan. Bring to a boil and then reduce heat and let simmer for 5 minutes (uncovered).

Remove from heat and allow to cool for at least 10 minutes.

Once cooled, pour into blender and blend until smooth.

Pour from blender into a freezer bag and refrigerate until chilled.

Once chilled, pour into a pitcher through a strainer or fine mesh sieve to remove pulp. Stir in lemon juice and refrigerate until ready to serve.

To serve, pour over ice. Garnish with fresh mint and peach slices if desired.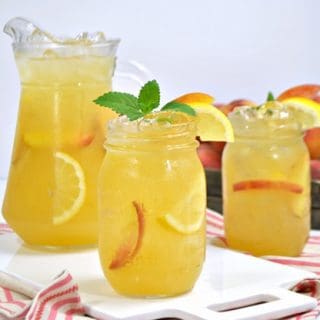 Did You Make This Recipe?
Share it with me on Instagram @crayonsandcravings and follow on Pinterest @crayonsandcravings for even more!
Pin Skinny Peach Lemonade for Later: