Posts may contain affiliate links, meaning that I may earn a commission if you use a link provided.
This free printable Halloween Bingo is a fun Halloween game for kids. It is a great activity for class parties, Halloween parties, or any Halloween event. Download 10 free printable bingo cards and a set of 30 unique calling cards at the bottom of this post.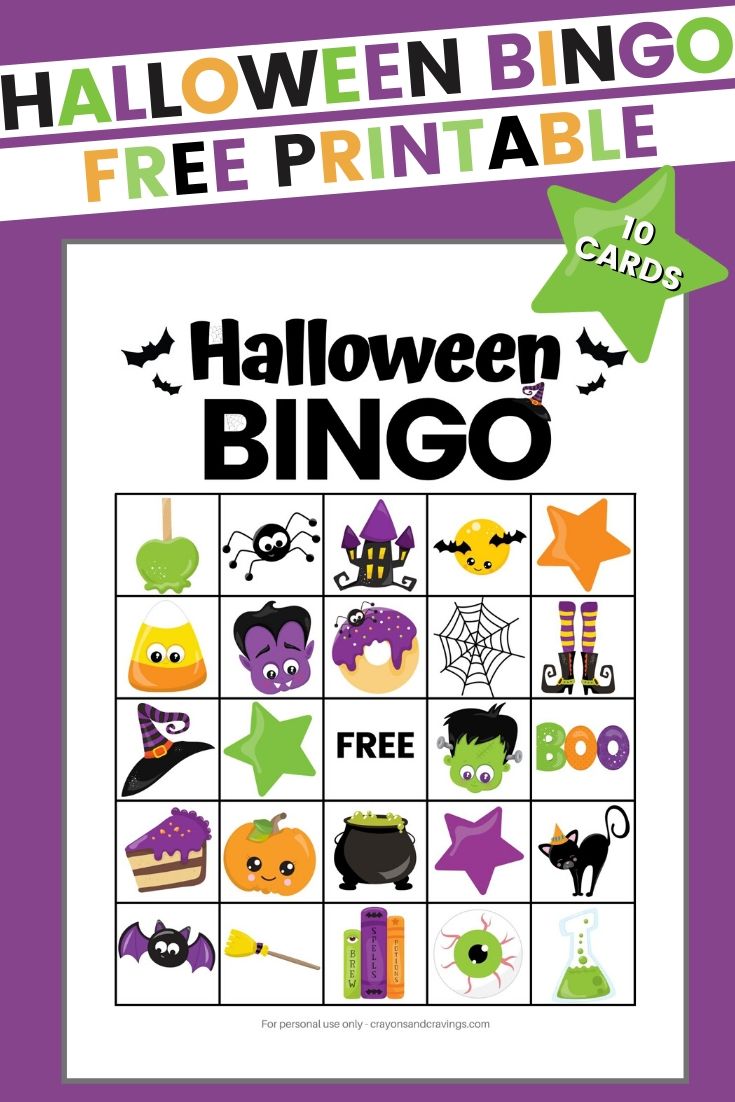 A fun twist on traditional bingo, 10 unique cards in this Halloween-themed game of bingo feature bright and colorful images such as monsters, a black cat, a witch's hat, sweets, a bat, candy corn, a pumpkin, a haunted house, a spiderweb, and more. The graphics aren't very scary and are more on the cute side making this the perfect game for younger children.
Whether you are looking for a fun game to play with young kids at a classroom Halloween party or something festive to play with your young children at home on family game night, you will love this free printable Halloween bingo game!
Calling Cards
Each of the 10 different cards will print out on a separate sheet of paper. The full set of calling cards will print on the final page and will have to be cut out.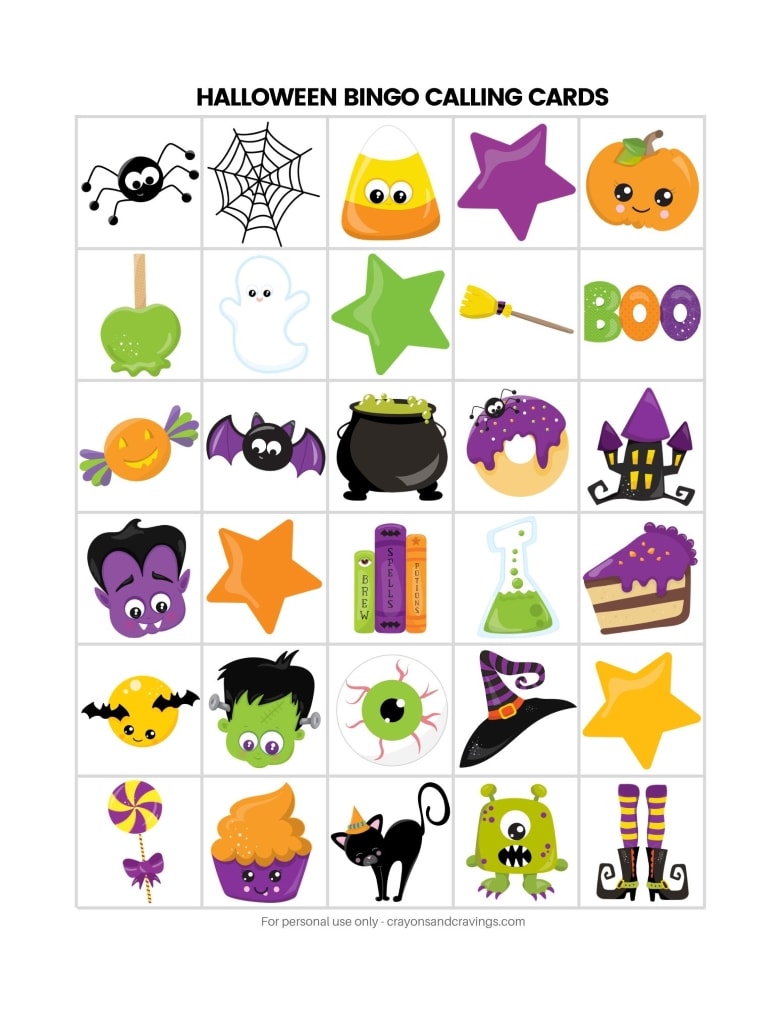 The teacher or parent running the game will place the calling cards in a bowl or baggie and select one calling card at a time and hold it up for the children to see. You could also shuffle the calling cards and simply place them in a draw pile.
Then the children who have the matching image on their BINGO card should mark it off.
Marking Off Squares
First, the children can all mark off the free space in the center of their bingo cards.
Kids can mark squares off with anything from crayons or bingo markers to Halloween candy such as candy corn.
However, if you allow the kids to write on the game boards the same card will not be able to be used more than once. That is why using candies, bingo chips, or even pennies or other coins may be preferred.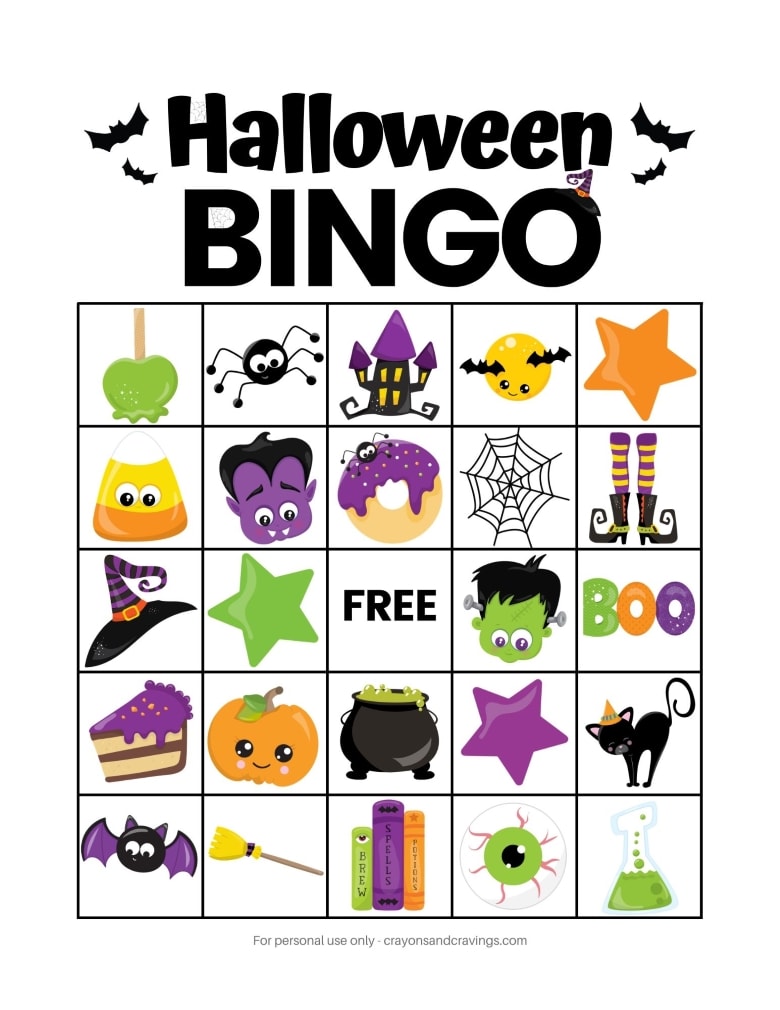 Winning the Game
Don't forget to explain to the children how to play and win BINGO before starting the game. Tell them what they will need to get marked off on their cards to win (full-card bingo or 5 in a row?).
And make sure that they know to shout "BINGO!!!"
Optional: give the winner a small Halloween prize or fun sticker.
Make It Last
To make the free printable Halloween bingo cards last as long as possible I suggest printing on cardstock or laminating the cards.
Laminating the cards is the ideal choice and will ensure the best results. You will be able to enjoy the game for years to come.
If you laminate the cards the kids can even mark the squares off using dry-erase markers and then you can just wipe them off with a tissue after.
More Free Halloween Printables for Kids
Looking for more Halloween games and activities for your classroom party? Check out these fun free download options below:
Download Your Free Printable Halloween Bingo Game
The free Halloween bingo cards are only available to members of the C&C community. Membership is entirely FREE. Sign up below for instant access to the printable PDF file!
I hope that you enjoy this fun pritnable game and have a very Happy Halloween!