Posts may contain affiliate links, meaning that I may earn a commission if you use a link provided.
Not only do these Candy Cane Kiss Cookies look festive, but these holiday cookies have a festive peppermint flavor as well.
Who doesn't love holiday cookies?
As soon as the Christmas season rolls around you can find me in the kitchen baking all of the best Christmas cookie recipes.
Of course you have your traditional chocolate chip cookies, gingerbread cookies, and sugar cookies… but, if you're looking for a new recipe to try, you're going to love these candy cane Hershey Kiss cookies.
The Candy Cane Kisses on top give the cookies a festive look as well as a festive peppermint flavor.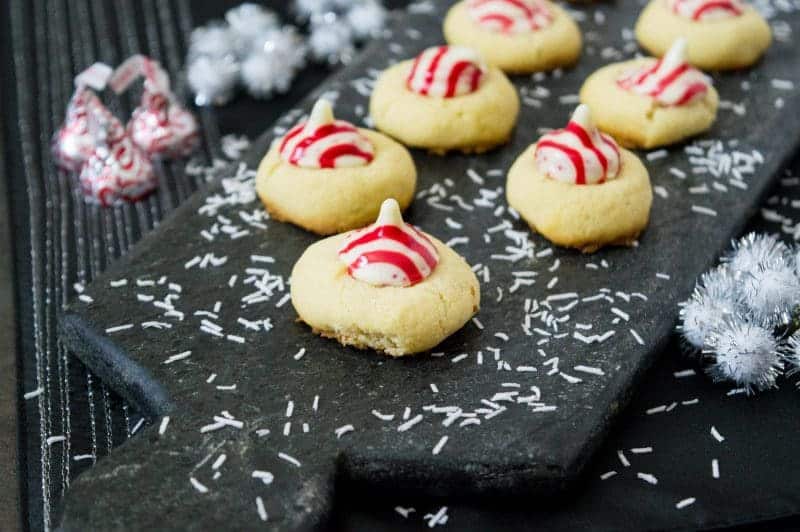 You will love how easy these Candy Cane Hershey Kiss cookies are to make.
Whether you've got an entire day to devote to baking Christmas cookies or you are short on time, you'll have no problem whipping up a batch of these fun Hershey Kiss candy cane cookies.
You'll also love how beautiful these candy cane cookies will look on your Christmas buffet table or inside any treat bag or box.
Speaking of treat bags and boxes, these candy cane thumbprint cookies would make an excellent homemade holiday gift.
Add some tissue paper to a gift tin and then nestle the Candy Cane Hershey Kiss cookies inside. Or you can place them inside decorative cellophane treat bags or treat boxes. Either way, these delicious holiday cookies make an excellent gift for neighbors or coworkers.
If you've got a large crowd to feed, you will want to make multiple batches of these cookies. Trust me, these cookies are so good that everyone will want several!
If you have kids, you can even dress these cookies up a bit more. Simply roll the dough balls in colored sugar before baking or adding food coloring to the dough. This will add a pop of color that your kids will love!
I hope that you enjoy this delicious holiday cookie recipe and that you have a very happy holiday season!
More tasty holiday desserts:
Recipe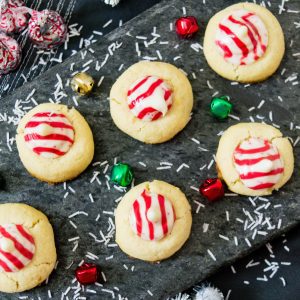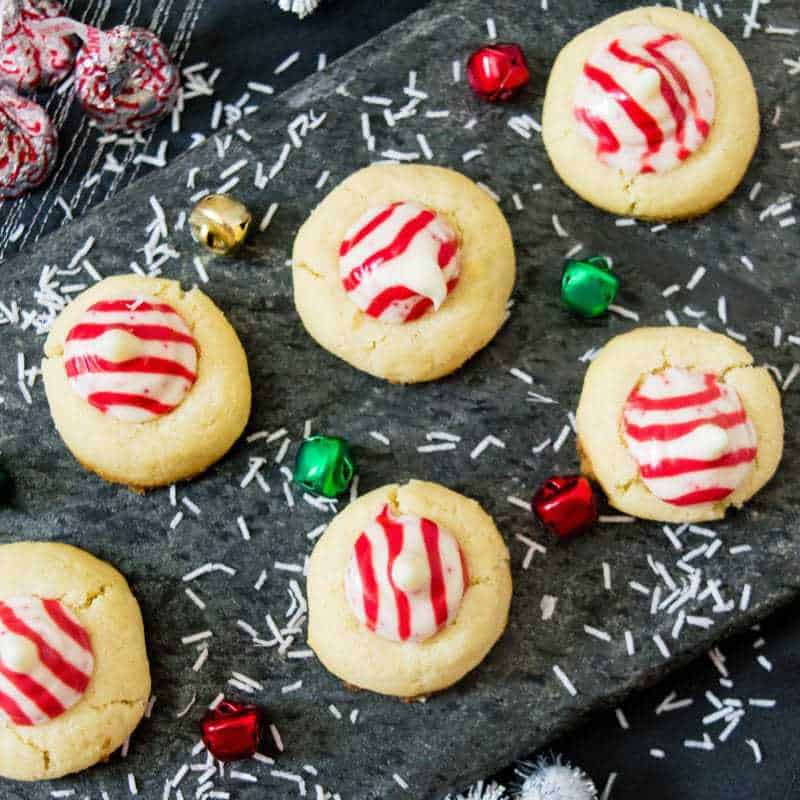 Recipe
Candy Cane Hershey Kiss Cookies
Not only do these Candy Cane Hershey Kiss Cookies look festive, but these holiday cookies have a festive peppermint flavor as well.
Ingredients
½ cup salted butter softened
¼ cup of sugar
1 egg yolk
1 ½ teaspoons of pure vanilla extract
1 cup of all purpose flour
20 Candy Cane Hershey Kisses
Instructions
In a large bowl, beat butter and sugar together until light and fluffy, about 3-4 minutes.

Add in the egg yolk and vanilla. Beat until well combined.

Add in flour and beat together until all the flour is wet and mixture is combined. Do not over beat.

Cover and refrigerate for half an hour.

Preheat oven to 350 degrees Fahrenheit.

Remove from refrigerator. Create 1 inch balls and place onto a baking sheet. (Use parchment paper or spray gently with cooking spray.)

Onto the top of each ball, gently press with a thumb or finger to create a crevice.

Bake for 12-15 minutes. Once cookies are slightly golden brown take out of oven and immediately add one Candy Cane Hershey Kiss to the center of each and then allow cookies to cool for 10 minutes before serving.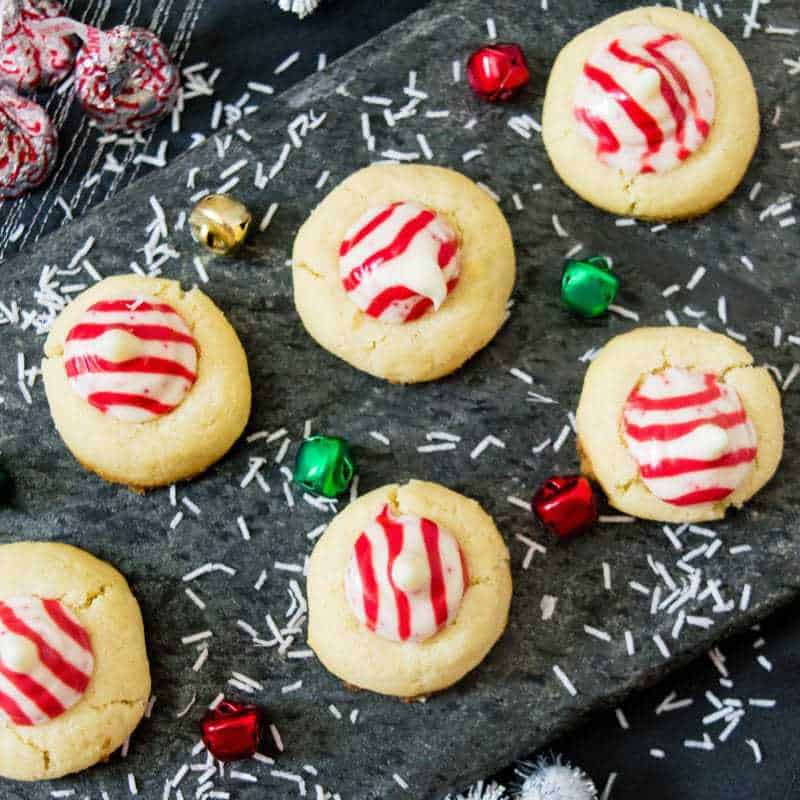 Did You Make This Recipe?
Share it with me on Instagram @crayonsandcravings and follow on Pinterest @crayonsandcravings for even more!