Make fun Valentines for the class with this easy DIY Valentine Slime recipe and these fun Valentine printable gift tags. These are perfect for the kids to give out to their classmates or friends this Valentine's Day!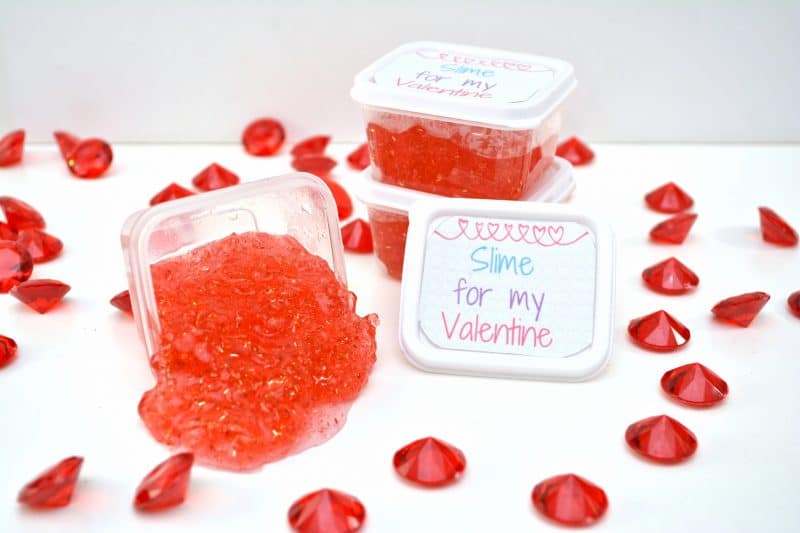 The slime fad comes and goes, but has recently been extremely popular. From kids making slime on YouTube to companies selling kits to make your own slime – slime is truly the "it" thing right now. Why not let your kids have fun with it and make their own homemade Valentine slime for their special Valentines?
This "Slime for my Valentine" craft is so much fun for kids to make, and it's also super affordable. Your kids will be a big hit when they pass these fun slime Valentines out at school or at a Valentine's Day party. I've even included the fun "Slime for my Valentine" printable gift tags so that your kids can attach a cute label to each container of slime.
If you homeschool your kids, this is still a fun craft to make. Kids will love having special slime that's just for Valentine's Day.
Little boys and girls alike are going to love this fun DIY Valentine's Day gift. Slime is something that everyone can enjoy. Best of all, you won't break the bank making a container of Valentine slime for each child, even in the largest of classrooms.
Valentine Slime Supplies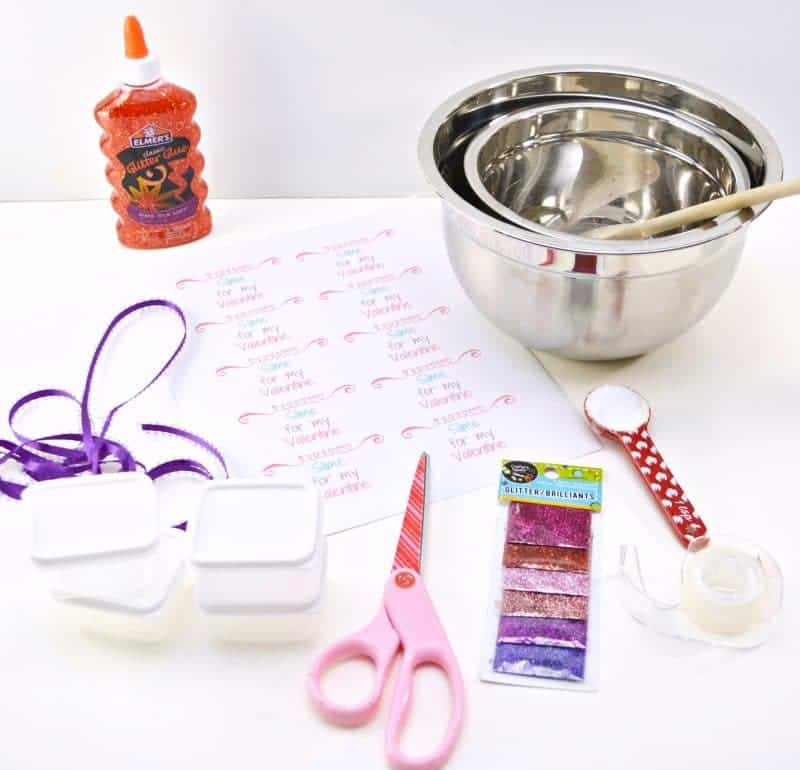 1 Container of red glitter glue
¾ and ⅔ cups very warm water separated
1 tsp. Borax
2 Mixing bowls
Mixing spoon
Red glitter (optional)
Small plastic containers with lids
Scissors
Double sided tape (or print labels on sticker paper)Valentine Slime Free Printal Gift Labels – Slime for my Valentine
"Slime for my Valentine" printable labels (download here)
Ribbon (optional)
Shop Valentine Slime Supplies
Mini Storage Containers
Elmer's Liquid Glitter Glue
Borax
Sticker Project Paper
Scotch Double Sided Tape
Red Glitter
Hearts Curling Ribbon
Making Valentine Slime
This Valentine slime recipe will make enough slime to fill about 5-6 small containers. You can double or even triple the recipe if needed to make even more Valentines. It is can easy to multiple this recipe to make as much Valentine's slime as you need.

1. Start by combining 1 bottle of red glitter glue and ¾ cup of very warm water in a mixing bowl. Mix well until combined.

2. In a separate bowl, mix together 1 tsp of Borax and ⅔ of a cup of very warm water until the Borax is completely dissolved.

3. Combine the Borax mixture with the glue mixture and continue to mix until you reach a slime consistency. This will take some time, and you may even eventually want to start mixing and squeezing it with your hands to help it combine more. If there is excess water, you can pour it out at the end. If desired, add additional glitter into the slime and mix together with hands.

4. Download "Slime for my Valentine" labels here, and print out. For your convenience the download has 10 labels per page.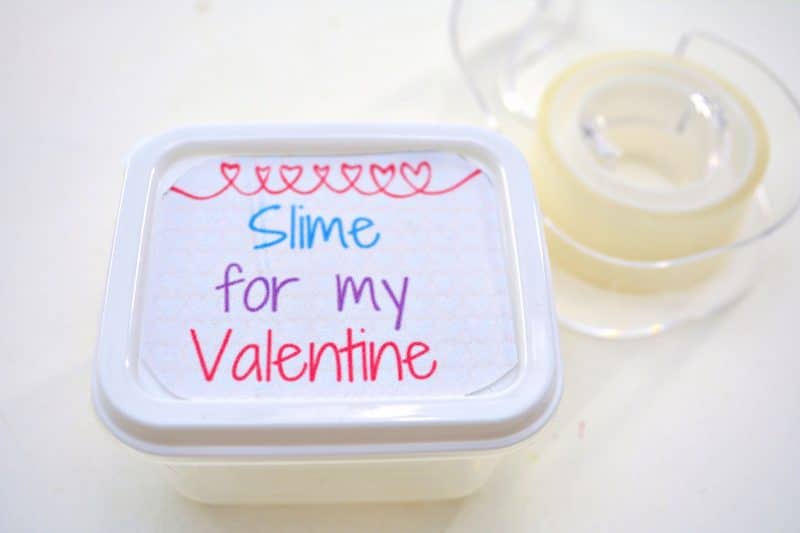 5. Trace the top of the lids to your containers and cut the labels out to sit inside the top of each small container.

6. Place some slime into each container and close the lids.

7. Use double sided tape to attach a label to the top of each lid. Or, simply peel and stick the labels on the lids if you used sticker paper.
8. Tie a ribbon around each container to add some additional flair (optional).
I hope that you enjoy this fun DIY Valentine Slime craft and that you are your little ones have a very happy Valentine's Day!
Check out these other fun Valentine's Day ideas for Kids: