This DIY Lottery Ticket Gift Basket & Mystery Gift Box tutorial was sponsored by the New Jersey Lottery. View our complete disclosure policy here.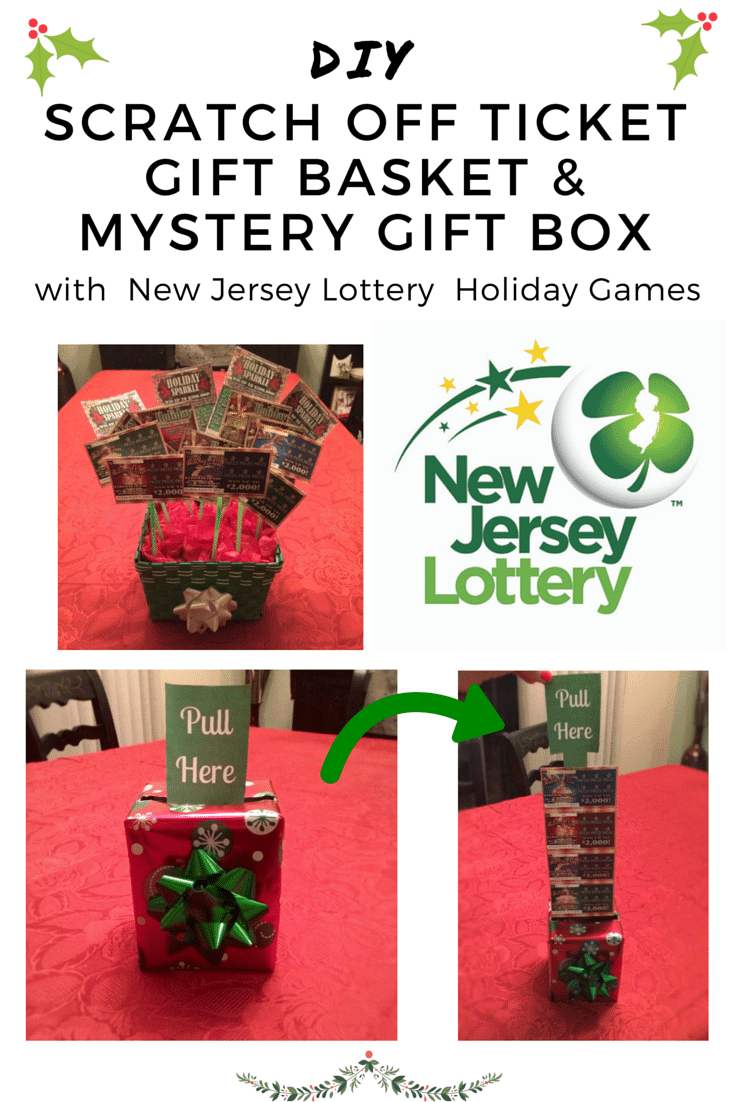 The New Jersey Lottery has four fun Holiday themed scratch off instant games available this Holiday season.
You can pick up these Holiday games at your local NJ Lottery retailer (e.g., 7-Eleven, Wawa, Quick Chek).
These holiday scratch off tickets make a great gifts or stocking stuffers for anyone on your list that is over 18.
Today I have two simple DIY holiday gift ideas to help you gift NJ Lottery Holiday scratch offs this Holiday season*.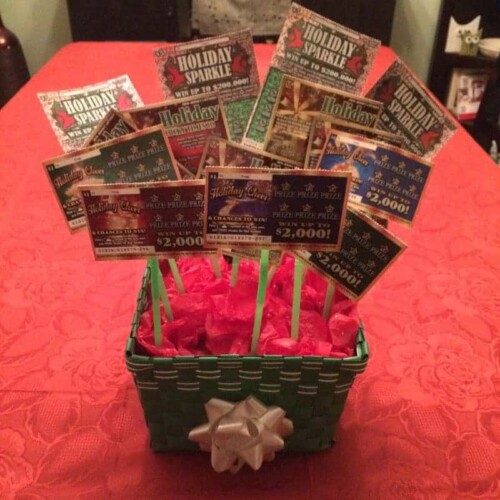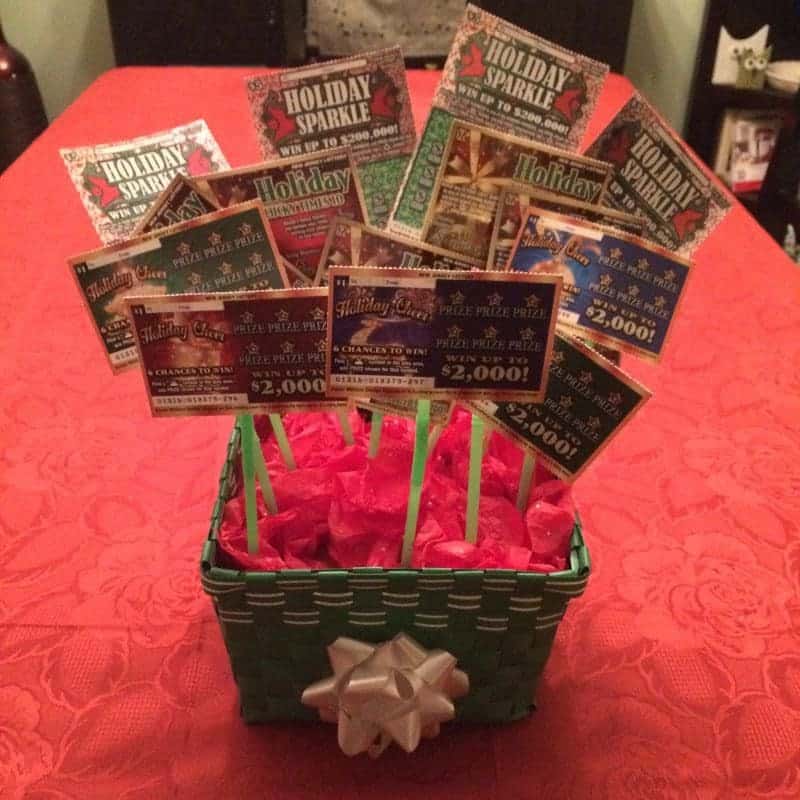 Scratch Off Lottery Ticket Gift Basket
Supplies:
Various denominations of NJ Lottery Ticket Holiday games scratch offs
basket
foam block
straws or wooden skewers (I used straws but skewers would be sturdier and easy to work with)
tissue paper, foil shreds, or something else to cover up with foam block
bow (optional)
The Lucky Clover Trading Red Holiday Bamboo Sleigh Basket
The Lucky Clover Trading Metal Round Foil Basket with Handle, Gold
FloraCraft Desert Foam Bricks Packaged, Green, 2 Per Package
Red, Green & White Christmas Tissue Paper (Solid Colors) 120 Sheets Total
Bamboo Skewers, Set of 100
Pull Bows for Large Christmas Gifts – 9
Instructions:
Place foam block inside the basket
Tape lottery tickets to the skewers
Push skewers into foam block at various depths
Cover the foam block with the tissue paper / foil shreds
Place a bow on the front of the lottery ticket gift basket (optional)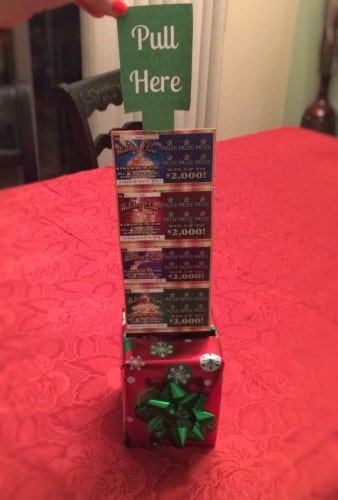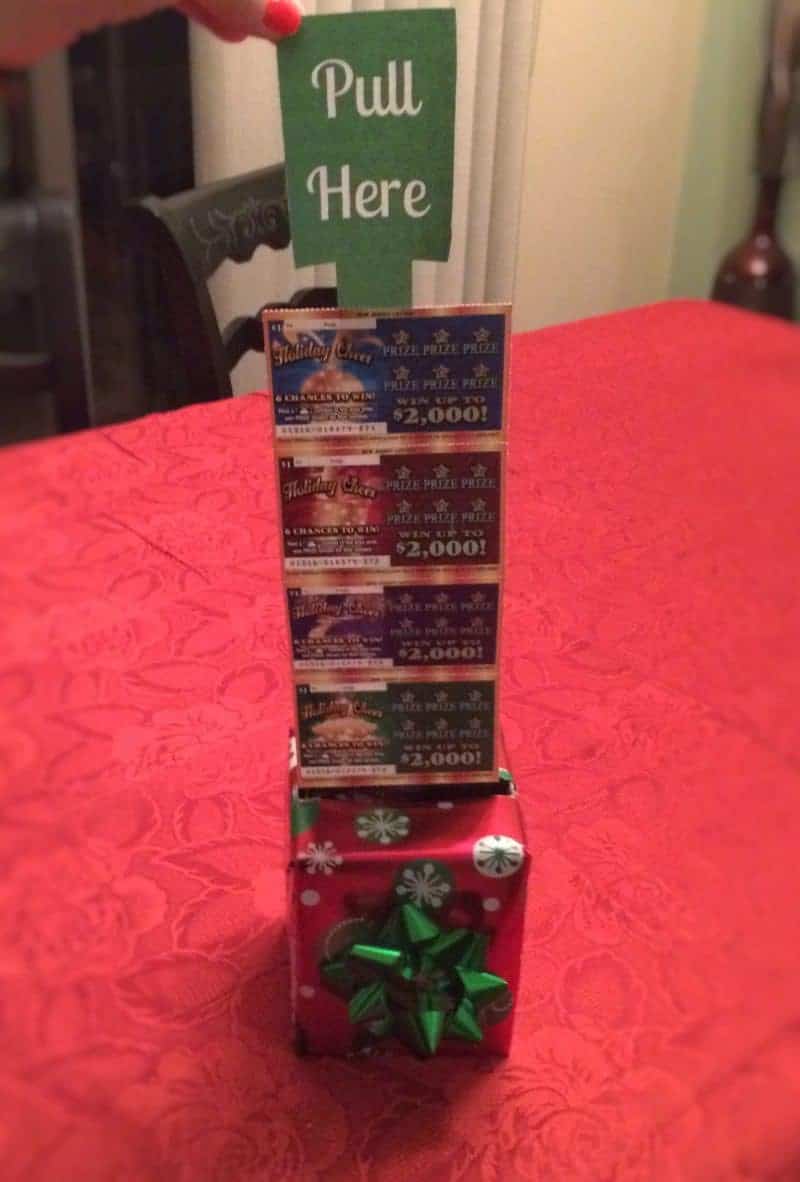 Scratch Off Lottery Ticket Mystery Gift Box
Supplies:
NJ Lottery Holiday games $1 scratch offs – strip of at least 10 (I used about 30!)
empty tissue box
wrapping paper
scissors
tape
cardstock
printer
bow (optional)
American Greetings Christmas Wrapping Paper
Bright White Premium Cardstock
Scotch Magic Tape and Refillable Dispenser
Pull Bows for Large Christmas Gifts – 9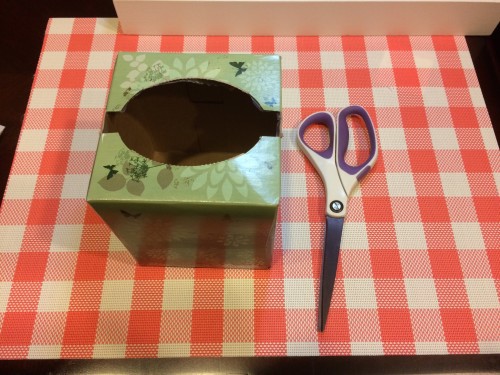 Instructions:
Print "Pull Here" Label (printable available here) on cardstock
Widen the slit in the top of the tissue box to accommodate the width of the tickets (as seen in image above)
Wrap tissue box, leaving the slit at the top open
Fold lottery tickets in a zig-zag pattern into a neat pile
Tape "Pull Here" Label on last ticket
Drop pile of lottery tickets into the tissue box, leaving the "Pull here" label out of the box
Place a bow on the front of the box (optional)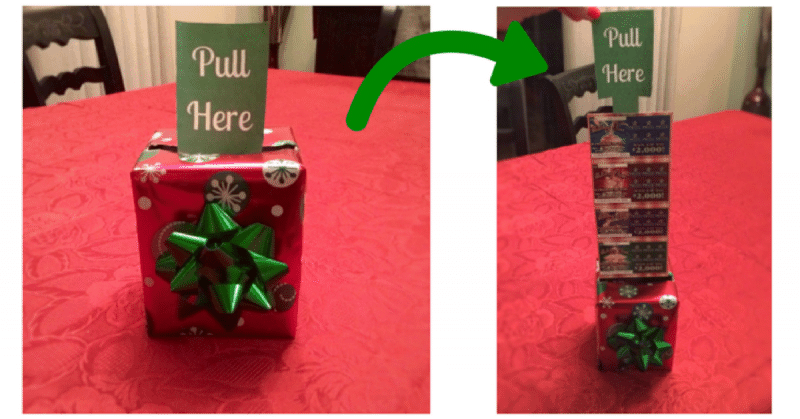 Volia!
There you have it, two simple and stress-free NJ Lottery ticket gift ideas perfect for anyone (over 18 of course) on your list this year!
These gifts are also great to keep on hand for when you need a quick gift when a friend or relative drops in – or to bring as a hostess gift when you are invited to someone's house.
My husband loves New Jersey Lottery Scratch Offs and will be very excited to see these festive gifts under the tree come Christmas morning. Plus, by gifting these to my husband, I get to reap the benefits if he wins big!
More easy DIY Lottery ticket gift ideas:
For more fun and festive lottery ticket gift ideas check out: 5 Awesome Ways to Gift NJ Lottery Instant Games This Holiday Season.
For more information visit New Jersey Lottery.
Disclaimer: Must be 18 or older to but a lottery ticket. Please play responsibly. If you or someone you know has a gambling problem, call 1-800-GAMBLER®.
Parents are urged to think twice about gifting lottery tickets to children.
*Tickets to create these projects were provided by New Jersey Lottery.