Are you looking for a fun Thanksgiving turkey craft for your kids? This chocolate kiss turkey Thanksgiving craft is fun and easy to make.
The kids will love them! After all, what is better than a craft that includes candy?
Because this craft includes candy, you'll probably want to have more on hand than what's called for in the project. Let's face it. You and the kids are going to want to munch on the candy as you make the project.
These chocolate kiss turkey treats would be so cute used as place cards at the Thanksgiving table. The kids could write everyone's names on the turkeys and place them on the dining table. This allows the kids to help our and feel included in the big day.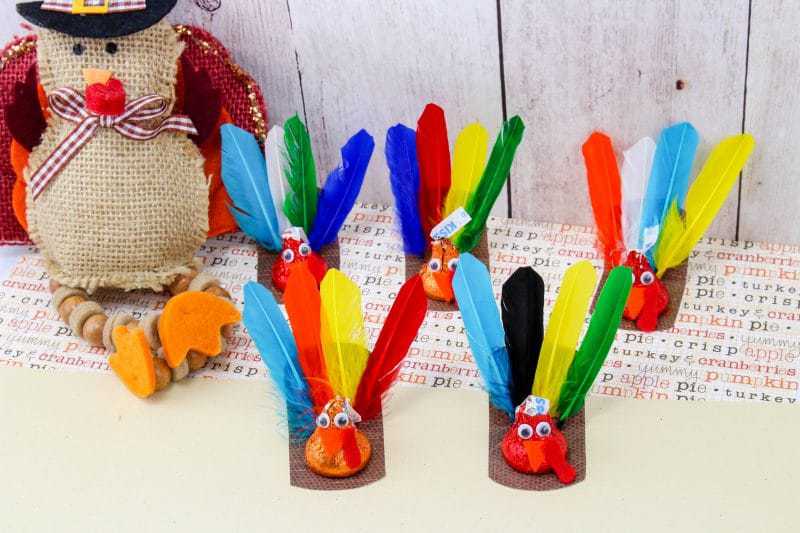 Likewise, you could have the kids help make them as cute Thanksgiving turkey favors to give out to classmates or Thanksgiving dinner guests.
Of course, if you're a teacher, this craft is also perfect for elementary school students. It's something that will keep them busy on the day before Thanksgiving break and it is something they can take home to their parents.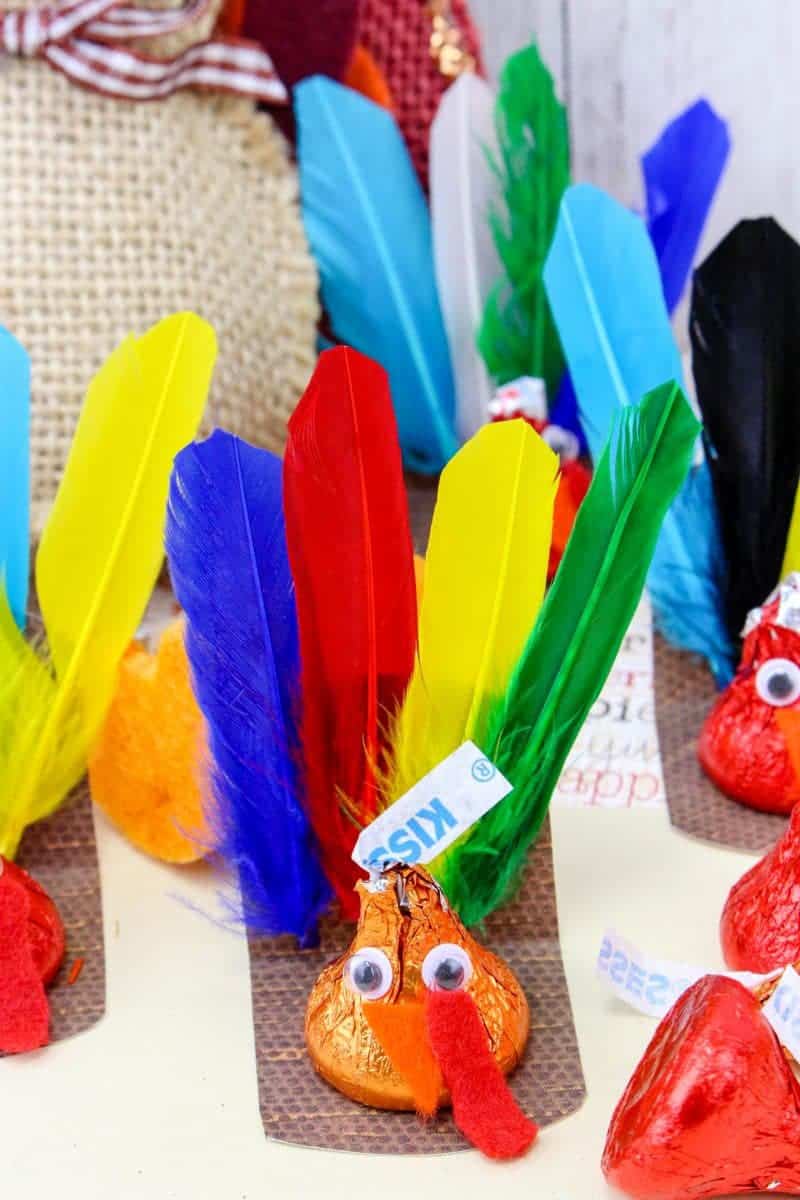 Regardless of if you're making this Thanksgiving craft with your own children or with your students, this is a fun craft that younger children are going to love making. Best of all, there's a pretty good chance that you will have some of the materials on hand.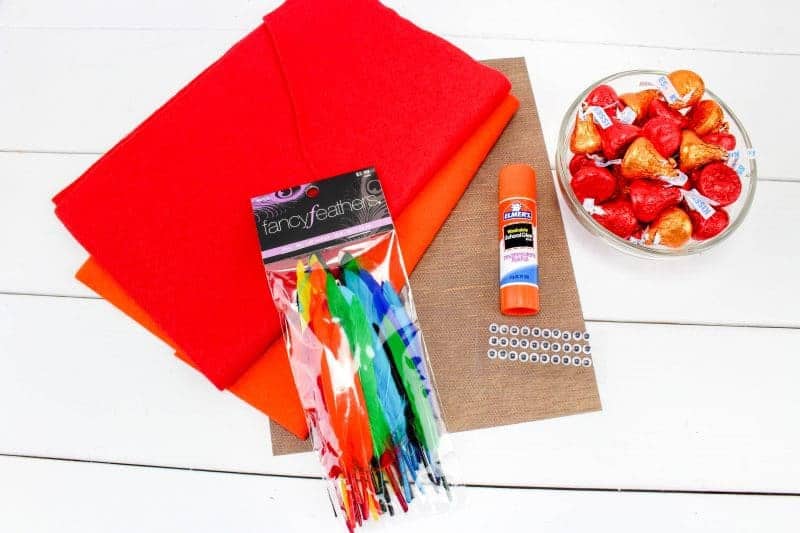 Chocolate Kiss Turkey Craft Supplies
Speaking of materials, let's take a look at what you will need to make these chocolate kiss turkeys:
8 Hershey Kisses (we used the Thanksgiving colored kisses, but any color are fine)
1 Sheet Brown Paper
16 Mini Googly Eyes
1 Piece Red Felt
1 Piece Orange Felt
Glue Stick
32 Small Feathers, assorted colors
Shop Turkey Craft Supplies
Directions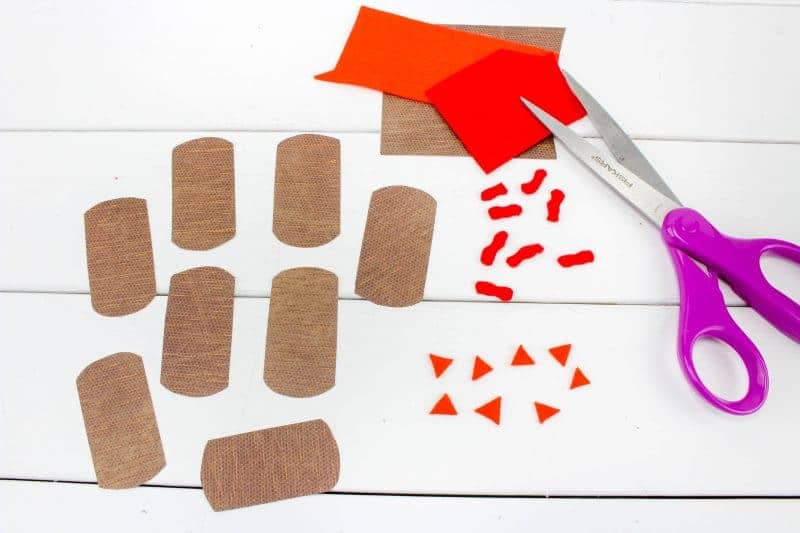 Cut 8 rectangles from the brown paper, approx. 2 ½ inches by 1 inch.
Cut 8 tiny triangle beaks from the orange felt, and 8 little wattles from the red felt. Just make sure you make them small enough to fit on the kisses.
On each Hershey kiss, glue on 2 googly eyes, a beak, and a wattle.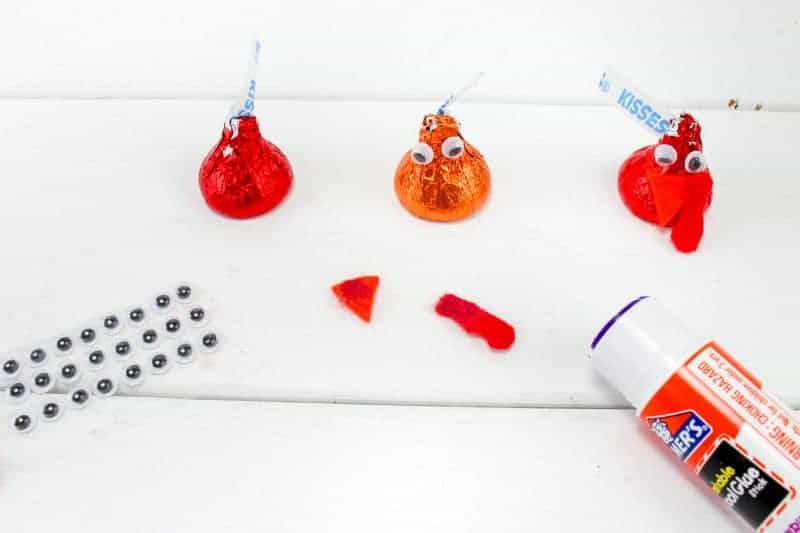 Fold each brown rectangle in half, crease it well, then open it back up.
On the back half of the rectangle, dab glue all over it. Press 4 little feathers in a row on the glue. Fold the paper back in half and press on it for about 10 seconds. Open it up so the feathers are facing up in the air, and the bottom half the brown paper is flat against the table.
Finally, glue the Hershey kiss turkey to the bottom half. The feathers should be standing up behind the kiss.
Enjoy making these cute little Thanksgiving turkey favors!
I hope that you enjoy making this fun Thanksgiving craft, and that you and your family have a very happy Thanksgiving. For more Thanksgiving fun, check out these Turkey Rice Krispie Treats and these Turkey Cupcakes.