Leprechaun Mason Jar St. Patrick's Day Decoration
Posts may contain affiliate links, meaning that I may earn a commission if you use a link provided.
Are you looking for a DIY St. Patrick's Day Decoration idea? This Leprechaun Mason Jar craft is quick and easy to make, and would be perfect as a St. Patrick's Day centerpiece of as a DIY decoration for your St. Patrick's Day party.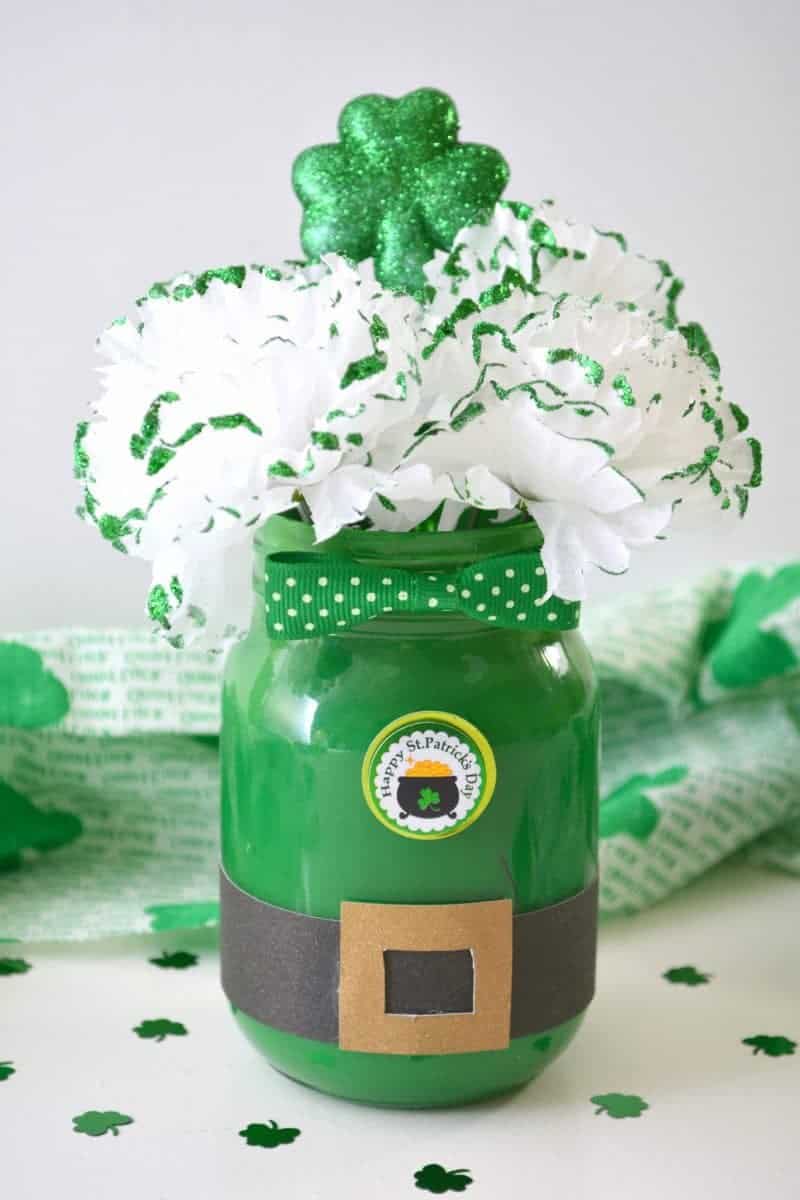 This DIY Leprechaun Mason Jar is great for displaying flowers. You could fill it with some of the cute floral items they put out for St. Patrick's Day or you could use plain white flowers that have large green leaves. You could even use this St. Patrick's Day decoration as a holder for straws or other party supplies if you'll be hosting some friends for a St. Patrick's Day party.
This Leprechaun Mason Jar could even be turned into a gift by filling it with wrapped candies. It's also a great way to add a decorative touch to your craft room. You can fill the jar with colored pencils or pens, scissors, rulers – whatever you use on a regular basis.
Truthfully, this St. Patrick's Day Decoration is very versatile and could be displayed in many different ways. Just be creative and come up with something that works in your home. It is so cute that you will love bringing out year after year to decorate for St. Patrick's Day.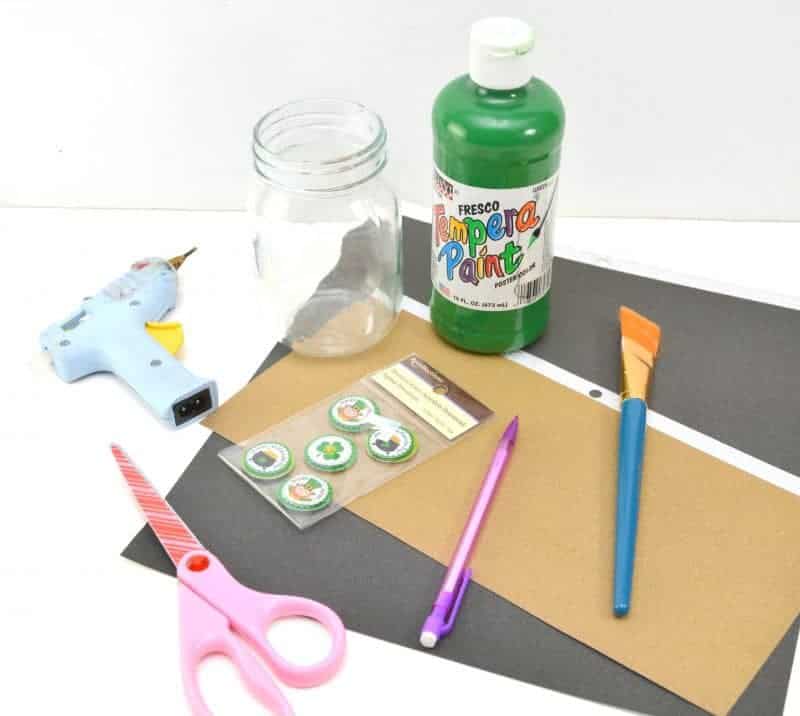 Leprechaun Mason Jar Materials:
Mason jar with lid
Green paint
Black glitter cardstock
Gold glitter cardstock
Green ribbon
Scissors
Hot glue gun
Small St. Patrick's Day sticker
Flowers or other decorations
Shop Leprechaun Mason Car Craft Supplies:
Glass Old-Fashioned Mason Jars, 12 pack
Green Tempera Paint
Glitzy Glitter Cardstock Stack 12 in x 12
Green Polka Dot Ribbon
Mini Hi-Temp Glue Gun
St. Patrick's Day Foam Stickers
Kelly Green and White Silk Carnation Flowers
St. Patrick's Day Paper Straws
Leprechaun Mason Jar Instructions: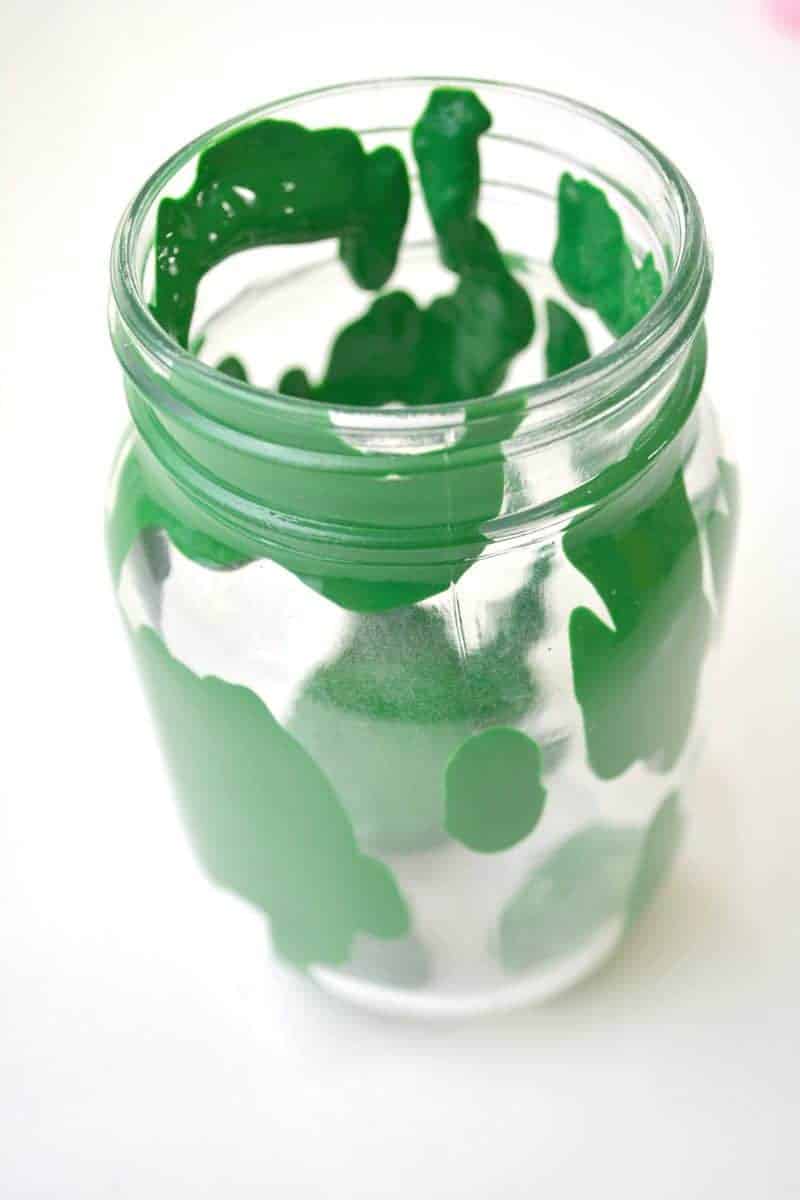 Begin by pouring some green paint into a small mason jar.

Place the lid on the jar and shake it until the entire inside of the jar is coated in paint.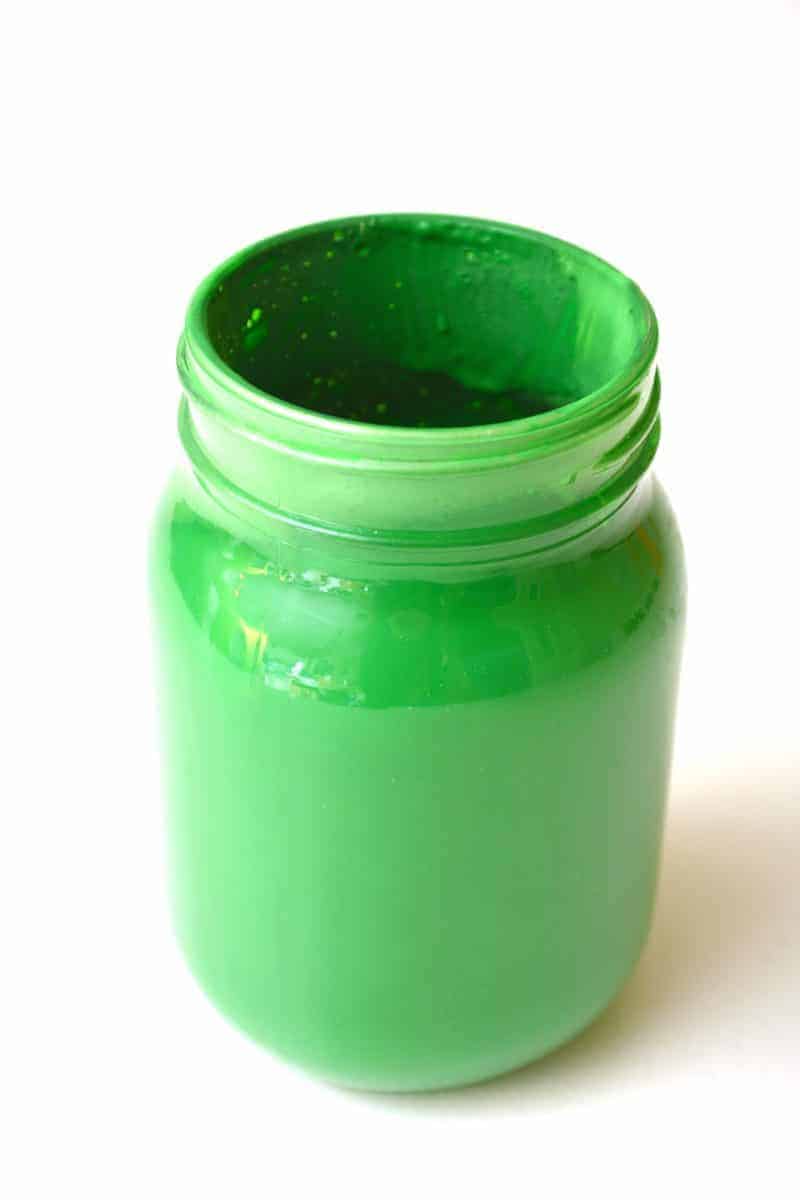 Pour the excess paint out into a trash can or other container.
Remove the lid and let the jar sit to dry overnight.

Cut a thin strip from the black glitter cardstock.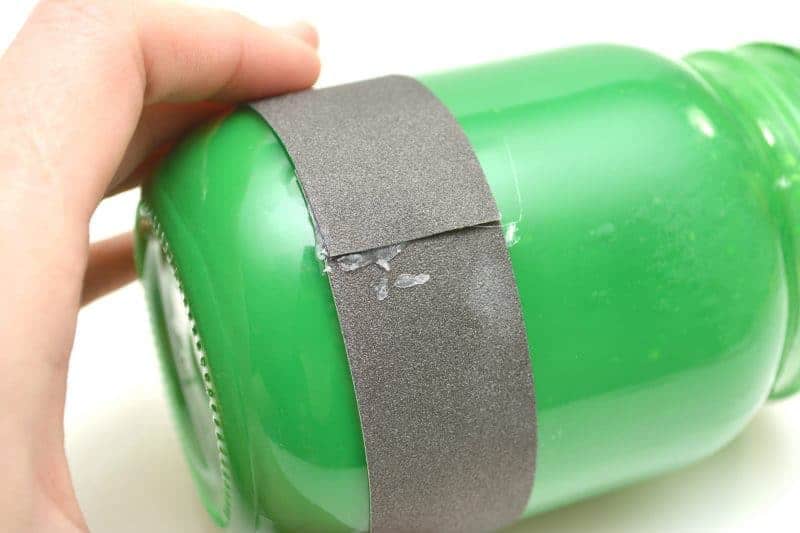 Use a hot glue gun to attach the black strip of cardstock to the bottom of the painted jar.

Cut out a small square from the gold glitter cardstock. Make it slightly wider than the black strip that you glued onto your jar, and cut a smaller square out of the middle of it.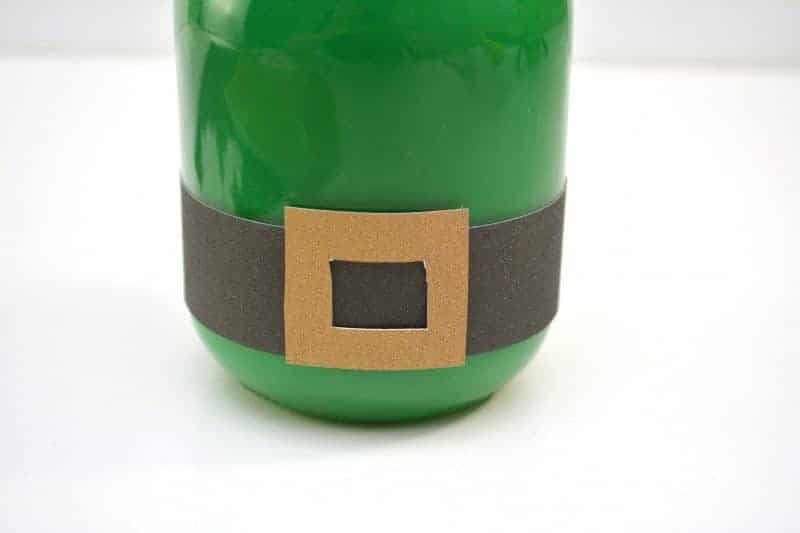 Glue the gold glitter square shape onto the center of the black glitter strip on your jar.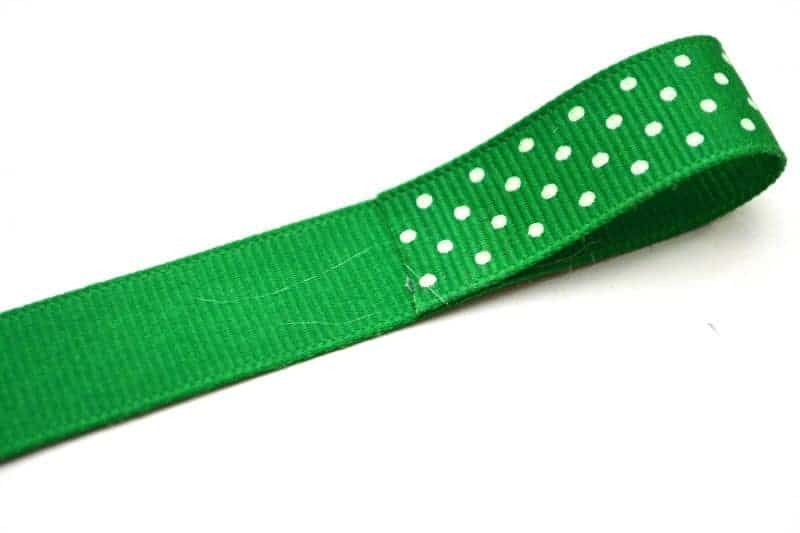 Cut a piece of green ribbon. Fold in one side of the ribbon to the center and secure it with glue.
Fold the other side into the center and secure it with glue as well, so that it forms a bow shape.

Cut a small rectangle of ribbon, and wrap it around the middle of your bow shape. Secure it with glue to form a mini bow tie.

Glue the mini bow tie to the top of your jar centered above the gold belt buckle.
Attach a St. Patrick's Day round sticker to the front of your painted jar between the bow tie and the gold glitter square buckle shape.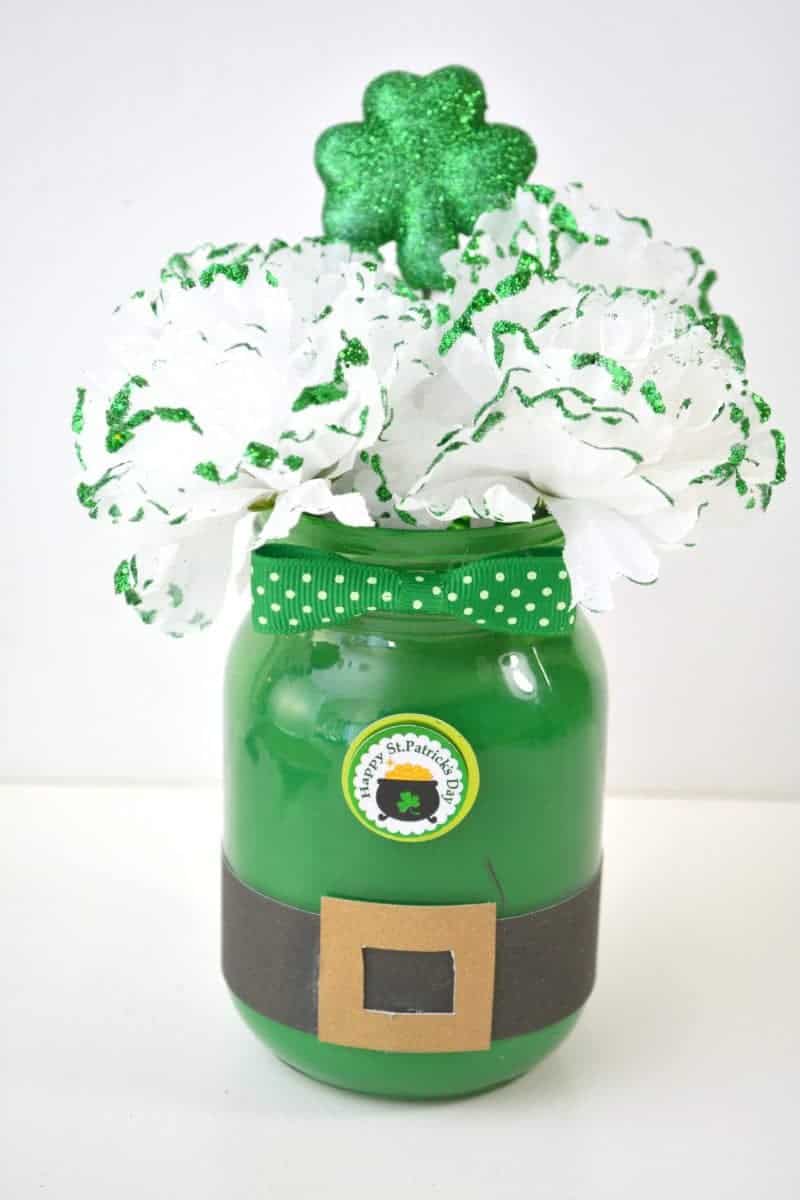 Fill your painted jar with St. Patrick's Day flowers or other decorations and enjoy!
More Fun St. Patrick's Day Projects:
Pin for later: