These donut crafts are so much fun to make, they even look good enough to eat (and some of them you actually can eat)! Between donut origami boxes, donut gift bags and donut party platters, you may have a tough time choosing just one to make.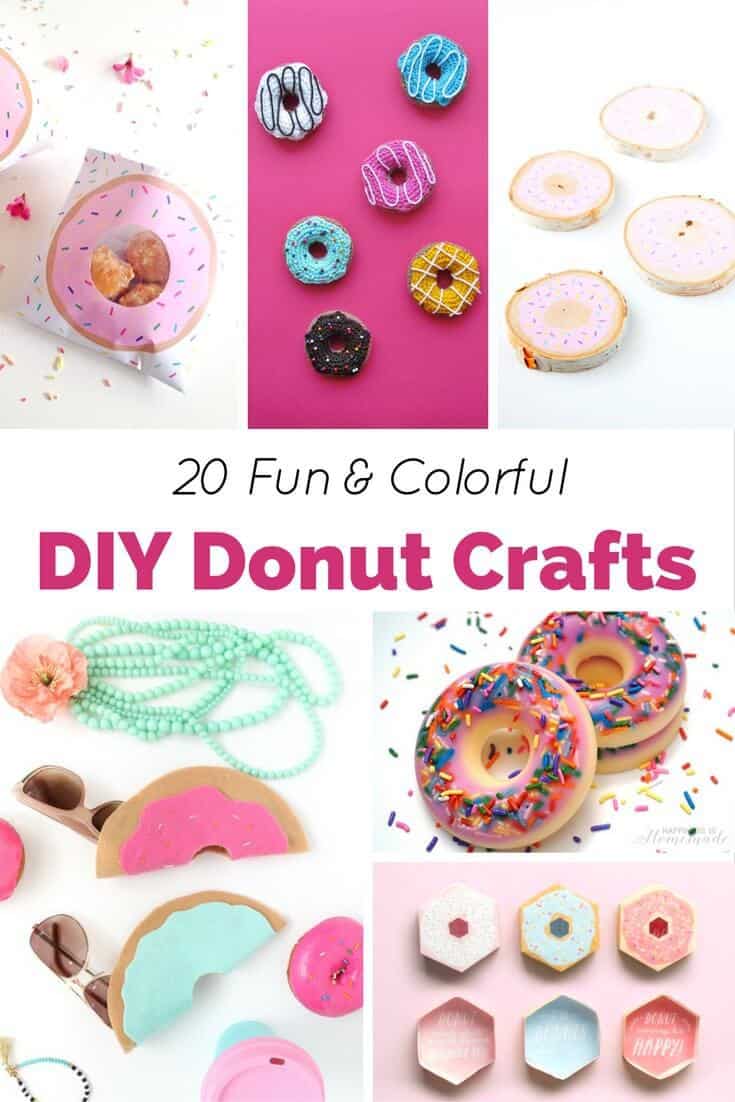 Who doesn't love donuts?! They are sweet, tasty, and oh-so-cute! Below you will find a list of 20 awesome donut crafts that you can make to help celebrate your love for donuts!
20 DIY Donut Craft Ideas
Super Simple Donut Valentines – Damask Love
These donut valentines are so easy make, all you need is 10 minutes of your time to make them.
DIY Decora Donut Hairpins – Minted Strawberry Too
How cute would Drizzled Donuts look in your hair? No, not like real donuts, but these donut hairpins look pretty close to the real thing.
Doughnut It – A Kailo Chic Life
A Kailo Chic Life brings you a delicious donut edible, Mini Funfetti Pretzel Donuts.
Donut Box Printables – In the Playroom
Giving and receiving donuts is lots of fun. Now, it is even better with this easy donut gift box from In the Playroom.
DIY Donut Tote Bag – Damask Love
What is better than donuts and tote bags? Donut tote bags, of course!
Paper Donut – Minie Co
Instead of giving someone a donut in the standard bag they come in, get creative and make this donut gift box.
Crochet Donuts Pattern – Little Things Blogged
Little Things Blogged shows you how to make crochet donuts, with the icing too.
Printable Donut Gift Bags By Make And Tell – Craft Hunter
Everyone loves donuts, and the Craft Hunter shows you how to make cute Donut Gift Bags using cello bags.
Make Your Own Donut Soap DIY Melt – – Bespoke Bride
Need a cute favor idea for a bridal shower or wedding? How about making some awesome Donut Soap Favors, courtesy of Bespoke Bride!
DIY Donut Party Garland – Blog Beau Coup
Blog Beau Coup brings you an awesome idea for your next donut-themed party: Donut Party Garland!
DIY Donut Bouquet – Laughing Latte
Want to combine your love of donuts and your passion for crafts? Check out this Donut Bouquet that is fun and simple to make.
Simple And Sweet Donut Pillow – A Beautiful Mess
When you lay down your head at night after a long day, why not rest your head on an adorable handmade Donut Pillow?
DIY Cookie Cutter Jewelry Trays – Aww Sam
Who doesn't love donuts, right? And who doesn't need a cool idea for storing their jewelry? These Cookie Cutter Jewelry Trays are so cute for storing and displaying jewelry.
DIY Donut Party Platter With Sprinkles – Well Kept Chaos
Looking for a cute and unique party platter idea? The Well Kept Chaos brings you with DIY Donut Party Platter with Sprinkles.
DIY Felt Doughnut Collar Tutorial – Wrapped Up in Rainbows
Wrapped Up in Rainbows shows you how to make this cute Felt Doughnut Collar.
DIY Donut Scented Soap – Happiness is Homemade
Happiness is Homemade brings you these Donut Scented Soaps. What is better than showering in the morning with soap that looks and smell like delicious donuts?
DIY Donut Coasters – The Sassy Life
Imagine how adorable Donut Coasters would look on your kitchen table or coffee table?
DIY Donut Clock – Why Don't You Make Me
You probably don't need a constant reminder of your love for donuts, but this Donut Clock will help remind you anyways.
Doughnut Garland – My Poppet
What do you get when you combine paper plates, craft paper, confetti and yarn? You get this cute Donut Garland from My Poppet, of course.
There you have it. 20 Fun and Colorful DIY Donut Craft ideas. I hope you found a project or two that you want to make yourself. I would love to hear what donut crafts you plan on making in the comments below.