A fun colored ice cube play activity for babies and toddlers, great for summer outdoor play.
I have received information and materials from ©Johnson & Johnson Consumer Inc. 2018. The opinions stated are my own. This is a sponsored post. #SunnyMoments #CollectiveBias
With the sun beaming down, temperatures in the 80's, and Memorial Day just a few days away, I feel as though summer has already begun.
And this summer is especially special for us since it will be the first time Nathaniel really gets to enjoy summer.
Colored Ice Play Baby / Toddler Activity
This week, on a particularly hot afternoon, I decided to take Nathaniel outside to enjoy some fun colored ice play.
But playing outside is no fun if it results in a sunburn. So before heading out I covered us both head-to-toe with Aveeno® sunscreen.
In addition to bringing the supplies for our color ice cube activity outside, I packed a little bag with other necessities such as a sippy cup filled with water, hand and face wipes, and our Aveeno® sunscreen.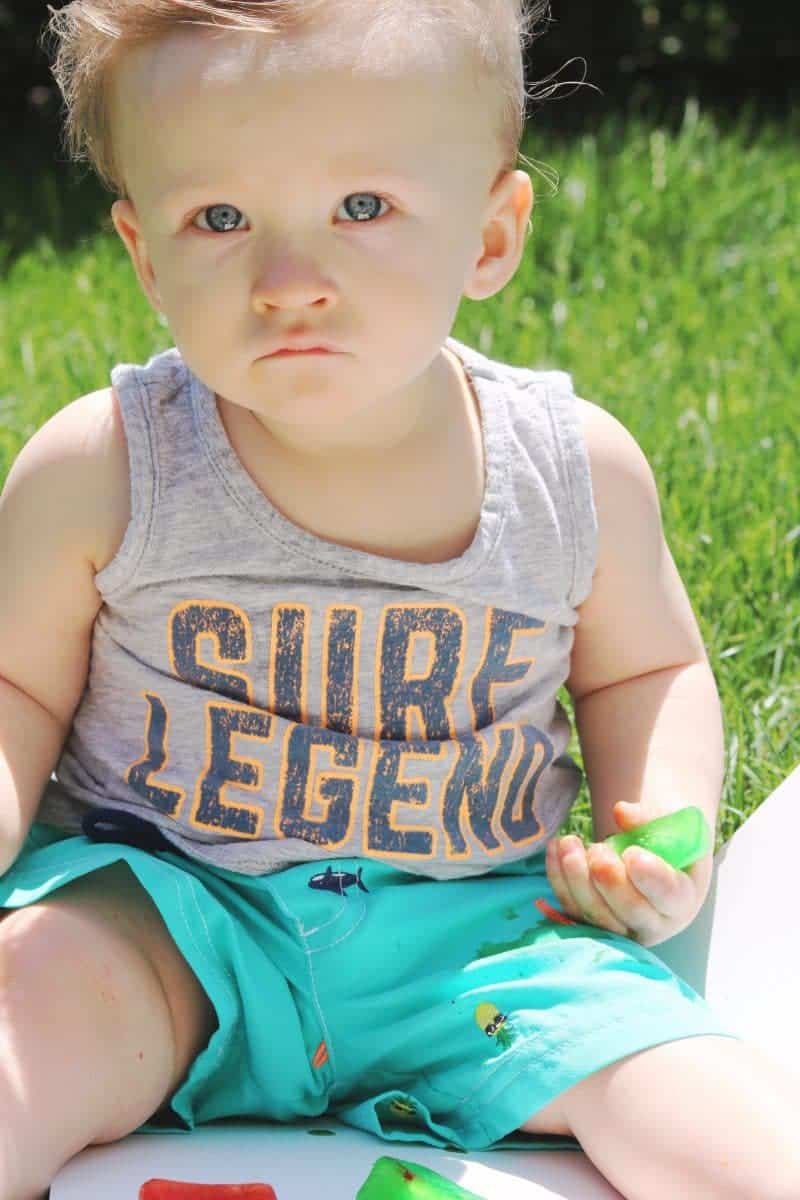 Baby's first painting?!
I placed a sheet of white poster board down in the grass and put a few colored ice cubes right on it. The brightly colored ice cubes really show up well on the white background, making it easy for my little guy to spot them and grab them.
He was also able to glide the melting colored ice cubes around on the poster board and "paint" a picture.
Well, this little guy wasn't much for the painting aspect but he did enjoy "chasing" the ice cubes as they glided around on the poster board.
Although Nathaniel did have a chance to play with snow this winter, this was his first time experiencing ice cubes. They were slipping all over and tough for him to pick up, but he was persistent and managed to get them into his little fingers.
I was very impressed by how long he squeezed the ice cubes in his little hands to hold on to them.
My tough little guy!
After playing with the ice cubes themselves for a little while he decided to go for the plastic bin that was holding even more ice cubes in it and dump them all out.
We enjoyed a little game of peek-a-boo — his favorite game — with the plastic bin. The bin being see-through didn't stop the game from being fun!
Colored Ice Play Set-Up
This ice cube activity is super easy to set up, and low cost as well. First, gather your supplies. Let's take a look at what you will need.
Supplies:
Instructions: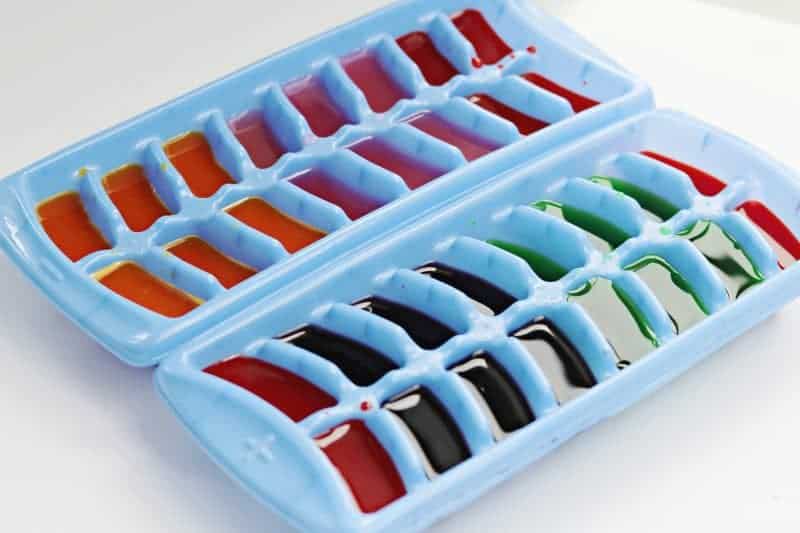 1. Mix various flavors of drink mix with water and then fill your ice cube trays.
2. Place ice cube trays in the freezer and allow time to freeze. (Try to prepare the ice cubes at least the day before you plan to do your ice cube play activity.)
2. When you are ready for ice play pack up your supplies and head outdoors.
3. Place ice cubes on the poster board. Let your little one explore the ice cubes on their own. If they are hesitant you can demonstrate by showing them how you play with the ice and use the ice cubes to "paint" on the poster board.
Don't forget the sunscreen!
Don't forget to pick up Aveeno® Suncare products for yourself and your children to prepare for fun in the sun this summer.
If you decided to try this colored ice cube activity with your little one I would love to hear how it goes in the comments below.