A simple DIY fabric softener recipe using hair conditioner, vinegar, and baking soda. Makes 30+ loads worth of homemade fabric softener.
I bet no one reading this would argue with me that doing laundry is their favorite activity.
But, one thing is for sure — doing laundry is a necessary task.
And to be honest, I would choose doing laundry over most of the other chores any day. Especially after I have gotten by laundry routine in place. Plus, there is just something about taking a nice, warm, load out of the dryer that I love. Seriously — I snuggle up in the freshly washed and dried laundry as I pull it out of the dryer. I love the warmth and the fresh and clean scent.
Did you know that you could make your own fabric softener at home using conditioner? The beauty of this is being able to choose any scent of conditioner that appeals to you. Fruity scents are my personal favorite but you can experiment and have fun with it. We picked up a cheap bottle with a fruity scent from the Dollar Tree — there is no need to spend a lot on the conditioner.
While your DIY fabric softener will take on the scent of the conditioner that you use, the scent actually left on the clothing after they have been washed is very light. If you want to make fabric softener with a stronger scent, you could try adding a few drops of essential oil to your conditioner as well.
I like to save money on doing laundry anyway that I can, and this homemade fabric softener recipe has proven to be very economical. The recipe makes enough for 30-40 loads, and costs next to nothing to make.
DIY Fabric Softener Ingredients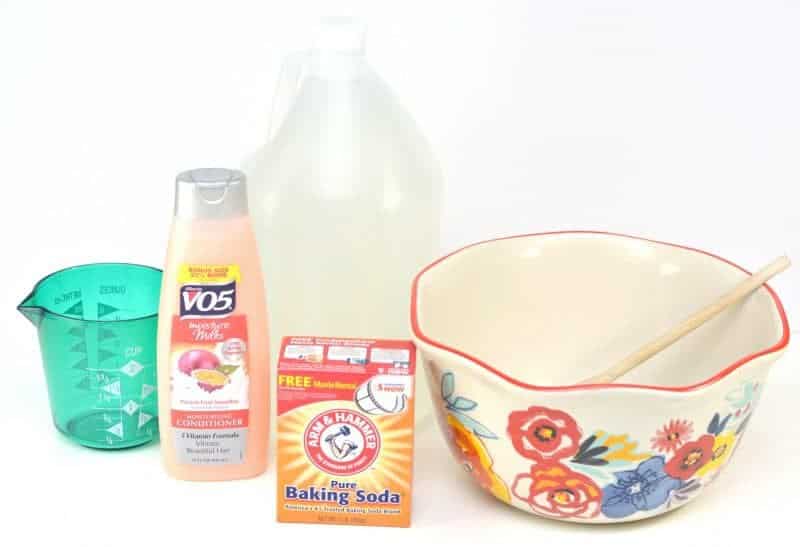 How to Make Homemade Fabric Softener
1. Pour hot water into a large mixing bowl.

2. Add vinegar.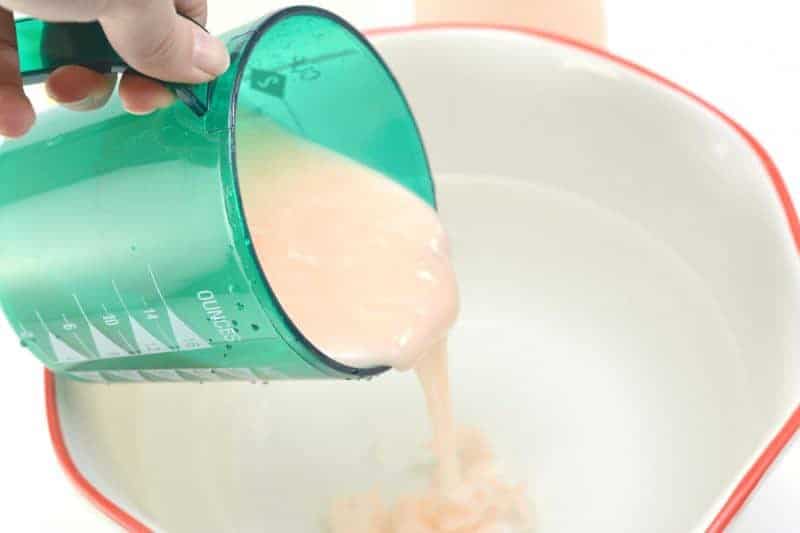 3. Add conditioner and stir well to combine.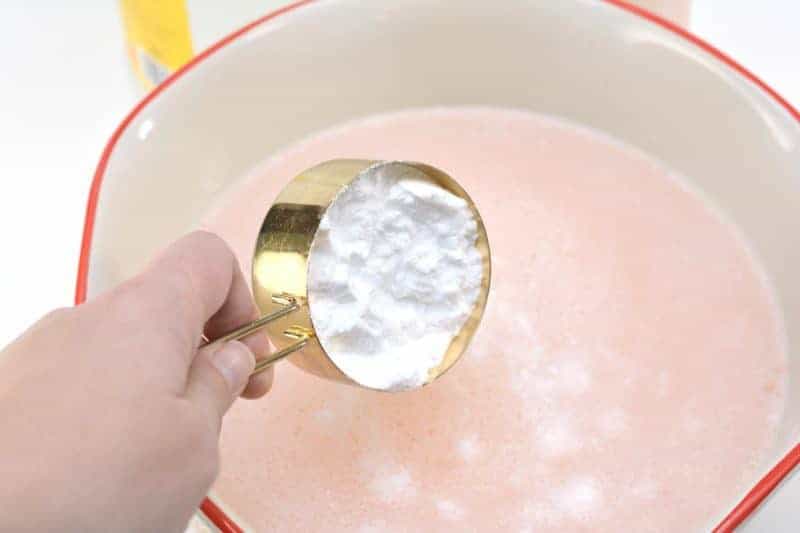 4. Slowly add baking soda a little bit at a time. (You do not want to add the baking soda too quickly because it will react with the vinegar and end up overflowing the bowl. By adding the baking soda a little at a time, you are able to control the reaction and keep it from overflowing.)

5. Let fabric softener rest for about 30 minutes (to allow the bubbles to go down) before pouring it into an airtight container for storage. (Bormioli Rocco glass jars are my fave.)
To Use: Add about 3 tbsps or a little under 1/4 cup of fabric softener per load. (A 1/4 cup scoop like this is helpful to use.)
Note: If the mixture begins to separate at all, simply shake the container to help it mix back up.
If you decided to make a batch of DIY Fabric Softener with Conditioner yourself, I would love to hear what scent of conditioner you decided to use — and how you liked it — in the comments below.
More Laundry Tips You Might Enjoy
Pin for Later