Homemade Dishwasher Tablets
Posts may contain affiliate links, meaning that I may earn a commission if you use a link provided.
Save money — and a trip to the store — by making homemade dishwasher tablets with this easy DIY Dishwasher Tablets tutorial.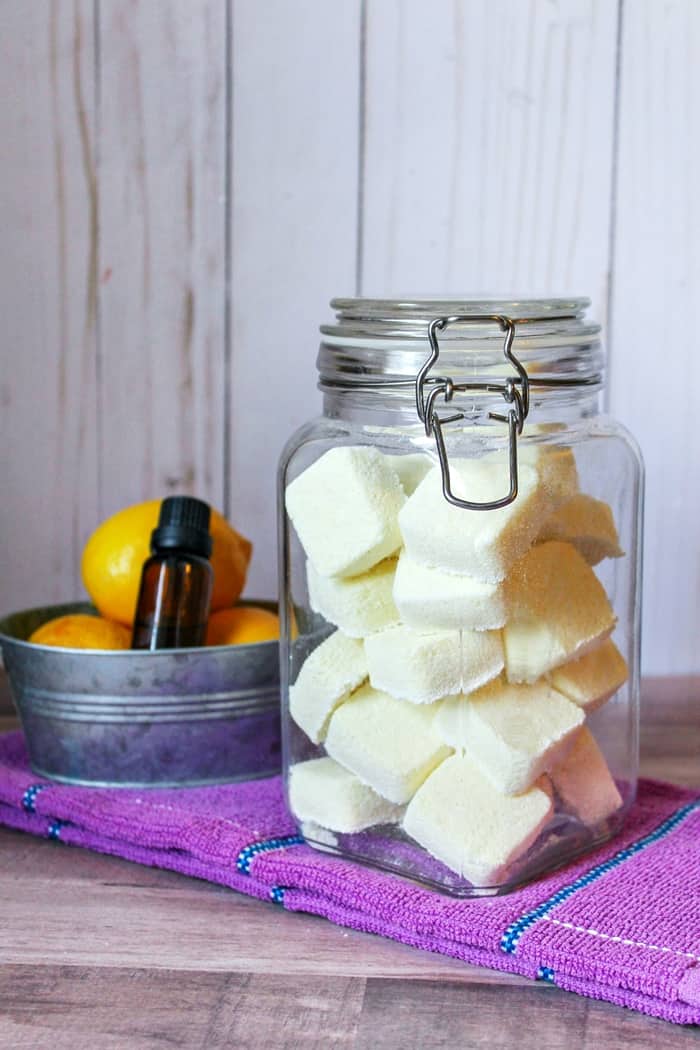 We all know how convenient it is to purchase packs of dishwashing tablets or pods in the cleaning aisle at the grocery store.
What isn't convenient is the price.
Even if you use a coupon or catch them on sale, it is tough to get them at a reasonable price.
And with the number of loads that we have been running lately, the cost of detergent pods really adds up.
Homemade Dishwasher Tablets
So, instead of handing over a hefty sum for dishwasher tablets, I figured why not try to make my own?
After making homemade fabric softener, I was up for a new DIY project anyway.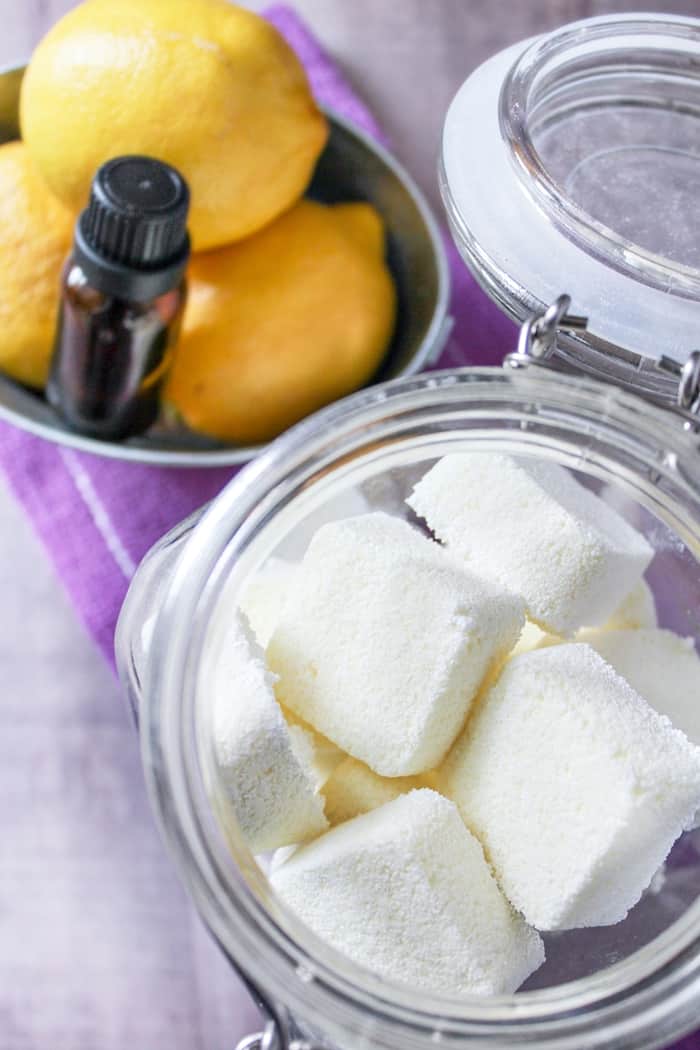 You will find that you can save a lot of money when you make your own dishwasher tablets.
Plus, when you make your own you know exactly what's in them.
I have also found that there is also a certain sense of accomplishment that I get from making my own household supplies.
Once you make a batch of these homemade dishwasher tablets, and see how easy they are to make, I bet that you will never go back to buying dishwasher pods at the store again.
DIY Dishwasher Tablets Ingredients & Supplies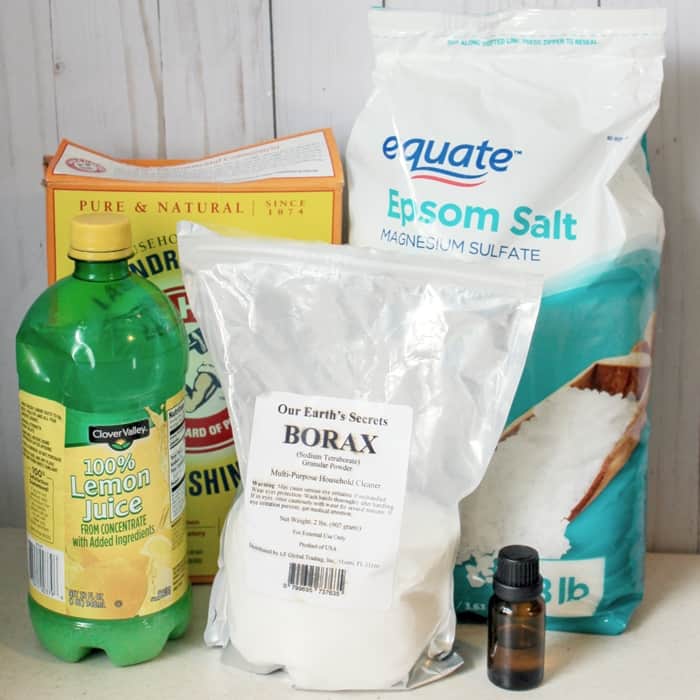 You will need the following ingredients & supplies to make these DIY dishwasher tablets:
Borax
Epsom salts
Washing soda
lemon juice
Lavender essential oil
Lemon essential oil
Silicone Mold
This recipe makes the perfect amount to fill our 24-square silicone mold.
If you do not have a silicone mold, I would definitely recommend you pick one up.
Removing the tablets from the mold is simple since the mold is flexible, and I like how they all come out very uniform.
Shop Supplies
Silicone 24-Cavity Square Mold
Borax Powder
Epsoak Epsom Salt
Arm & Hammer Super Washing Soda
Lavender Essential Oil
Lemon Essential Oil
Bormioli Rocco Fido Clear Glass Jar
How do you store homemade dishwasher tablets?
Store your DIY dishwasher tablets in an airtight glass container near your dishwasher (but out of reach of children and pets).
I swear by Bormioli Rocco Glass Jars — they are easy to open and close, airtight, and dishwasher safe.
How do you use homemade tablets in the dishwasher?
To use. simply place one tablet in the dishwasher as you normally would a detergent pod.
If you are looking for more simple DIY projects, try this easy DIY fabric softener and these homemade cleaning wipes. Or why not treat yourself by making these homemade bath bombs?
How-To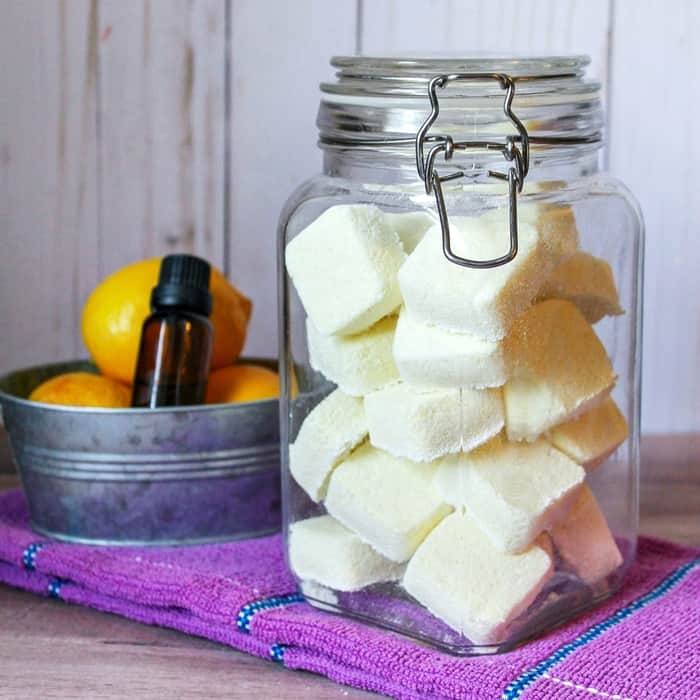 How-To
Homemade Dishwasher Tablets
Save money — and a trip to the store — by making homemade dishwasher tablets with this easy DIY Dishwasher Tablets tutorial.
Equipment
Silicone mold

large bowl

spoon
Supplies
1 cup borax
½ cup epsom salts
1 cup washing soda*
½ cup lemon juice
8 drops lavender essential oil
4 drops lemon essential oil
Instructions
Add borax, epsom salt, and washing soda to a large bowl and stir to mix well.

Slowly add lemon juice, adding just enough to make the mixture damp enough to mold and stick together.

Add essential oils and stir well to combine.

Spoon the mixture into a silicone mold. Use your hands to press the mixture into the mold to ensure it is packed in firmly.

Let tablets set until they are fully hardened. This will take at least 3 – 4 hours.

When fully set, gently remove each tablet from the mold.
Notes
Washing soda will typically be found it in the laundry aisle near the stain removers.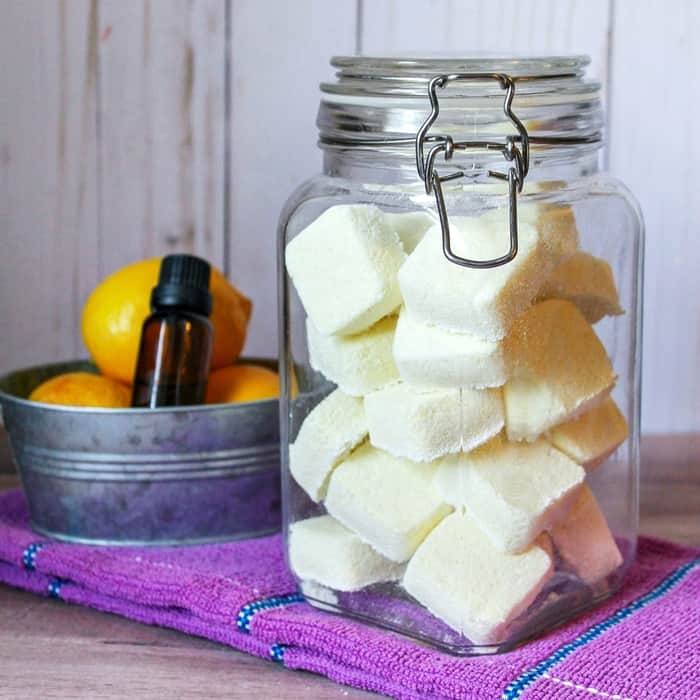 Did You Make This Craft?
Share it with me on Instagram @crayonsandcravings and follow on Pinterest @crayonsandcravings for even more!
Pin for Later: