Learn how to make homemade bath bombs easily using a moon cake press. The finished products are beautiful and would make lovely gifts.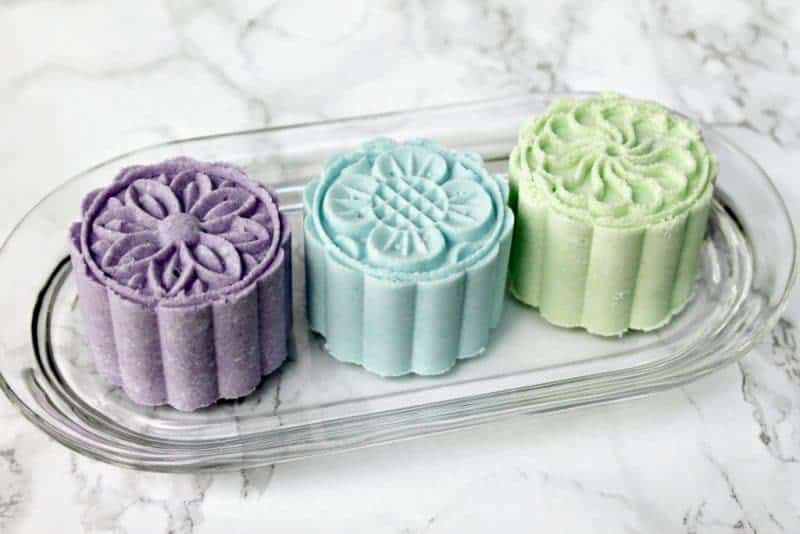 Ever since I posted the recipe for headache relief bath bombs, you guys have been asking me for more bath bombs.
Today I am coming through for you with these gorgeous — and easy — moon cake press bath bombs.
Moon Cake Press Bath Bombs
Moon cake presses are fairly inexpensive on Amazon, and have a lot of uses such as making these flowery bath bombs.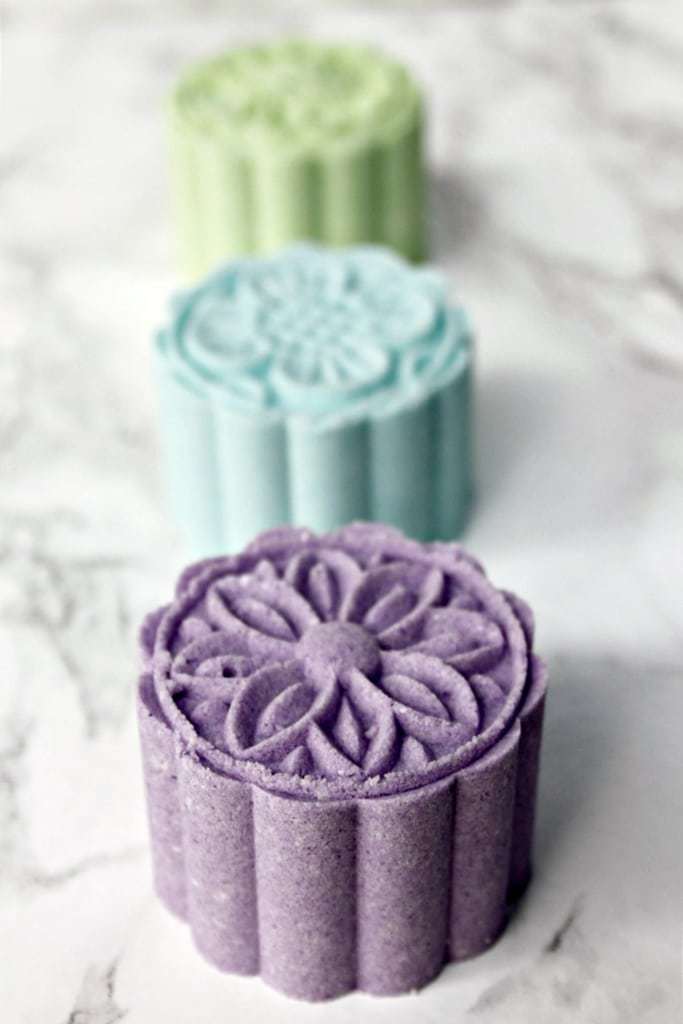 Seriously though. How lovely did these moon press bath bombs come out?
I am totally diggin' this new way to press bath bombs.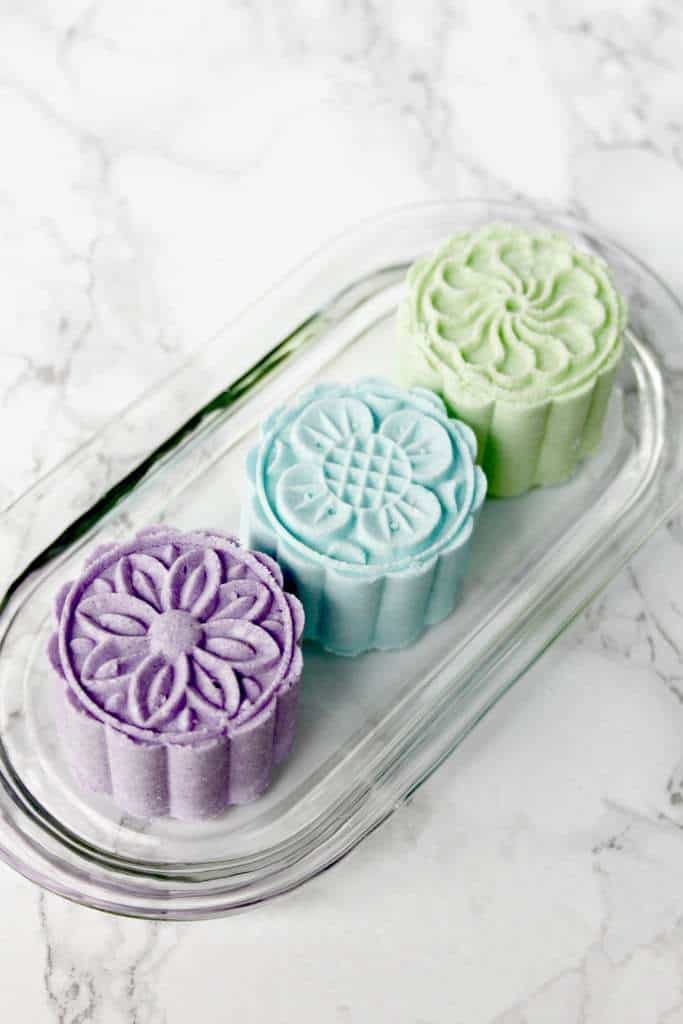 These homemade bath bombs would make a great homemade gift idea for Mother's Day, Teacher Appreciation Day, birthdays, etc. Who wouldn't love to receive a relaxing and thoughtful gift like these beautiful bath bombs?
Moon Cake Press Bath Bomb Supplies
Ok, let's get down to it. Here is what you will need to bath mooncake press bath bombs.
How to Make Homemade Bath Bombs Using Moon Cake Press
For your convenience, the full instructions are included in the "how to" card at the bottom of this blog post. Simply click on the "PRINT" button to print out a printer-friendly version of the instructions.
But first, I want to point out how important it is that your bath bomb mixture has the right amount of moisture.
Moisture is the key factor that determines how your bath bombs come out.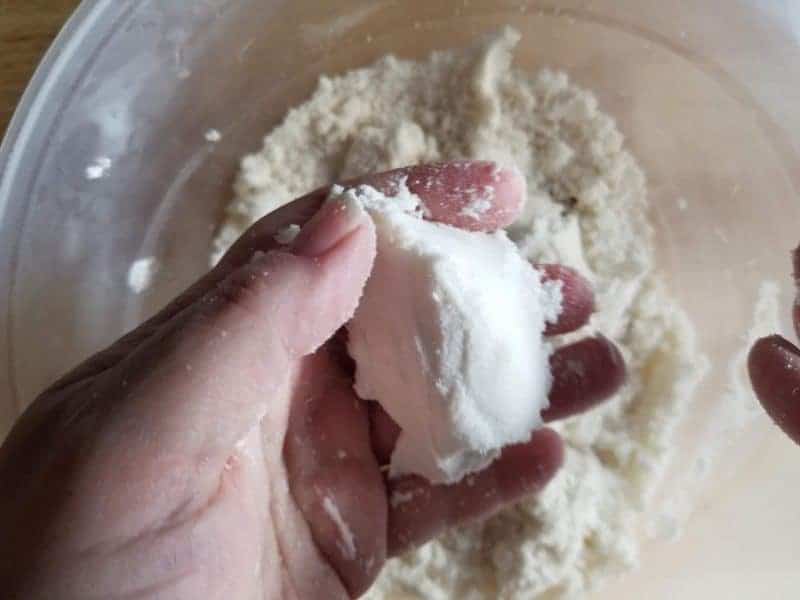 You should be able to squeeze your bath bomb mixture in your hands and have it hold its form after you open your hand.
If it crumbles or won't hold, add 3-5 sprays of rubbing alcohol from your spray bottle, mix, and try again. Repeat until the mixture holds.
Be careful not to go overboard with the rubbing alcohol and make the mixture too wet. A little bit goes a long way.
Another tip: Once your mixture has the right consistency you will want to work quickly, as you don't want it to start drying up.
Do I have to use a Moon Cake Press?
If you don't have a moon cake press mold and don't want to order one, it is OK.
You can totally substitute by using a traditional bath bomb mold or silicone mold instead.
This bath bomb recipe will still give you some great DIY bath bombs. All that will be different is the design.
That said, you should definitely try using a moon cake press to make your bath bombs one day — they are easy to use and they come out so beautifully.
Grab the full instructions below, and enjoy your lovely bath bombs!
Shop Supplies
Moon Cake Press Mold
Polysorbate 80 (Solubilser)
Isopropyl Alcohol
Kaolin Clay
Cream of Tartar
Sodium Lauryl Sulfoacetate (SLSA)
Citric Acid
Baking Soda
Mica Powder Pigments
Essential Oils Set
Fractionated Coconut Oil
More Must-Try DIY Goodies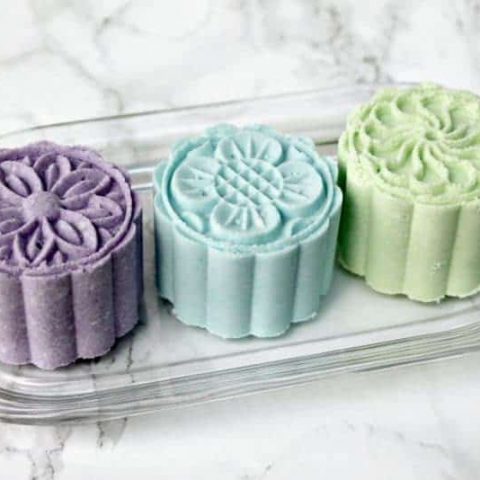 Moon Cake Press Bath Bombs
Total Time:
8 hours
20 minutes
How to make gorgeous bath bombs easily using a moon cake press.
Materials
1 cup baking soda
½ cup citric acid
½ cup Sodium Laurel Sulfoacetate (SLSA)
¼ cup cream of tartar
1 tbsp kaolin clay (optional but highly recommended)
2 tbsp coconut oil
2 tbsp rubbing alcohol, plus a few extra tbsps for spray bottle
1 tsp polysorbate 80 (optional but recommended)
Essential oils of your choice
Mica powder pigments
Tools
two medium-sized bowls
a small bowl for each color you want to make (we made 3)
sifter or mesh strainer
whisk
spoon
moon cake press mold
small spray bottle
parchment or wax paper
Instructions
In a large mixing bowl, combine dry ingredients: baking soda, citric acid, SLSA, cream of tartar, and kaolin clay. Using a sifter or mesh strainer, remove any hard pieces of the dry ingredients.
Using a whisk, break down any lumps remaining in the dry mixture.

In a small bowl, whisk liquid ingredients together: coconut oil, rubbing alcohol and polysorbate 80.
Add liquid ingredients to the dry ingredients slowly, about 1 tablespoon at a time.
Whisk well to ensure the ingredients are fully combined. When you can press the mixture together in your hands and it stays together, it is ready (as seen in image above). If the mixture won't stick together and falls apart, you an add 3-4 sprays of rubbing alcohol, mix well, and try again. Repeat until mixture holds. Be careful not to go overboard with the rubbing alcohol and make the mixture too wet. A little bit goes a long way.
Divide mixture evenly into separate bowls for each color you want to make. Add essential oil and color of your choice to each bowl and whisk to combine. Keep your bottle of rubbing alcohol handy. You will need this if your mixture begins to dry out.
Pack mixture firmly into moon press, pressing it down firmly with a spoon.
Place moon press down on parchment or wax paper. Press down firmly once or twice to further pack in the mixture.
Hold the moon cake press about ½ inch above your surface (as shown in photo) and carefully push down on handle of the press. While pressing on the handle, slowly lift the press up to release the bath bomb.
Allow your bath bombs to dry overnight on a tray or plate. Then, transfer then to an airtight container for storage until use. When you are ready for some relaxation and aromatherapy simple drop a bath bomb or two into your bath and enjoy!
Notes
This bath bomb recipe will work with other molds if you prefer not to use a moon cake press.
Kaolin oil is used to harden the bath bombs and give them more stabilization.
Polysorbate 80 works to make the bath bombs bubble up when put into bathwater.
We used Chamomile, Bergamot and Eucalyptus essential oil but you can use whichever oils you prefer.
Number of bath bombs made will depend on size of moon cake press used and how far you fill it