Updating our Kitchen with EZ Faux Décor Granite Film
Posts may contain affiliate links, meaning that I may earn a commission if you use a link provided.
This conversation on updating our kitchen counters with peel and stick granite film was sponsored by EZ Faux Décor.
Since the day we closed on our house we have been dreaming of updating our small kitchen.
As you can see, our countertops were this awful speckled blue laminate. Our appliances were old. Our cabinets had tacky gold and white handles. The walls were — and still are — covered in two different styles of wallpaper.
The room is just not at all our style, and is very dated.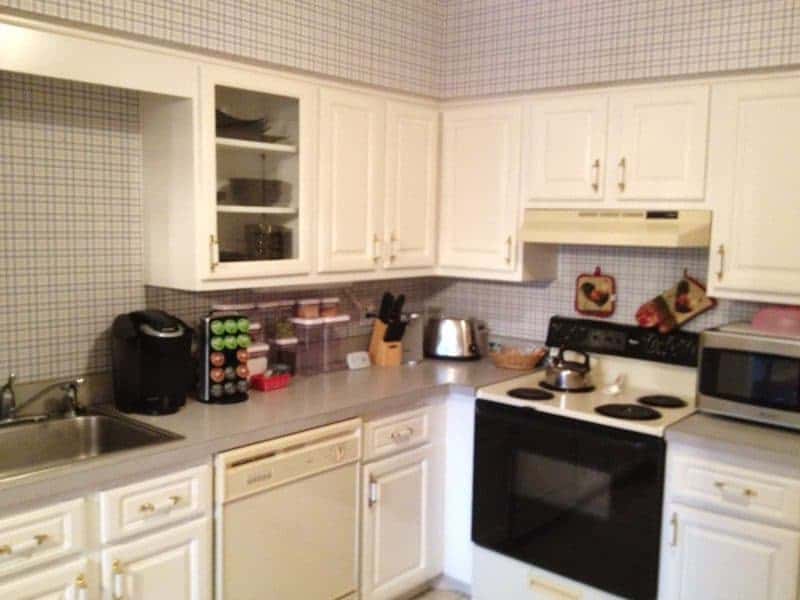 Finally, 3 years after moving in, we are slowly starting to update the kitchen.
First, we updated the handles on our cabinets.
Then, we replaced our old off-white appliances with new stainless steel appliances, which made a huge difference.
Our next task was to tackle our dated laminate countertops. While we have dreamed of having a beautiful granite or quartz countertop, it simply isn't in our budget right now.
We feared that we would be stuck with this awful blue laminate forever until I discovered EZ Faux Décor Granite Film.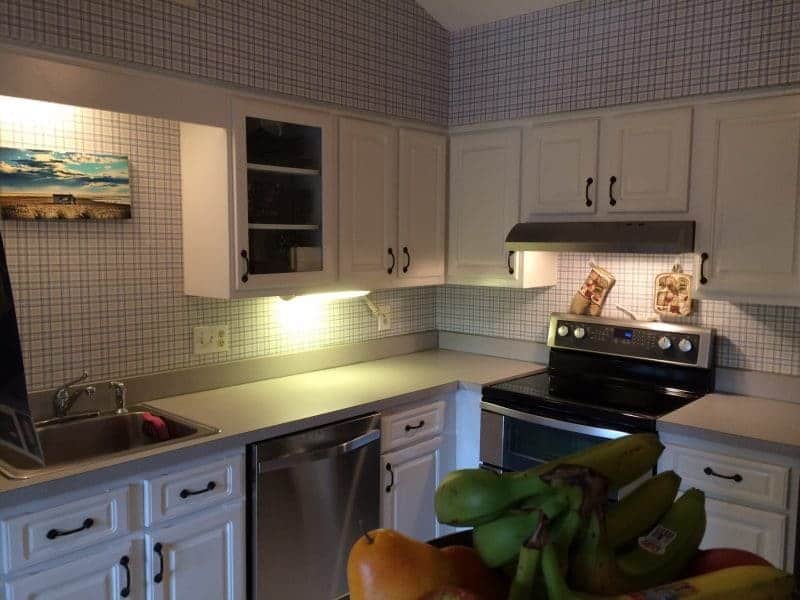 EZ Faux Décor Granite Film Review
As featured on HGTV, The Rachael Ray Show, The Today Show, The DIY Network, and The Food Network, EZ Faux Décor Granite Film allows you to instantly get the luxurious look of granite, marble or soapstone countertops but for a fraction of the cost.
While granite counters can set you back $80+ per square foot, EZ Faux Décor Granite Film only cost around $4 per square foot. That is some serious savings.
In addition to being affordable, the instant peel and stick granite film is stain, tear, and wear resistant.
The peel and stick film comes in several different colors and patterns, all of which are beautiful. There are patterns that imitate granite, soapstone, marble, and even stainless steel.
Applying the self-adhesive granite film is a fairly simple DIY project. My husband and I installed the peel-and-stick countertop film in just a few hours on a Saturday morning.
What you need to apply EZ Faux Décor Granite Film
Our EZ Faux Décor Granite Film came with a little kit which contained:
application instructions
squeegee
razor knife
There are some additional supplies that you will need to apply the granite film, but you will likely already have most of these supplies at home:
pencil
ruler
scissors
spray bottle
hairdryer
How to apply peel and stick granite film
We gathered our supplies, cleaned our counters, and allowed them to dry.
Then we cut a piece of film slightly longer than the size of our counter, and started the installation process.
Starting at one end we sprayed the counters with water, peeled the backing off the film, and pressed the film down onto the counter.
Then, using our squeegee, I smoothed the film down nice and flat.
Keeping the surface of the counters wet allows the film to be moved around and re-positioned if necessary, which is helpful since I did need to pull it off and adjust placement a few times while applying.
The application is pretty simple aside from a few areas that proved to be a bit more challenging.
The most challenging of these areas was the sink. I basically cut a rough hole in the film that would accommodate the sink and faucet, and came back at the end to trim it up neatly with the razor knife.
Corners and edges also proved to be challenging areas as well, but patience, a blow-dryer, and my razor knife proved to be all I needed to get those areas looking great.
The blow-dryer helps to melt the film a bit, making it mold better to give you a nice and crisp edge.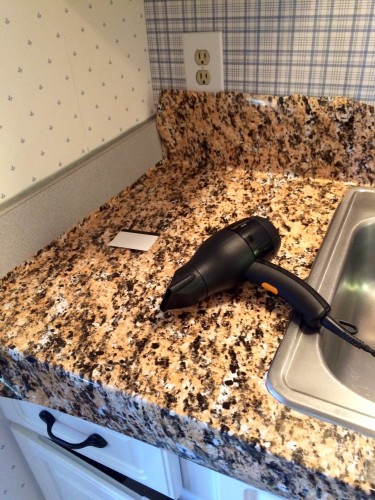 Use caution around wallpaper
This brings me to my little "oopsy" moment – and a tip for those that have wallpaper.
Be careful when applying the film near wallpaper, because once the backing is off the film it is very sticky, and will stick to anything that isn't wet (hence spraying the counters with water).
I learned this the hard way from tearing off a few pieces of my wallpaper near the sink at the beginning of the application process. Luckily, I plan on removing my wallpaper anyway.
If you have wallpaper I would suggest misting it with water as well so the film doesn't stick to it.
The Finished Product
The finished product looks great.
Unless you get very close up and inspect the counter, you would never notice that it isn't real granite – or notice the seams.
The pattern of the film is very forgiving, and it really is hard to tell where two pieces meet.
Who inspects counters that close up anyway? No one, that's who!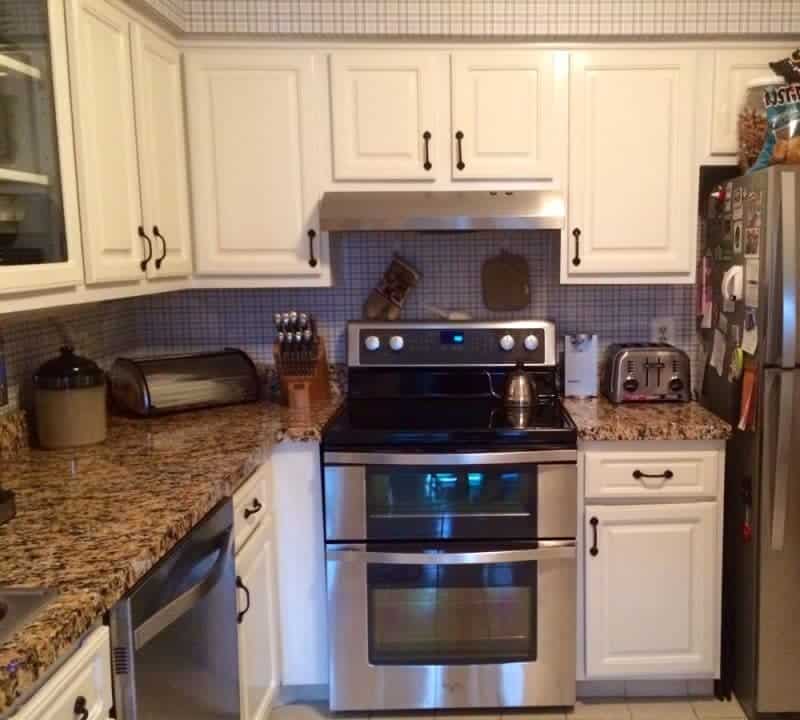 The Verdict
I am very pleased with EZ Faux Décor Granite Film and I would definitely recommend it if you want to update your counters, but don't want to drop a couple of thousand dollars on actual granite, marble, or quartz.
Also, the film would be great for someone who rents, as a renter likely wouldn't want to invest tons in a place that they do not own. The film is even removable so you can take it off before moving out, or if you change your mind and want to go back to your old look.
Order a sample pack of 6 varieties of EZ Faux Decor Granite Film here to see how they would look in your kitchen.
How To Video Library
I would not have been able to do this project so easily if it weren't for EZ Faux Décor's amazing library of "how to" videos.
Watching these videos beforehand proved to be very helpful, since we knew what to expect.
I definitely recommend watching these helpful videos if you are going to tackle granite film installation.
Next up for us is getting this wallpaper off of our walls, getting the room painted, and organizing our pantry / kitchen cabinets.
Although I dread wallpaper removal, I can't wait to see what the room looks like once it is completely transformed.
Until then, I am attempting to camouflage the tears above the sink with a few chalkboard decals I had on hand – not sure how I feel about this, but luckily it is only temporary!