DIY Get Well Soon Gift Basket Ideas
Posts may contain affiliate links, meaning that I may earn a commission if you use a link provided.
This post is sponsored by BabbleBoxx.com.
Make a Get Well Soon gift basket or care package for a sick family member or friend with these get well soon gift ideas.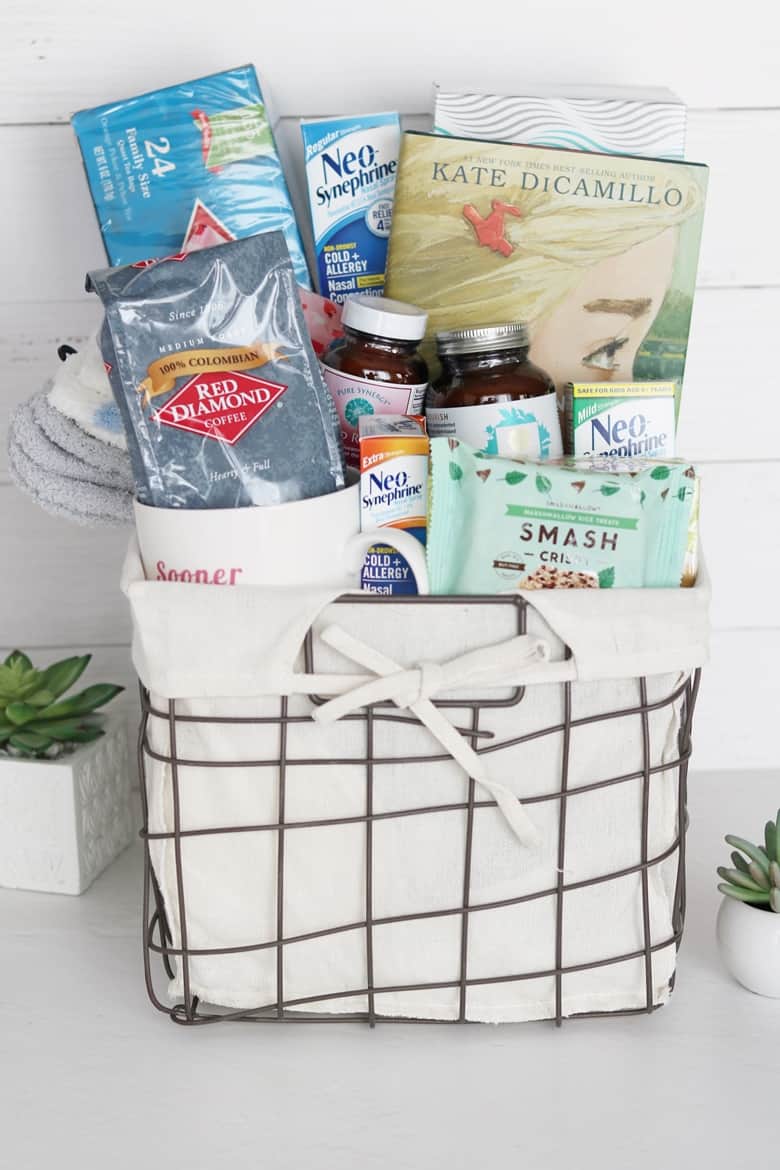 As temperatures drop and Fall turns to Winter, it seems as though everyone I know is coming down with something or other.
And is it just me, or does cold and flu season seem to sneak up on us earlier and earlier each year?
I hate seeing my friends and family sick and suffering, so I like to try and cheer them up with a little homemade get well soon care package.
Making a homemade care package for a sick friend or family member is easy, and a great way to show them that you care.
Today I want to share with you some of my favorite items to include in get well soon gift baskets. This way, putting together a get well soon gift basket of your own will be easy as can be.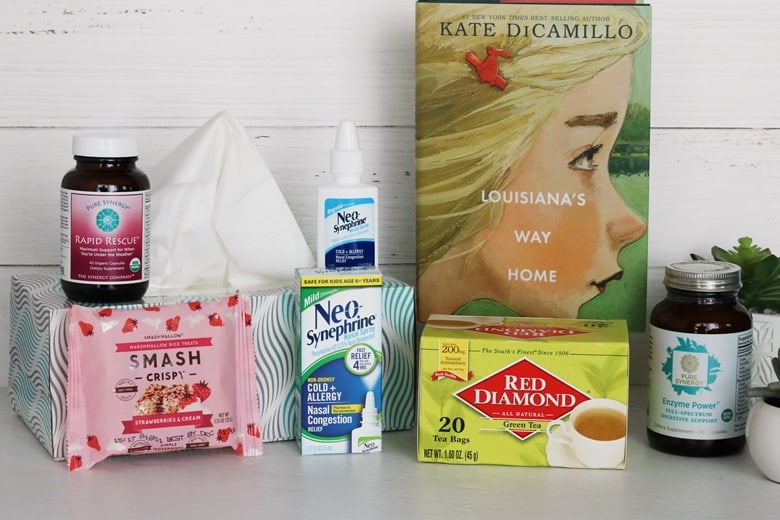 What to Put In a Get Well Gift Basket
I like to pack my DIY care packages filled to the brim with products to help beat coughs and sniffles, as well as some self-care goodies. This way my friend that is feeling under the weather can relax and enjoy a little TLC while getting the rest that they need to get better.
Here are some great get well gift ideas that you can include in your homemade get well soon basket:
Tasty Snacks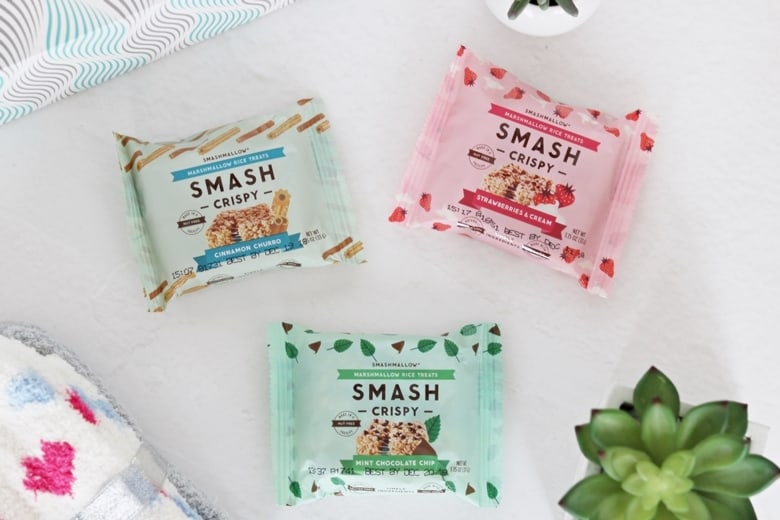 There is nothing better than a sweet treat to perk you up when you aren't feeling your best.
SMASHCRISPY treats have become my new favorite snack, and are perfect for adding to care packages for sick friends. (Or for munching on yourself as you put together your gift basket — we won't judge!).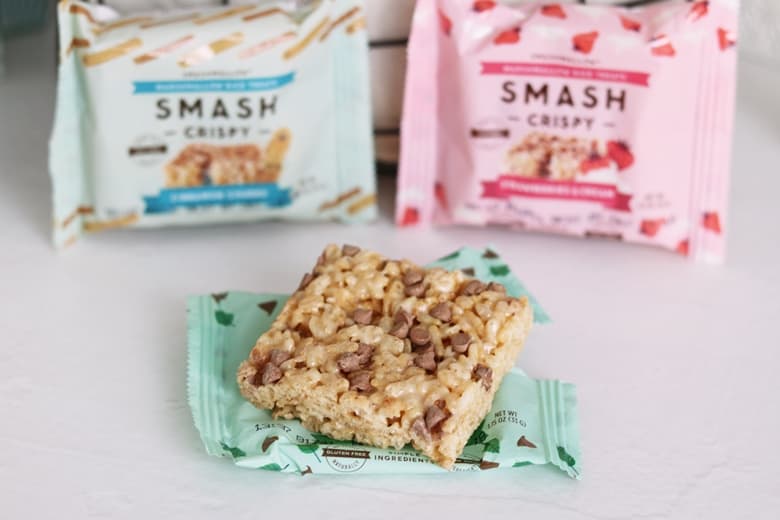 Reminiscent of those crispy cereal treats you has as a child, but with Cinnamon Churro, Strawberries & Cream, and Mint Chocolate Chip flavors, SMASHCRISPY treats are great for kids and adults alike, any time of day that they crave something sweet. The best part is, SMASHCRISPY treats are made from all natural ingredients and are non-gmo, gluten-free, dairy-free, soy-free and nut-free so that they can be enjoyed by everyone.
Nasal Spray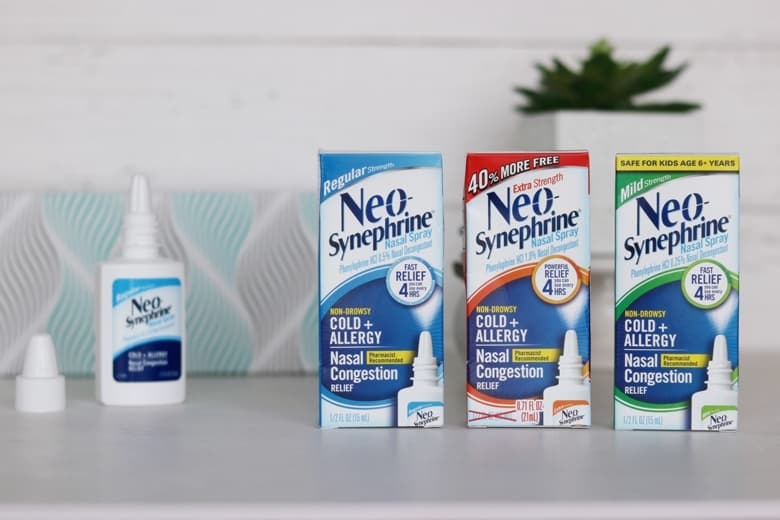 Help save your friend or family from a stuffed up nose with Neo-Synephrine Nasal Spray.
Available in 3 different strengths (regular, extra strength, mild), Neo-Synephrine works to provide relief from nasal congestion due to hay fever, common cold, and upper respiratory allergies. It also helps to relieve sinus congestion and pressure, helping to restore breathing to the nose.
Unlike many other nasal sprays, Neo-Synephrine can be used as often as every 4 hours, which means relief more often.
And keep this in mind if you have a little one who is congested: Neo-Synephrine's Mild formula is the only medicated nasal spray concentration approved for use in children as young as 2.
Get more info on Neo-Synephrine, as well as a money-saving coupon, on the Neo-Synephrine website.
Tea & Coffee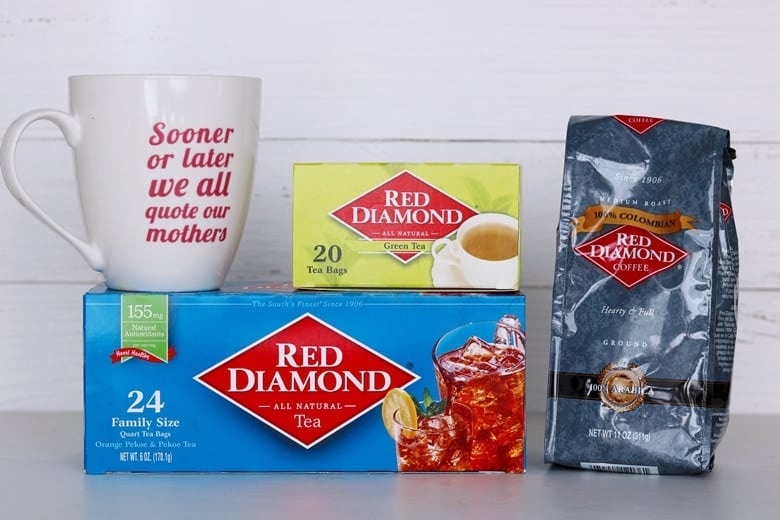 You will never hear me turn down a hot beverage when I am feeling under the weather. Just ask my husband. When I am sick I am constantly asking him to fix me a hot cup of tea with honey. There is just something so soothing about a nice hot cup of tea when you are feeling lousy.
Plus, staying hydrated is very important, especially when you are sick.
So, I like to add packages of Red Diamond Green Tea, Red Diamond Black Tea, and Red Diamond Ground Colombian Coffee to my care packages to give the recipient a variety of beverages to enjoy. A hot cup of Red Diamond Ground Colombian Coffee in the morning, a mug of Red Diamond Green Tea in the afternoon, and Red Diamond's amazing blend of Orange Pekoe and Pekoe black tea leaves make an amazing iced tea perfect for any time of day.
Red Diamond has been crafting their premium blends of coffee and tea for four generations. They are experts in their craft, and do not cut any corners in their quest for the perfection.
Red Diamond coffee beans are grown at high altitudes, handpicked, sun-dried, and roasted in small batches to create the perfect cup of coffee. They source only the finest of tea leaves from the best plantations in the world, and carefully separate the leaves from the stems to produce a high-quality tea with amazing flavor.
Find Red Diamond products in a store near you using by using the Red Diamond product locator.
Immune-Boosting Supplements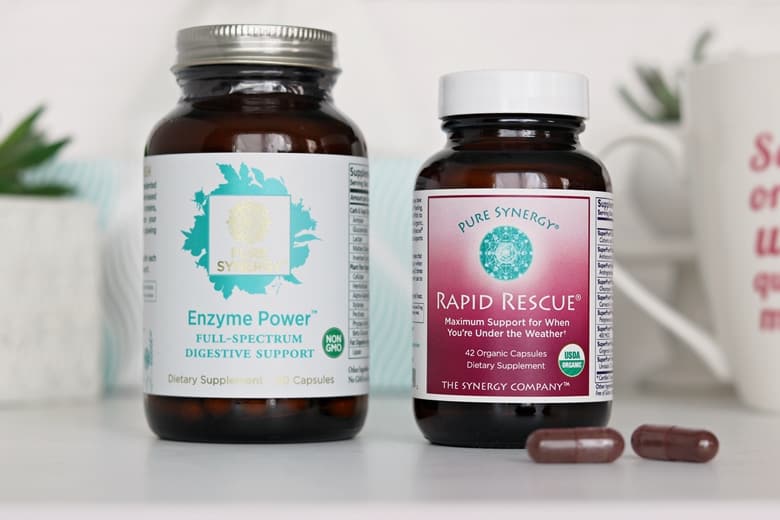 Immune-system boosting supplements are also a great gift for someone coming down with something. Here are two of my favorites:
Pure Synergy® Rapid Rescue® is packed with immunity boosters such as echinacea, elderberry, olive leaf, and oregano to provide maximum immune system support and help the body kick that nasty cold or cough as soon as possible.
Pure Synergy® Enzyme Power™ utilizes digestive enzymes including bromelain and lipase to provide digestive system support for a balanced gut microbiome and immune system.
Inspired by nature, and made with care, these Pure Synergy® organic supplements work to help support the body while it fights off illness.
Save 15% on Pure Synergy® products when you enter code PURESYNERGY15 (expires 12/31/18, cannot be combined with other offers).
A Great Book
Beating a nasty bug requires lots of rest, and a great book is the perfect way to bring a bit of joy to being stuck in bed. Plus, it is the perfect way to pass all that downtime while your body rests.
Louisiana's Way Home from Candlewick Press is just that kind of novel that I like to include in my get well soon care packages. From two-time Newbery Medalist Kate DiCamillo, this instant #1 New York Times bestseller shares the heartfelt story of a young girl's journey to deciding who she wants to be.
The main character, Louisiana Elefante, you may recall from DiCamillo's companion title Raymie Nightingale, a 2017 National Book Award Finalist. Being a middle grade novel, Louisiana's Way Home is an enjoyable and easy read, which is perfect for when you aren't feeling your best.
Save 25% on Louisiana's Way Home, as well as any other Candlewick Press books, when you enter code CANDLEWICK at checkout (valid on US purchases only).
Tissues
Runny noses need tissues, so add some tissues to your gift basket as well for good measure.
Get tissues infused with aloe to really help soothe your friend's nose.
Warm Socks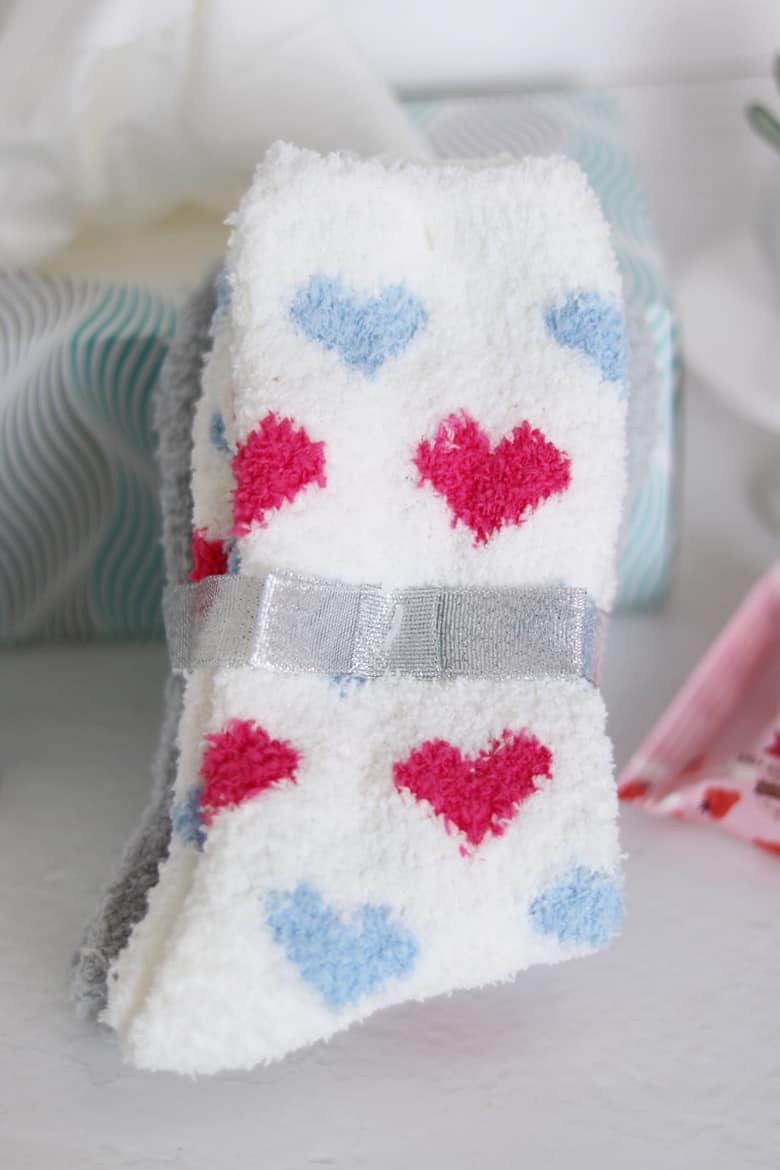 Cold toes are the worst, especially when you aren't feeling well. Help treat your friend or family member to warm tootsies with some warm, fuzzy socks or slippers.
What are some of your favorite get well soon gifts? Share them with us in the comments below!
For more DIY gift basket ideas check out my Lottery Ticket Gift Basket Ideas and this lovely Tea Gift Basket.