Use the provided free printable cereal valentine tags to make fun valentines to hand out to the kids in the classroom.
With 8 different cheesy cereal puns, these cute cereal themed valentines are sure to get the kids giggling.
Valentine's Day is one of my very favorite holidays.
From classmates to grandparents, Valentine's Day is the perfect time for sharing how much we love and appreciate the people in our lives.
I like to come up with fun little Valentine's Day gifts to give to the people in our lives. In the past we have made playdough valentines, slime valentines, and even silly string valentines.
This year I have a new classroom Valentine idea to share with you — Cereal Valentines!
Cereal Valentines
Cereal make the perfect Valentine's Day gift.
I mean what kid doesn't love cereal?!
These printable cereal Valentine gift tags come in 8 different styles, each perfect for a different type of cereal.
Check out all the "punny" gift tags below.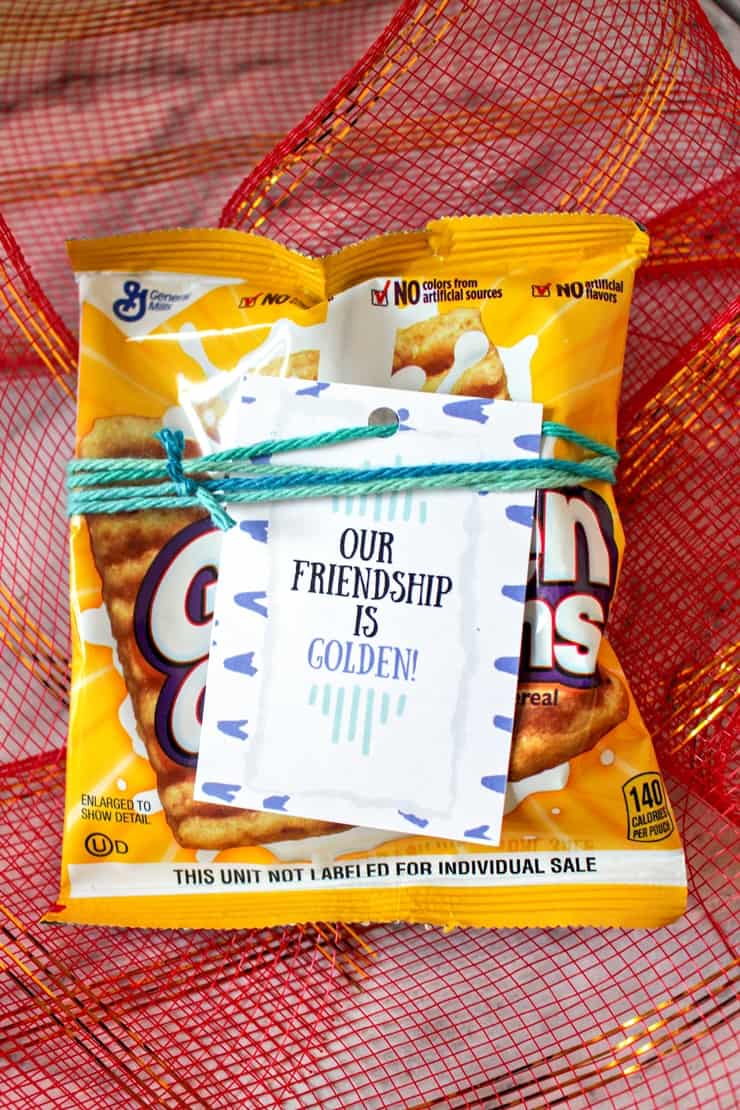 "Our friendship is golden" – Golden Grahams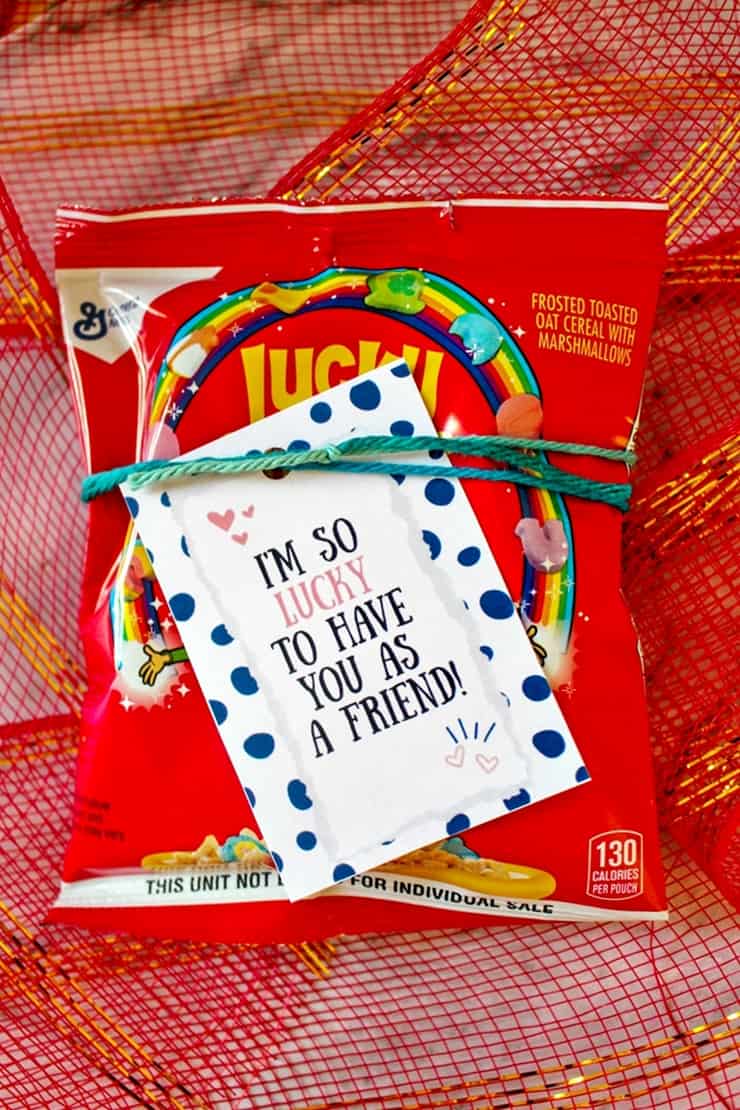 "I'm so lucky to have you as a friend" – Lucky Charms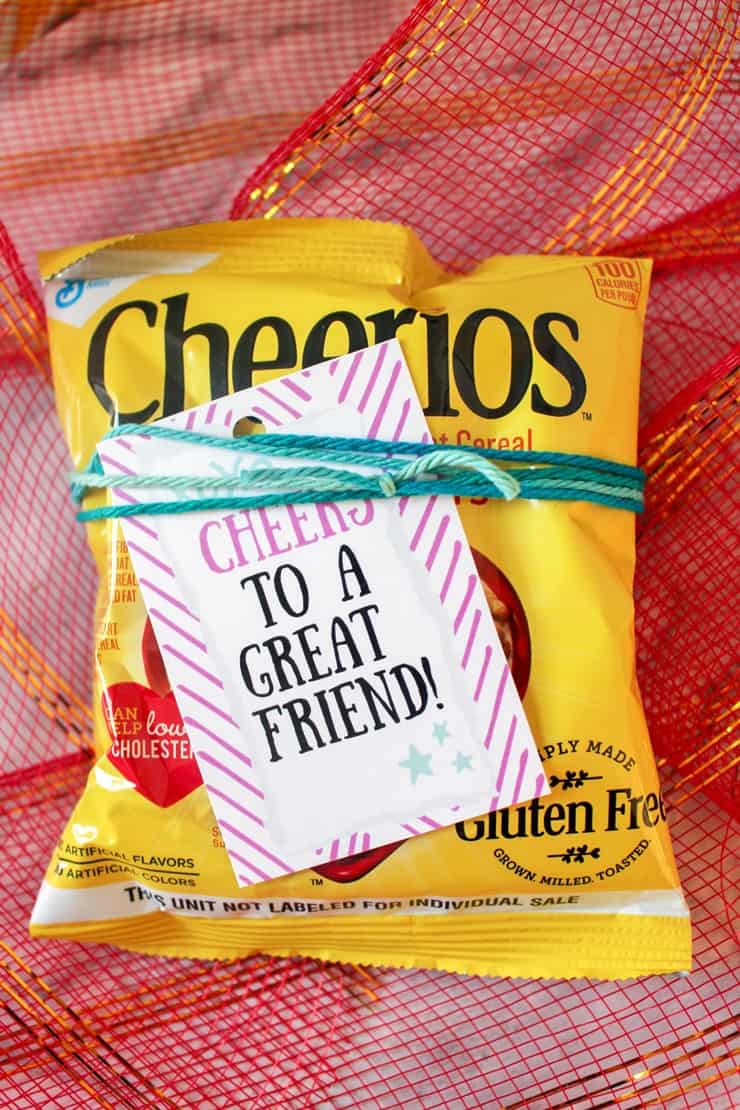 "Cheers to a great friend" – Cheerios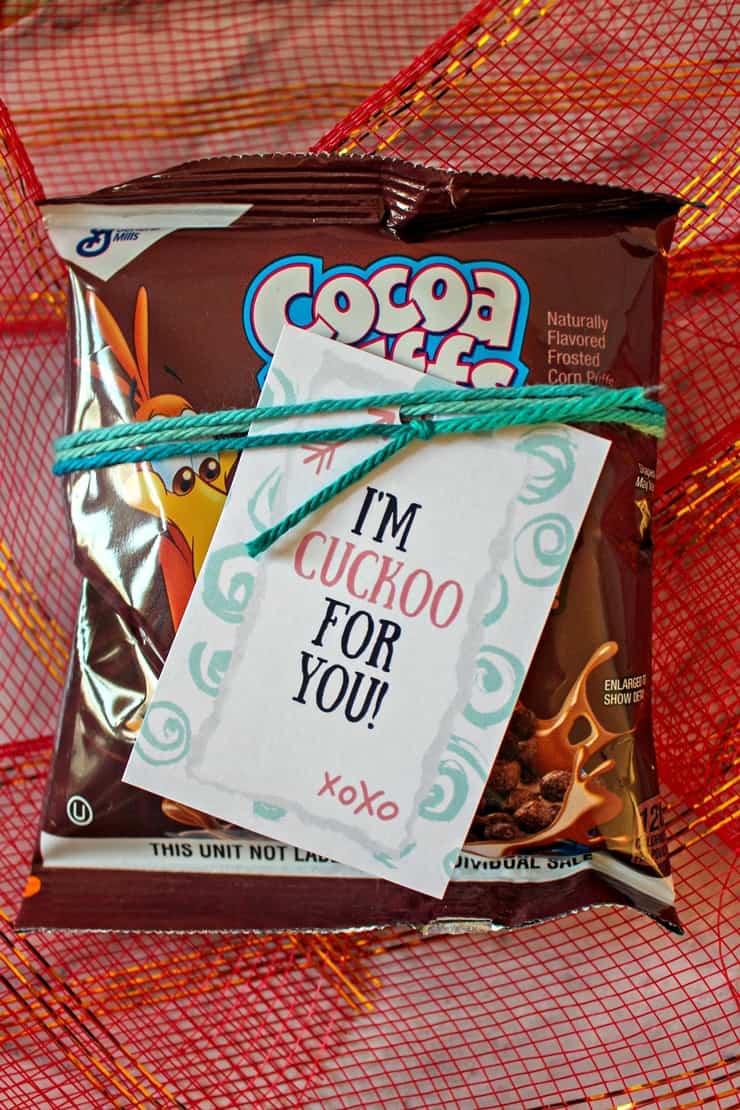 "I'm cuckoo for you" – Cocoa Puffs
"You bring cheer to my day" – Frosted Cheerios
"Bee mine" – Honey Nut Cheerios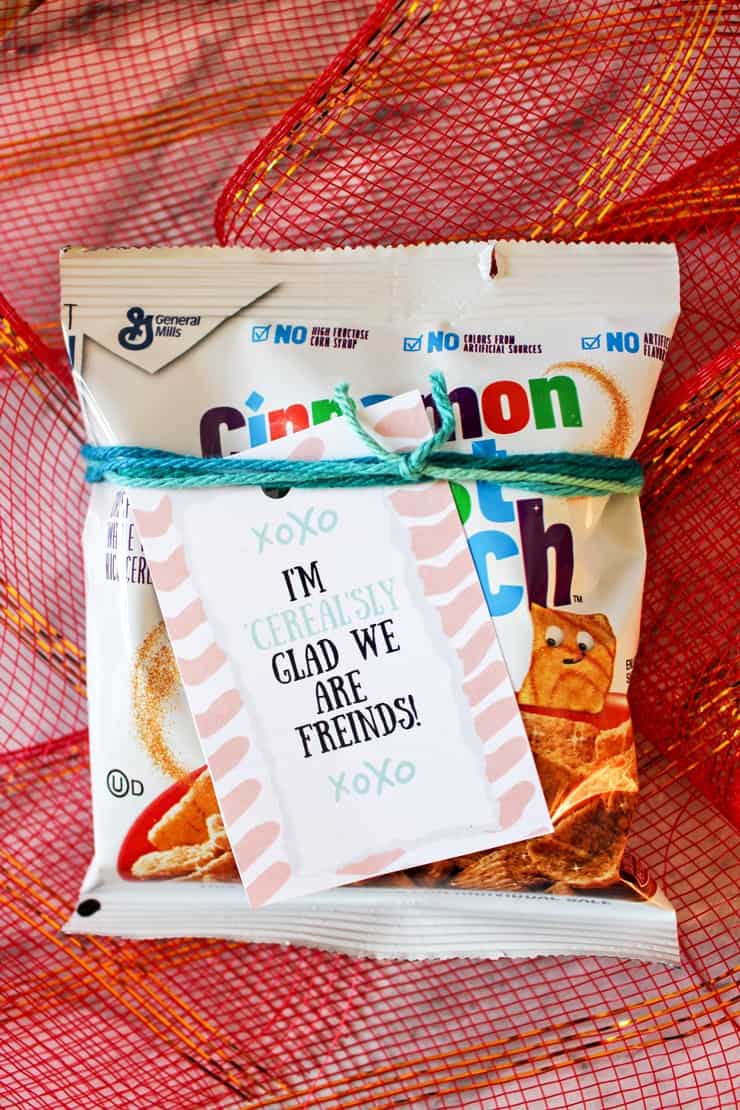 "I'm cereal'sly glad we are friends" – Cinnamon Toast Crunch
"No Trix, you are a great friend" – Trix
These valentines are very easy to put together, and shouldn't take too much time to make a whole bunch of them for a classroom.
Cereal Valentine Supplies
First, let's take a look at what you will need:
Single-serving size bags of cereal
scissors
double sided tape
yarn
We picked up a cereal variety pack that came with an assortment of 8 cereals in cute little bags.
By the way, I am so used to these cereal assortments coming in small boxes, when did they start coming in bags?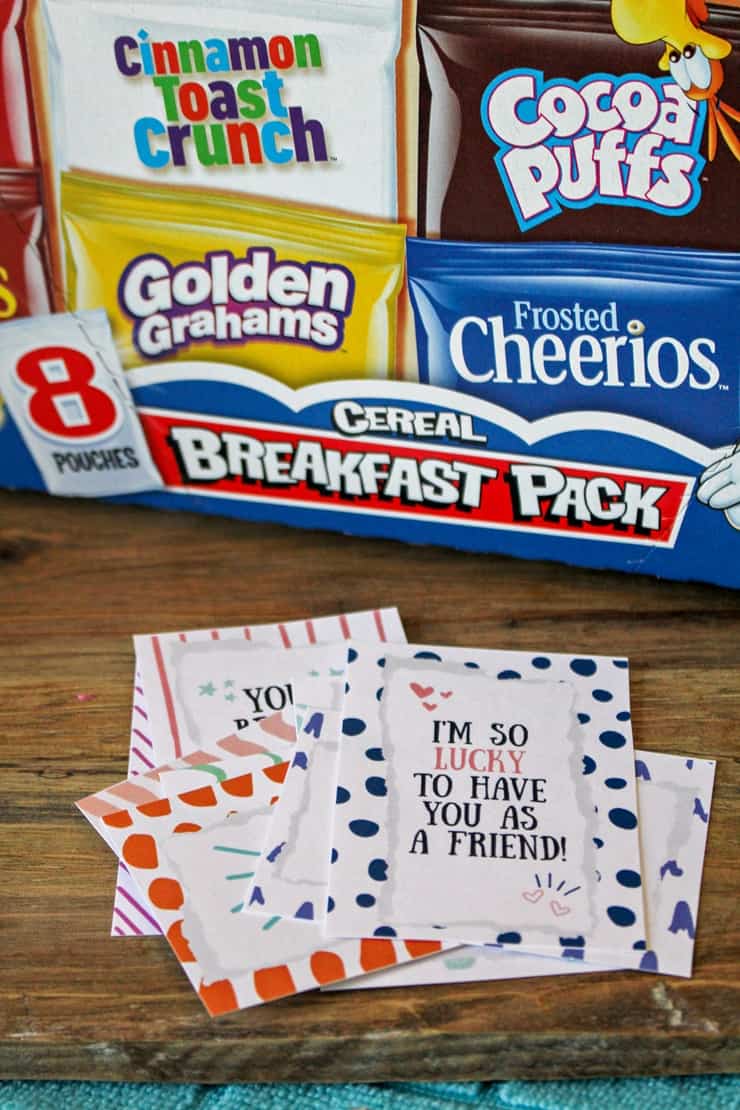 Anyhow, the assortment we picked up comes with all of the cereal varieties that pair with these printable gift tags.
However, if you wanted to go a less expensive route, or use just one variety of cereal, you could easily purchase a large box of cereal and then transfer it into individual plastic baggies.
Purchasing the single serving bags or boxes may not be cheaper, but it a little bit easier.
The choice is yours, and either way will work.
Here are the types of cereal that these tags pair with:
Lucky Charms
Trix
Cocoa Puffs
Cinnamon Toast Crunch
Golden Grahams
Cheerios
Frosted Cheerios
Honey Nut Cheerios
How to Make Cereal Valentines
Start by downloading and printing out the gift tags on cardstock.
Then, use scissors to cut each tag out.
Next, punch a hole in the top of each gift tag and thread your yarn through the hole.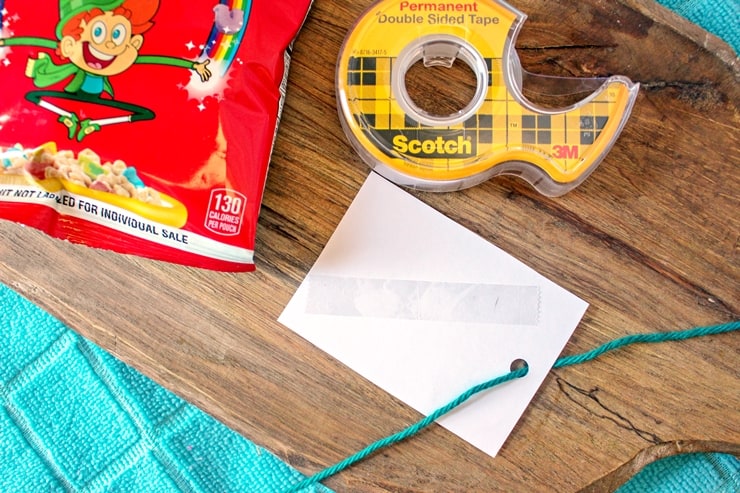 Just before placing the tag on the bag of cereal, add a piece of double sided tape on the back of the tag to help it stay in place.
Finally, wrap the yarn around the cereal bag 2 or 3 times and then tie it in a knot.
Pretty simple, right?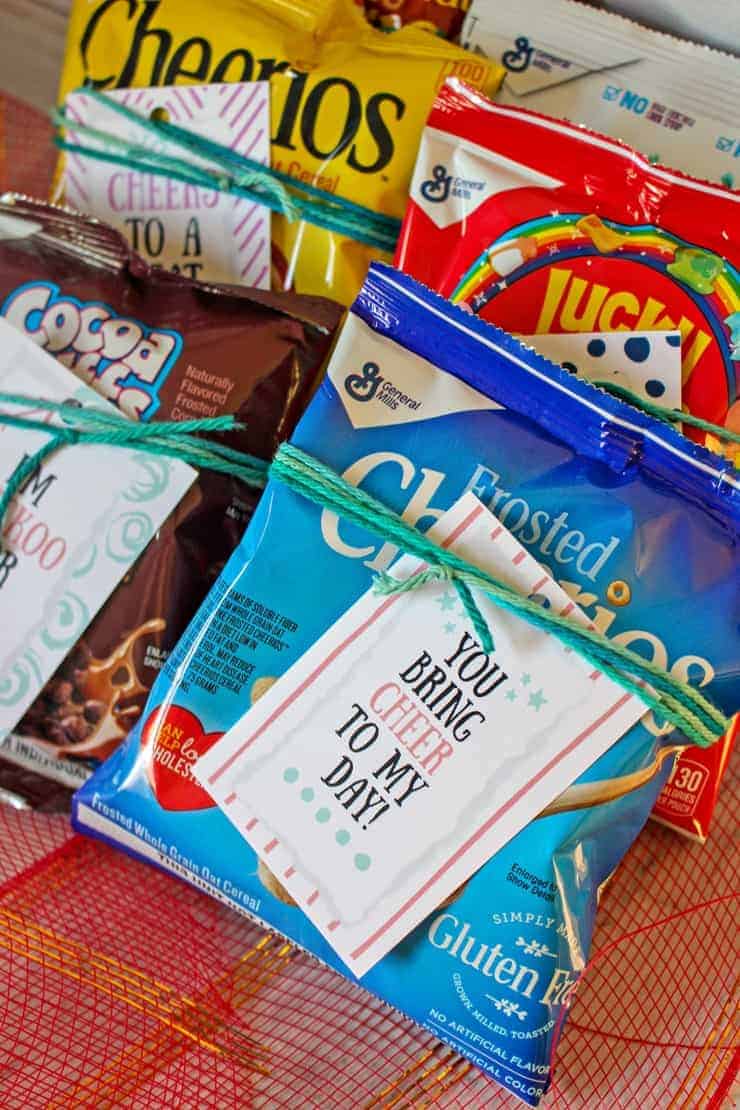 I hope that you and the kiddos enjoy this fun Valentine idea.
If you are looking for non-food Valentine ideas, check out our "You're just ducky" valentine printables. They really are super cute!
Pin for Later: