Outdoor Scavenger Hunt for Kids
Posts may contain affiliate links, meaning that I may earn a commission if you use a link provided.
This free printable outdoor scavenger hunt for kids is a fun outside activity where children have to find the items listed in nature.
Outdoor Scavenger Hunt for Kids
Scavenger hunts are a fun and free activity for kids.
Plus they are super easy, requiring next to no prep.
Looking for an indoor version? Check out our Indoor Scavenger Hunt for Kids!
All the children need is this free printable and a crayon, marker, or pencil to check off the items that they find. A clipboard to lean on while marking off the worksheet is helpful, but not absolutely necessary.
This outdoor scavenger hunt is a great way to get the kids outside and exploring nature.
The items listed should be easy to find in the backyard or in a short walk around the neighborhood.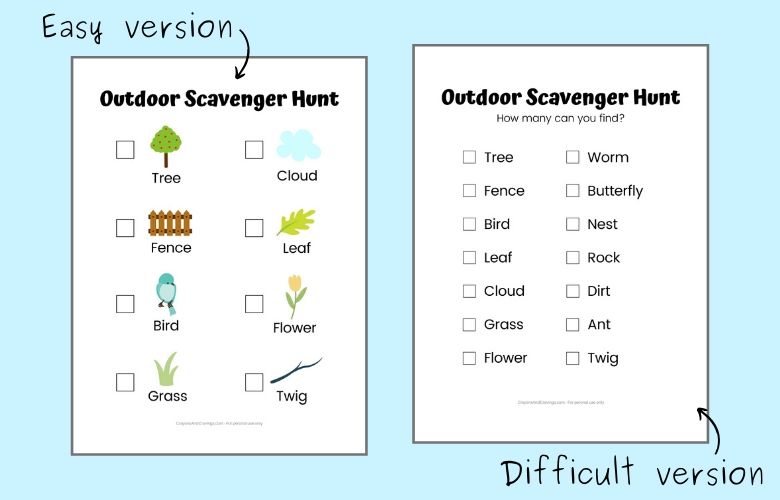 2 Versions Available
I created an easy version for preschoolers and kindergarteners that includes both pictures and text listing 8 common items to find.
tree
cloud
fence
leaf
bird
flower
grass
twig
I also made a text-only version for older elementary children that need more of a challenge. The difficult version has 14 items for the kids to find.
tree
word
fence
butterfly
bird
nest
leaf
rock
cloud
dirt
grass
ant
flower
twig
Download the Nature Scavenger Hunt PDF
Enter your email address in the form below to get the scavenger hunt printabls delivered right to your inbox as a thank you for signing up for my free weekly-ish newsletter.
I hope you and the kids enjoy this great outdoor activity!