Taste-Safe Apple Scented Playdough
Posts may contain affiliate links, meaning that I may earn a commission if you use a link provided.
A non-toxic, taste-safe, apple scented playdough recipe perfect for Fall sensory play at home or in the classroom.
Apple Scented Playdough
What better sensory activity for Fall than an easy-to-make apple playdough that literally smells like Fall?
Apple playdough would also be a fun classroom activity for those first days back to school after summer break.
While this playdough recipe does need to be cooked, don't let that scare you off. It takes only 10 minutes to make and is truly a quick and easy cooked playdough recipe.
The best part is that the playdough is naturally scented and made with non-toxic ingredients, making it taste-safe. While I obviously wouldn't recommend eating it, it does give you a little peace of mind that if one of the little guys was to give it a lick.
Or, make a batch of these tasty apple shaped cupcakes to give the kids something else apple-y to munch on!
Sensory Play Ideas for Apple Playdough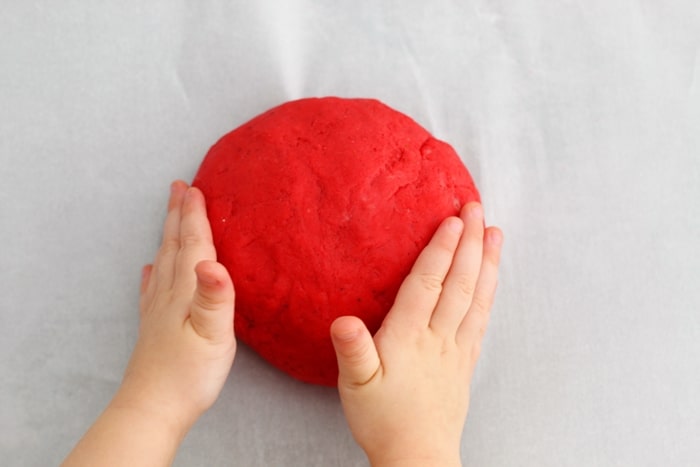 Encourage the children to use their imagination when playing with their scented apple playdough.
They could pretend to make an apple pie by rolling out the dough, placing it in a pan, "cooking" it in a toy oven, slicing it with a toy pie cutter, and "serving" it to family members or classmates.
Or, have the kids find thin sticks and leaves from outside and place them on top of the ball of red playdough to make them look like real apples with stems and leaves.
Whatever they do, the kids are sure to enjoy this fun apple scented Fall playdough activity.
Be sure to check out our taste-safe candy corn slime recipe as well!
How to Make Apple Cinnamon Playdough
Prep Time: 5 minutes | Cook Time: 5 minutes | Total Time: 10 minutes
Ingredients
1 cup flour
¼ cup salt
1 teaspoon cream of tartar
½ teaspoon nutmeg
1 teaspoon cinnamon
1 cup water
½ tablespoon olive oil
1 teaspoon red food coloring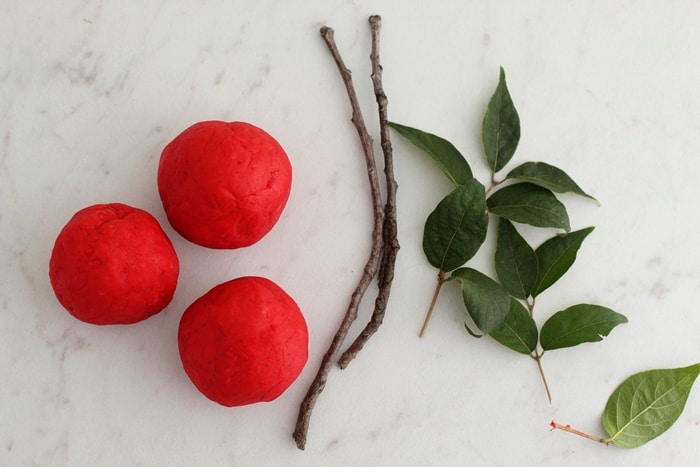 Optional Materials for Sensory Play
Thin sticks
Leaves
Rolling pin
Pie pan
Toy pie cutter
Apple Scented Playdough Recipe
In a small saucepan over medium heat, add the flour, salt, cream of tartar, nutmeg, and cinnamon. Stir until well combined.
Add water, olive oil, red food coloring and stir continually until the mixture thickens and begins to form a ball.
Remove from the heat and allow to cool for 10 minutes.
Place the cooled playdough on a non-stick surface and knead until the playdough has a smooth texture and the color is consistent throughout.
Note: Store in an airtight container to prevent drying. If the playdough does start to dry out, add a little olive oil and knead.
Looking for more kids activity ideas for the Fall? Check out these Autumn kids craft ideas.
Pin for Later: