This paper fortune cookies craft will make a fun favor and decoration for your New Year's Eve party! Fill the paper fortune cookies with fun predictions for the New Year for your guests.
These paper fortune cookies are perfect for older kids to help make during the days off between Christmas and New Year's Eve. The craft is super simple and needs barely any supplies, yet making these fun fortune cookies can keep the kids busy for hours.
What's really fun about this craft is writing the fortunes. Let your kids be as silly as they want. The sillier the fortune the better it will be when someone opens the cookie on New Year's Eve. Maybe even have everyone hide their fortunes from each other so that no one knows who wrote what.
You can use whatever colors of paper you want for the cookies. In fact, this is a great way to use up paper from your paper pads that you're not too crazy about or to use up scraps. Don't worry about whether or not it's a "summer" or "spring" paper. If the kids are helping, you can let your kids pick the paper they want to use for their fortune cookies.
You'll want to make several cookies for each guest so that everyone can grab a couple to open at the party. Everyone will enjoy reading their fun fortunes for the New Year!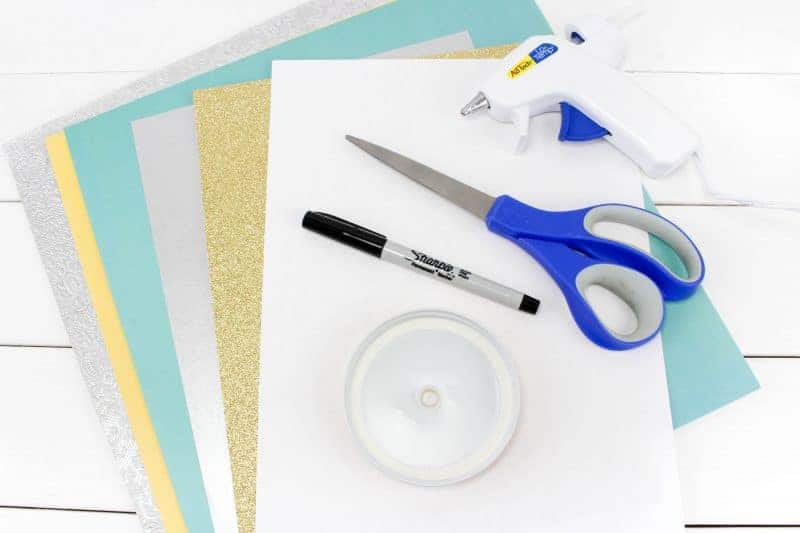 Paper Fortune Cookies Supplies
5-6 pieces paper, in assorted colors and patterns (like these)
1 sheet paper
Hot glue gun
scissors
3 ½" lid, to use for tracing
How to Make Paper Fortune Cookies
Trace as many circles as you'd like using your lid, and cut them all out. Cut strips of white paper about 3"x ½". You will need the same number of strips as circles. Write a fortune on each strip of paper.

Next, take one circle and gently fold it in half, but only crease it in the center of the fold. Open it back up.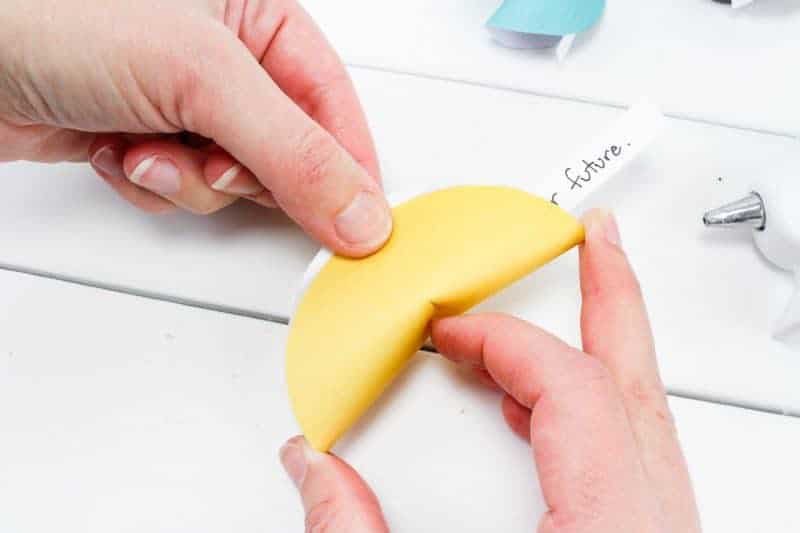 Fold the circle in half again the opposite direction without creasing, making sure the crease you made earlier is perpendicular to the new fold. Slide a fortune paper through so you can see a bit of each end.
Gently push the crease in with your finger so the ends start to fold together while you hold the open edges together. The open edge of the circle will kind of naturally overlap one another, but you can gently help it as you are folding the ends together.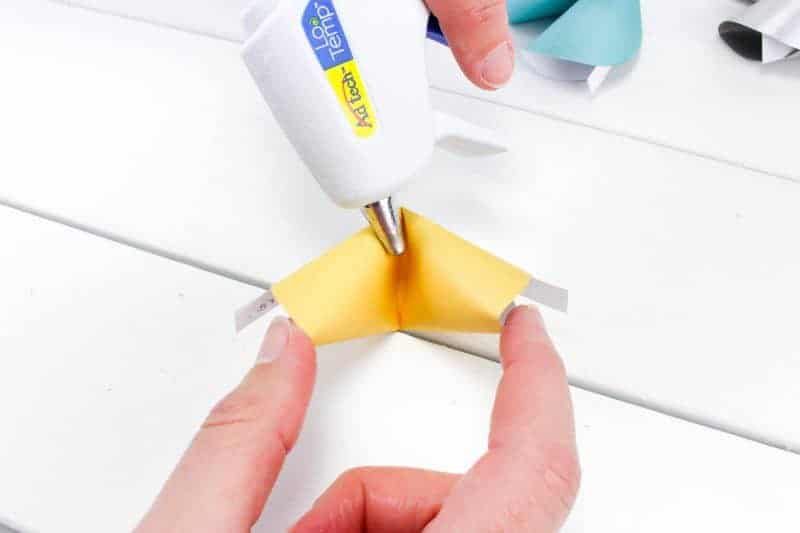 Once you have it folded, keep holding it by the ends and carefully open it back about halfway and put a dot of glue on the crease you created.
Fold it back together and hold for about 30 seconds.
Repeat the steps using all your paper circles and fortunes.
These are really quite easy and fun to make once you get the hang of it. I hope that you enjoy this fun paper fortune cookies craft and that you and your family have a happy and safe New Years Eve!
More fun New Year's Ideas