This DIY Tic Tac Toe board game is an easy Valentine's Day homemade craft for the kids to make using a foam sheet, paper straws, and pink and red hearts.
Are you looking for a cute craft for the kids to do? This Valentine Tic Tac Toe board is not only fun and easy to make, but it makes a great gift for kids to give with their Valentine's Day cards.
This craft could be done in a variety of colors. Whether your kids love pink and purple or pink and teal or even red and black, they can make this craft to suit their style. This means that this craft could actually be fun for older kids as well.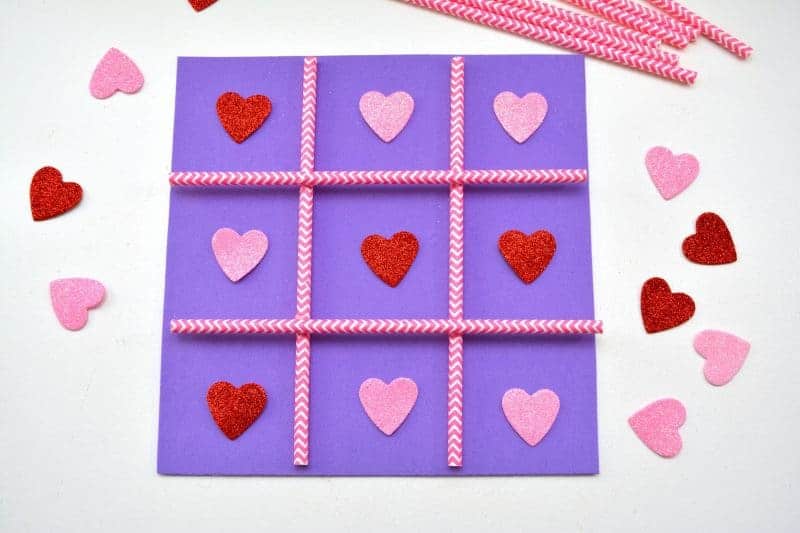 You should be able to find all the supplies you need for this DIY Tic Tac Toe board game at your local Dollar Tree, which makes this craft super affordable. In fact, this is so affordable that it would also make a great Valentine's Day craft for classrooms without breaking the bank.
If you are having trouble finding paper straws, you could use ribbon or pipe cleaners instead. Also, if you can't find foam sheets, you could try using felt like we did for our DIY Christmas Tic Tac Toe board game.
If you can't find table scatter in the colors that your kids want to use, you can use foam hearts instead. Or you could also use your Cricut to cut out pieces from almost anything. Just have fun with it. You could even use two colors of Conversation Hearts as the game pieces. Who doesn't love a game that is partially edible?
This DIY Valentine's Day craft can be as creative as you want it to be. Your kids could place the board and pieces in a zip top bags and tape inside of each card they give out to close friends. It's just a little something extra that's fun.

Materials:
● Purple foam sheet
● Pink and red heart shaped table scatter
● Valentine colored paper straws
● Hot glue gun or craft glue
● Scissors
Shop Materials for This Craft:
Foam-Sheets 50-Pack
Table Scatter Glitter Hearts
Pink Stripe, Chevron, and Polka Dot Paper Straws
Mini Hi-Temp Glue Gun
Aleene's Original Tacky Glue 3 Pack
Instructions:
1. Lay a straw down on a piece of purple craft foam. Use scissors to cut off the excess foam just on the other side of the straw.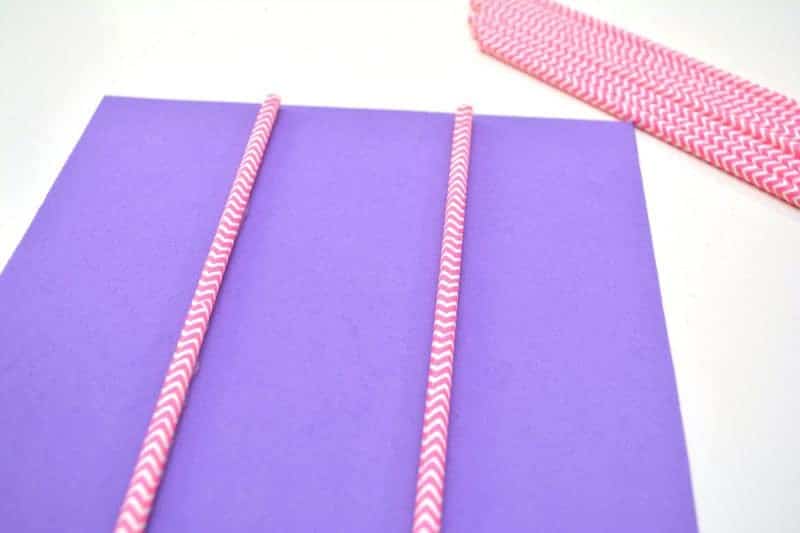 2. Then, use hot glue to attach two straws to the front of your craft foam sheet to serve as the base for your tic tac toe board. See the photo for reference as to where these two straws should be placed.

3. Attach two more straws to the top of the ones you used to make the base, to create the rest of your tic tac toe board. The straws should all form the shape of a hashtag as seen in the photo above.

4. Use pink and red foam table scatter shapes to use as your X's and O's. Each person picks a color to play with.
That's it!
If you're looking for a fun Valentine's Day homemade craft for the kids, this Valentine's Day tic tac toe game is perfect! I hope tht you enjoy this easy Valentine's Day craft!