Strawberry Banana Smoothie with Yogurt
Posts may contain affiliate links, meaning that I may earn a commission if you use a link provided.
Start your morning off right with a delicious strawberry banana smoothie with yogurt. This blender strawberry banana smoothie recipe is my go-to for quick and easy breakfasts and snacks.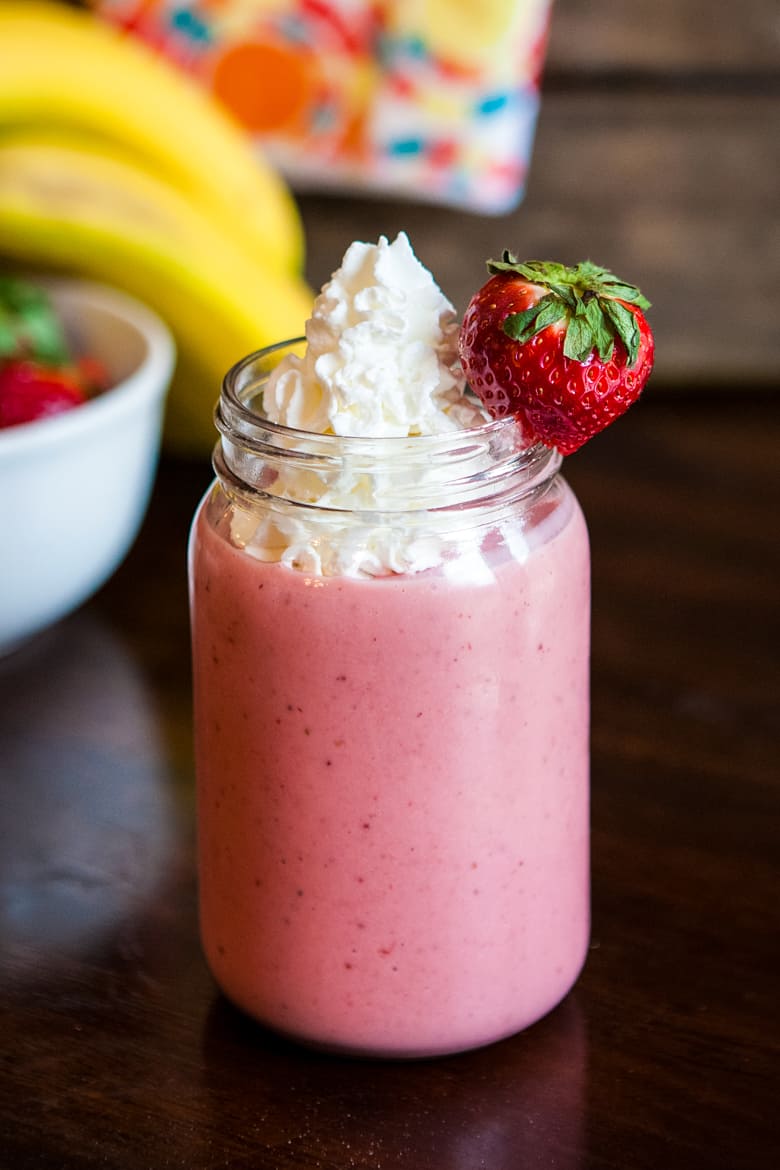 Strawberry Banana Smoothie with Yogurt
5 minutes and 3 simple ingredients are all it takes to make this tasty yogurt-based smoothie.
Whip this up and skip heading to your favorite smoothie shop for an easy and delicious way to start your day–or even enjoy as a mid-day snack.
What I love about fruit smoothies like this one is that you can add in some protein powder to easily make it into a strawberry banana protein smoothie.
If you enjoy smoothies, be sure to try these pineapple cherry and cucumber lime smoothie recipes as well.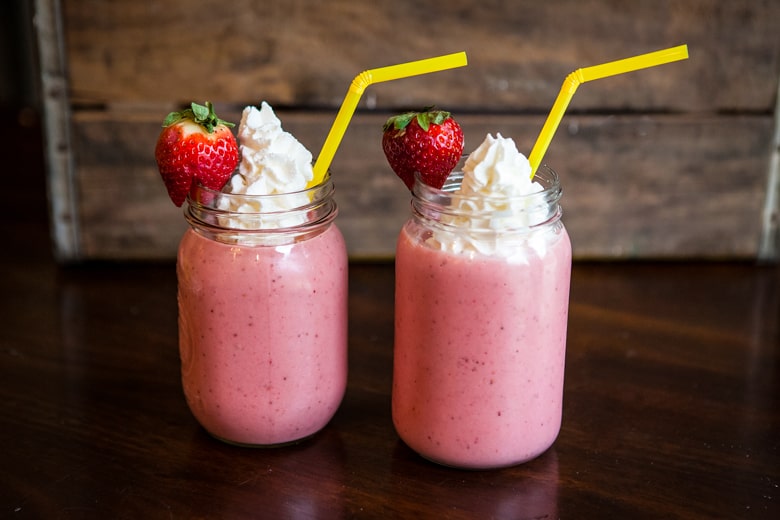 Do bananas and strawberries go together?
To me, bananas and strawberries are the ultimate duo.
And when you transform them into a smoothie, it just screams perfection!
If you have not tried this duo of flavors, do yourself a favor and give the combo a try ASAP.
Can You Freeze Bananas?
You can freeze bananas, which is great to do and use for making smoothies. Like frozen berries, frozen bananas blend up perfectly.
To freeze, just peel your bananas and then slice them into cubes. Place them into freezer baggies and freeze for up to 3 months.
Tip: Portion your fruit before freezing so that you can just dump a baggie into the blender and go on busy mornings.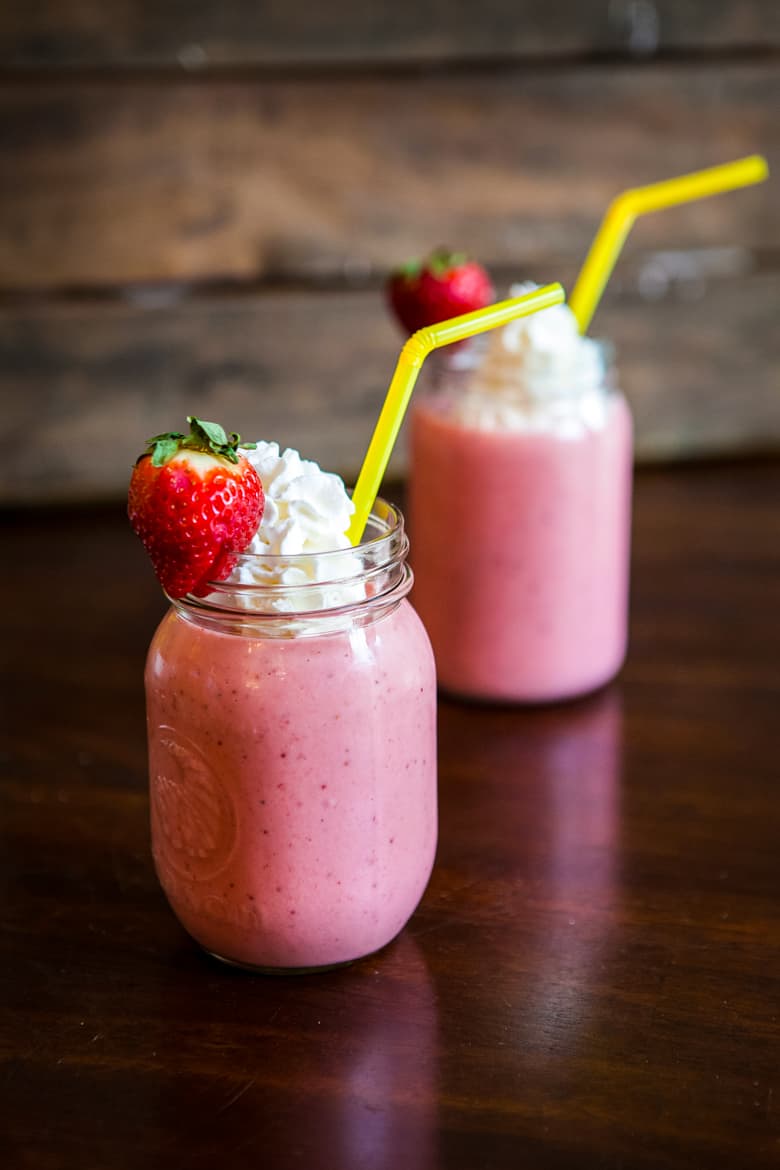 You will need:
frozen strawberries
bananas, fresh or frozen
Greek yogurt
water or milk
vanilla protein powder (optional)
Alternative to Greek Yogurt
If you do not care for Greek yogurt, no worries. Go right ahead and swap it out with classic vanilla yogurt.
Or if you need a dairy-free alternative you can use an almond milk yogurt.
It will work just the same. I just enjoy using Greek as it has extra protein in it compared to a classic yogurt.
How to Make Strawberry Banana Yogurt Smoothie
Add everything to your blend and blend on high until smooth.
You can adjust the consistency as needed by adding a little water or milk to help thin your smoothie out. Or if you want to thicken your smoothie, you can add more fruit.
I recommend adding in a little bit at a time so you can slowly adjust the texture to your preference.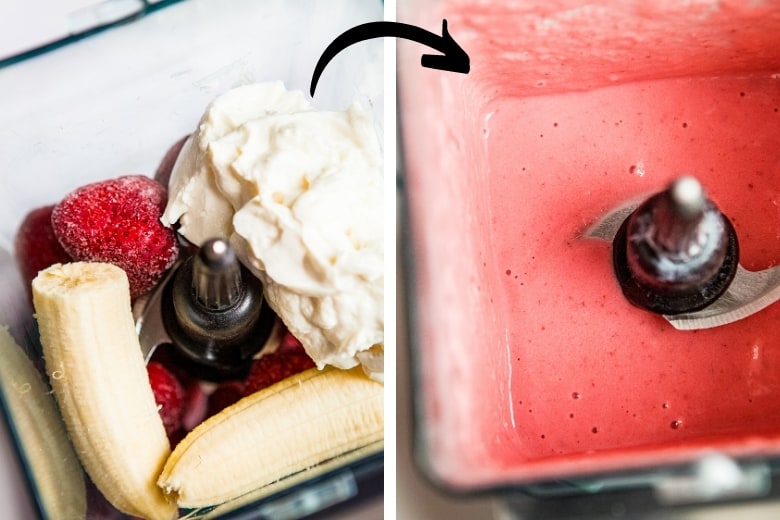 Recipe Variations
Consider adding different fruit to add more flavor to your smoothie.
Top with some granola or blend in some oats to add more nutrients.
Drizzle in some chocolate sauce or peanut butter for added sweetness.
Consider adding a splash of orange juice to replace water to help adjust texture while adding a hint of citrus.
Toss in a handful of greens to make it a "green" smoothie.
Chia seeds, flax seeds, or hemp seeds can be used to add nutrients without overtaking the flavor.
Can You Make Smoothies Ahead Of Time?
You are more than welcome to make your strawberry banana smoothie with Greek yogurt up to a day in advance. Just blend them up and pour into mason jars or cups with a lid. Store in the refrigerator until ready to enjoy.
You can also freeze smoothies as well. Just place in proper freezer containers and freeze for up to three months. Then thaw in the fridge overnight for a perfectly thawed smoothie waiting for you in the morning.
Recipe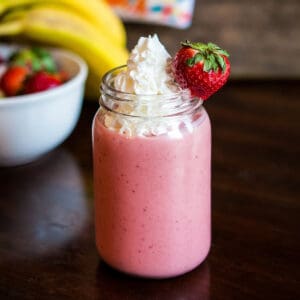 Recipe
Strawberry Banana Smoothie with Yogurt
This strawberry banana smoothie with yogurt is made with just 3 simple ingredients and only takes 5 minutes!
Ingredients
2 cups strawberries frozen
2 bananas fresh or frozen, peeled
1 5.3 oz container Vanilla Greek Yogurt (about 1 cup)
1 Tablespoon vanilla protein powder optional
whipped cream optional
water milk, or almond milk to thin, if necessary
Instructions
Add fruit, yogurt, and protein powder (optional) to a blender. Mix at the highest speed until smooth, about thirty seconds.

Check the consistency of the smoothie. If it is too thick, add more water, juice, or almond milk and blend until smooth. The texture should be thick, yet thin enough to drink through a straw.

Add whipped cream and garnish with a fresh strawberry, if desired. Serve immediately.
Nutrition
Serving: 1g | Calories: 346kcal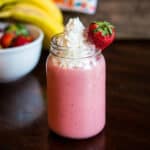 Did You Make This Recipe?
Share it with me on Instagram @crayonsandcravings and follow on Pinterest @crayonsandcravings for even more!
Pin for Later