Inside: 10 innovative STEM toys for kids that make wonderful Christmas, birthday, and holiday gifts.
Kids are always the most fun people to shop for during the Holidays.
But instead of picking up just any toy I like to find hands-on educational toys that help kids develop critical skills.
As a mom, I strongly prefer active toys that keep my little guy engaged and thinking. That is why I always try to buy STEM (science, technology, engineering, and math) toys.
Aside from being fun and engaging, STEM toys work to increase problem-solving and critical thinking skills while introducing children to new concepts such as basic engineering and coding principles.
Best STEM Gift Ideas for Kids
I have packed this list with the best STEM toy gift ideas to help you cross every child off your shopping list this year.
I had the chance to review many of these STEM toys thanks to samples being provided so that we could try the toys for ourselves. Nevertheless, I wouldn't share anything with you that I didn't love 100%.
I included the manufacturer's recommended age for each toy to make it easier for you to find a STEM toy perfect for kids of any age.
---
Smart Train Starter Set
Recommended Age: 3-99

The classic toy train has been reinvented! With the intelino Smart Train, kids can work on developing STEM and coding skills through interactive hands-on play. Budding engineers can control the train's speed, steering, and more with the included action snaps (colored tiles that snap into the tracks). If you choose, kids can also use the smart train in combination with the intelino app to turn their iPad or smart phone into the train's dashboard and take advance of remote-control features.
---
Magnetic Building Set
Recommended age: 3-99


The Geomag GREEN LINE Color Magnetic Building Set is a wonderful construction toy set for kids. problem-solving activity for kids. The building kit is packed with 42 powerful magnetic rods and steel spheres that allow children to use their imagination to build unlimited structures while working on their problem-solving and fine-motor skills. Plus it is made from 100% recycled plastic!
---
Magnetic Human Body Play Set
Recommended age: 3-6
The Melissa & Doug Magnetic Human Body Play Set is a great way to introduce preschoolers to anatomy. Kids will become more familiar with the body's organs and systems as they place the 24 magnets in their correct location on the body.
---
Build and Play Dinosaur Toys
Recommended Age: 3-6
What do kids think is even cooler than dinosaurs? Dinosaurs that they get to build themselves! With the construct and play dinosaur toy set from Kidtastic, kids get to enjoy both building and playing with 3 colorful dino toys.
---
Little Genius Starter Kit
Recommended age: 3-5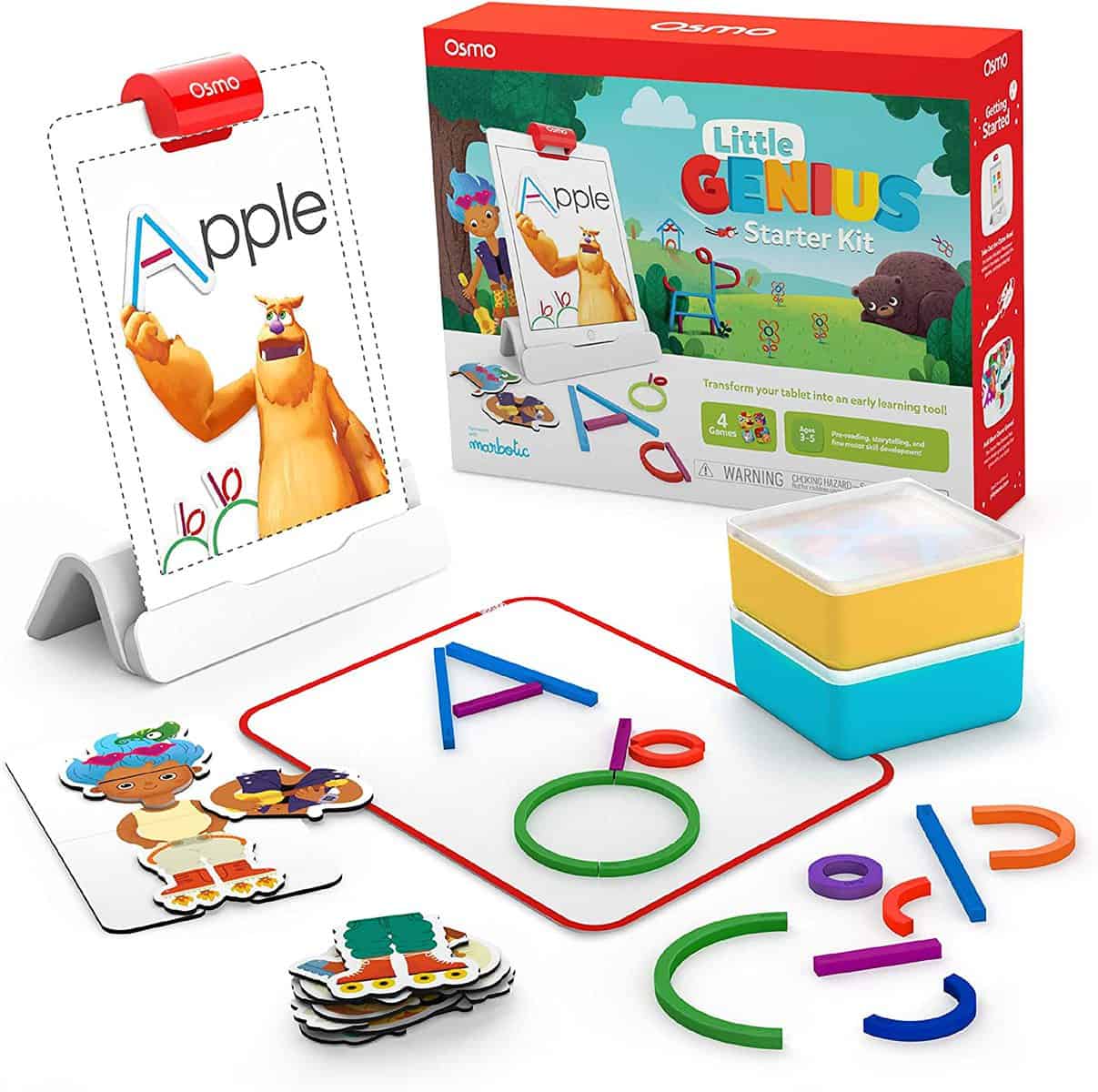 Learning and screentime can go hand-in-hand thanks to the innovative Little Genius Starter Kit from Osmo. The educational set includes supplies for 4 hands-on educational games that kids can play using their iPads. (iPad not included)
Or for older kids, check out the more advanced Genius Starter Kids set (for children ages 6-10).
---
Water Rocket Kit
Recommended age: 14-15, adult supervision recommended

Perfect for young space and science lovers, this science kit allows kids to use water pressure to create a rocket using a plastic water bottle, bike pump, and water. Note: bike pump not included.
---
Wooden Marble Run
Recommended age: 4 -16

Building toys for kids are not limited to basic building blocks sets. Take for example the Castle Tower Mable Run from Hape. With over 100 pieces, kids will enjoy open-ended play while sharpening their spatial reasoning and problem-solving skills.
---
Multiplication Slam
Recommended age: 8 – 11
Give the gift of math skills this Christmas! With nothing short of a miracle, Educational Insights has made learning multiplication tables fun! Multiplication Slam includes 5 fun math games that teach multiples, math facts, factors, factor pairs, and sequencing.
---
Makey Makey Invention Kit
Recommended age: 8+
Kids learn basic engineering and coding skills while unleashing their creativity while in a hands-on way thanks to this easy-to-use invention kit from JoyLabz. From making a piano out of a banana to creating a video game controller out of playdough, the possibilities are endless with this kit!
---
Doodlematic Mobile Game Maker
Recommended age: 6 +
When it comes to imaginative play, you can't beat designing your own game! Kids will love using Doodlematic to watch their drawings become video games. This terrific STEM gift for kids and teens transforms their handmade drawings into actual animated games that they can play instantly on a phone app or iPad.
---
Pin for Later: