Sheet Pan Breakfast Pizza
Posts may contain affiliate links, meaning that I may earn a commission if you use a link provided.
The best sheet pan breakfast pizza recipe – delicious and easy to make with crescent rolls, sausage gravy, eggs, cheese, and bacon.
Bake, slice, and serve this sausage gravy breakfast pizza up for breakfast, brunch, or even dinner. (Breakfast for dinner is a favorite in our house!)
If you like sausage gravy, be sure to give this Easy Biscuits and Gravy Casserole recipe a try as well, you will love it!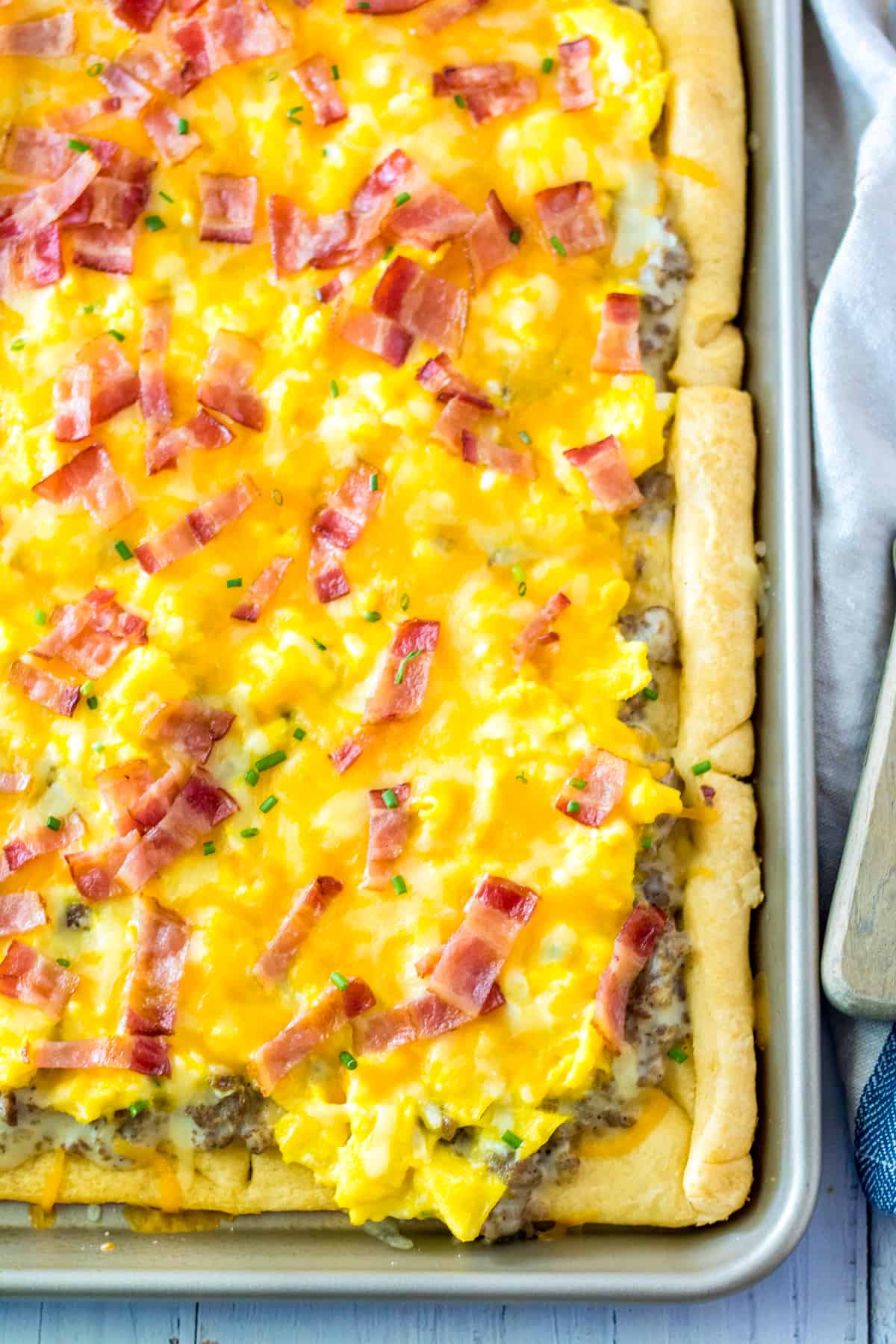 Reach for canned crescent rolls to help speed up the prep on this sheet pan breakfast pizza. Crescent rolls offer a buttery and soft crust that works wonders.
No need to wait for the dough to rise if you were to make your own pizza crust.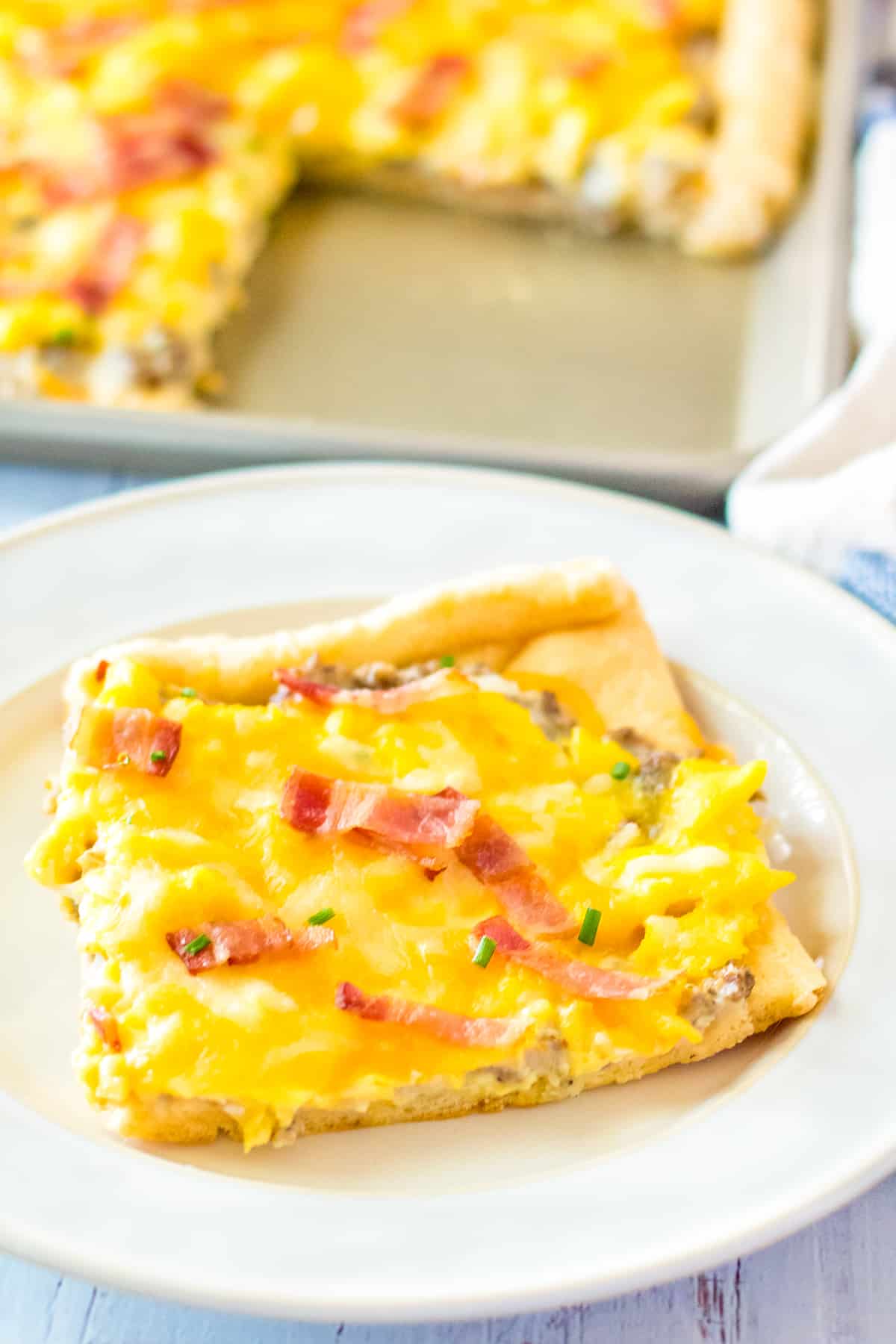 The toppings for this sheet pan breakfast are open to what you like. I love doing sausage and bacon, along with scrambled eggs with cheese and chives. They add so much flavor to the breakfast pizza!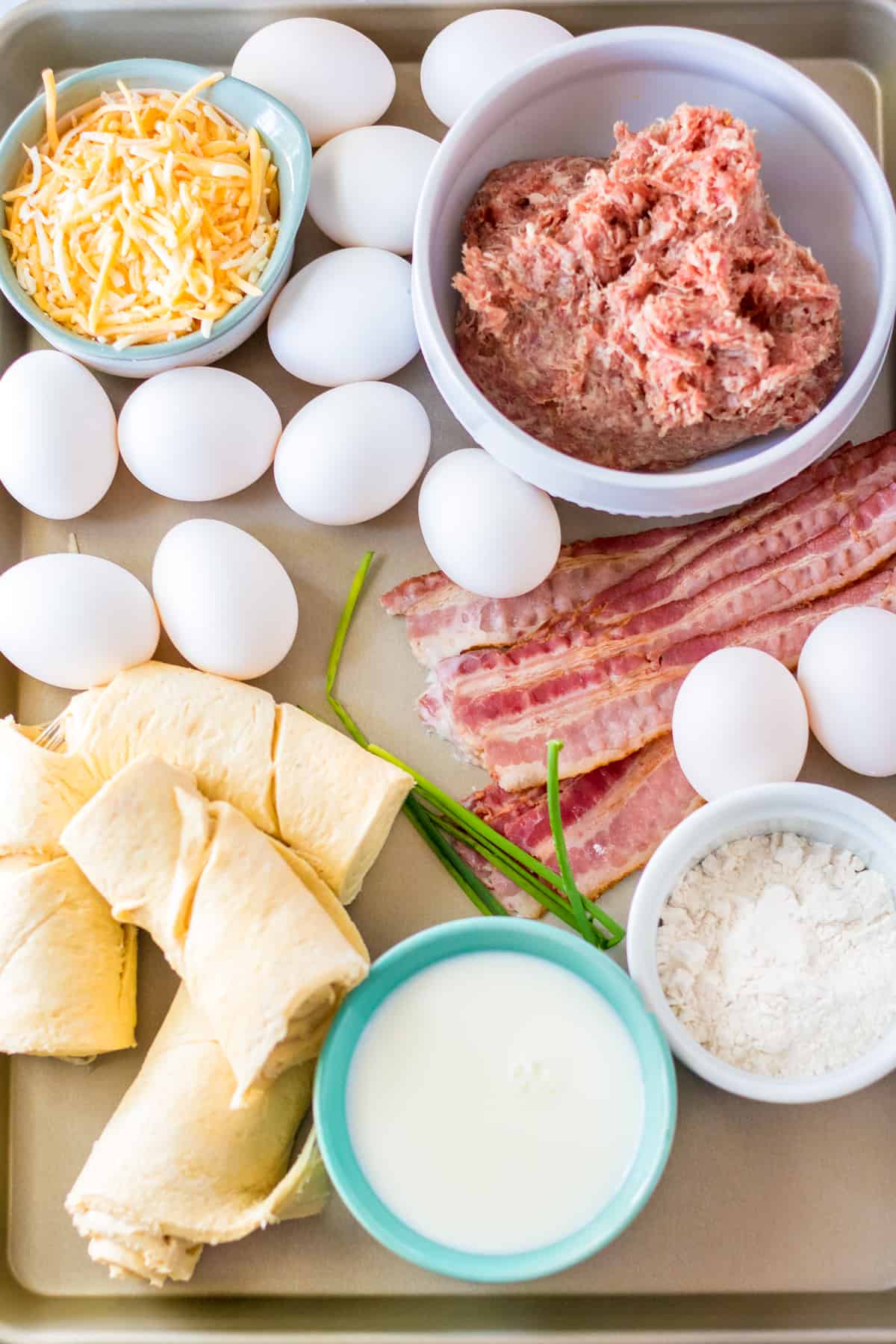 If you are looking for more sheet pan breakfast recipes give this giant pop tart recipe a try, too!
Ingredients Needed
Crescent rolls – canned crescent rolls makes for a simple but satisfying pizza crust. You could also buy the store bought pizza crust you roll out if you prefer.
Eggs
Sausage – reach for your favorite brand of breakfast sausage.
Bacon
Flour
Milk
Butter
Shredded Cheese – I reached for Colby Jack, but you are more than welcome to reach for sharp, mozzarella, etc.
Chives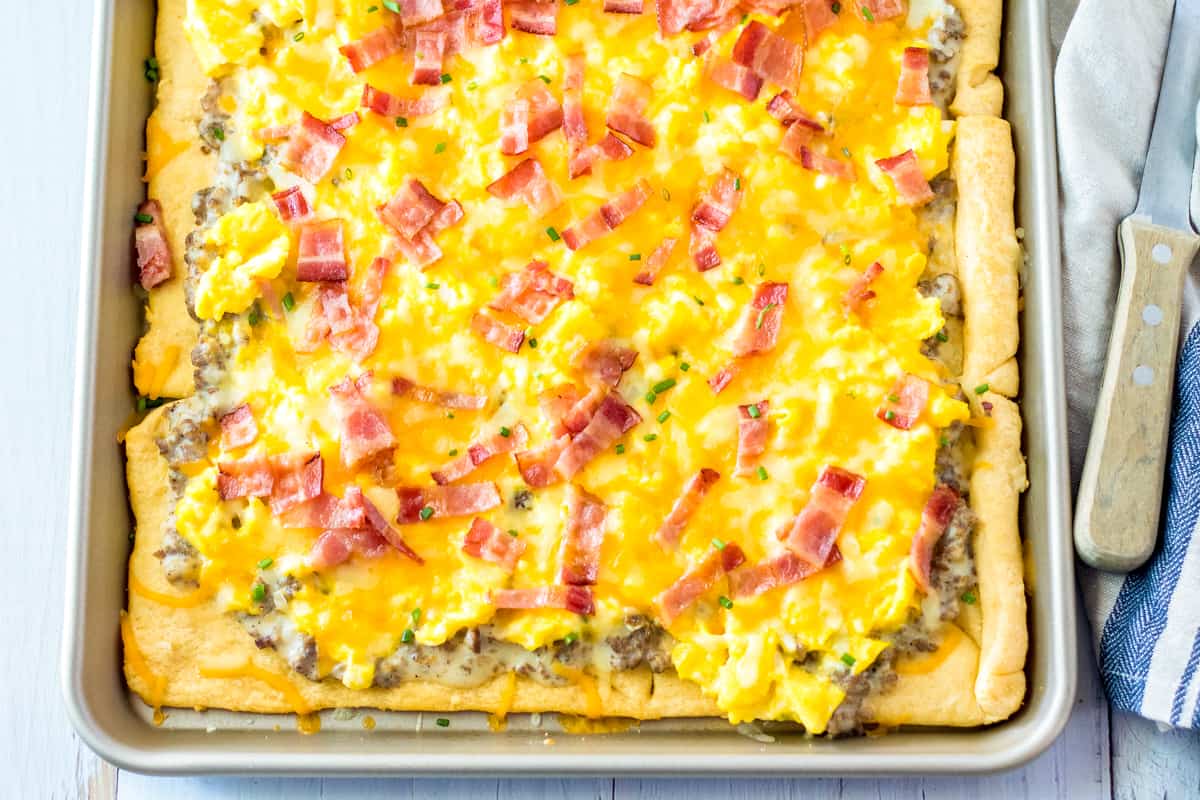 Additions and Variations
Bacon – Swap out the bacon with Canadian bacon, or even just leave it off.
Chorizo – If you want your dish to be a bit spicier try using chorizo instead of sausage.
Eggs – If you are not a fan of scrambled, you could make little wells in the pizza and crack and drop eggs right into the pizza. For an over-easy style egg you slice and serve.
Sauce for breakast pizza – I made a sausage gravy, but you can also use a peppered gravy or a cheese sauce instead.
How to Make
Learn how to make sheet pan breakfast pizza for a simple and easy breakfast recipe that is bursting with savory flavor in each bite.
Step 1: The first step is unrolling your crescent roll dough and pressing it down into a baking sheet. Make sure to press in the creases, so you have 1 even dough in the pan. Bake the pizza dough as directed.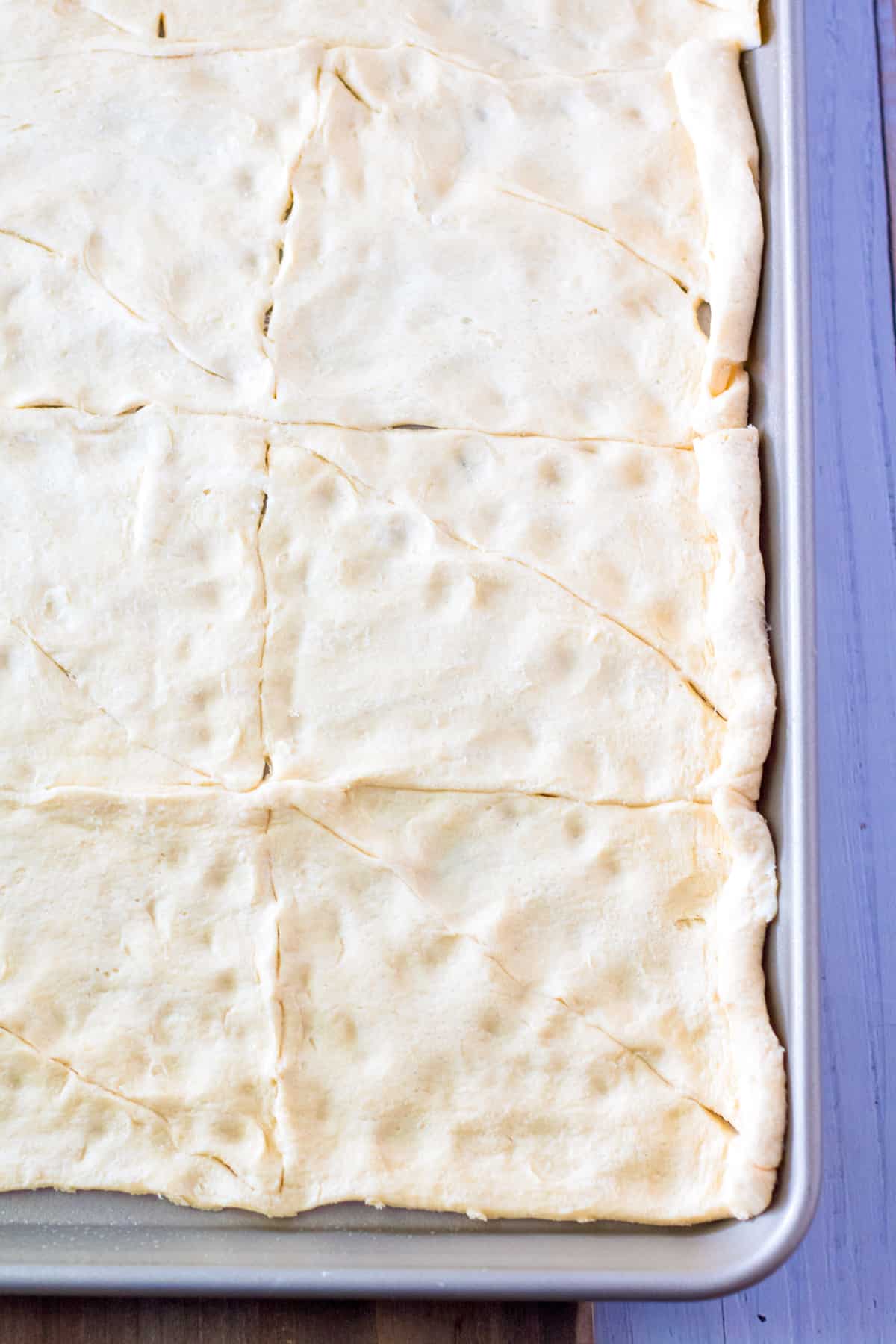 Step 2: Cook up your sausage until it is no longer pink, and then work on making your gravy. Sprinkle in flour, salt, and pepper, and then slowly stir in the milk. Continuously stir, so that you can smooth out the gravy. Once it is thick it is ready.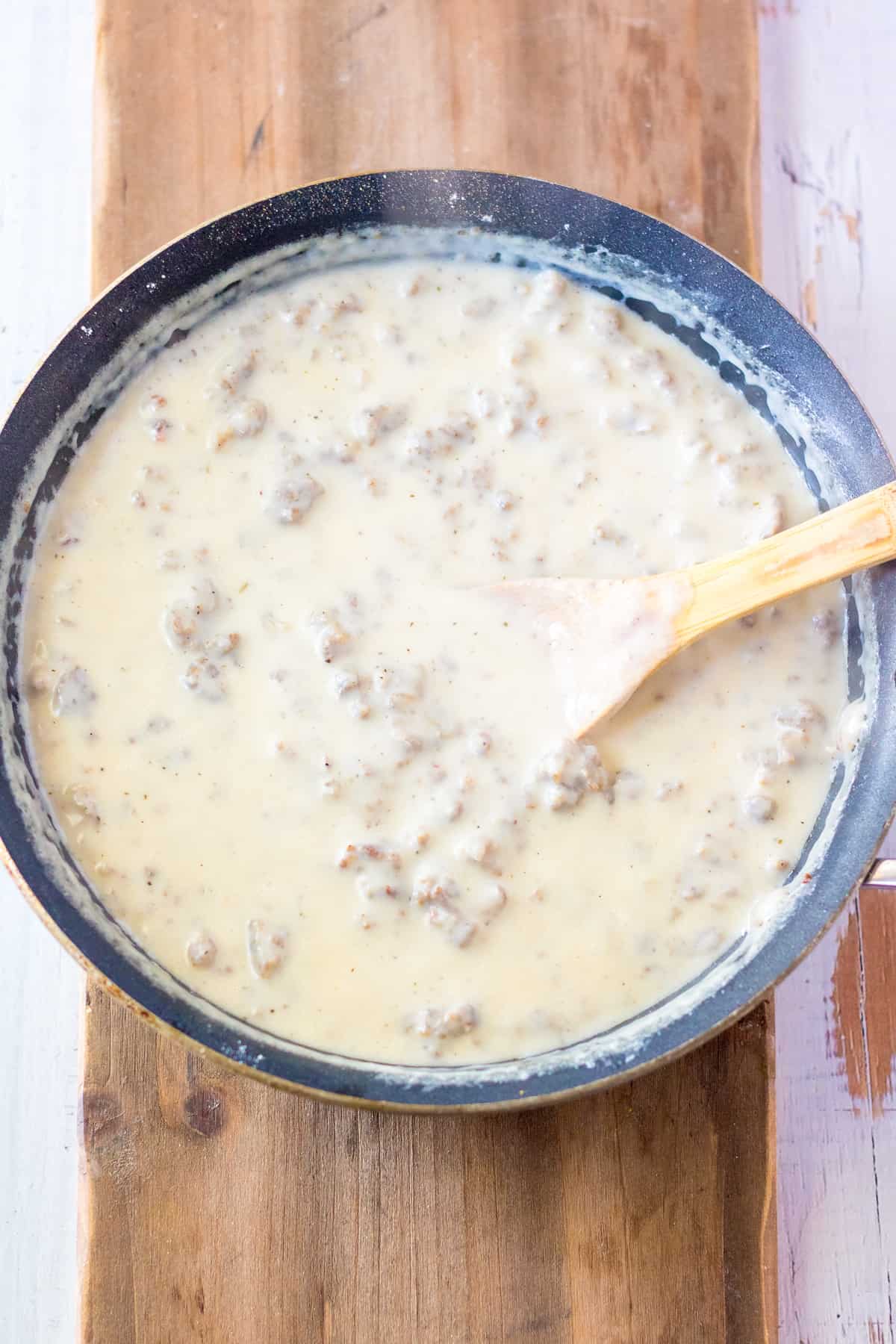 Step 3: Pour the gravy on top and spread it out evenly. This is going to be the base or sauce of the pizza.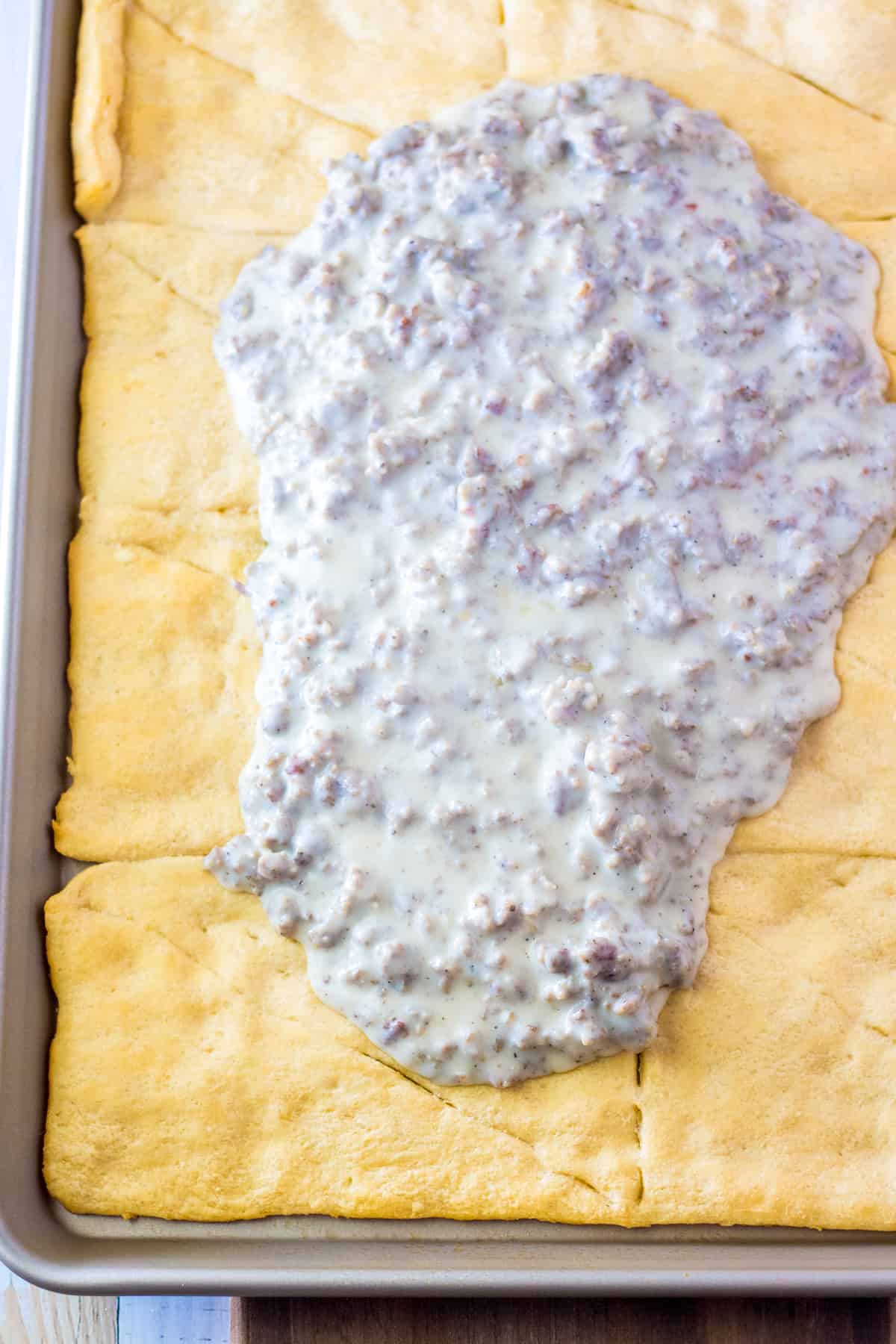 Step 4: In a skillet whip up your scrambled eggs.
Step 5: Now you will add on your eggs, shredded cheese and bacon pieces.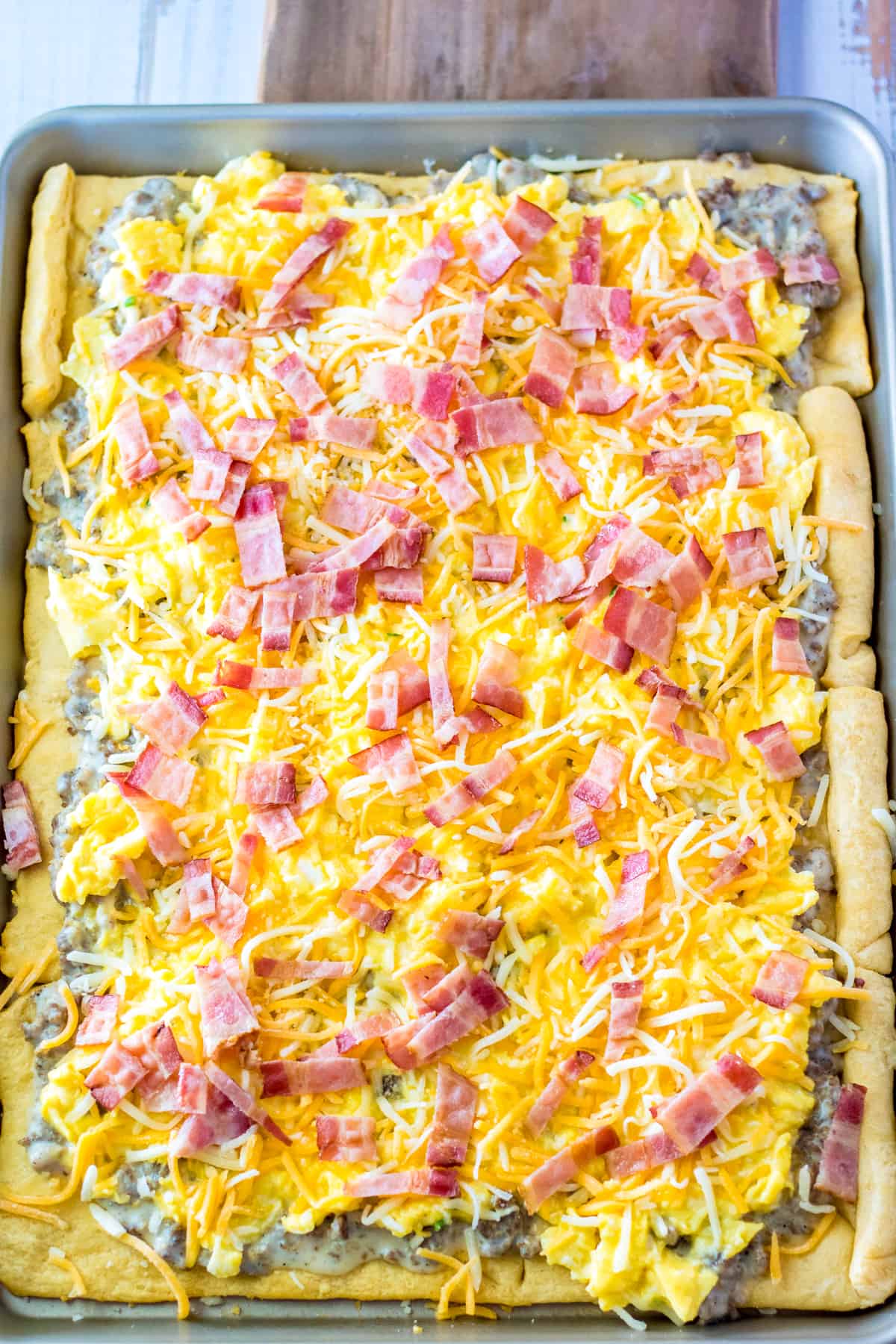 Step 6: Bake and once the cheese is all melted, slice and serve up your delicious crescent roll breakfast pizza.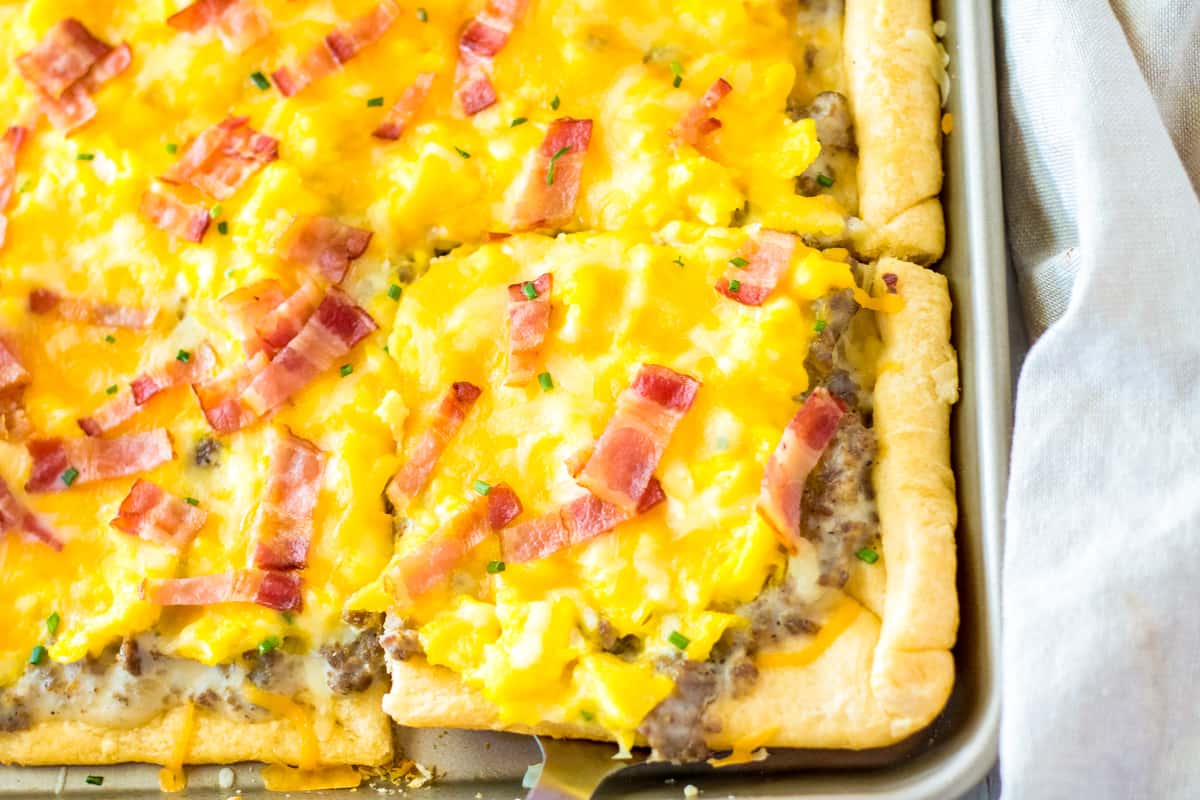 Recipe Tips
Pre-cook the crust, as once you assemble with the egg and bacon, you just pop it back in the oven to melt the cheese. It won't be that long so you want to make sure the crust is fully cooked.
Use precooked bacon or make sure to cook the bacon before topping the pizza.
Keeps in the refrigerator for 2-3 days once cooked. Just warm up in the microwave or oven.
FAQs
How to know when crescent rolls are done?
The top of the crescent roll will be a golden brown color. You can gently touch or use a toothpick to stick into the dough to ensure the toothpick comes out clean, free of wet dough.
Why did my gravy become lumpy?
Stirring continuously is key when making gravy. If you do not, it can create lumps as it begins to thicken. So make sure to stir in the flour first, work it in with the meat and grease in the pan, then add in the milk slowly.
Don't miss these other delicious breakfast recipes
Recipe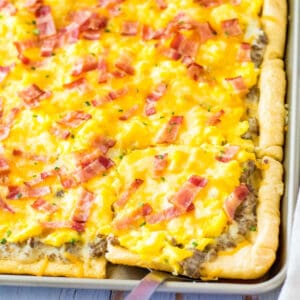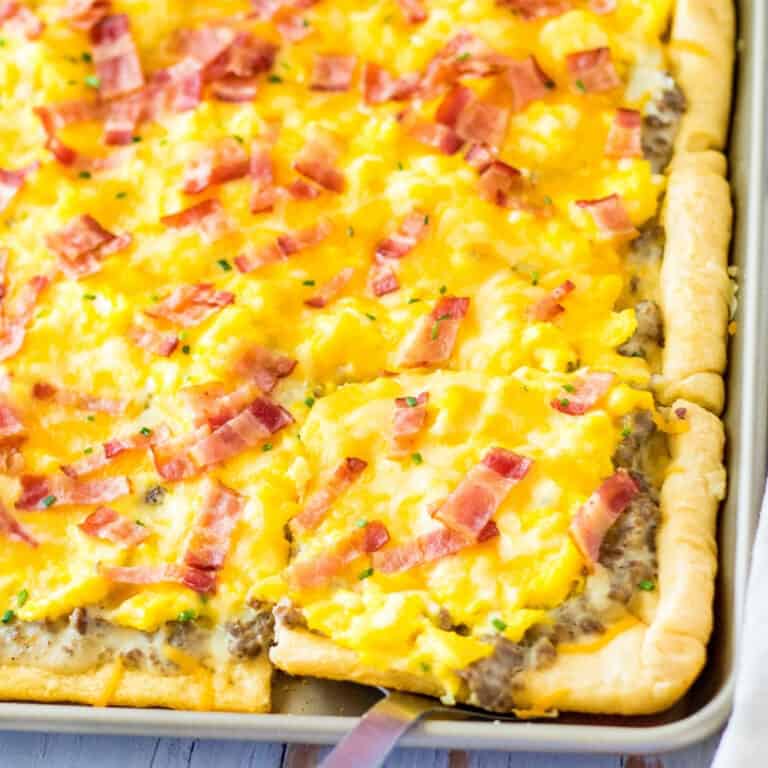 Recipe
Sheet Pan Breakfast Pizza
The best sheet pan breakfast pizza recipe – delicious and easy to make with crescent rolls, sausage gravy, eggs, cheese, and bacon.
Ingredients
2 8 ounce cans crescent rolls
1 pound breakfast sausage
2 Tablespoons all-purpose flour
2 cups milk
1 Tablespoon butter
12 large eggs beaten
2 cups shredded colby jack cheese
8 slices bacon cooked and chopped
1 Tablespoon chopped chives divided (optional)
Instructions
Preheat oven to 350°F. Coat a half sheet pan with nonstick cooking spray and set aside.

Roll out the 2 cans of crescent rolls and spread into the pan, pinching the seams together. Bake for about 12 minutes, or until the crust is lightly brown. Remove from the oven and set aside.

In a large pan, brown and crumble the sausage over medium-high heat. Once sausage has cooked through, sprinkle with flour, stir, and cook until combined (about 1-2 minutes). Slowly stir in the milk. Cook, stirring constantly, until gravy comes to a low boil. Reduce heat and continue to simmer and stir until thickened (about 4 minutes). Season with salt and pepper, to taste. Remove from heat and set aside.

Melt butter in a large skillet over medium-low heat. Pour in the beaten eggs and season with salt pepper. Add a half a tablespoon of chives, if desired. Stir gently and cook until the eggs just come together. Remove eggs from heat.

Spread the sausage gravy evenly over the crescent roll crust. Follow with the eggs, cheese, and finally chopped bacon. Bake for 5 minutes, or until the cheese is melted.

Top with remaining chives (if desired) and serve.
Nutrition
Serving: 1g | Calories: 517kcal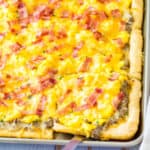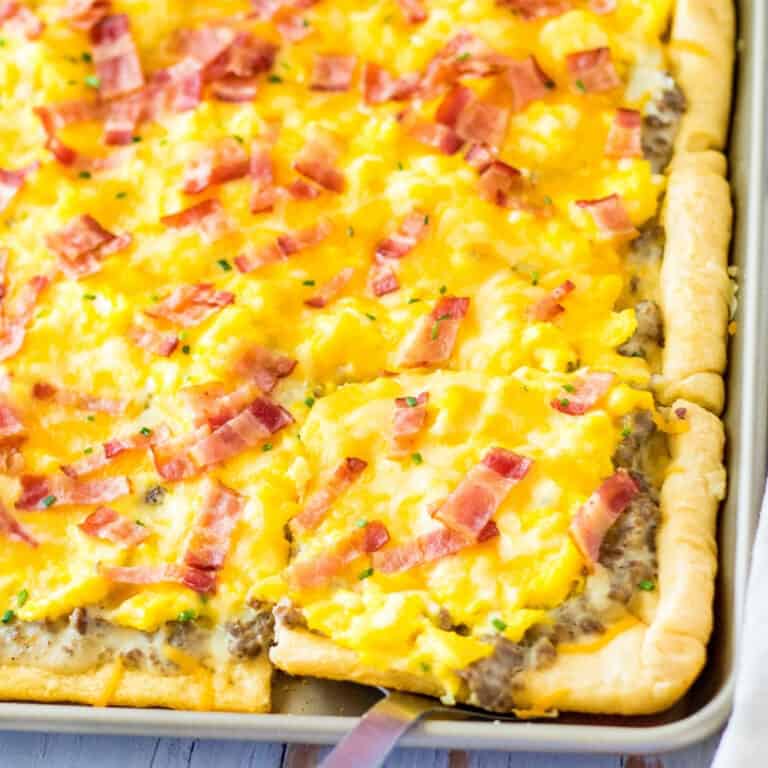 Did You Make This Recipe?
Share it with me on Instagram @crayonsandcravings and follow on Pinterest @crayonsandcravings for even more!