Posts may contain affiliate links, meaning that I may earn a commission if you use a link provided.
Ritz churro bites are a tasty cinnamon sugar treat made with Peanut Butter Ritz Bits. The easy 4-ingredient snack is perfect for movie nights, game days, birthday parties, as an afternoon snack, or as a simple treat anytime.
For another crowd-pleaser with a similar flavor profile try my easy cinnamon sugar chex mix recipe, too. Or if you need a snack in a hurry, this 2-minute sweet and salty snack mix or these easy garlic ranch pretzels are a great option, too.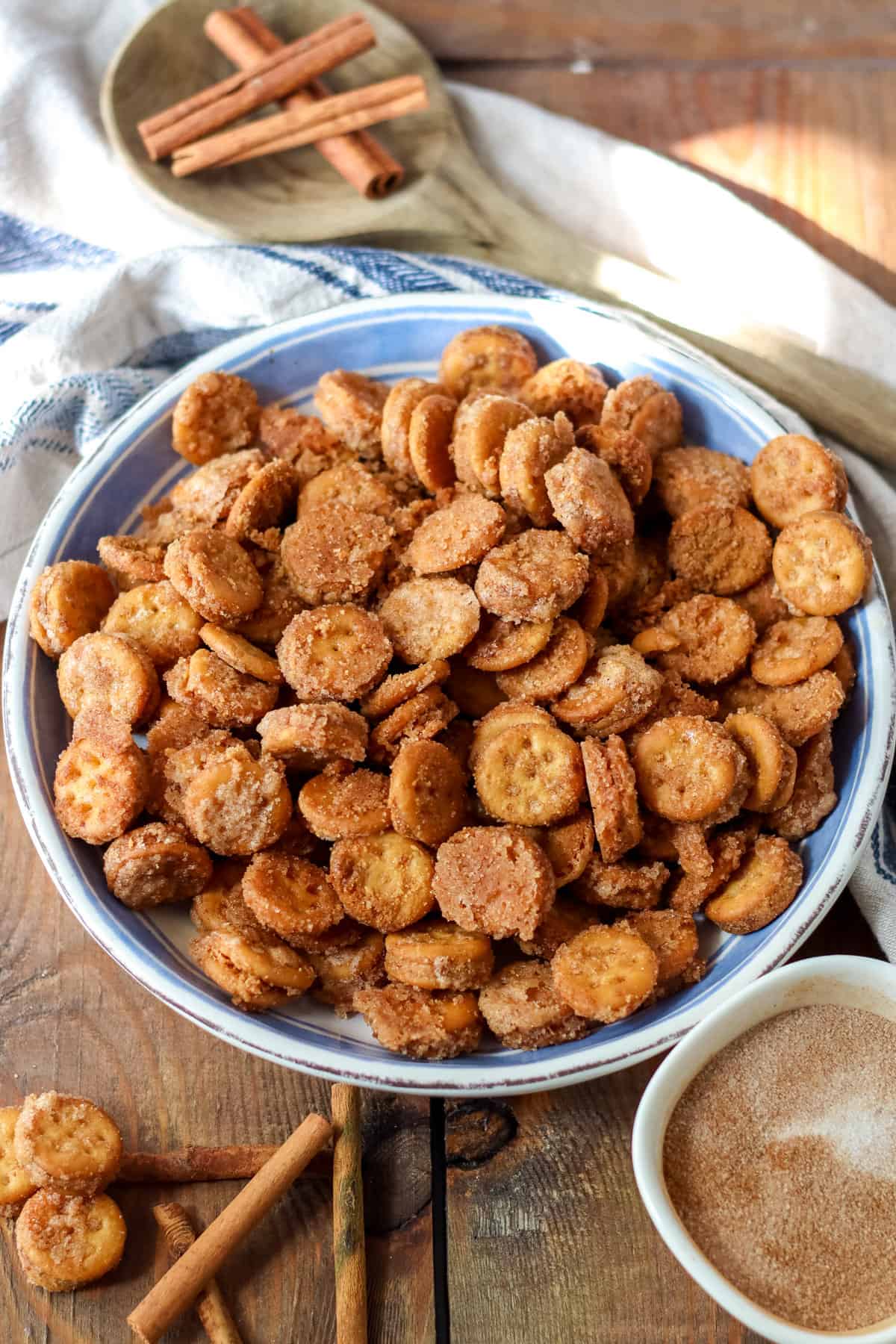 Churros are a cinnamon-sugar-coated fried dough pastry with Spanish and Portuguese origins. Their long, cylinder shape makes them easy to hold and perfect for dipping into sweet toppings such as chocolate or caramel sauce.
This crunchy churro-inspired snack has a similar sweet cinnamon-sugar flavor but switches it up with the addition of creamy peanut butter.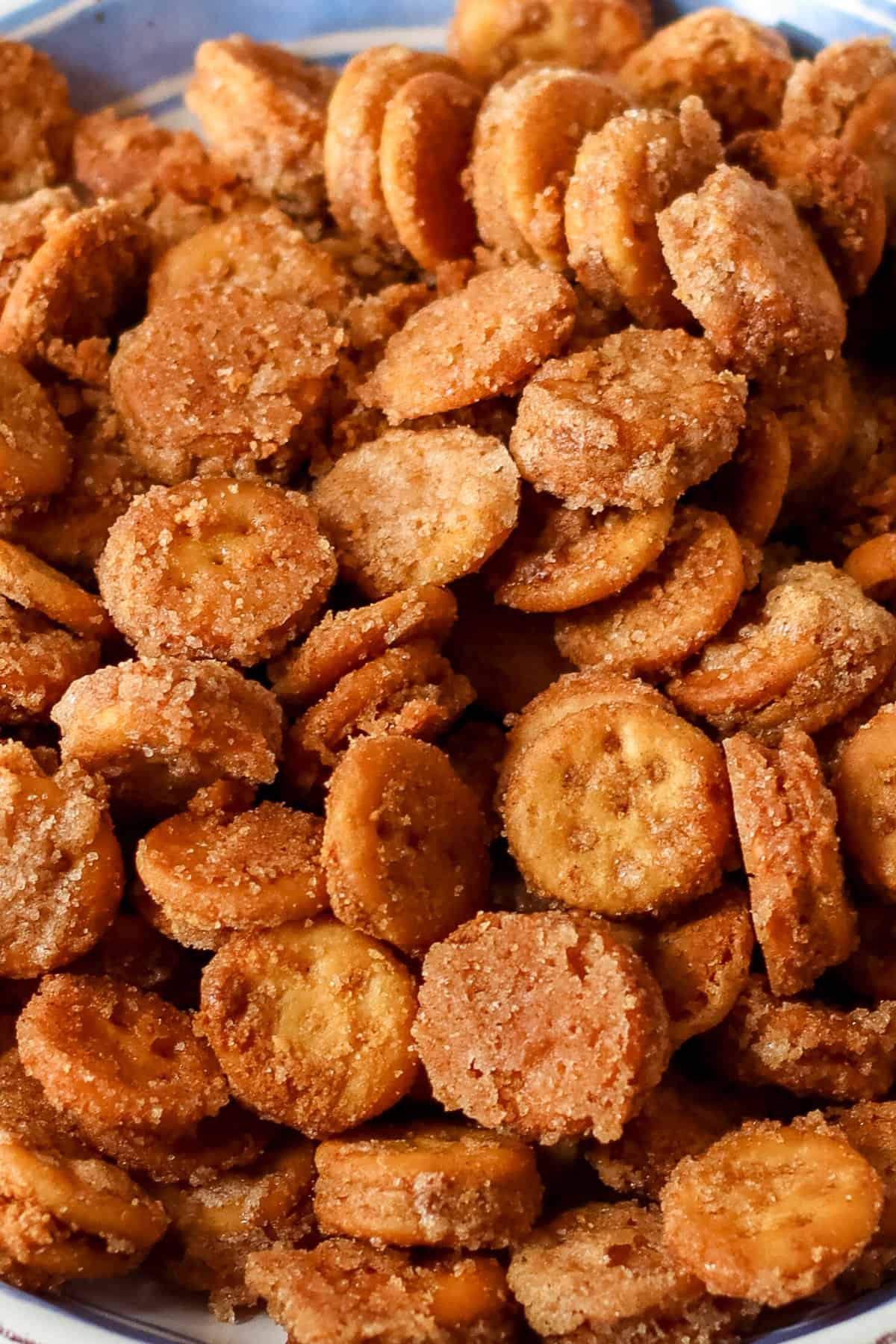 Peanut butter-filled sandwich crackers are coated in melted butter, cinnamon, and sugar and then baked to sweet and crunchy perfection. The saltiness of the Ritz bits paired with the sugar and cinnamon works amazingly well.
Why you'll love these Ritz Churro Bites
Made with 4 simple ingredients
Quick and easy recipe – ready in twenty minutes!
Kid-friendly but perfect for grown-ups, too.
Great make-ahead party snack – make up to a week in advance!
Ritz Churro Bites ingredients
This section includes ingredient notes and substitution options. Get all measurements, ingredients, and instructions in the printable recipe card at the end of this post.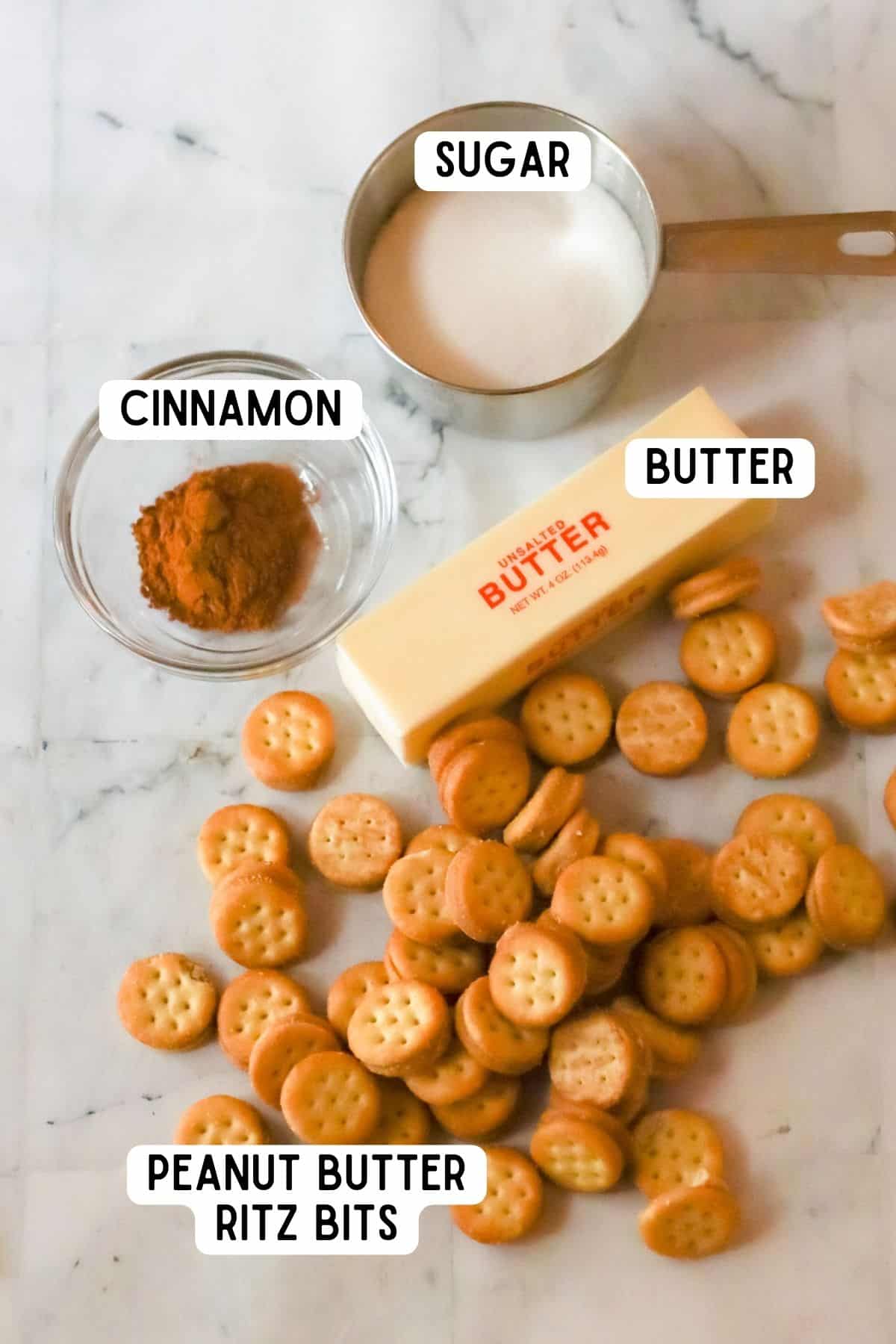 Ritz Bits – the peanut butter-filled sandwich crackers are the base of this easy snack recipe.
Butter – you'll need one stick of butter. I recommend unsalted butter because the crackers give you enough salt already.
Sugar – adds sweetness and combines with the butter to glaze the crackers when they are baking. I used white sugar but light brown sugar would also work.
Cinnamon – combines with the sugar to give the bite-sized snack some delicious churro flavor.
Equipment
Small Bowl
Large bowl
Rubber spatula
Aluminum foil
Large rimmed baking sheet
How to make the Ritz Churro Bites
This section shows you how to make the recipe with step-by-step photos and instructions. For the full printable recipe, see the recipe card below.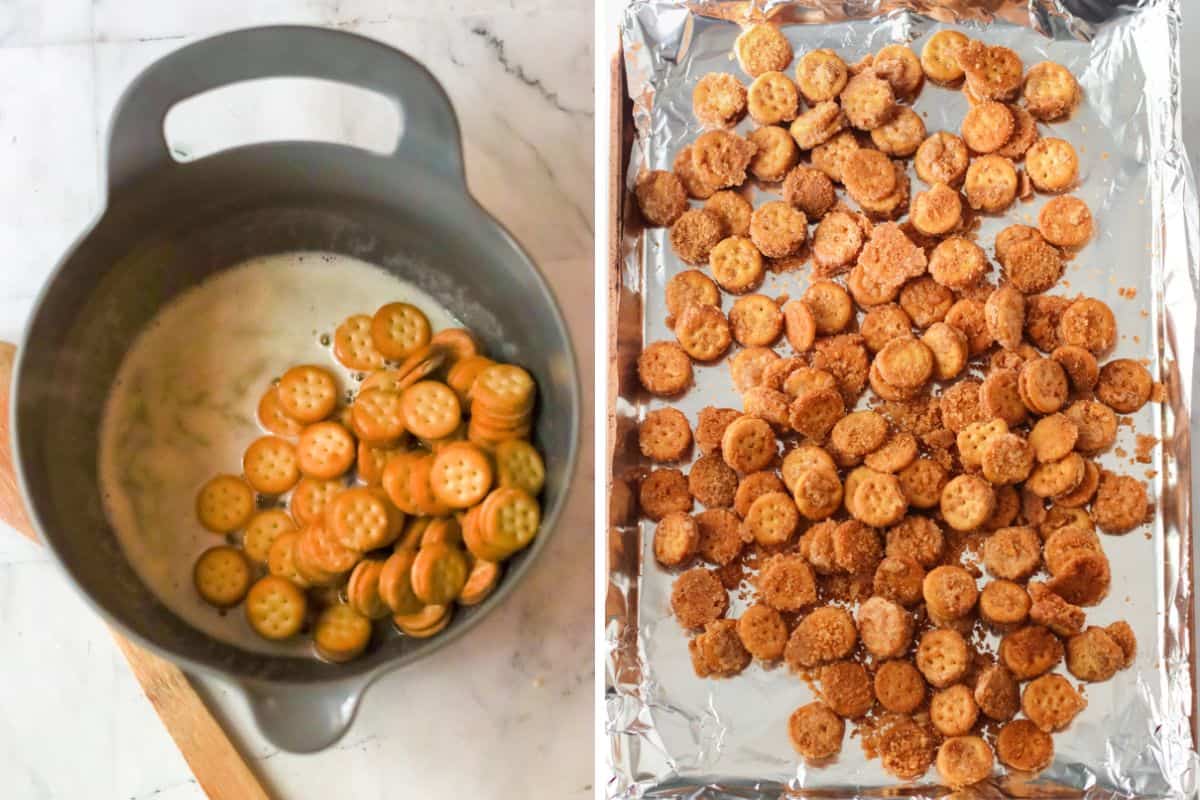 Step 1: In a small bowl, whisk together the cinnamon and sugar; set aside.
Step 2: Add the Ritz Bits crackers to a large mixing bowl. Pour the melted butter over the crackers. Using a rubber spatula, stir gently until the crackers are evenly coated. Sprinkle the sugar and cinnamon mixture over the crackers and toss to coat.
Step 3: Spread the coated crackers onto your lined baking sheet in a single layer.
Step 4: Bake for 10 minutes, tossing the mixture about halfway through. As the crackers cool on the baking use your spatula to turn the crackers once or twice more to help break up any large clumps of crackers that may have stuck together.
How to Store
Room temperature: Store in an airtight container for up to 7 days.
In the freezer: I do not recommend freezing. Freezing and thawing can cause the crackers to lose their crispness and get soggy. I doubt this will be an issue because it is difficult to have any of this sweet treat left after a week.
Recipe Tips & Tricks
Looking for a shortcut? Buy bottled cinnamon sugar (found in the grocery store near the spices) to make the easy recipe even easier.
Avoid clumps. Turing and breaking up the baked crackers as they cool will help separate them and avoid larger clumps. If clumps still manage to form you can simply break them up after they have cooled.
Double batch. This recipe can be easily doubled, although I recommend dividing and baking on two baking sheets.
Use your air fryer. Preheat your air fryer to 350°F and cook for around 6-8 minutes. Toss halfway through cooking just as you would in the oven.
DIY gift. Place the sweet snack in mason jars or baggies for an easy homemade gift for family and friends.
Additions and variations
Have a nut allergy? No problem. Substitute the peanut butter crackers for regular Ritz minis.
Added flavor. Try stirring a teaspoon of vanilla extract into the melted butter before coating the crackers.
Extra sugar. For an extra punch of cinnamon-sugar flavor try sprinkling a bit of extra cinnamon sugar over the top of the crackers after baking.
Make a snack mix. Combine the cooled churro bits with mini marshmallows, pretzels, chocolate chips, Chex cereal, and/or other mix-ins for a delicious snack mix.
Ritz Churro Bits FAQs
I can't find Peanut Butter Ritz Bites! What else can I use?
Plain mini Ritz crackers (without the peanut butter filling) can be used instead.
Do I need to refrigerate the Churro Ritz Bits?
No need to refrigerate. Store the sweet treats on the countertop or in the pantry for up to one week.
More recipes using Ritz crackers
Recipe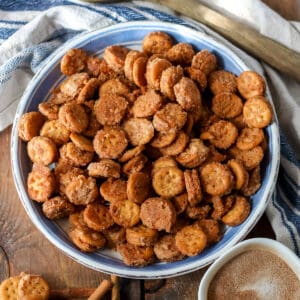 Recipe
Ritz Churro Bites
Ritz churro bites are a tasty cinnamon sugar treat made with peanut butter Ritz bits. The easy 4-ingredient snack is perfect for parties, game day, or movie night!
Ingredients
1 box Peanut Butter Ritz Bits 8.8 ounces
½ cup unsalted butter melted
½ cup granulated sugar
1 teaspoon ground cinnamon
Instructions
Preheat the oven to 350°F. Line a large baking sheet with foil and set aside.

In a small bowl, whisk together sugar and cinnamon. Set aside.

To a large bowl, add the Ritz bits and pour the melted butter over them. Use a silicone spatula to gently mix until the crackers are evenly coated.

Add the cinnamon sugar and toss to coat evenly.

Spread coated crackers out on the lined baking sheet.

Bake for 10 minutes, tossing halfway through.

Remove from the oven and allow the coated Ritz crackers to cool on the baking sheet. Use a spatula to turn the crackers once or twice again while they cool to help break up any large clumps of crackers that have stuck together.

Enjoy immediately or store in an airtight container until serving.
Notes
Store in an airtight container at room temperature for up to a week. Plain Ritz Bitz can be used in this recipe instead of peanut butter. Keep the other ingredients the same.
Nutrition
Calories: 284kcal | Carbohydrates: 28g | Protein: 3g | Fat: 18g | Saturated Fat: 8g | Polyunsaturated Fat: 0.4g | Monounsaturated Fat: 3g | Trans Fat: 0.4g | Cholesterol: 27mg | Sodium: 212mg | Potassium: 64mg | Fiber: 0.5g | Sugar: 15g | Vitamin A: 316IU | Vitamin C: 0.01mg | Calcium: 35mg | Iron: 1mg
Did You Make This Recipe?
Share it with me on Instagram @crayonsandcravings and follow on Pinterest @crayonsandcravings for even more!