This post was created in partnership with LANEIGE as part of an Influencer Activation for Influence Central. I received complimentary products to facilitate my review, but all opinions within are my own.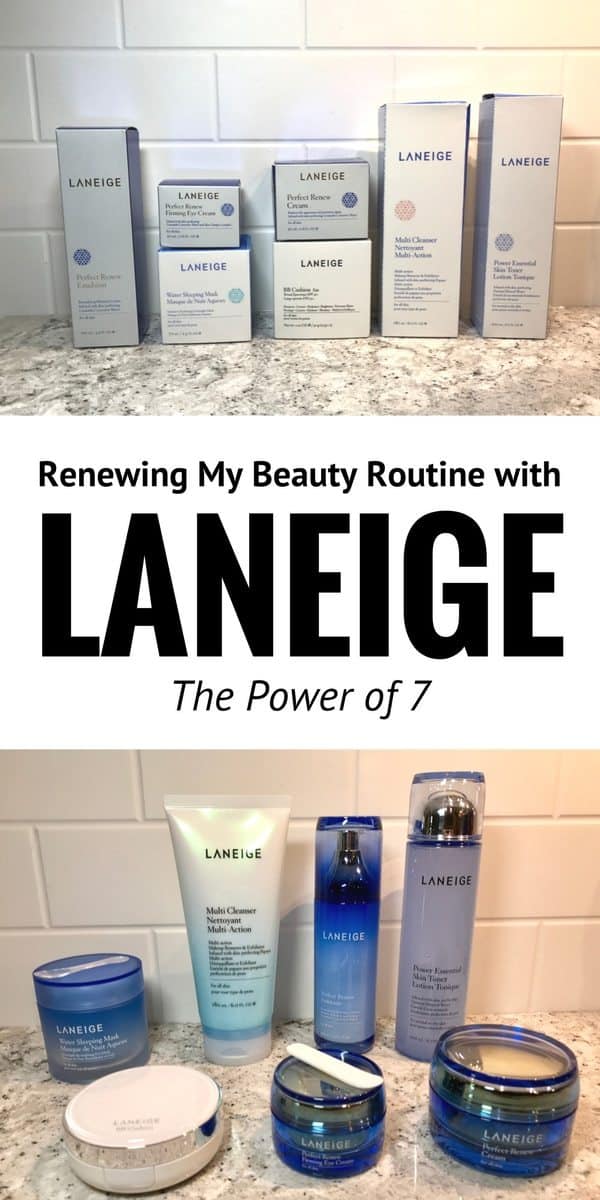 We take care of our bodies by eating right and exercising, but we often fail to take proper care of our skin. Our skin doesn't have it easy. Sun exposure, pollution, make-up, and even stress can cause harm to our skin.
As a woman approaching my mid-30s, my skin has put up with years of stress and abuse. I am developing fine lines and my skin has become dull, dry, and uneven. So, as so many women do, I wear foundation on a daily basis to help even out my skin-tone. I have always dreamed of having beautiful, smooth, radiant skin that wouldn't require me to wear foundation on a daily basis.
Korean skin care routines are becoming wildly popular here in the US, as these routines focus on giving our skin the attention and treatment it deserves. Leading the Korean-beauty (K-beauty) wave is LANEIGE, a global beauty brand that combines natural botanicals with cutting edge technology to address a wide range of skincare concerns. Their patented Advanced Water Science TM technology hydrates skin from inside each cell.
The Power of 7
LANEIGE has perfected the K-beauty routine with its "Power of 7" process. The Power of 7 process consists of 7 steps to cleanse, clarify, balance, treat, moisturize, revive, and protect your skin.
1. Cleanse – LANEIGE Multi Cleanser
When it comes time to wash your face, what more can a girl ask for than a multi-action cleanser that doubles as a makeup remover and an exfoliator? LANEIGE Multi Cleanser does just that. It lathers up beautifully and does a great job removing every last bit of makeup from my face. It leaves my skin soft and supple. Love it!
2. Clarify – LANEIGE Power Essential Skin Toner
After cleansing comes time to tone. Purify and clarify your skin with the Power Essential Skin Toner. This nourishing toner is infused with Optimal Mineral Water, vitamins, and minerals to promote healthy skin.
3. Balance – LANEIGE Perfect Renew Emulsion
This soothing lotion not only stimulates collagen production to soften fine lines and wrinkles but also helps to boost skin's moisture barrier which in turn helps your skin to better absorb the other products you will be applying to your skin.
4. Treat – LANEIGE Perfect Renew Firming Eye Cream
If there is one place on my face that shows skins of aging the most it is definitely the area around my eyes. The skin around my eyes is thin and dry. The rich moisturizing eye cream is packed with bio-peptides, Vitamin E, and Ceramide Corrective Water helps to increase collagen production and elasticity, thus making the delicate skin around the eyes firmer, hydrates, and more supple.
5. Moisturize – LANEIGE Perfect Renew Cream
After treating the area around the eyes, it is time to take care of the rest of your face. LANEIGE Perfect Renew Cream replenishes thirsty skin and helps to improve skin's firmness and elasticity.
6. Revive – LANEIGE Water Sleeping Mask
The Water Sleeping Mask helps to revive dry, stressed skin by delivering an intense dose of moisture while you are getting your beauty rest.
To be honest, I was worried that the mask might leave my skin feeling wet or sticky and I hoped that it wouldn't get all over my pillowcase. But, I found that just a few minutes after applying the mask my thirsty skin had already soaked it right up! The Water Sleeping Mask isn't like the masks that I am used to (mud masks) at all, I think of it like more of a super duper moisturizer.
In the morning, after rinsing the mask off, my skin feels soft and smooth and looks radiant. A few minutes spent applying LANEIGE's Water Sleeping Mask before you lie down for the night is well worth it when you wake up with soft, glowing skin.
7. Protect – LANEIGE BB Cushion
Even though I can see that my skin's texture, brightness, and tone is improving since I began using the Power of 7, I still need a little bit of help from makeup to even out my skin during the day. Luckily, LANEIGE has just the solution.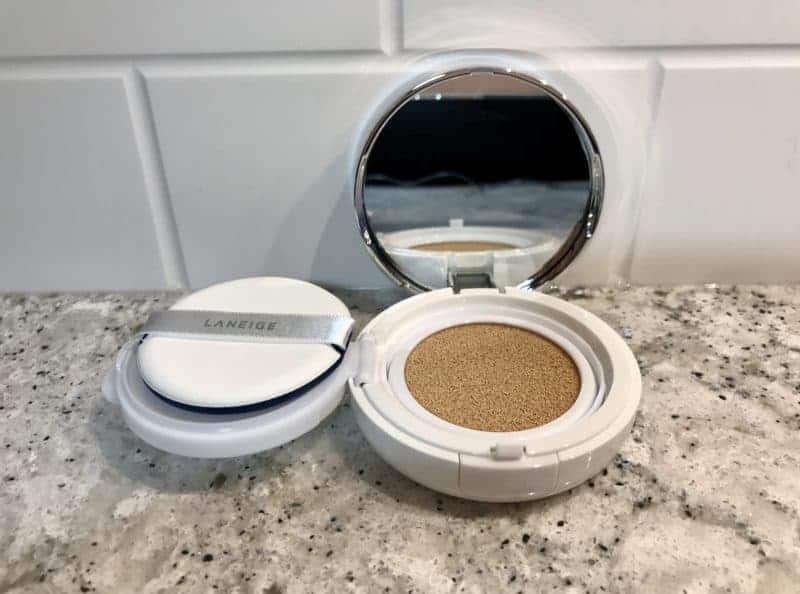 LANEIGE's 5-in-1 BB Cushion provides light, buildable, coverage while hydrating, soothing, and protecting skin from the sun's harmful rays.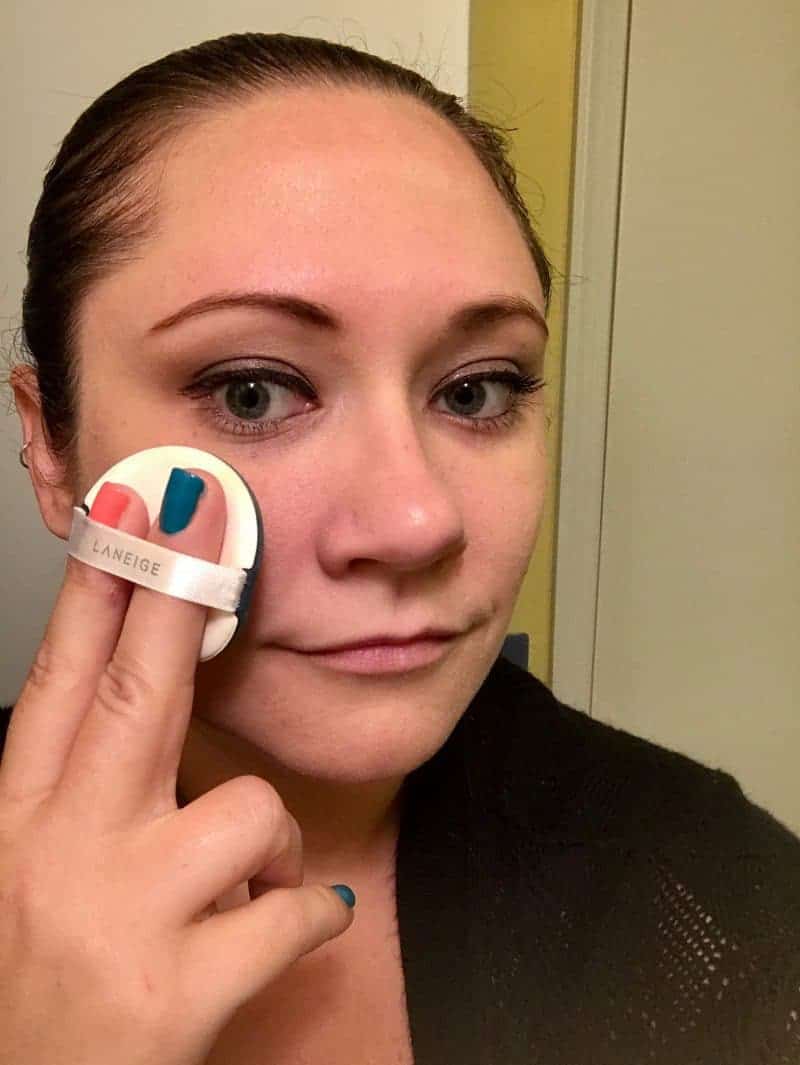 I am in love with this BB Cream. It goes on smooth, brightens my skin, and the coverage lasts all day long. Plus, I don't have to worry about applying a separate sunscreen as the BB Cream has an SPF 50!
As if it weren't clear already, I would absolutely recommend LANEIGE beauty products. I found that the Power of 7 lives up to its name – they are powerful skincare products that, when used regularly, can absolutely improve the condition of your skin. LANEIGE's luxurious, yet affordable, products are available online and in-store exclusively at Target.