With fresh strawberries, ricotta, and crumbled red velvet cookies, these Red Velvet Strawberry Parfaits are a delicious dessert perfect for Valentine's Day of any day of the year.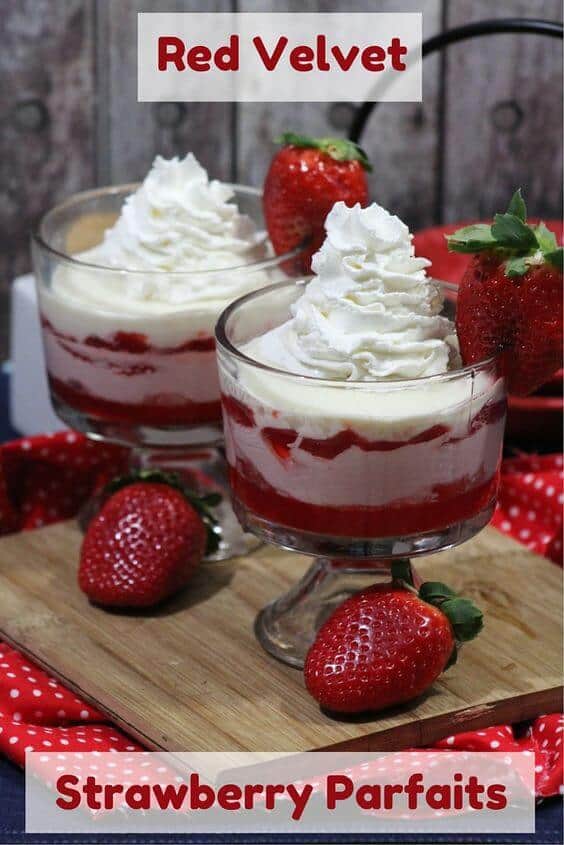 Red Velvet Strawberry Parfaits Recipe
The recipe is broken down into two parts, as making the red velvet cookies is necessary before making the parfait itself.
Ingredients and directions are below, enjoy!
Red Velvet Strawberry Parfaits
Ingredients
Red Velvet Cookies:
2 cups powdered sugar, divided
1 box red velvet cake mix
6 tbsp unsalted butter, melted
2 eggs, room temp
1 tsp cornstarch
Parfait:
2 containers fresh strawberries, destemmed and quartered
1 container ricotta cheese
1 tbsp sugar
whipped cream
strawberries, for garnish (optional)
Instructions
Red Velvet Cookies Directions
Preheat oven to 375 degrees.

Line a baking sheet with parchment paper and set aside.
Whisk together cornstarch and 1 cup powdered sugar in small bowl. Add cake mix, butter, and eggs. Mix until well combined.

Using an ice cream scoop, scoop batter and drop into powdered sugar. Roll into balls covered with powdered sugar.

Place on baking sheets about 2 inches apart. Bake at 375 degrees for 9-11 minutes.
Allow cookies to cool on baking sheet for a few minutes, then transfer to wire rack to cool completely.

Once fully cooled, break cookies into crumbles and set aside.
Parfait Directions
Place strawberries and sugar in a bowl; toss to coat. Place in the refrigerator for 30 minutes to chill.

Assemble parfait by scooping red velvet cookie crumbles in the bottom of the parfait glass. Follow by a layer of ricotta and a layer of strawberries. Then, repeat the three layers (cookie crumbles, ricotta, strawberries). Top with whipped cream and garnish with a strawberry on the side of parfait glass, if desired.
Notes
Refrigerator until ready to serve.