Follow these 6 essential park and playground safety tips keep the kids safe with they play at their favorite neighborhood playground.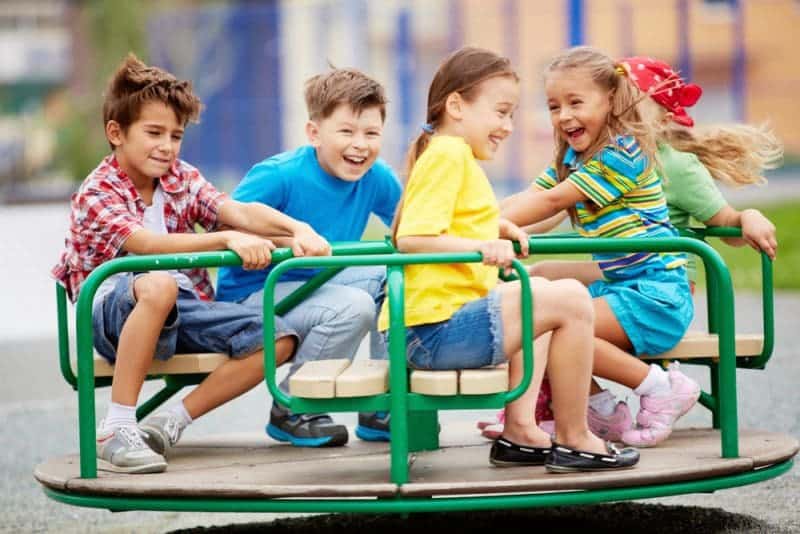 How often do you and your kids take a trip out to the park? I'm a big fan of the activity, not least of all because it gets us out of the house, and allows the kids to work out their wriggles in a perfect place for it. Public parks are one of the most amazing developments of modern society. However, there are also some inherent risks when you bring your children there.
Here are some tips to help your children be more safe during your ventures out to the local park. When you take precautions like the ones below, you're much more likely to have a positive experience with your children, and so you can make this a more frequent activity.
1: Do a Safety Sweep
Public parks and playgrounds are typically specially engineered to be safe for children, from the powder-coated surfaces that prevent sharp peeling paint, to the cushioning wood chips on the ground.
However, any public space can be full of safety hazards, especially when the equipment is older, and when your children are getting down and dirty in that sand pit. So, it's wise to do a safety sweep yourself before you let your kids loose. Scan the grounds for garbage or broken glass. Look over the playground equipment and check for stability, loose screws, sharp edges, etc.
Remember that if you find something that's a safety hazard, you can call the local Parks & Rec department and have someone come take a look and repair it.
2: Strangers and Safety
Once your children start to play more independently, it's important to talk with them about being aware of the dangers that strangers can present. Tell them specifically what they should be wary of, when they should call for help, and how to say no if a stranger makes a request of them. It can be useful to run them through some role-playing so that they know exactly what to do when confronted with a situation that you'd like to think couldn't happen.
Even if you're there watching your children the whole time, it can be easy to lose sight of them in a crowd and not be able to control everything that's happening.
3: Don't Touch Animals without Permission
Kids can come across a variety of animals at the park, and if your child is a big fan of puppies, they're likely to run up excitedly without knowing the dangers that they could confront (especially if that critter is a raccoon instead of a dog.) Teach children to always ask a pet owner for permission to touch their dog. And make sure they understand that if they see a stray animal that they should never approach it.
4: Wear Proper Attire
Wearing clothes that can be torn and muddied is always a good idea at the park. Your kids are there to play; not look pretty.
However, the most important part of the ensemble at the park is shoewear. Open-toed shoes and thin soles can both create problems, as it's easy for wood chips to hurt tender feet. It's also important to remember that at a sand-based playground, kids should never go shoeless. There's no way to be sure of what's on the ground underneath the sand.
So make sure that your child's shoes are comfortable and that they won't be kicking them off as soon as they become inconvenient.
5: Wear Sunscreen Every Time
A day at the park can quickly cause kids to forget about the heat of the sun. Make sure it's a habit for both you and your children that you wear sunscreen whenever you're outdoors, even if it's cloudy.
Review sunscreen application guidelines that you see on the bottle. For example, most sunscreen is only effective for a certain amount of time (usually 4 hours or so.) Any longer than that, and you'll want to re-apply. Take note, as well, of whether the sunscreen is water and sweat proof.
6: Bring Your Own Water
Most playgrounds are equipped with water fountains, but it's a common problem for them to be out of order, closed for the season, or just too grody to put your face too close to. Especially since many children have a hard time drinking from water fountains without getting their mouths too close, it's wise to bring your own reusable water bottles, and rehydrate regularly.
Do you have any park safety tips of your own? Share them below.
Pin Playground Safety Tips for Later: