I am receiving 12 weeks of the Nutrisystem® Uniquely Yours plan for myself and my husband in return for our honest review. All opinions are 100% our own.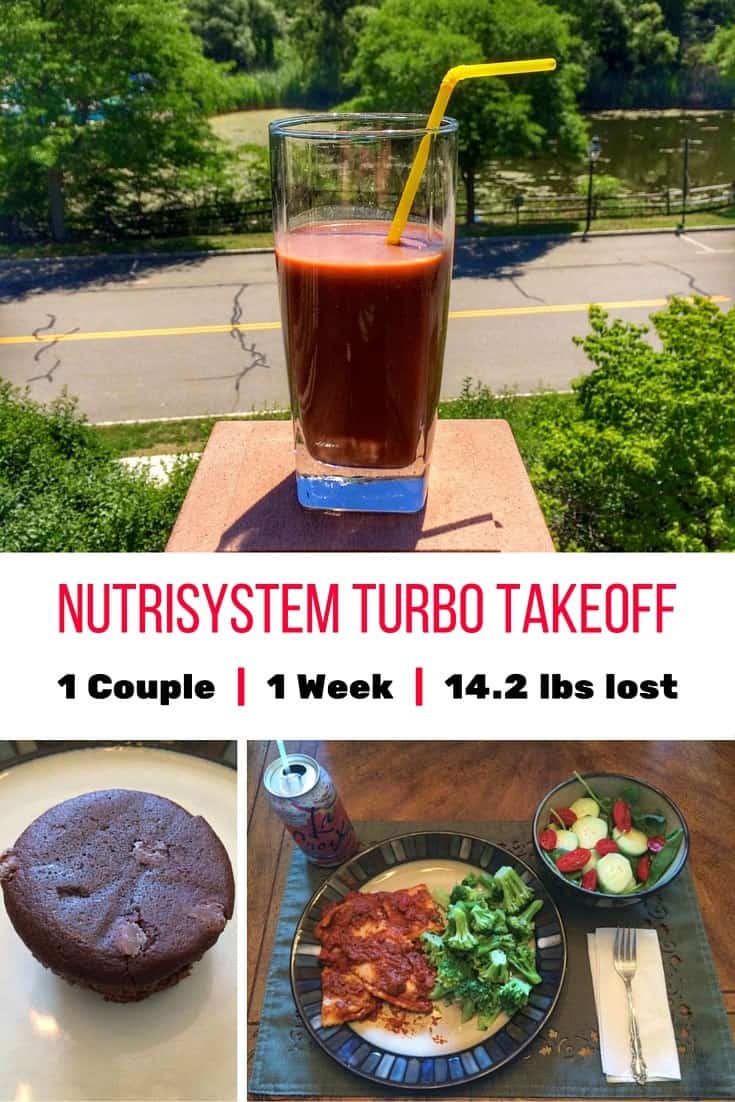 To help reach our weight loss and health goals, my husband and I started the Nutrisystem® Uniquely Yours program on July 4th, 2016 — a week ago today. I wanted to check in today to go over how the Turbo Takeoff program works, some tips for dealing with hunger while dieting, and to update you on our progress towards our weight loss goals.
Turbo Takeoff
The first week of the Nutrisystem program is called "Turbo Takeoff." We found a specially marked Turbo Takeoff box in each of our shipments of food. It was clearly label "Open Me First" so that we couldn't miss it. This box contained our Nutrisystem entrees and shakes. We would just have to add in our own veggies (at least 4 servings per day).
To prepare for all the shakes I would be mixing during Turbo Takeoff I stocked up on a ton of Blender Bottles. Having extras meant that I could just pop them in the dishwasher when I was done, and not have to worry about washing it out every time. I always had a clean bottle handy. This was a lifesaver! (Pro tip: a dishwasher basket is perfect for washing the Blender Bottles' balls!)
Our eating schedule on Turbo Takeoff looked like this each day:
Breakfast – Nutrisystem entree
AM snack – TurboShake™
Lunch – Nutrisystem entree + 2 veggies
PM snack – NutriCrush® Shake
Dinner – Nutrisystem entree + 2 veggies
Turbo Takeoff is meant to help maximize weight loss during the first week on the program. To that end, during this first week we would only be consuming approximately 1,000 calories per day. Beside the Nutrisystem entrees, Nutrisystem shakes and veggies, the only other things that we could consume had to be 0 calories. This meant drinking water, seltzer, or coffee only and using vinegar or Walden Farms products as our salad dressing. We also could add spices and dry herbs as necessary to our meals if desired.
We enjoyed the sweet and savory breakfasts this week, which included:
Cinnamon Streusel Muffin
Blueberry Lemon Bar
Harvest Nut Bar
Chewy Chocolate Chip Granola Bar
Lunches were great too:
Chicken Noodle Soup
Three Cheese Chicken
Loaded Baked Potato
Bean and Ham Soup
Trail Mix Bar
Chocolate PB Bar
Fudge Graham Bar
For dinner we enjoyed:
Chicken Pasta Parmesan
Hearty Beef Stew
Chili with Beans
Italian Herb Flatbread Pizza
Santa Fe Style White Chicken with Brown Rice
Ravioli with Meat Sauce
Chicken Alfredo
The food itself this past week has been great. Everything we had tasted delicious. We both finished every last bite of each entree, and every last drop of each shake. No complaints on taste at all.
I am not gunna lie, the portion sizes of the meals this week were a real eye-opener. It seemed like after each meal my husband and I would say the same thing – "That was great but I want more!"
My husband and I are used to large portions, especially at dinner. On top of the large portions we often take seconds… and sometimes thirds.
Obviously, this week was an eye-opener. We were eating way too much.
Needless to say, this week we found ourselves hungry many times throughout the day. Even immediately after a meal I was often still hungry.
Dealing with hunger while dieting
Here are some of the things that helped us to deal with our hunger during this first week:
Snacking on veggies. We were able to snack on veggies like carrots and mini cucumbers as needed throughout the day when we were hungry which helped to curb some of the hunger and the urge to snack. Veggies are unlimited in the Nutrisystem program so we could indulge guilt-free!
Eating large salads with meals. With dinner (and sometimes lunch) I prepared nice large salads, filled with lots of cucumbers (our favorite) and tomatoes. For a no-calorie dressing we used Walden Farms 0 Calorie Dressings (my favorite is the calorie free Italian) or simple red wine vinegar. Eating the salad before our meals helped to fill us up a bit before we even starting eating our entree.
Associating our hungry feeling with weight loss. I tried to think of my hunger as the feeling of my body burning off fat. When I felt hungry I thought to myself this means it is working!
Reminding myself it is normal to be hungry when starting a diet. We were used to eating large portions and are now learning to eat less, so of course we would be hungry sometimes. I reminded myself and hubby that with time we will get used to eating less and not feel this hungry.
Drinking water all day long. Or in my case, sparkling water. Nutrisystem recommend you drink at least 64 oz of water a day. I literally sipped on La Croix (my favorite brand of 0 calorie sparkling water) all day long throughout this past week. It helped to keep me satisfied and stay hydrated.
Looking forward to the future. I kept reminding myself and hubby that once we get through this first week the program will be much easier since we will be eating more food throughout the day. I counted down the days until today when we get to start the "regular" Nutrisystem program.
Progress towards our weight loss goals
As I discussed last week, my goal over the course of this 12 week program is to lose 25 pounds, and Neal's goal is to lose 20 pounds.
After week 1, Turbo Takeoff, Neal and I climbed on the scale for our 1st weigh-in since we started the program. And the results are:
Jaclyn: -5.8 lbs this week
Neal: -8.4 lbs this week
-14.2 pounds combined!
This week I lost 5.8 pounds. Not a bad start at all! I am very happy to see that the hard work is paying off. I feel motivated as ever to keep up with the Nutrisystem program. 5.8 down, 19.2 to go.
Neal lost a whopping 8.4 pounds! Our Nutrisystem weight loss counselor had told me that men typically lose weight quicker than women. Yet, I was still shocked at how much Neal lost this past week. He was absolutely awesome this week! I expected him to complain constantly and try to "cheat." He didn't. Okay he did have 1 dill pickle early in the week even though I told him it wasn't allowed until next week, but that is it. Not bad at all. I am very impressed with his dedication! 8.4 down, 11.6 to go.
Visit next week's post to find out how we did on week 2 of the Nutrisystem program.
To find out more about Nutrisystem visit the Nutrisystem website or connect with Nutrisystem on Facebook, Twitter, Instagram, or Youtube.