I am receiving 12 weeks of the Nutrisystem® Uniquely Yours plan for myself and my husband in return for our honest review. All opinions are 100% our own.
To help reach our weight loss and health goals, my husband and I started the Nutrisystem® Uniquely Yours program on July 4th, 2016 — 2 weeks ago today. The first week of the program was Turbo Takeoff during which we ate an ultra low-calorie diet and had shakes as our "snacks." But the second week we began the regular Nutristystem program, which we will stay on for the remainder of our journey. Starting this week we could enjoy snacks throughout the day in addition to our meals. Three snacks a day to be precise – an AM snack, a PM snack, and an after-dinner snack (aka dessert 😉 ).
Like last week, the Nutrisystem entrees and snacks have been great overall. My favorite item of the week was the Southwest Fiesta Melt. The spicy lunch wrap is packed with black beans, brown rice, corn and cheese. Sooooo tasty!
My Nutrisystem Meal-Planner Cheat-sheet
Before diving into our 2nd week I read through the Nutrisystem literature to make a sort of meal-planner to hang on the fridge to simplify what we should be eating throughout the day. I thought that this would be particurally helpful since men and women have different diets, and thus different meal-plans on the Nutrisystem program. I couldn't memorize it all on my own so I figured that a simple summery would be a helpful aid.
This is what my meal-planner ended up looking like: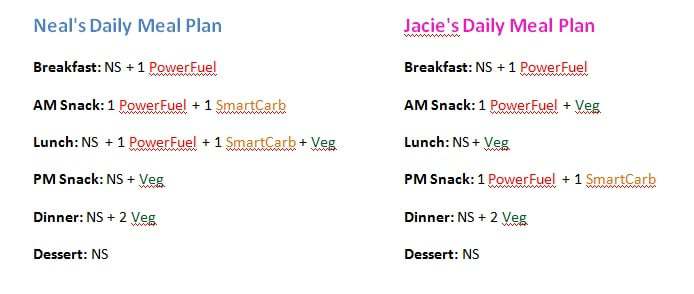 Although is probably obvious, in case you were having trouble with my abbreviations:
NS = Nutrisystem entree / snack
Veg = Vegetable
It is important to note that on the Nutrisystem program both men and women should have at least 4 servings of vegetables throughout the day. They do not indicate when those veggies should be consumed but I added them to our meal-plan just to make it easier for us to remember to eat our veggies.
If you look closely at our meal-plan you will see that our SmartCarbs and Powerfuels are divided up differently throughout the day and that men get an extra Nutrisystem snack each day.
This meal planner that I placed on our fridge helped us tremendously throughout the week. If Neal and I had the same meal plan I would probably have it memorized after a day or two but since our plans differ I just can't remember without checking in on this list. As I would prep our breakfasts, lunches, and snacks each morning I would consult the list repeatedly. If you are planning on doing the Nutrisystem program with your spouse I would definitely recommend hanging a quick meal-planner like this one on your fridge as well.
What are PowerFuels and SmartCarbs?
PowerFuels are your proteins such as:
1 tbsp PB
1 egg
1 slice/stick low fat cheese
2oz turkey breast
1 cup non-fat yogurt
2 Tbsp nuts
SmartCarbs are your nutrient-rich carbs such as:
1 cup watermelon / cantaloupe /berries
1 banana / apple / orange
1/4 cup hummus
1/2 cup oatmeal
1 slice whole wheat bread
1/4 cup raisins
For more information on what counts as PowerFuels and SmartCarbs check out this NutriSystem Grocery Guide. The guide explains all 4 of Nutrisystem's food categories: PowerFuels, SmartCarbs, Vegetables and Extras.
Progress towards our weight loss goals
12-Week Nutrisystem Program Weight Loss Goals:
Jaclyn: 25 pounds
Neal: 20 pounds
The weigh-in:
Jaclyn: -1.2 lbs this week
Neal: -1.8 lbs this week
-3 pounds combined!
Our weigh-in this week did not yield anywhere near the kind of results that we saw last week after Turbo Takeoff, but that is to be expected. Nutrisystem recommends not losing more than 1-2 pounds a week, and we both fell right into that category.
I am still very impressed with how dedicated Neal has been to the program. He is rocking it and he weigh-in shows how his dedication is paying off. Down over 10 pounds is just 2 weeks! How awesome is that?!
Total progress toward our goal after 2 weeks on Nutrisystem:
Jaclyn: 7 down, 18 to go
Neal: 10.2 down, 9.8 to go
Coming Up:
Next week my husband and I will be going down the shore (or an non-Jerseyans would say, "to the beach"). We will be away with others who are not on special diets, which poses a challenge. Additionally, we love going out to eat at the restaurants down the shore. This will be our toughest week on the program for sure!
Check out how we did on week 3 of the Nutrisystem program.
To find out more about Nutrisystem visit the Nutrisystem website or connect with Nutrisytem on Facebook, Twitter, Instagram, or Youtube.