I received these products in exchange for sharing my honest opinion. Opinion is entirely my own and I would not feature products that I did not truly believe in. View my full disclosure policy here.
These must-have items for new moms make terrific additions to expecting mother's baby shower registries and serve as great baby shower gift ideas.
It is no secret that babies are pretty high-maintenance and require an abundance of "stuff". Between feeding time, nap time, play time and bath time, it seems every part of babies day requires some specialty items. Deciding what baby items are must-haves and what could be done without can be overwhelming.
Nevertheless, new moms end up needing a ton of stuff to prepare for baby, which is why it is a tradition to throw an expecting mother a baby shower. Guests "shower" the mom with gifts that they will need for their little one on the way.
Read on to find a list of must have items for new moms that would make great additions to an expecting mama's baby shower registry or serve as great baby shower gift ideas.
Must Have Items for New Moms
Cozy CocoonBuy Now
Swaddling is easy peesy, and fashionable, with Cozy Cocoon's revolutionary Super Easy Swaddling™ design. The unique design allows Cozy Cocoon's swaddles to be slipped right onto baby just like a sock for a perfect fit every time. Unlike with traditional swaddles, with Cozy Cocoon's genius design there is no unraveling. Plus, with no zippers, snaps, or straps there is nothing to irritate babies delicate skin. With flip down diaper access, diaper changes are no problem. Baby can stay warm and cozy throughout diaper changes. With a large variety of adorable designs to choose from, there is a Cozy Cocoon perfect for every little one.
Available at Cozy Cocoon
---
HugabooBuy Now
As much as mamas love to hold their littles ones, sometimes moms need to put baby down. The comfy, cozy, snuggly Hugaboo Baby Seat is the next best thing to being in mom's arms. It "hugs" baby, giving them the stability to sit up and observe their surroundings on their own. The Hugaboo is designed to be used with babies that are able to support their own head. With back and leg support, baby will be safe from tipping forward or sliding out. Best of all, the Hugaboo has a machine washable cover for easy clean up.
Available at Hugaboo
---
Mommy's WatchesBuy Now
Like cow's milk, breast milk expires. Consuming expired breast milk can lead to upset tummy, vomiting, and even fever. With Mommy's Watches mom's can make sure that they are only serving baby fresh and nutritious breast milk. These smart devices can determine the freshness of breast milk based on the time and temperate the milk is exposed to. Just slide a Mommy's Watch onto a bottle of milk and push to reset the timer. The indicator lights on the watch will light up green or red indicating the milk's freshness. These watches fit perfectly on bottles or on bags of breast milk and can be used to monitor milk at room temperature, in the refrigerator or in the freezer.
Available at Amazon
---
Marcus & Marcus Rocket themed Feeding Spoon DispenserBuy Now
Feeding is made easy with this dispensing feeding spoon from Marcus & Marcus. The food-grade, BPA-free silicone container holds up to 3 oz of baby food and can be warmed up in the microwave or under hot water. One spoonful of food is dispensed at a time. Baby will love eating out of this bright and colorful rocket shaped spoon. The base of the spoon is designed with hygiene in mind so that the spoon can stand upright and not touch any surfaces. Clean up is easy as the spoon is dishwasher safe.
Available at Amazon
---

Playgro Ball Activity NestBuy Now
This super cute activity gym offers baby 4 different modes of play, and is one of those items that is perfect growing with baby. In mode 1 – the included 32 colorful plastic balls are secured around the edge of the gym with the gym walls down, creating a standard play gym with hanging toys for baby to bat. Mode 2 – the walls of the gym are brought up to create a safe and secure place for baby to lay and bat at the toys above. Mode 3 – the balls are added into the gym while keeping the toys hanging from above so baby can practice motor skills. Finally, in mode 4 the gym arms with hanging toys from above are removed creating a proper ball pit.
Available online at Amazon
---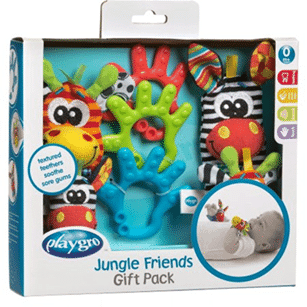 Playgro Jungle Friends Gift PackBuy Now
Simply slide these fun and colorful jungle animals on babies feet and wrists and watch as they enjoy discovering their hands and feet. Made from a variety of fabrics and materials, baby will love exploring these fun toys.
Available online at Amazon
---
Diono Radian RXTBuy Now
If baby is going to go anywhere in a car or other vehicle, a safe, high-quality car set is an absolute must have for new parents. Diono designed its Radian rXT car seat with baby's security and safety as top priorities. Made from premium materials and packed with safety features such as a steel alloy frame, aluminum reinforced side walls, a five-point harness, and energy absorbing EPS foram, it is clear that Diono takes safety very seriously. Another reason the Radian rXT makes it on the top of my must have items for new moms list is that it is convertible and is literally the only car seat you will ever need – from birth to booster and every stage in between.
Available online at Amazon
---
Pebble RattlesBuy Now
Adorable, cute, and cuddly toys make the perfect baby shower gift. Pebble's unique collection of rattles are not only fabulously adorable, but they are also hand made by rural women in Bangladesh. Pebble is a Fair Trade company, so you can rest assured that their products are made ethically. Besides the super cute Chocolate Donut Rattle pictured here, there are dozens of other rattle designs to choose from.
Available online at Kahiniwalla.
---
Kid'Sleep Moon Sleep TrainerBuy Now
To help babies (and parents) get the sleep they need it is important to get the little one on a regular sleep schedule. The Kid'Sleep Moon Sleep Trainer helps to do just that – regulate babies sleep patterns. It plays four different lullabies to heel lull little one to sleep. Not only does the Kid'Sleep Moon Sleep Trainer help baby fall asleep, it also lets them know when it is time to wake up. When it is time to sleep the display is dimmed and the bunny is shown sleeping, and when it is time to wake up the bunny is awake and the display is illuminated. The sleep trainer even features different modes for nighttime, nap, and weekend, as well as the option of using 1 of 4 alarm sounds.
Available online at Amazon
---
Kid'Sleep My AquariumBuy Now
Another device that is helpful in getting babies (and parents) the sleep the need it the Kid'Sleep My Aquarium. This animated nightlight helps lull baby to sleep with the help of 1 of 4 lullabies and the soothing image of fish swimming. When the lullaby ends the fish go to sleep and only the starfish nightlight remains lit. After 30 minutes the starfish nightlight turns off automatically. The device even has a sound detector so that if baby makes a sound the fish will begin to swim again silently to help soothe baby back to sleep.
<pAvailable online at Amazon
---
Milkies Milk-SaverBuy Now
Milk-Saver allows breastfeeding mothers to save every last drop of their precious milk. Simply slip the slim Milk-Saver into your bra-cup on the non-nursing side before you breastfeed and the Milk-Saver will collect all the milk that is leaked from your breast. When you are finished feeding transfer the milk into a storage container and refrigerate or freeze to be used at a later time. No more wasted breast milk!
Available online at Fairhaven Health
---
Milkies Milk TrayBuy Now
Milkies Milk Trays allow pumping mamas to freeze their breast milk into convenient 1-once sticks. The 1-once sticks make it easy to thaw out just the amount of milk you will need to each feeding. Best of all, the sticks easily fit into all bottle openings. The trays are made from BPA-free food grade plastic and take up very minimal freezer space. These are absolutely a must have for any breast feeding mom on the go!
Available online at Fairhaven Health
---
Posheez Snap'n Grow BodysuitBuy Now
Babies grow so quickly that often their clothing can only be worn for a very short time. Thanks for additional rows of snaps, elastic sides, and adjustable length sleeve, Posheeze Snap'n Grow Bodysuits are adjustable in size, allowing them to grow with baby. Made with organic cotton, these body suits are oh-so-soft as well.
Available online at Miracle Ware
---
Lassig Swaddle and Burp BlanketsBuy Now
Unlike typical baby blankets, Lassig's Swaddle and Burp Blankets are made from super soft and breathable 100% cotton muslin and become softer and softer with each wash. The multi-functional blankets can be used as a swaddle, light blanket, changing table cover, stroller cover, or a nursing cloth. From naptime to feeding time, these blankets are an essential and versatile must-have for all new parents.
Available online at Amazon or BuyBuyBaby
---
Muslin WashclothsBuy Now
Cotton muslin is a natural, gentle, absorbent fabric perfect for washing babies delicate skin. These washcloths are machine washable and actually get softer and softer with each wash. Available in two-packs and three-packs in assorted colors and patterns.
Available online at Miracle Ware
---
Muslin Hooded Bath TowelsBuy Now
Made from naturally absorbent cotton muslin, MiracleWare's Muslin Hooded Bath Towels will keep baby warm and cozy after bath time. The muslin material absorbs water quickly to get baby dry faster than a regular towel. Plus, the soft material is gentle on baby's delicate skin. Just like the muslin washclothes, these muslin hooded towels get softer and softer with each wash. Available in assorted colors and patterns.
Available online at Miracle Ware
---
Playgro Bath Time Activity Gift PackBuy Now
This bright and colorful 16 piece set will keep baby entertained at bath time. While getting all cleaned up by mama, baby can squeeze and shoot water with the squirting toys, play with floating creatures, scoop up and pour water, and even catch the toys in the included net. I am certain baby will agree that this fun set is a must have for bath time.
Available online at Amazon
---
SoapSoxBuy Now
Another bath time must have, SoapSox make sudsing up at bath time fun for your little one. Simply feed SoapSox liquid or bar soap, add water, lather, and scrub. These soft and cuddly washcloths come in a variety of different designs, including shark, gator, ladybug, dolphin, seal, hippo and dragon. With no sharp edges or small parts, SoapSox are safe for use with babies for all ages. Plus, they are machine washable! Wouldn't these cuties make a very unique baby shower gift!?
Available online at Amazon
---
Luxury Hooded TowelBuy Now
If you are looking for a luxurious gift that baby is sure to enjoy, this hooded towel will make the perfect gift. Absorbing almost four times more water than a typical cotton towel, this soft and cozy hooded towel from e-cloth keeps baby warm and cozy after bath time using Micro-dry technology.
Available online at e-Cloth
---
eCloth Chemical-free & Reusable Hand & Face Cleaning KitBuy Now
For easy clean up on the go, these reusable wipes are super soft and perfect for baby's delicate skin. No chemicals, fragrances or dyes here. The special cloth cleans using just water, so you can rest assured your little one's sensitize skin is safe. The 13 piece set comes in cute carrying case, perfect for keeping in your diaper bag or in the car.
Available online at e-Cloth
---
Many cleaning products use harsh chemicals which can cause health issues for little ones such as eczema, allergies, eye irritation, airway irritation, and even poisoning. It is possible to keep the house clean without using harsh chemicals thanks to e-cloth. E-cloth products are designed to be used using just water. The fibers in e-cloth products lift and lock in dust, grease, oils, dirt and bacteria. Just like millions of tiny magnets, the fibers attract and lock in all the dirt and grime until the cloth is washed. Washing e-cloth products is simple, just pop them into the washing machine once per week, then hang or tumble dry.
Protect baby from harmful chemicals by cleaning with just water. E-cloth makes a wide range of products perfect for keeping your kitchen, bathroom, and nursery clean and chemical free.
Available online at e-Cloth
&
Chemical-free Cleaning Toy & Nursery ClothBuy Now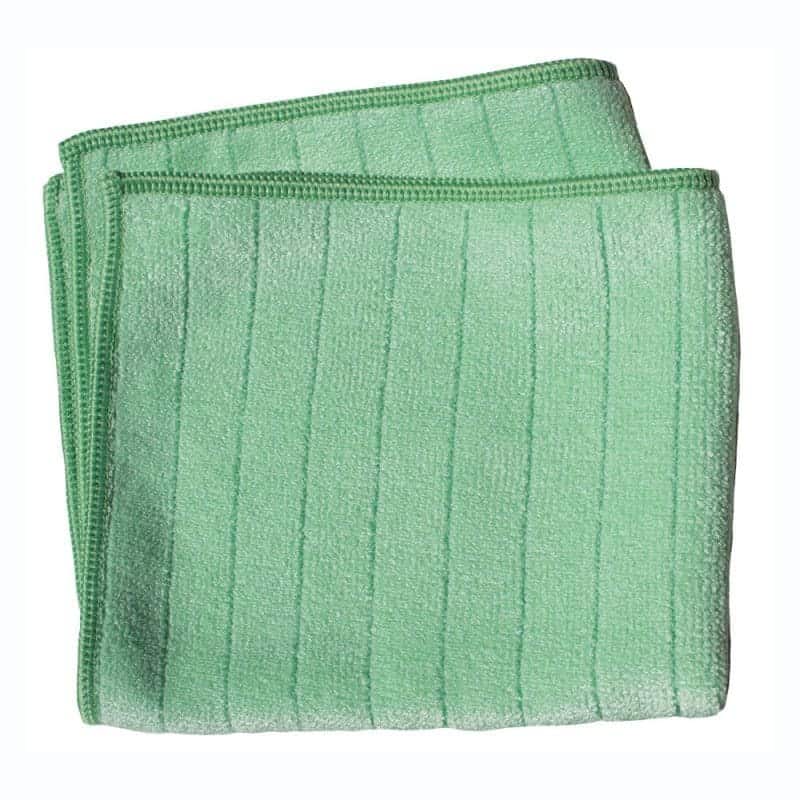 Chemical-free Cleaning Table & High Chair ClothBuy Now
Chemical-free Cleaning Window & Mirror ClothBuy Now
Chemical-free Cleaning Stroller & Car Seat ClothBuy Now
Chemical-free Cleaning Home Starter Set 3pcBuy Now
Chemical-free Cleaning Deep Clean MopBuy Now
Lightweight Flexi-Edge Floor DusterBuy Now
---
Miracle BlanketBuy Now
Another option for easy swaddling is the Miracle Blanket. The cotton blanket's design makes swaddling easy without the use of any zippers, straps, buttons, etc… Mimicking the feel of the womb, the Miracle Blanket keeps baby comfortable and calm during naptime, feeding time, or really whenever!
Available online at BabiesRUs or Amazon
---
Baby Zala Infinity ShawlBuy Now
This versatile piece from Baby Zala can be worn as a fashionable shawl to provide easy access and coverage for breastfeeding. There are literally dozens of ways that this chic shawl can be worn, the options are really only limited by your imagination. The shawl can even be used as a stroller canopy to protect baby from the elements. The versatile nature of this piece really makes it an absolute must have for new moms.
Available online at Baby Zala
---
Baby Zala Paci PocketBuy Now
This luxurious fluffy blanket holds baby's pacifier or "paci" close and within reach so then never lose their paci again. The Paci pocket is great for use at home or on-the-go in the stroller or car seat. You really can't beat the snuggly soft feeling of this high-end blanket, which earns it a spot on this list of must have items for new moms.
Available online at Baby Zala
---
Baby Zala StrolletBuy Now
If you are looking for a luxurious baby shower gift idea, look no further. The Baby Zala Strollet is designed to keep baby snug and warm while on their stroll. Measuring in at 36″ by 38″ the blanket is the perfect fit for a bassinet or a stroller. The luxurious high-end fabric is so soft and snuggly baby (and mom!) will not be able to resist cuddling up with it.
Available online at Baby Zala
---
Baby Zala All-In-One Convertible CloudBuy Now
This multi-functional baby device can be used throughout baby's first year during rest, play, and travel. Baby can enjoy resting in the comfy cloud and watching mama. At nursing time baby can rest on the cloud which the top portion of the blanket helps to provide coverage and privacy for breast feeding. Or, remove the pillow insert and the cloud becomes the perfect swaddle. As baby grows the cloud is great for kicking time, tummy time, sitting time, and play time as well.
Available online at Baby Zala
---
Waterpura WipesBuy Now
Many baby wipes contain ingredients that can cause allergic reactions on baby's sensitive skin. WaterPura natural baby wipes are soft, strong, and completely free of harmful chemicals. WaterPura wipes keep it simple with only two ingredients: 99.9% Water & 0.1% Citrus Extract. When you use WaterPura wipes you can rest assured that your little one's skin is safe from any harmful chemicals.
Available online at WaterPura
---
Boudreaux's Butt PasteBuy Now
Boudreaux's Butt Paste is a pediatrician-approved solution to diaper rash that is effective yet gentle on sensitive newborn skin. This diaper bag must-have begins to improve diaper rash on contact while forming an instant barrier to seal out wetness. Boudreaux's Butt Paste comes in convenient 2oz and 4oz tubes perfect for tossing in your diaper bag, as well as 14 oz jars that are great for keeping nearby your changing table at home. Available in Original, Maximum Strength (pictured), or All-Natural formulas.
Available online at Amazon
---
Gunapod Premium Luxury DuvetBuy Now
You know that wonderful feeling you get when you slip under a luxurious comforter? The Gunapod Premium Luxury Duvet brings that same wonderful feeling to your little one. This amazing sleep sack was designed to provide babies with the ultimate sleep experience. The deluxe fabric is silky soft, lofty, and luxurious. Thanks to the patented WONDERZiP® system a 4-way, all-around zipper provides you with easy access for diaper changes as well as a simple way to regulate temperature and airflow to keep baby comfortable. My only wish is that they made a Luxury Duvet in my size!
Available online at Gunapod
---
I hope that you found this list of must have items for new moms helpful and that you found some items to add to your registry or found the perfect gift for the expectant mother on your list!
Which baby products are your favorites? What would you consider a must have for new moms? We would love to hear from you in the comments section below.