Use these clever home heating tips to keep your house warm this winter and help save on heating costs.
Keeping your home warm in the winter can be a costly endeavor. Heating bills can get expensive very quickly, especially if you live in an area where the winters are harsh.
The good news is, keeping the cold out doesn't have to cause a financial crisis, so long as you know a thing or two about heat conservation.
Here are a few great tips to keep your house warm in the winter without breaking the bank.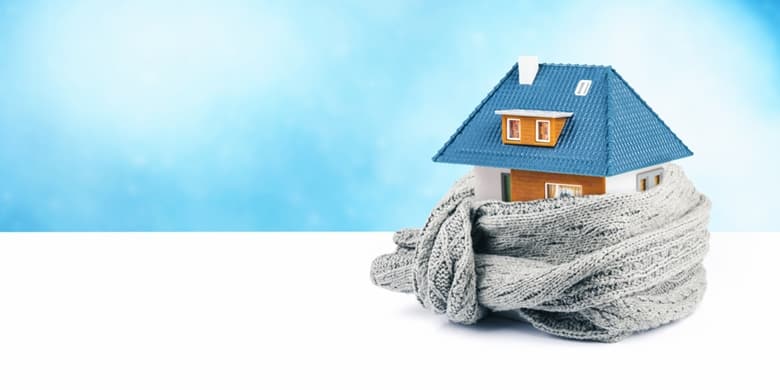 Insulate, Insulate, Insulate!
The most important and effective way to keep your house warm in the winter is to make sure it is well insulated. Investing in good insulation can be costly up front, but it will definitely save you a lot of money in the long run, as it reduces the need for heating and air conditioning. Some of the places in your home that you will want to consider insulating include:
Attic. An estimated 25% of heat in your house escapes through the roof, so having proper insulation in your attic plays a crucial role in keeping your house warm.
Garage. Most garages are large, with concrete floors and a thin garage door. This makes them susceptible to cold temperatures, so it is important to make sure they are insulated as well as they can be. Adding insulation to your garage door is perhaps the most important thing you can do, as it has a huge surface area. There are plenty of great options to choose from when it comes to insulating your garage door, and you can find more information about them here. Replacing the weather stripping and insulating the walls are other simple things you can do that will make a big difference when it comes to preserving heat in your garage.
Windows. Before winter comes, you will want to double check that all of your windows close completely and have caulking around the edges, so no cold air or moisture can get through. Adding clear plastic films to windows or window frames will also provide protection against the cold.
Water tanks and pipes. Adding insulation to your water tank and water pipes will keep the water warmer, longer, which will reduce heating costs. It will also help prevent your water pipes from freezing if you live somewhere with severe winters and do not use the pipes very often.
Floor. If you have large areas of floor that don't have carpet on them, covering them with thick rugs will help to keep the cold out (not to mention provide a little extra cushion and warmth for your feet). Keep in mind that the thickness and size of the rug, as well as the thread count will determine how effectively the rug will act as an insulator. Large wool rugs with a high stitch count will do the best job, but other kinds of rugs will work as well.
Keep It Closed
Heat retention is all about sealing the heat inside your home and sealing the cold outside your home. The best way to ensure that your house is sealed and to keep your house warm is to keep closed all of the areas of your house through which the cold could potentially enter. Some of these areas include:
Chimney. If you have a chimney, make sure the flue remains shut while it is not in use, as drafts of cold air can flow down the chute and into your home. If your flue is closed but air is still getting in (which is often the case, unfortunately), consider purchasing a fireplace draft stopper.
Curtains. Because windows are thin, the cold can permeate them quite easily. Keeping curtains shut will help to keep the cold contained by the window. However, if the window is facing the sun and is exposed to direct sunlight, opening the curtain will allow the heat from the sun to enter and warm your home. Just be sure to remember to close the curtain again once the sun passes!
Unused doors. If there are rooms in your house that are rarely used, be sure to keep the doors to them closed, so if you do turn the heater on, you won't be spending money warming up a room that does not need to be warm.
Unused vents. Keeping vents in unpopular sections of the house closed will allow the heat coming from the vents to only warm popular areas of the house.
Pin Heating Tips for Later: