This post is sponsored by BabbleBoxx.com.
Finding the right gift for everyone on your list can be challenging, so I wanted to share a few products that would make terrific gifts this holiday season.
Read on for gift ideas for everyone your list as well as a chance to win yourself some gifts!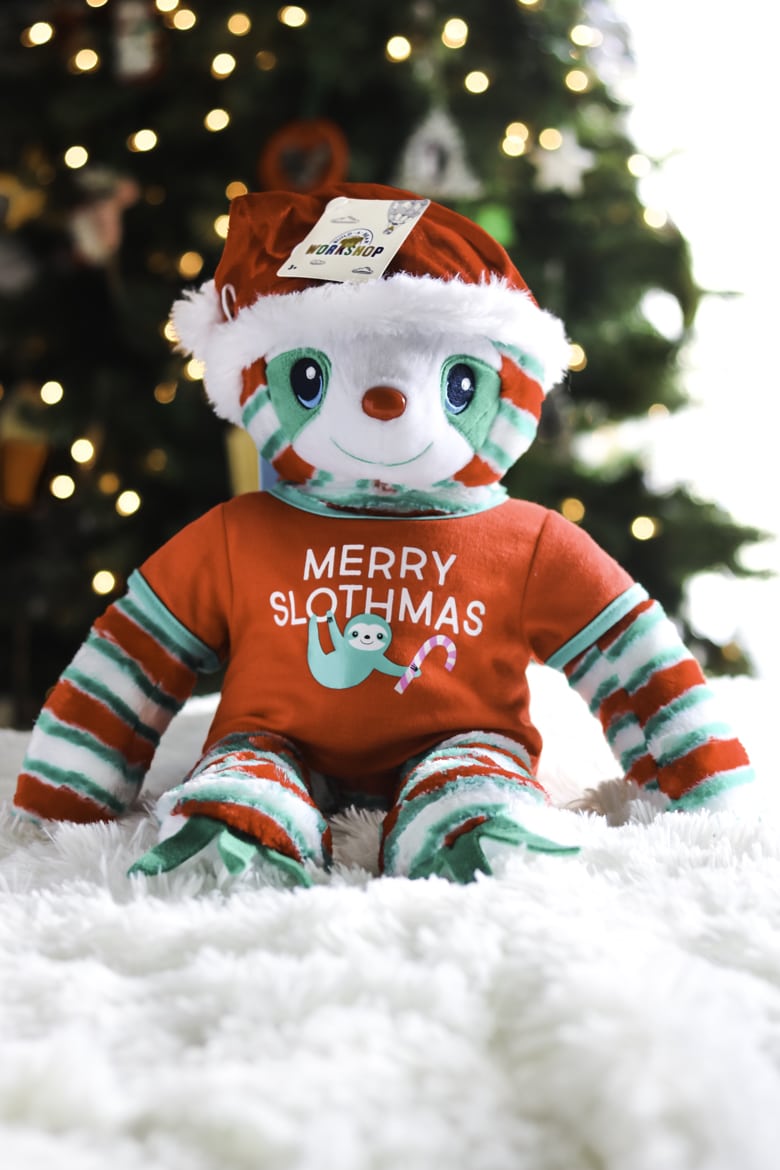 Furry Friends from Build-A-Bear
Furry friends from Build-A-Bear make great gifts for children, friends, grandparents, or aunts. Once you choose a furry friend for your loved one you can customize it with different clothing and accessories–you can even add your own voice or a special scent!
My son and I are both in love with the adorable Merry Slothmas Giftset from Build-A-Bear. The soft and fluffy Peppermint Twist Sloth is all decked out for the holidays in his Merry Slothmas T-shirt, black jeans, and red Santa hat. I have him sitting in our living room near our Christmas tree and I can't help but smile every time I walk by and see him!
Get $5 off your purchase of $25 or more with code BEARYMERRY at buildabear.com or at your nearest Workshop! Some exclusions apply, see full details at buildabear.com/offers.
Trekz Air from AfterShokz
AfterShokz headphones make great gifts for the active people in your life. Think athletes, runners, joggers, etc…
Their high-quality wireless headphones use state-of-the-art bone conduction technology to deliver great sound while still allowing you to hear the world around you.
Trekz Air are AfterShokz' lightest set of headphones yet. In fact, they are so lightweight and comfortable that they make it easy to forget that you even wearing headphones.
As part of AfterShokz' #GiveGoodVibez campaign, when you buy a pair of wireless headphones this holiday season you can receive a free unboxed pair to give to someone who you think would enjoy them (for a limited time only)!
Use code GGVBABBLE for $50 off all wireless bundles (not available during Black Friday/Cyber Monday).
Gift Packs from Maglite
Maglite LED flashlights make great gifts for everyone on your list, from the new driver to the outdoor adventurer.
Give the gift of safety and being prepared with the Maglite Roadside Safty Pack. The set is perfect for keeping in the car for emergencies. It would a great gift for pretty much everyone. Seriously, everyone should have one of these in their car!
The Maglite & Gerber combo pack combines a mini Maglite flashlight and a Gerber folding knife. They are the perfect size to slip into a backpack or purse. The set would make a terrific gift for someone who loves to go camping or is just a general outdoors lover.
Use code MAGBB19 for 15% off your online Maglite order here. Some restrictions apply. Outlet, seasonal shop and discounted items excluded. Cannot be combined with another offer or discounted item. U. S. Shipping addresses only. Promotion available for a limited time. Expires: 12/31/2019.
Dog Treats from Charlee Bear
Don't forget the family pet!
Treat your dog to a package or two of Charlee Bear dog treats in their stocking this year.
Made in the USA from wholesome ingredients, your pup will love tasty Charlee Bear Bearnola Bites and Grain-Free Meaty Bites.
Bearnola Bites come in four flavors (including pumpkin spice dog treats!) and have that crunch factor that dogs love. Grain-Free Meaty Bites are freeze-dried dog treats infused with superfoods. You can't go wrong with either option, so I would recommend one of each!
Order Charlee Bear Bearnola Bites here and Meaty Bites here.
Soft & Breathable Socks from No nonsense
I don't know about you, but I can always use new socks.
No nonsense Soft & Breathable socks make great stocking stuffers or additions to gift baskets.
They are made with breathable mesh panels and soft moisture-wicking fabric, making feet comfortable and happy all day long.
Pick up 3-pair packages of No show and Quarter top No nonsense Soft & Breathable socks for everyone's stocking this year!
Aura Analog Photo Printing Service Subscription
Aura Analog maks a wonderful gift idea for grandparents, aunts, uncles, or anyone who loves photos.
Simply select photos via the Aura app (available on iOS and Android) and they will be delivered right to your family member's door. You can even invite additional family members to add their photographs to the app, if desired.
When you purchase a $7.99 monthly subscription the recipient receives 5 premium photo prints a month, along with an elegant white stone frame with the first shipment. I love how the frame has a storage compartment in the back for past prints, making it easy to keep a full year's worth of photos in one place.
Order your loved one an Aura Analog subscription here.
THE ANIMAL'S COMPANION
THE ANIMAL'S COMPANION: People and their Pets, a 26,000 Year Love Story by bestselling author Jacky Colliss Harvey makes a thoughtful and unique gift for teachers, vets, animal lovers, and pet owners.
Complete with anecdotes of famous pet owners and their pets and colorful photos inserts, this heartwarming and entertaining book explores the relationship between people and their pets, tracing it back a whopping 26,000 years.
Learn more about THE ANIMAL'S COMPANION here.
Holiday Gifts Giveaway
Enter below for a chance to win some of the great gift ideas featured in this post!
Prizes:
One (1) Grand Prize Winner will receive – Aura Analog Frame (code to be provided by BabbleBoxx to the winners), Aftershokz Headphones, Build-A-Bear Furry Friend, Charlee Bear Dog Treats, No nonsense Socks, Maglite Safety Pack & Solitaire LED
Four (4) Runners-Up will receive an Aura Analog Frame (code to be provided by BabbleBoxx to the winners).
DATES: November 15, 2019 – November 25, 2019
Good luck!

BabbleBoxx will randomly select winners from all program entries and will be responsible for fulfillment of prizes to the winner.
Pin for Later: