Sponsored post by Mirum. All opinions are my own. #IntelODHolidaySavings
Do you work from home and have difficulty getting work done in a timely manner? These 6 tips will help you to get more work done in less time by increasing your productivity and efficiency, limiting your distractions, and improving your workflow.
With 2017 coming to a close, I am reflecting on the past year and setting goals for 2018. One thing that I really want to focus on in the new year is being more productive and efficient while I am working, which will allow me more time to spend with my family.
2017 has been an amazing year for me, both in my personal life as well as for me professionally. I gave birth to our baby boy, who is now almost 6 months old. I was able to stop working outside of the home and focus solely on my blog, which has lead to my blogging income doubling from that of last year. Working from home has also allowed me to stay at home with my son, which is priceless.
Of course, getting work done with an infant at home is far from easy. I often feel like I was working non-stop – yet having difficulty getting anything done. Plus, I really want to spend more time with my family, without worrying about upcoming deadlines and all the work that I need to get done. In 2018 I want to work smarter, not harder, and this means get more work done in less time.
To that end, I have come up with the following 6 tips, or guidelines, which will allow me to be more efficient and productive in my workday. These tips are perfect for anyone who works from home, so I wanted to share them with you today in hopes that they will help you get more work done in less time as well.
1. Upgrade your Computer
Nothing is worse than a slow and laggy computer. Slow computers can keep you from getting your work done in a timely manner, while a fast computer system can save you time. It is time to upgrade to a computer that works as fast as you do.
Intel® Optane™ memory is a new class of memory that makes everything you do on your computer faster. Intel® Optane™ memory is a "smart" form of memory that learns your computing habits over time. The programs and files that you use the most are given priority access to allow you to access them almost instantly.
Whether you are emailing, browsing the web, viewing large files, or streaming movies, Intel® Optane™ memory, available on select PCs at Office Depot, will help you to do it quicker.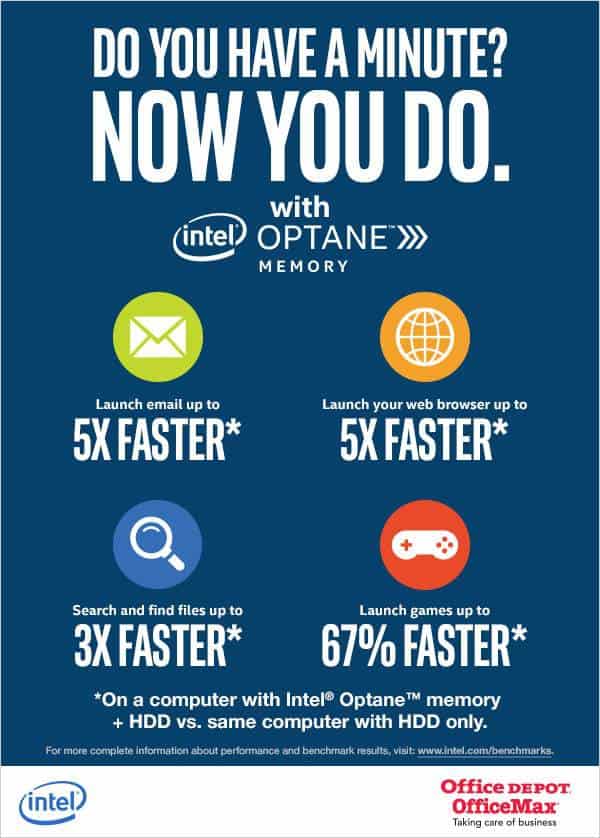 Now is a great time to upgrade your PC for the new year. Upgrading to a computer with Intel® Optane™ memory will help you to be more productive in your workday, and get more work done in less time.
Office Depot currently has 2 great PCs available with this state-of-the-art memory: The HP Pavilion Desktop with Intel® Optane™ memory and the HP Pavilion All-in-One with Intel® Optane™ memory. Act fast and you can save $100 on the HP Pavilion Desktop with Intel® Optane™ memory, which is currently on sale for $549.99 (a $100 savings from its regular $649.99 price). Whichever you choose, I am sure that you will enjoy the speed of your new PC with Intel® Optane™ memory.
2. Write it Down
Keep a notepad handy and jot down any ideas that you have throughout the day. This helps to keep you from having to worry about remembering them, and frees your mind to focus on other things – like getting work done.
Keep a prioritized to do list so you know at a glance what needs to done, and what task is of most importance or priority.
3. Schedule Your Day
Taking the last tip even further, use a calendar or planner to schedule out what tasks need to be completed each day. Use your schedule to keep track of any upcoming deadlines as well.
Scheduling allows you to avoid multitasking by planning out when you will work, as well as when you will focus on non-work activities, such as spending time with family.
I am a paper and pencil gal when it comes to scheduling and to-do lists, and I rely heavily on my planner. But, there are many scheduling and to-do list apps available if you prefer to use those instead.
4. Limit Distractions
As anyone who works from home knows, it can be difficult to stay in work-mode without distractions. Between children and other family members who might be home with you, to the TV calling your name, it is often difficult to focus on work.
The solution that I have found is that when it is time to work, I do not allow myself to stop to check email, answer the phone, move the laundry, or check social media. I schedule an amount of time that I will focus on work, and I stay completely in work mode during that time. When I work with such focus, it is amazing how productive I can be.
When it is time to work, close down any open tabs on your computer that might be tempting to check, such as email and Facebook, etc… Even better, turn off any notifications that may pop up on your computer as these have major potential to distract. Furthermore, place your phone out of view so that phone calls and other notifications can not distract you. Do not check your phone or open email until it is time for a break.
5. Keep Your Desk Clean and Organized
If your desk looks like my desk in the image above, it is time to make a change.
Clutter is distracting and can keep you from focusing on the task at hand. Each evening before closing up shop, take a minute to clean up your desk. Beginning your day with a clean and organized work space is a great way to help you think clearer and stay focused, thus allowing you to get more work done.
6. Avoid Multitasking
I have learned that trying to write a blog post while simultaneously feeding a baby isn't the most productive way to get things done. To avoid attempting to multitask like this in the new year, I am determined to stick to doing one task at a time. When I am completely focused on the task at hand I can get 10x as much work done.
Luckily, my husband can take over baby-duty in the evenings and on weekends so that I can focus on work. This will help free up my time during the day to spend dedicated to my son, which makes it 10x more enjoyable! Plus, I have becoming a master of taking advantage of nap time, so I can sneak in some work-time there as well.
Multitasking can be tempting and seem like a great way to get more things done, but in reality it leads to less focus, and work ends up taking longer to complete. Avoid the temptation to multitask by focusing on completing and finishing each task before beginning another.
Here's to An Awesome 2018!
I hope that these tips help you increase your productivity and efficiency in the new year. By cutting distractions and increasing your focus you will be able to get more work done in less time.
Do you have any additional tips to increase efficiency and productivity in your workday? If so, please share them with us in the comments below!