A felt Christmas tree for toddlers to decorate is an excellent idea to get kids in the Christmas spirit while distracting them from the real Christmas tree!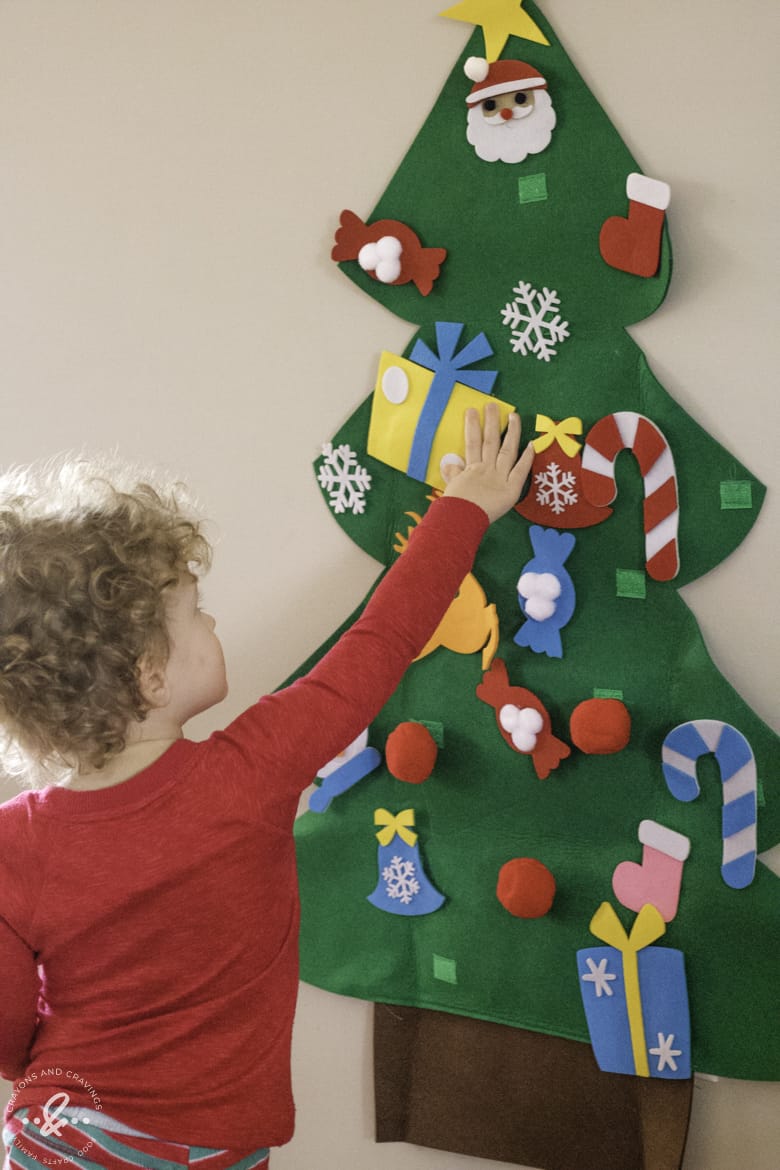 How to Keep Your Toddler Away From The Christmas Tree
Wondering how to keep your toddler away from the Christmas tree?
You are not alone.
As excited as I have been to put up our Christmas tree, I was equally worried–worried that our 2-year-old would destroy the tree just as quickly as we put it up.
Felt Christmas Tree for Toddlers
When I saw this amazing felt wall Christmas tree for toddlers on Amazon I ordered it without a second thought.
The felt tree measures 3 feet tall and comes with 26 ornaments that kids can use to decorate it with. The ornaments attach with hook and loop strips, making them removable and reusable.
My son ran over as soon as he saw me hang up his felt Christmas tree.
Although he didn't understand how to attach the ornaments to the tree at first, after I demonstrated placing the ornaments on to the hook and loop strips he quickly followed suit.
I could see how much he was enjoying decorating his own Christmas tree. He had all the freedom and mama wasn't bugging him like when he tries to redecorate the real Christmas Tree. He loves it!
I am sure that our son will be redecorating his tree over and over again all season long. It makes for great opportunities to teach my son the words for all the different ornaments, such as candy cane, stocking, snowflake, reindeer, present, etc…
And the best part? He has been so distracted with his Christmas tree that he hasn't even been interested in rearranging the family tree!
Get a Felt Christmas Tree for Your Kids
If you are the parent or grandparent of a child ages 2+, I would totally recommend giving them their own kids Christmas tree this year as well. Order yours on Amazon today.
Pin for later: