There are many benefits of cooking with kids. So, why not invite your children into the kitchen to make these 3 kid-friendly recipes?!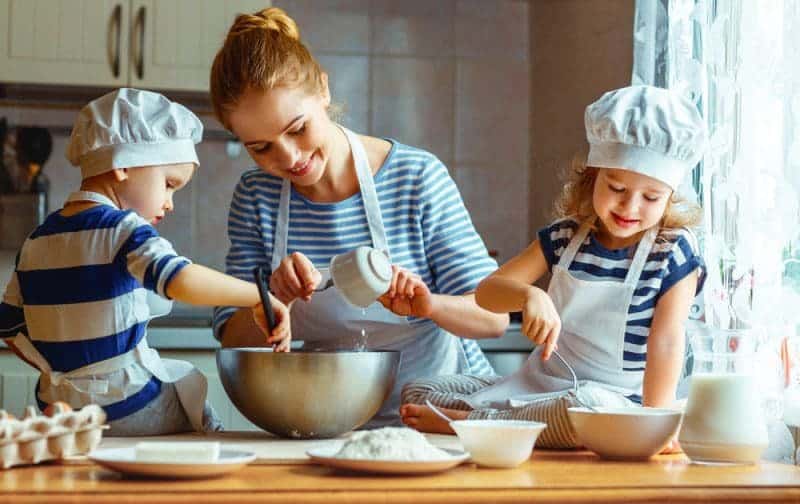 When's the last time you had some help in the kitchen? If you're like most of us, it's probably been a while. Now, when you hear my suggestion that you invite your children to come pitch in with dinner prep, you're probably going to think, "That's not help! It's just more work for me." I know what you mean. Inviting children into the kitchen is kind of like inviting a hurricane into your living room. But hear me out…
Benefits of Cooking with Kids
There are a few significant ways that cooking together can help both you and your children. For example:
Spending time together working on a project is a special kind of bonding experience. It's different from play time, discussions, or even chores. It's a unique meld of all three, where you're able to cooperate and coordinate, muse over your respective projects, and teach and grow together.
Contributing to family meals fosters responsibility. It's a basic human need to have something to give. And while parents may often feel like they're playing the giving role all too often, children usually don't get enough opportunities for it. Knowing that they're doing something to serve the people they love gives children a sense of self-worth and responsibility.
American children are growing up in a nutritional crisis. Eating snacks that hardly resemble food in its original form creates a big disconnect between what we eat and where it comes from. Getting your children involved in the kitchen helps them understand where the food they love comes from and teaches foundational skills and understanding that can support healthy habits in the future.
So, are you ready to get the kids cooking? I've put together a short list of delicious food that's great for a cooperative kitchen experience with kids, no matter what age they are. These meals are fun to contribute to and leave room for everyone to have a task.
Homemade Pizza
This is a easy kids cooking project to start with. For one thing, pizza is universally adored, even if you have picky eaters on your hands, so kids will be excited about the food that they're helping to make. For another, pizza is amazingly easy to make, and offers so many opportunities to do it your way.
Children will be excited to choose their own toppings, and determine how to throw them all together. Get your children to held knead the dough, and spread it out evenly. Let them slather on some pizza sauce, and sprinkle cheese. You can create individual pizzas if you want to avoid conflicts over technique with a couple different kids. Best of all, it's nearly impossible to go wrong. No matter how "creative" the kids get, you'll have a delicious meal at the end of it all.
If you're not into making pizza dough yourself, look at what your local grocery store has on offer. Many of them have raw pre-made dough available to buy in the deli section for under two dollars.
Pumpkin Ravioli
Have you ever tried to make your own ravioli? It might seem like an ambitious project, but it's actually much easier than you think! The thing is that it's a little labor-intensive. It takes time to assemble the little raviolis. That's where the kids come in.
Mix up the filling yourself ahead of time, and whip up some pasta dough. Set up a table with:
Clean workspaces (sprinkled with flour)
The bowl of dough
A rolling pin
Some forks and spoons and butter knives
Kids can help roll out the dough, glob on just a bit of filling, and fold up the raviolis, pinching the corners shut with the fork tines. You'll probably end up with some odd shapes and sizes, but that's part of the fun! If you have a child old enough to handle boiling water and a hot stove, they can be in charge of cooking the raviolis. It's easy to tell when each one is done because it starts to float! You can just scoop them out as they finish with a skimmer.
Here's my favorite ravioli recipe. Your whole family will be impressed by what a gourmet meal you can all build together!
Chocolate-Covered Strawberries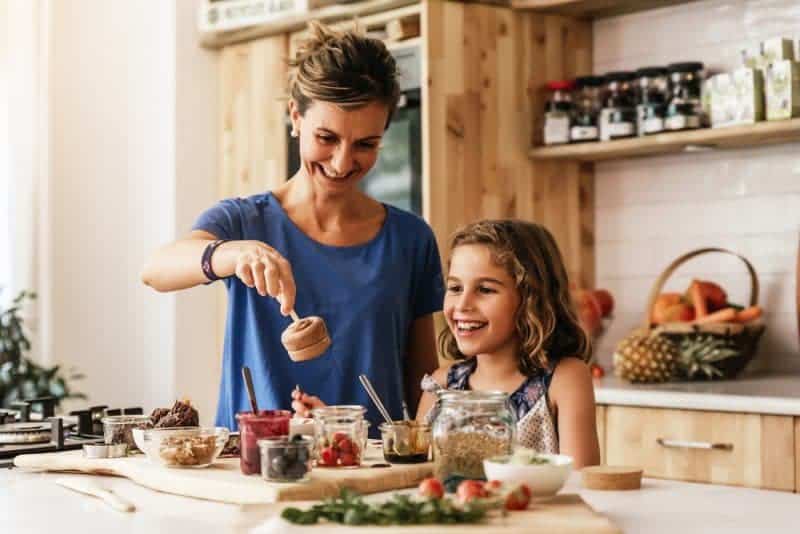 Want a little something special for dessert? Chocolate covered strawberries are one of those desserts that feels decadent, but can actually be comparatively healthy. Even more fun, once the strawberries are taken care of, you can go crazy fonduing any treat you find in the cupboard, from graham crackers to pretzels. You might even try out making your own candy bars by spreading layers of chocolate on a marble slab (or a granite countertop, if you're one of those lucky chefs) and creating peppermint bark or almond bars.
The trickiest part will be effectively melting the chocolate and maintaining enough warmth to keep the chocolate smooth and liquid. But even if you don't have a double-boiler, you can easily melt chocolate in a microwave (just do small, 15-second intervals and stir between each) or in a water bath on the stove (placing the bowl of chocolate inside of a pot of warm water…. Just make sure none of the water gets into the chocolate.) Teach your kids to clean and pat dry the strawberries first, then dip them one by one in the chocolate, allowing any extra to drip off before placing them gently on the slab or wax paper.
Do you have any fun meals that you love to throw together with your children's help? Share them below!
Pin for Later: