This post is sponsored by Fresh Step® and the BlogPaws® Pet Influencer Network™. I am being compensated to help share Fresh Step but we only share information we feel is relevant to our readers. Fresh Step is not responsible for the content of this article.
Where are all my cat owners at?!
What is your favorite part of being a cat owner? I love snuggling with our cats, petting them, and especially playing with them. Our Bengal kitten Xena is even known to play fetch!
With the joys of owning a cat also comes the not-so-fun responsibility of keeping up with their litter boxes.
My husband, our 2 cats, and I live in a townhouse / condo. While we love our location, our view, and the high ceilings in our home, we struggle with lack of storage space. Storing cat litter has always been a struggle, and lugging it up and down our 2 flights of stairs is no fun at all.
I recently discovered a new option in cat litter – Fresh Step® Compact Packs. Fresh Step Compact Packs take the equivalent of a 34 or 38 lb. box of litter and package it into four smaller packs. These cat litter Compact Packs are easier to store, carry, and pour into the litter box.
No more storing a half-used bag of cat litter in my hall closet.
No more lugging a 40 lb. bag of litter to each litter box, on different floors of our home, just to pour a small amount into each.
Fresh Step Compact Packs are a total game-changer when it comes to cat litter. They make the whole cat litter experience more convenient. Not to mention, they are also the perfect solution for apartment or condo dwellers, like myself, who lack a lot of storage space.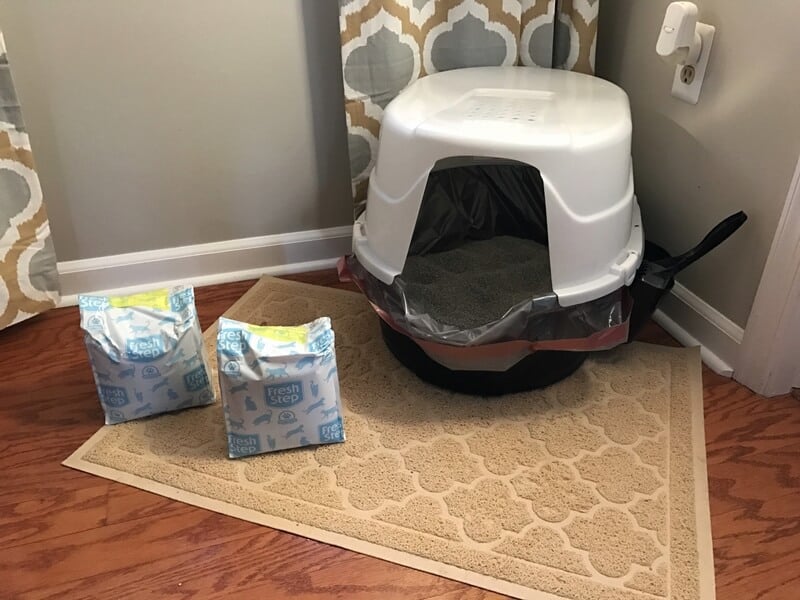 The new Fresh Step Compact Packs are available in three formulations:
Fresh Step with Febreze Odor Shield
Fresh Step with Febreze Multi-Cat
Fresh Step with Febreze Extreme.
Not to be missed video: Want to take your cat litter experience from Awkward to Awesome? Check out this video!
Look for Fresh Step Compact Packs at your favorite retailer.
Visit Fresh Step: Website | Facebook | Twitter | Instagram
Fresh Step Paw Points® Rewards Program
One of my favorite things about Fresh Step is their awesome rewards program. Earn points from purchases, sharing kitty pics, surveys, and more. Then redeem points for free Fresh Step litter, coupons, toys, and more. Join the free Fresh Step Paw Points Rewards Program now at freshstep.com. You can also download the new Paw Points Rewards app by visiting the Apple App Store or Google Play to earn 50 points.
This is a sponsored conversation written by me on behalf of Fresh Step. The opinions and text are all mine.