Chocolate Peanut Butter No Bake Cookies
Posts may contain affiliate links, meaning that I may earn a commission if you use a link provided.
Make perfectly soft and chewy no bake oatmeal cookies every time with this classic chocolate peanut butter no bake cookie recipe.
The easy no-bake cookies are filled with rich chocolate peanut butter flavor. Plus, they are super easy to make in 15 minutes with just a few simple pantry ingredients such as quick-cooking oats, peanut butter, and cocoa powder.
For more easy cookie recipes try our no-bake cornflake cookies, 3-ingredient lemon cookies, Nutella no-bake cookies, or funfetti cake mix cookies.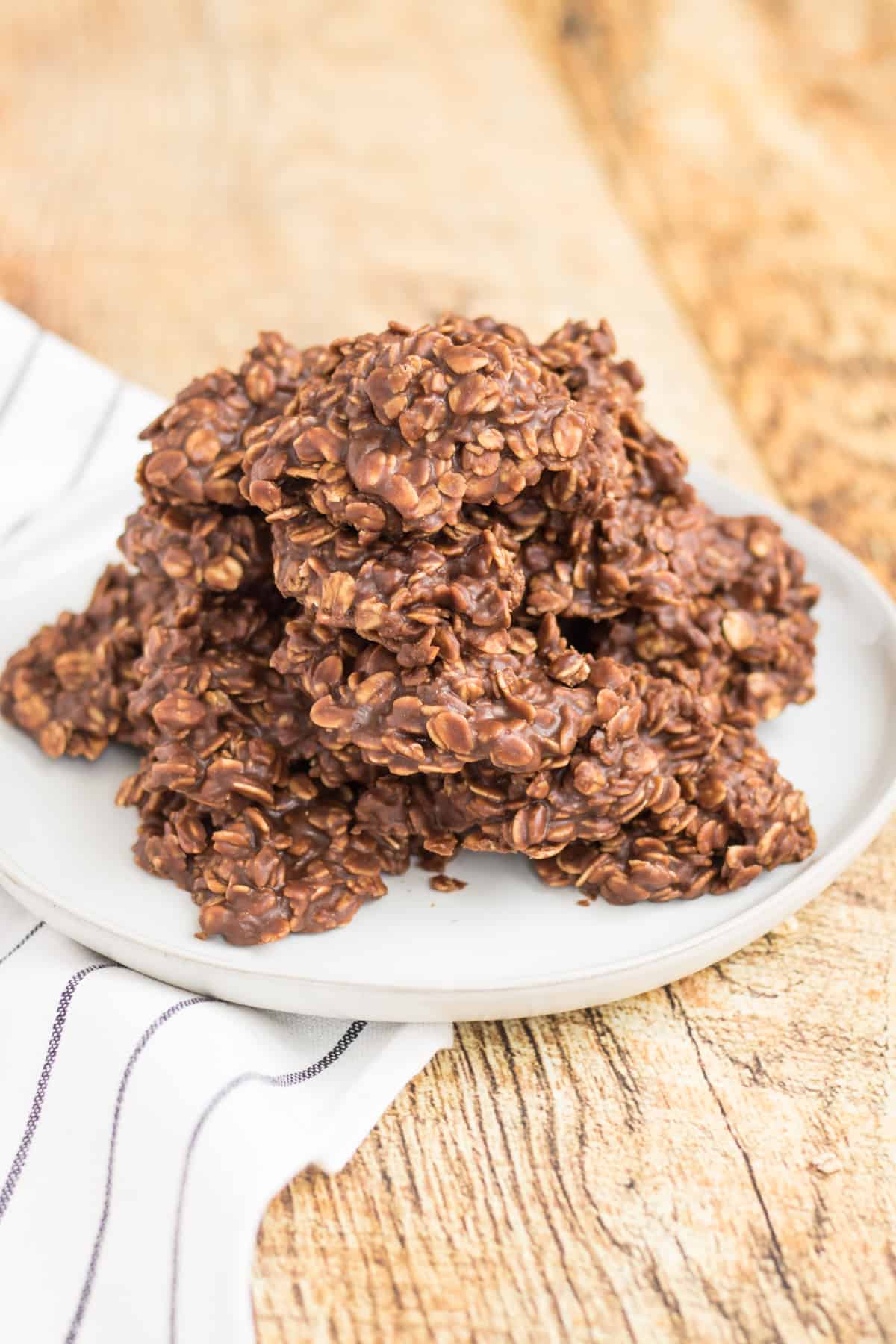 I have another vintage dessert recipe to share with you today!
Also referred to as chocolate oaties, preacher cookies, peanut butter fudgies, cow patties, and fudge cookies, these old-fashioned chocolate peanut butter no bakes are a true classic cookie recipe. Just like the recipe that grandma made when you were little.
Unlike classic peanut butter cookies, there is no need to turn on the oven for these chocolatey, thick cookies; simply combine the ingredients on the stovetop, scoop, and allow to set.
Make a batch of these cookies as an after-school snack for the kids, as an easy dessert, for the holidays, as a quick treat, or just because.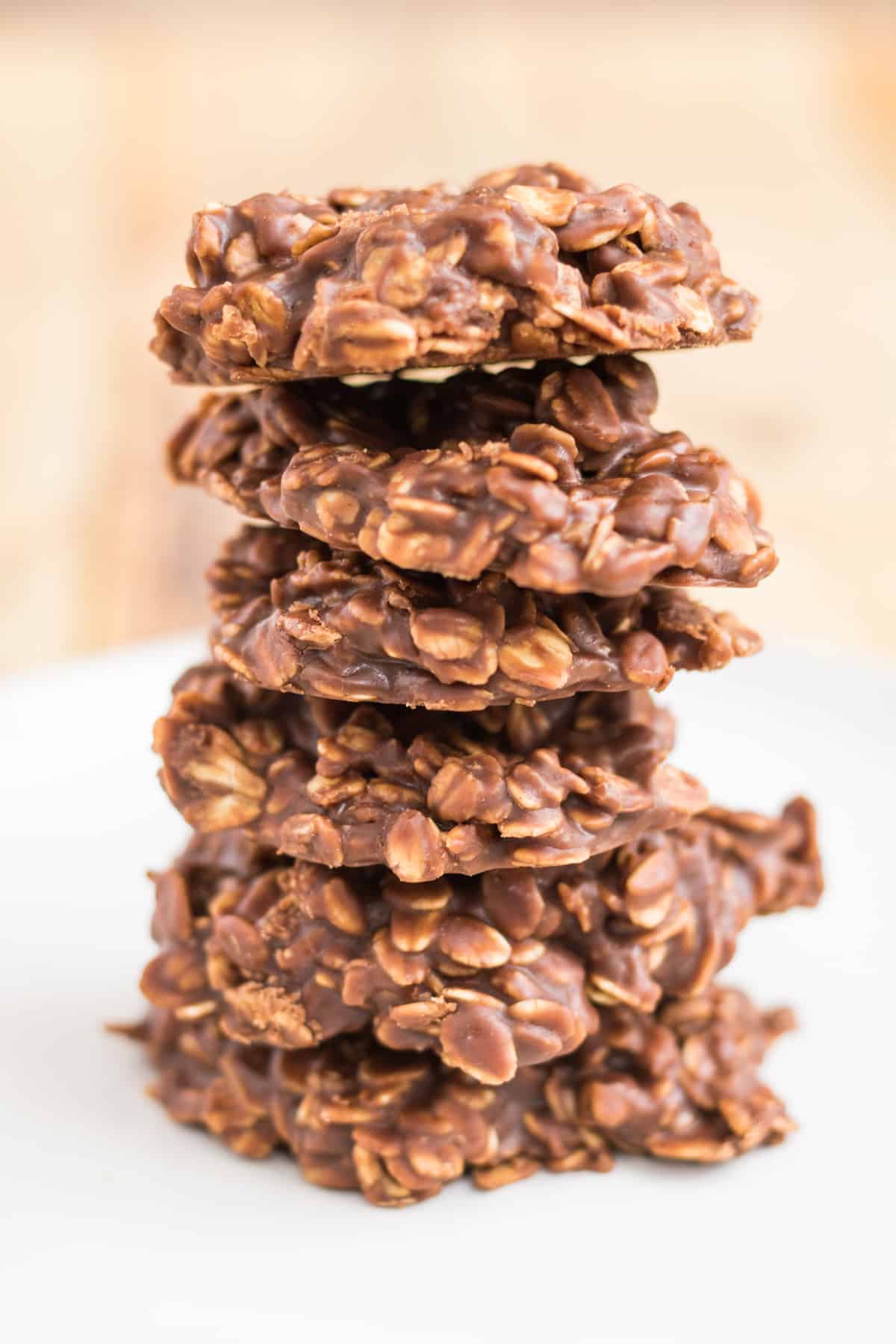 So grab some ingredients from your pantry and give this easy chocolate peanut butter no-bake cookie recipe a try. I just know you are going to love the easy no bake cookies as much as we do! I hope that they become a family favorite in your home as well.
For another no-bake chocolate peanut butter treat try our peanut butter balls with rice krispies.
Ingredients
This section includes ingredient notes and substitution options. Get all measurements, ingredients, and instructions in the printable recipe card at the end of this post.
You will need:
sugar
butter— real butter is a must so save the margarine for another day.
milk— whole milk is best, but any milk will work.
unsweetened cocoa powder
peanut butter— Use creamy peanut butter rather than crunchy peanut butter to get the proper chewy texture. Natural peanut butter can be used as well, just stir it up well before using.
vanilla— Use pure vanilla extract for the best flavor.
quick cooking oats
Substitutions and variations
unsalted butter: Only have unsalted butter? No worries, just add a pinch of salt to the recipe.
old-fashioned oats: While quick oats result in perfectly tender cookies, you can also use old-fashioned rolled oats. Your cookies will just be a bit chewier and less tender.
nut-free: Use sunflower seed butter instead of peanut butter for a nut-free no bake cookie.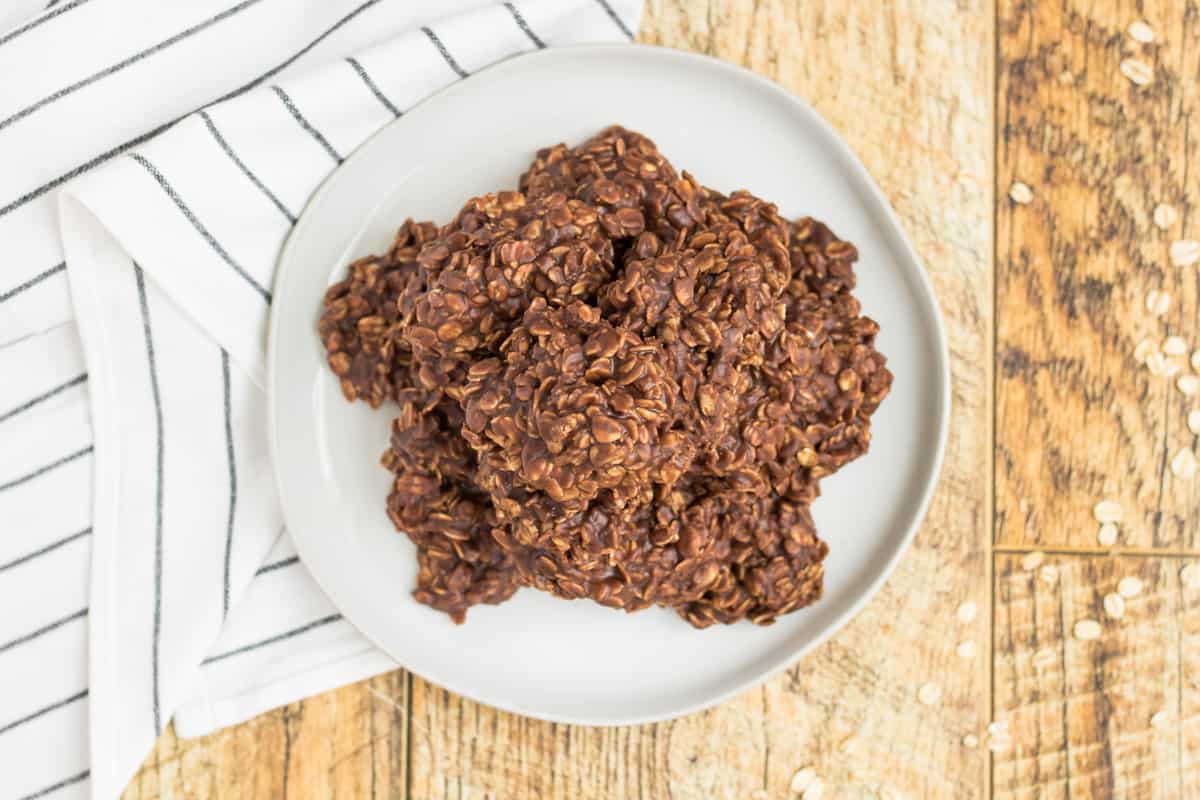 Tips for the Best No Bake Cookies
Prep ahead – Measure out your ingredients before you begin making the no bake treats. This will allow you to work quickly to add the ingredients when you remove the mixture from the stove.
Use a timer – When boiling be sure to set a timer for 1 minute. Under-cooking can cause the no-bakes to not set up properly. Over-cooking can make your no bake chocolate oatmeal cookies dry and crumbly.
Wait for a full boil – Don't start your 60-second timer until the mixture has reached a full, rolling boil. This means that it is bubbling up in the middle of the pot, not just around the edges.
Work quickly – Once you remove the pot from the stove work quickly to stir in the rest of the ingredients and get your cookies scooped out while they are still hot. If you wait too long it will start setting before you are finished!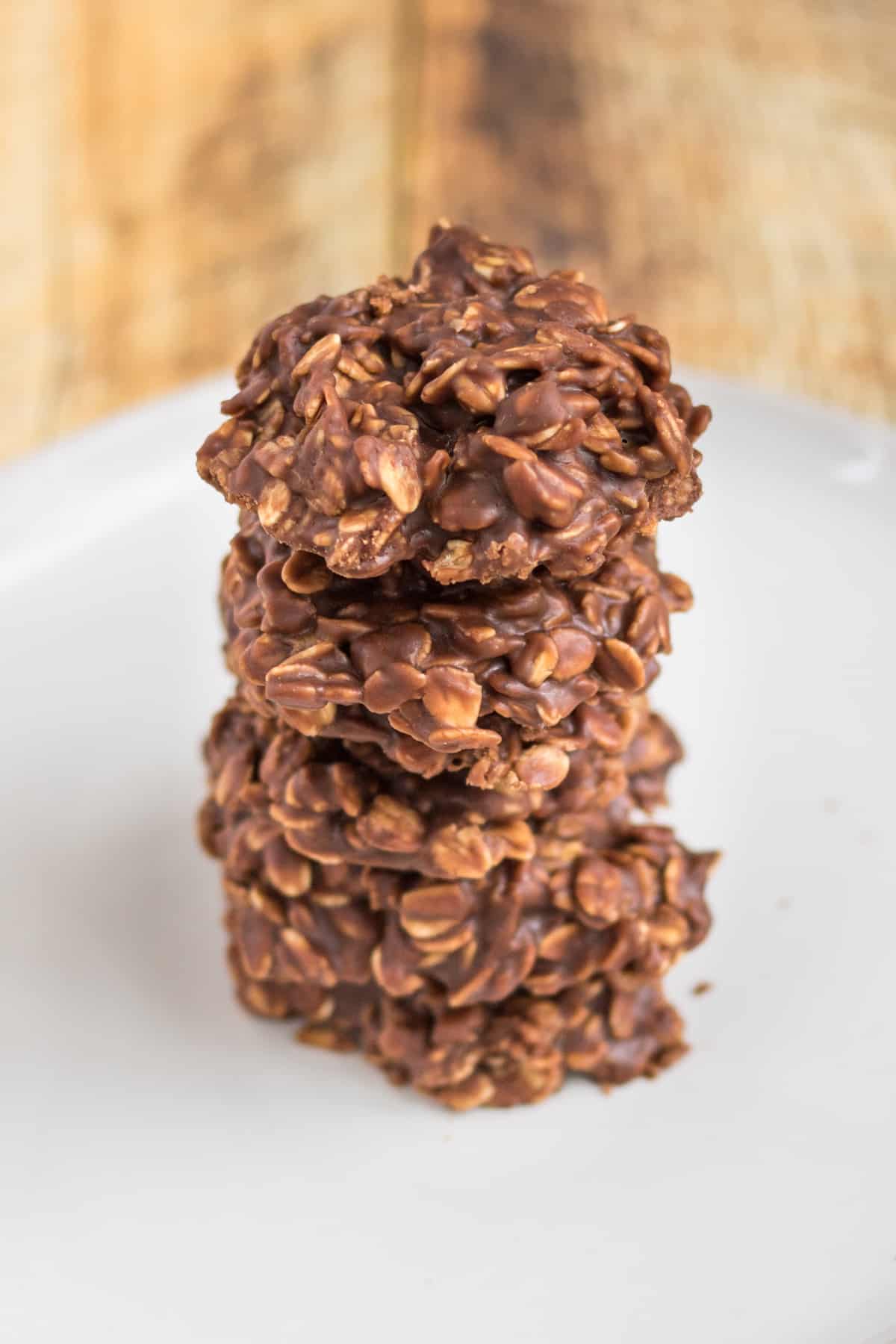 No Bake Cookie Recipe FAQ
Why did my no bake cookies not set?
The most common cause of no-bake cookies not setting is that they didn't boil long enough. Be sure to wait until the mixture has reached a rolling boil then boil for a 60 seconds. Another cause could be the weather. Yes, the weather! Very humid or rainy weather can mess with the setting process. If you find this is an issue, I suggest placing the cookies in the fridge to help them harden.
Do no bake cookies have to be refrigerated?
No, the yummy cookies do not need to be refrigerated, although you can refrigerate them if you like. No bake cookies can be stored in an airtight container at room temperature for up to one week.
Can no-bake cookies be frozen?
Yes! Freeze set and cooled cookies in an airtight container for up to 3 months. Thaw to room temperature before serving.
More easy no-bake desserts
Recipe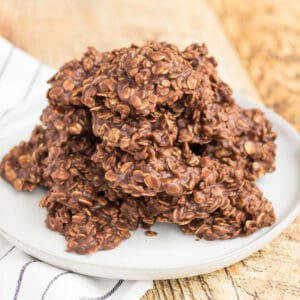 Recipe
Classic No Bake Cookies
These classic chocolate peanut butter no-bake cookies are soft, chewy, and filled with rich chocolate peanut butter flavor.
Ingredients
2 cups granulated sugar
1/2 cup salted butter
1/2 cup milk
4 Tablespoons unsweetened cocoa powder
1 cup creamy peanut butter
1 teaspoon vanilla extract
3 cups quick-cook oats
Instructions
Line two baking sheets with parchment paper or wax paper and set aside.

Bring sugar, butter, milk, and cocoa powder to a rolling boil in a medium-size saucepan over medium heat, stirring often. Once it has reached a full boil allow it to boil for 60 seconds, stirring frequently.

Remove the sugar mixture from heat and immediately stir in the peanut butter, vanilla extract, and oats until well combined.

Drop spoonfuls (I like to use

this cookie scoop

) onto prepared baking sheets and allow to set at room temperature until cooled and hardened, about 30 minutes.
Notes
Store in an airtight container at room temperature for up to one week. For long-term storage, freeze the cookies in an airtight container for up to 3 months. Thaw to room temperature before serving.
Nutrition
Serving: 1g | Calories: 208kcal
Did You Make This Recipe?
Share it with me on Instagram @crayonsandcravings and follow on Pinterest @crayonsandcravings for even more!