Chicken Salad with Grapes and Pecans
Posts may contain affiliate links, meaning that I may earn a commission if you use a link provided.
This chicken salad with grapes recipe takes cooked, protein-rich chicken breast and combines it with crunchy celery and pecans, sweet grapes, and spicy onion and tosses it in a creamy dressing made with mayonnaise, greek yogurt, and spices.
Serve the tasty chicken salad on a bun or over a bed of lettuce for an easy and delicious lunch. Perfect for summer, picnics in the park, luncheons, or any occasion.
I love to make a batch on Monday mornings and keep it in the fridge to enjoy for lunch throughout the week.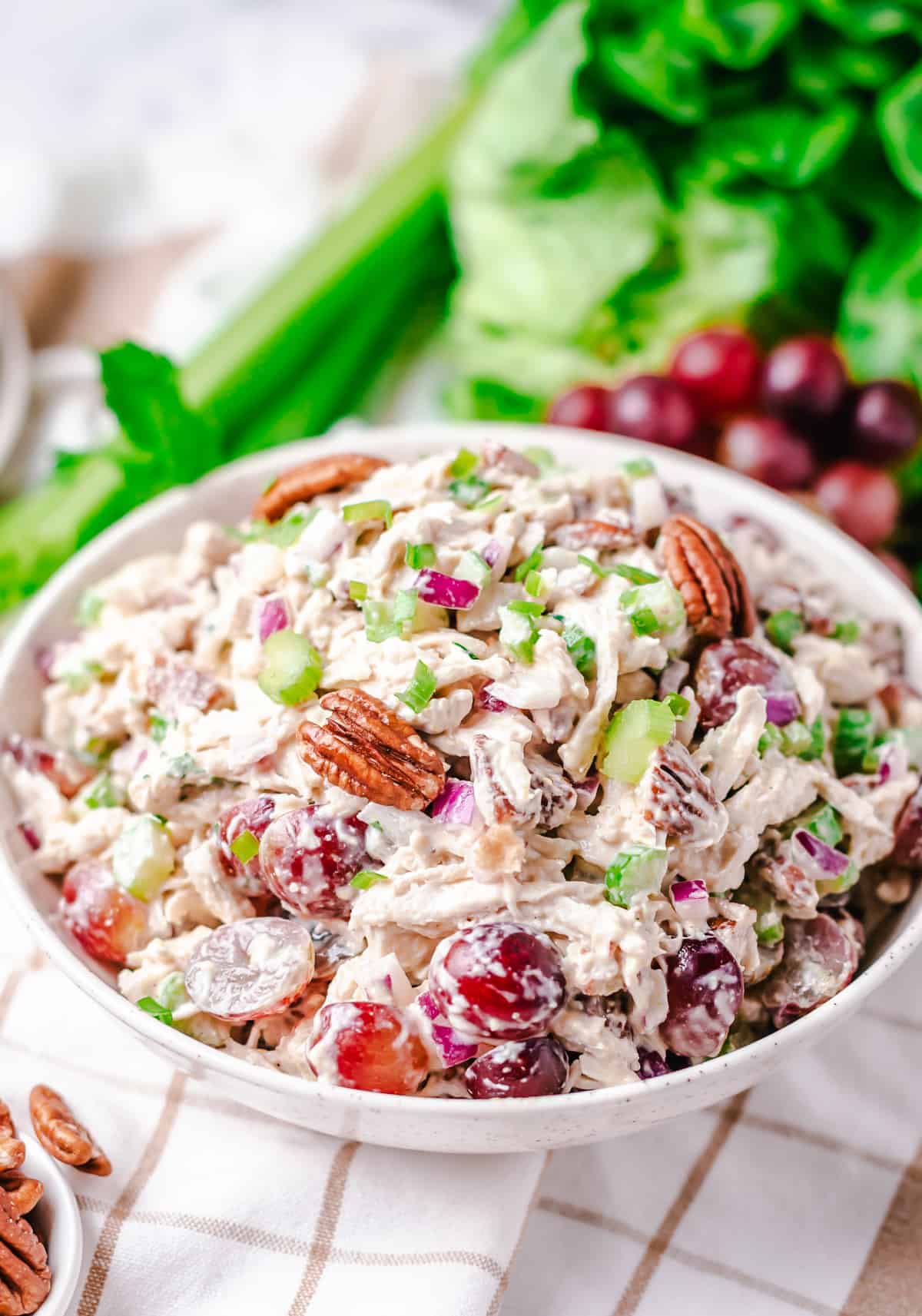 Like egg salad, chicken salad is a tried-and-true, classic lunch.
This particular recipe takes your basic chicken said up a notch with the addition of pecans and grapes. The result is a perfectly sweet, crunchy, and creamy chicken salad.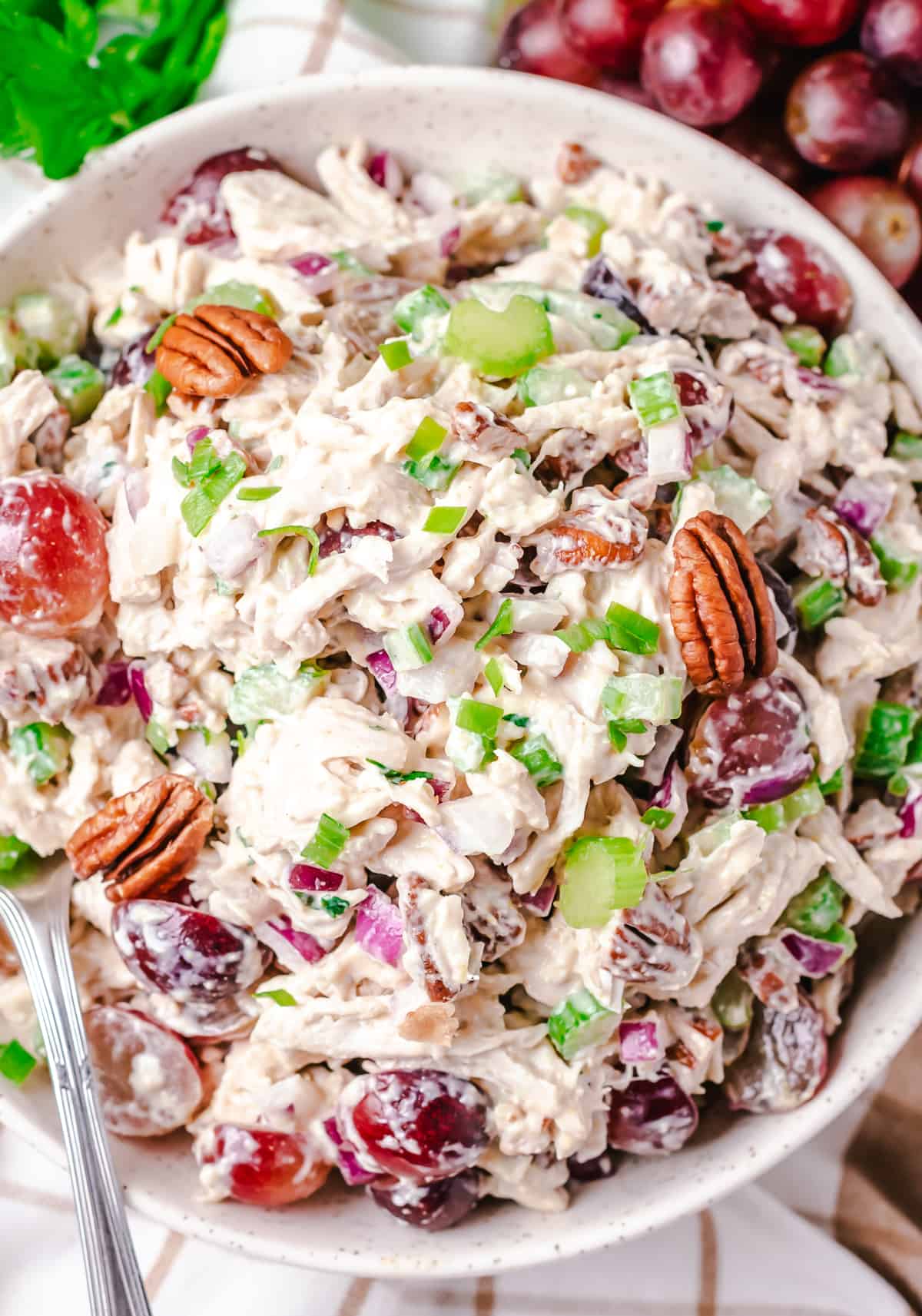 You are sure to love how easy this lunch salad is to make as well!
Why you'll love this recipe
It's has great flavor and just the right amount of sweetness from the grapes.
The pecans and celery give it a nice crunch.
It is full of fresh ingredients.
It will keep for several days in the fridge.
This chicken salad is very versatile – it can be served on it's own, on a sandwich, in a lettuce wrap, on crackers, or even on top of a salad.
You'll be hard pressed to find anyone who doesn't like this chicken salad recipe!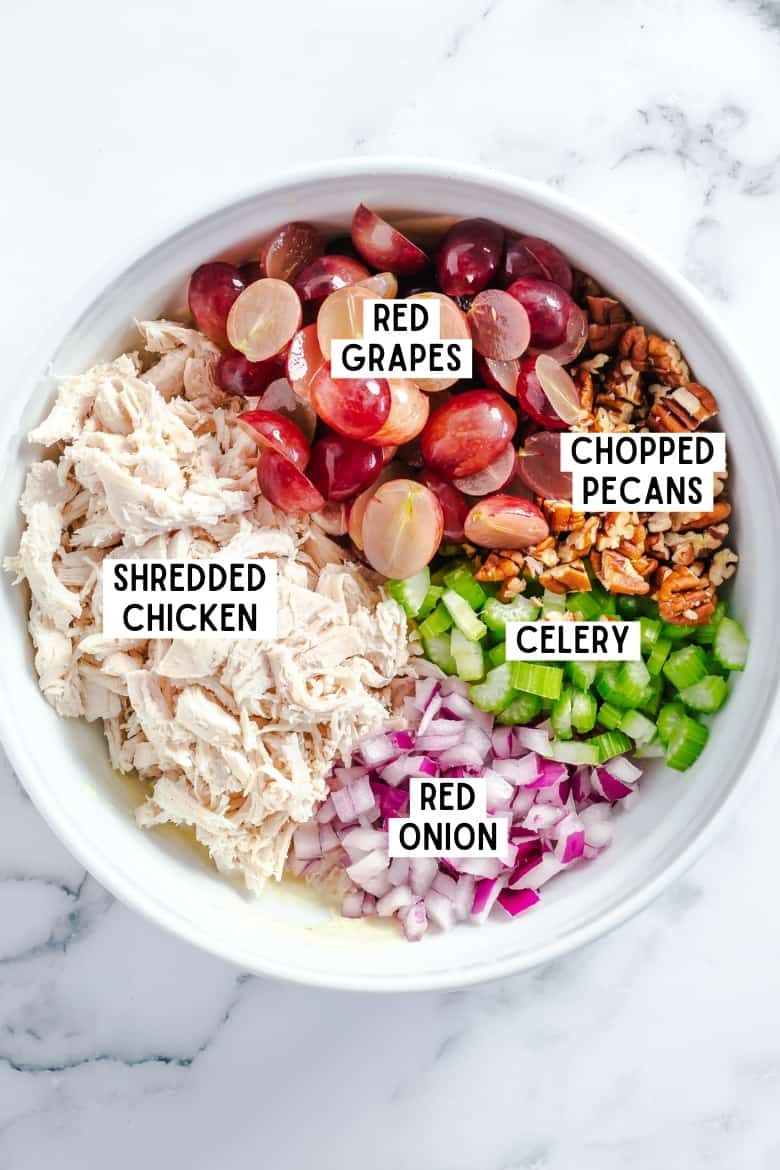 Ingredients
Chicken– Cooked chicken breasts or thighs, shredded or chopped. I usually boil my chicken or make in the crockpot) but sometimes I pick up a rotisserie chicken from the store for an easy shortcut.
Celery– adds a nice crunch
Grapes– I prefer using all red grapes or a combination of green and red.
Pecans– Pair perfect with the creamy chicken salad
Red onion– I have used green onion as well
Fresh parsley– optional, but add a bit of flavor
Mayonnaise– the base of the creamy dressing
Plain yogurt– either regular yogurt or greek yogurt, just be sure that it is plain and not flavored
Dijon mustard– give the flavor a little kik
Lemon juice– adds a hint of tartness to the dressing
Salt & pepper– to taste
Substitutions & Additions
Apple Cider Vinegar can be used instead of lemon juice for the dressing.
Skip the yogurt and use sour cream instead for an extra thick dressing.
For an extra sweet chicken salad mix in a bit of shredded pineapple.
Have leftover bacon? Crumble it in your salad. You can never go wrong with bacon!
How to make chicken salad with grapes
Combine dressing ingredients: mayo, yogurt, Dijon, lemon juice, salt, and pepper.
Add remaining ingredients and toss to combine.
Cover and refrigerate until serving.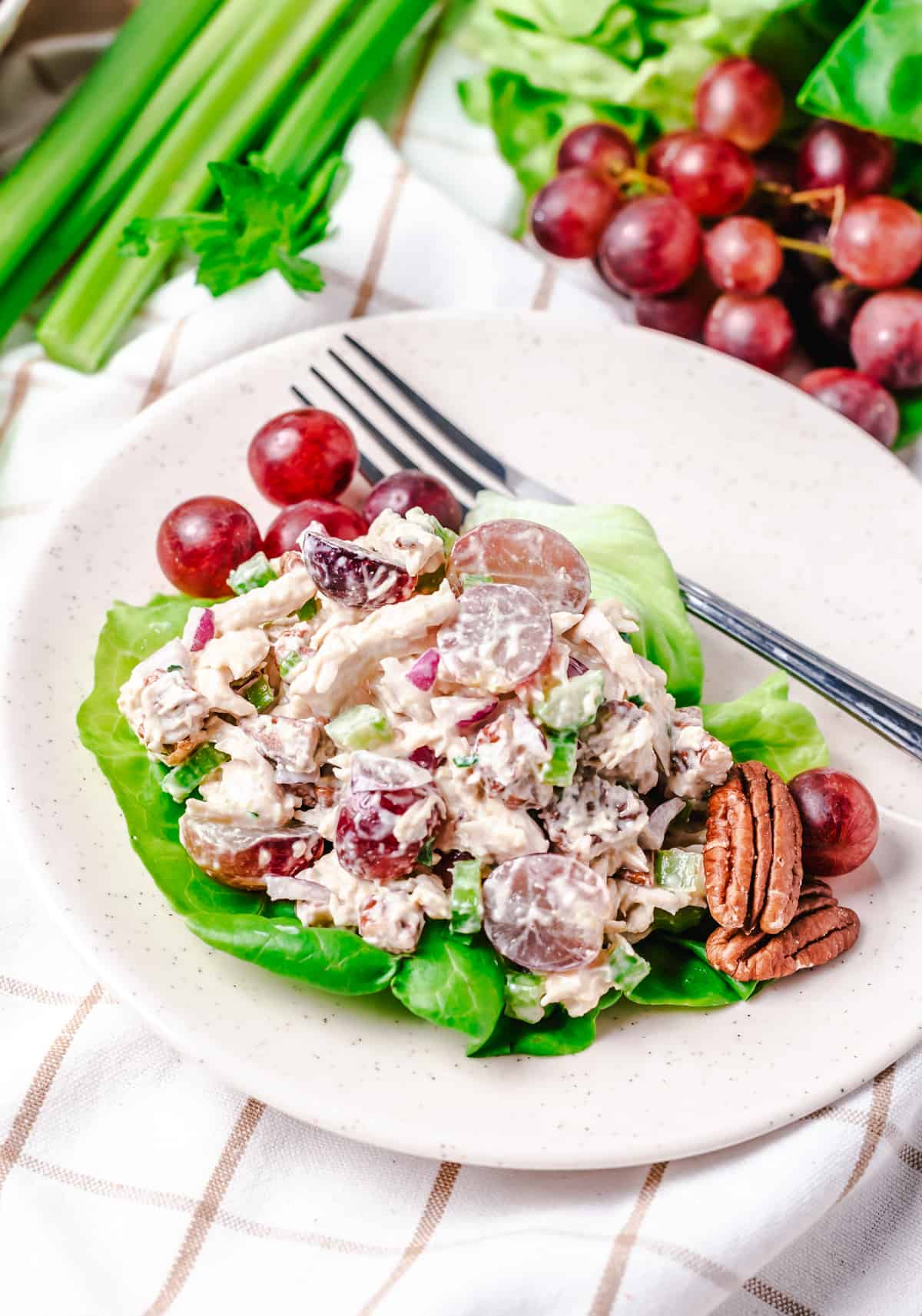 How to serve
This chicken salad can be enjoyed in so many different ways. Go the classic route and serve your chicken salad up on a bun, croissant, or some toast.
Or enjoy it in a lettuce wrap or over a bed of lettuce.
You can even enjoy it on top of crackers. If you haven't tried topping a buttery Ritz cracker with some chicken salad you are missing out, trust me!
Storage
Storge this chicken salad in an airtight container in the refrigerator for up to 3 days.
If you notice that the salad becomes drier after the first day simply stir in a Tablespoon or two of mayo to make it taste just as fresh as it did on day one.
I would not recommend freezing this salad.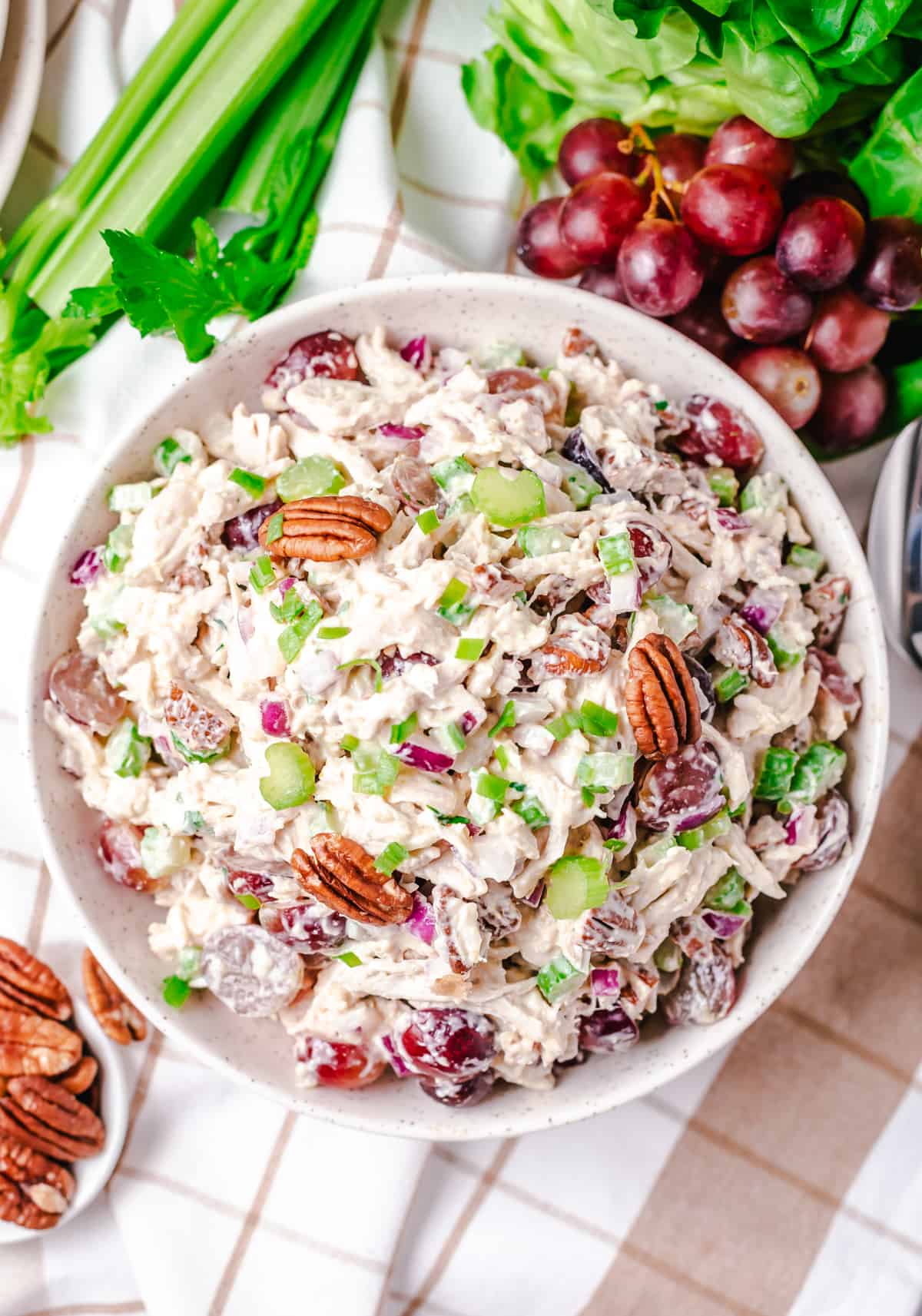 Recipe Tips
Chill your chicken, or at least allow it to cool to room temperature, before making your chicken salad. Do not start with warm chicken.
Allow the chicken salad to chill for at least 1 hour before serving to allow the flavors to incorporate.
Recipe FAQs
What kind of chicken should I use for this recipe?
Plain, cooked and shredded chicken breasts or thighs are perfect for making chicken salad. Rotisserie chicken or leftover chicken are great options as well. Just be sure that the leftover chicken doesn't have sauce or strong seasonings.
How can I make this recipe low carb?
This chicken salad with grapes and pecans is pretty low carb as it is, but to further cut the carbs out you can use fewer grapes or leave them out altogether. Then skip the bun and serve the salad up on a bed of lettuce or in a lettuce wrap.
If I have a nut allergy can I leave out the pecans?
Sure! The pecans really just add a nice crunch, but you'll also get that from the celery, so if you have an allergy these can definitely be left out.
Other Easy Salad Recipes You'll Love
Recipe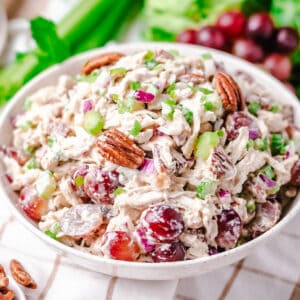 Recipe
Chicken Salad with Grapes and Pecans
Chicken salad with grapes, celery, and pecans, tossed in a creamy dressing. Serve it up on a bun or lettuce wrap as a cool and tasty lunch.
Ingredients
3 ½ cups cooked chicken shredded
2 stalks celery chopped
⅔ cups red grapes halved
½ cup chopped pecans
½ medium red onion diced
⅔ cup mayonnaise
2 Tablespoons plain Greek yogurt or sour cream
2 Tablespoons chopped parsley optional
1 teaspoon dijon mustard
½ teaspoon lemon juice
salt and pepper to taste
Instructions
In a large bowl, stir together mayonnaise, yogurt, dijon mustard, lemon juice, salt, and pepper.

Add remaining ingredients and toss to combine.

Cover and refrigerate until serving. Serve on a bun, bed of lettuce, or crackers.
Notes
Although not required, I recommend refrigerating for at least 1 hour to allow the flavors to incorporate. Refrigerate in an airtight container for up to 3 days. Stir in a bit of extra mayo before serving if the salad dries out.
Nutrition
Serving: 1g | Calories: 424kcal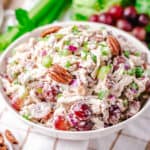 Did You Make This Recipe?
Share it with me on Instagram @crayonsandcravings and follow on Pinterest @crayonsandcravings for even more!