This shop has been compensated by Collective Bias, Inc. and its advertiser. All opinions are mine alone. #ProtectFromPetMess #SeasonalSolutions #CollectiveBias
Do you know someone who is welcoming a new cat into their family? This fun DIY "Welcome Home Kitty" cat gift basket is filled with goodies for kitty and makes the purrfect gift for new cat owners.
As a cat mama to 2 fantastic felines myself, I get pretty excited when a friend of mine is bringing home a new cat or kitten. There is just something about those little paws and that cute little nose that melts my heart!
Having been a cat owner for nearly 20 years, I have a pretty good idea of all the things someone will need when then bring home their first cat. I decided to do some shopping and create a "Welcome Home Kitty" gift basket, filled with goodies that every new cat owner will need. Homemade gift baskets always beat store bought presents, so I knew that making my own cat gift basket was the way to go.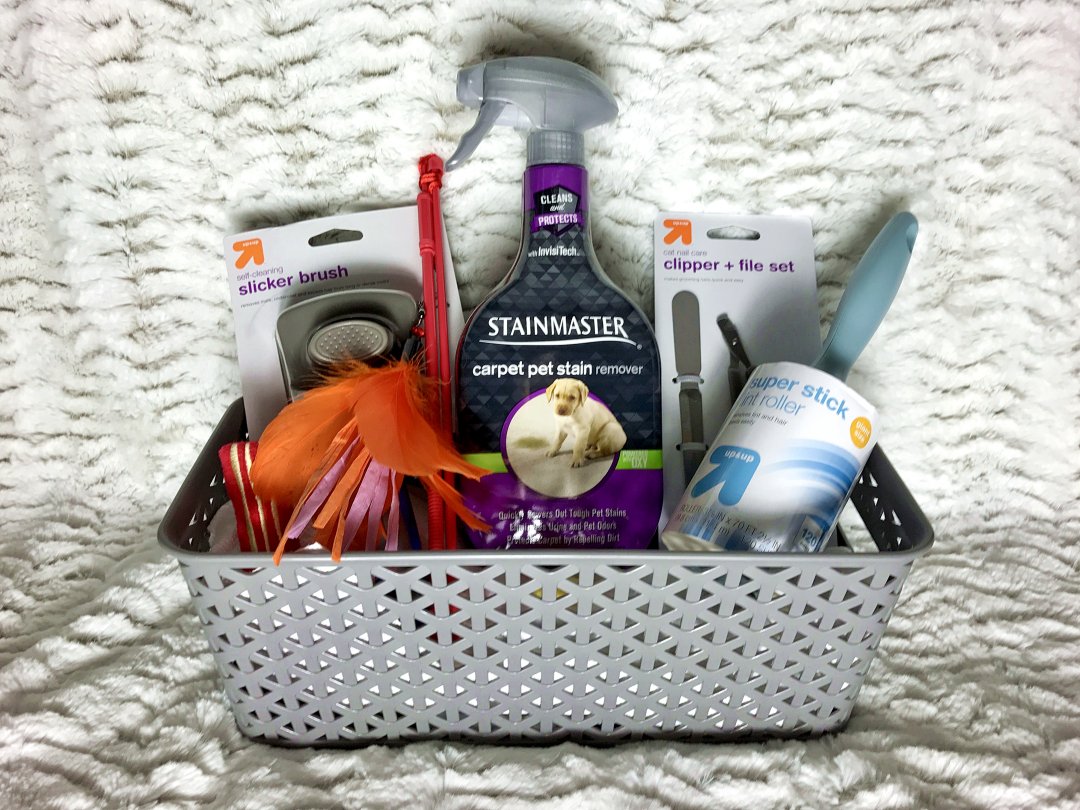 Interested in including STAINMASTER™ Carpet Pet Stain Remover in your "Welcome Home Kitty gift" basket? Simply hover over the product in the photo above to click through to Target.com and purchase it.
What to include in your "Welcome Home Kitty" gift basket
Basket
Start by finding a basket that is strong enough to hold all the cat gear you will be filling it with. When picking out a basket, keep in mind your friend's taste and home decor, as you will want to select a basket that he/she will be likely to reuse in their home. I selected a nice and sturdy grey basket that I think will be great for storing cat toys in my friend's house.
Cat toys
Speaking of cat toys, pick up a few different kinds of cat toys. I chose adorable bacon and egg catnip-infused toys and a feather teaser wand. Or make your own cat toys!
STAINMASTER Carpet Pet Stain Remover
Occasional messes are just the reality of owning a pet. Kittens have accidents when learning to use the litter box, and older cats can have accidents, vomit, and spit up hairballs. Do your new-cat-owning-friend a favor and include a bottle of STAINMASTER Carpet Pet Stain Remover in their gift basket.
STAINMASTER Carpet Pet Stain Remover lifts away even the toughest of pet stains leaving behind no sticky residue. Its ODOR REMOVE™ technology works to eliminate the stubborn odors that come along with pet stains. Plus, STAINMASTER Carpet Pet Stain Remover leaves behind an invisible shield that works to repel dirt and protect the carpet from future stains. How awesome is that?
STAINMASTER Carpet Pet Stain Remover is not only perfect for all sorts of pet stains, but it works just as well for everyday messes such as coffee, grape juice, ketchup, soil, chocolate syrup, jelly, and even motor oil. During the Fall it seems that the outdoors are constantly being tracked indoors, and STAINMASTER Carpet Pet Stain Remover does a fantastic job keeping my carpet clean. That's why a bottle of STAINMASTER Carpet Pet Stain Remover should be in every pet owner's cleaning supplies cabinet.
Lint brush
A lint-brush will definitely make a nice addition to your cat gift basket. Cat hair clings to clothing and a lint brush works will to remove it in a flash.
Nail clippers
Every cat owner needs a pair of nail clippers to keep kitty's nails nice and short.
Grooming brush
Kitty will need a grooming brush to keep their hair nice and silky, as well as minimize hairballs.
Warm and cozy blanket
Now that it is Fall and there is a slight chill in the air, kitty will love snuggling up in a warm and cozy blanket. Materials such as fleece or faux-fur are perfect for warmth.
More items to consider:
Treats
Food / water bowl
Cat-lover mug
Catnip
Collar
Cat care book
Where to shop
Target makes the perfect one-stop-shop for your DIY cat gift basket. All the products that you will need are easy to find at Target.
STAINMASTER Carpet Pet Stain Remover can be found in the cleaning aisle near the other floor cleaners. The basket can be picked up in the home goods section, and all of the cat items in the pet aisle.
Putting it all together
Once you have gathered all of your gifts, simply place them into the basket and your "Welcome Home Kitty" gift basket is ready to gift. Your friend, and their new pet, are sure to love it!