This post was sponsored by Supreme Source® as part of an Ambassador Program for Influence Central and all opinions expressed in my post are my own.
Did you ever notice that even though people are thoughtful about what they eat, they often fail to give that same amount of thought to what is in the food that they are feeding their pets?! I believe that my cats' diets are just as important as my own.
With spring coming up I thought that it was about time for some spring-cleaning — spring-cleaning of my cats' diets that is!
This March and April Supreme Source® is sharing a 10-Day Pet Detox program! I am having Xena and Khaleesi partake in this challenge! Supreme Source is a premium dry cat food packed with healthy ingredients that will help to clean out their systems of any toxins that have built up over the winter. While a cleanse can work wonders for us and our digestive system, it can be wonderful for our cats as well.
Supreme Source Dry Cat Food is grain-free and high in protein, which is the perfect combo for cats. In the wild, cats don't eat wheat and corn – they eat meat and fish. Plus, Supreme Source is free of any artificial colors and artificial flavors as well. Basically, it contains everything that a cat food should, and nothing that it shouldn't!
That is why I am excited to start my cats on the Supreme Source 10-day detox. Improve your pet's mind, body and soul in just ten days. Start your pet's 10-day detox today – visit www.superfoodswitch.com for a free bag of Supreme Source® pet food (up to $9.99 value, while supplies last) and to sign up for daily emails with tips and instructions to a better relationship with your pet.
Once you print out your coupon for a free bag of Supreme Source simply bring it to your local Food Lion, Albertsons, Safeway, Stop & Shop, Giant Eagle, Hannaford, DeMoulas, K-Va-T, Smiths or Frys and pick up a bag.
Supreme Source Dry Cat Food comes in 2 varieties:
Supreme Source Whitefish Meal & Salmon Meal Dry Cat Food
Supreme Source Chicken Meal & Turkey Meal Dry Cat Food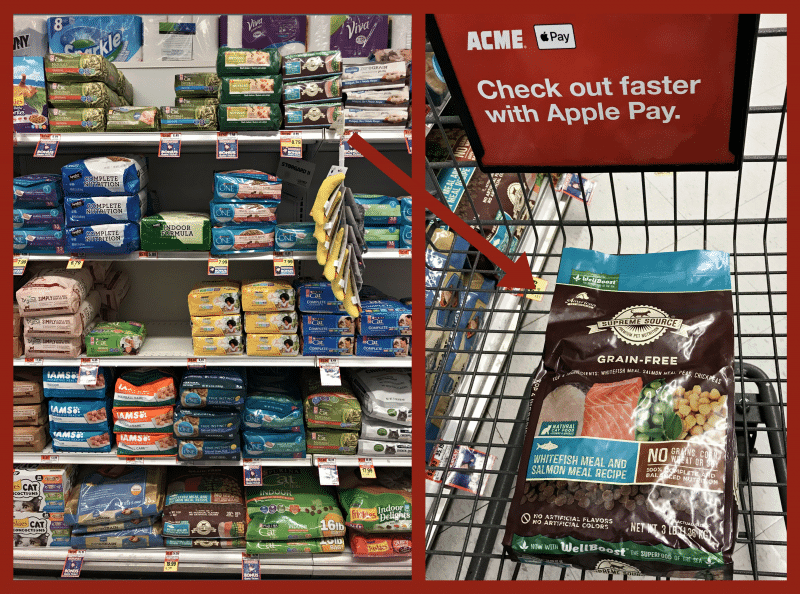 We picked up our bag of Supreme Source Whitefish Meal & Salmon Meal Dry Cat Food at Acme (a division of Albertsons).
When you sign up your cat for a 10-day detox with Supreme Source you will get the information that you need to make the process of changing your cat's food easy and stress-free.
For example, did you know that it is important to not change your cat's food abruptly?! Switching from one cat food to another overnight can cause your cat to refuse the new food or to even become sick. So instead, it is important that you can change your cat's food gradually. No worries though, because Supreme Source will walk you through the process step-by-step.
We are only just at the start of our 10-day detox, but so far so good! Xena and Khaleesi are eating all of their food, so they obviously approve! No signs of upset stomach or anything like that either, since we are being careful to transition them to Supreme Source gradually, as indicated in the detox instructions from Supreme Source.
Can't wait to see how the rest of the 10 days go, and how Xena and Khaleesi are feeling by the end of the detox! I will be sharing another post with an update so be sure to lookout for that. But in the meantime, get your cats started on a 10-day detox with a coupon for a free* bag of Supreme Source!
*Up to $9.99 value. While supplies last.