This post is sponsored by Mattel, but all opinions are my own.
Block play is an important activity for toddlers. Not only are building blocks fun to play with, but block play is also a great way of promoting skills important to early childhood development.
Read on to learn about the benefits of block play, as well as my recommendation for a great first set of building blocks.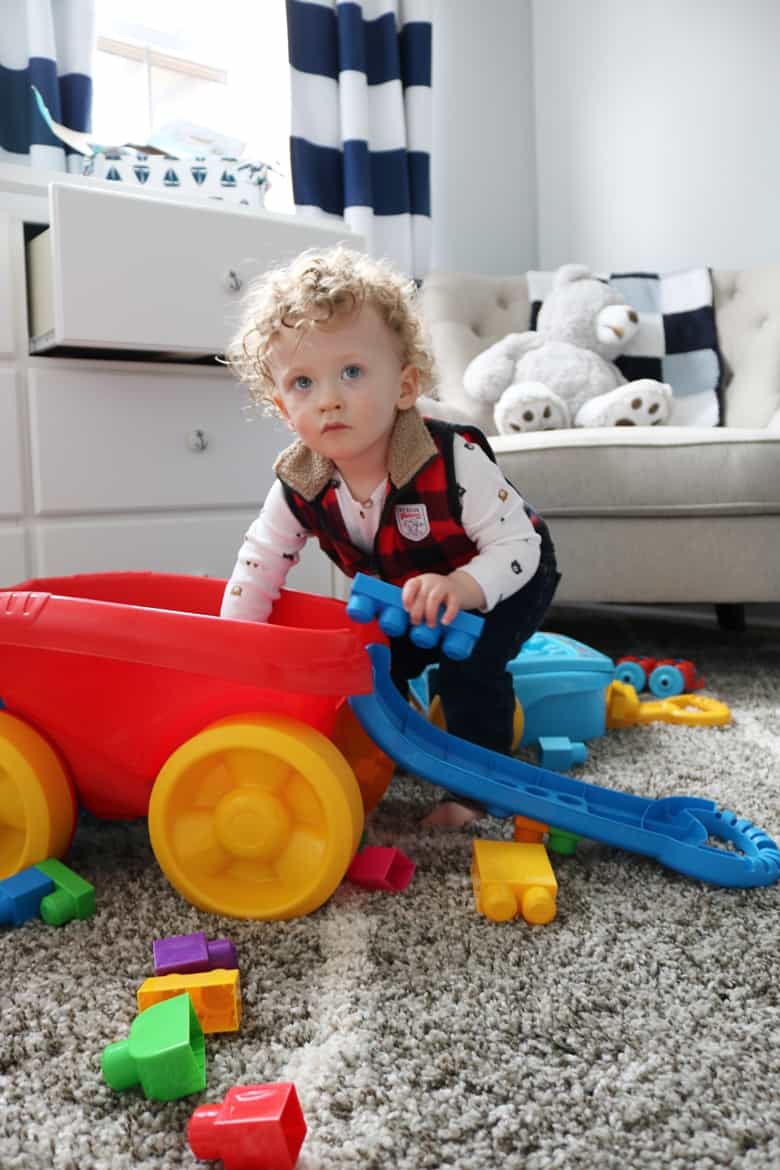 Building blocks are a classic childhood activity.
This week, we introduced our 1-year-old son to his first set of building blocks, and he quickly went to work exploring his new toys.
To be honest, I am very picky when it comes to adding new items to our toddler's toy collection.
But, building blocks are one of the few toys that I can really get behind. Not only do building blocks give an opportunity for fun hands-on play, but they are also a great activity for a toddler's development.
Selecting the Best First Block Set for Toddlers
First things first — it is important to select a set of blocks that are toddler-friendly.
Mattel Mega Bloks, available at Walmart, are proving to be the perfect first block set for our little guy.
Mattel Mega Bloks are made with little hands in mind. Designed for children 1 and up, they are larger than traditional interlocking building blocks. Their larger size is perfect for toddlers, as they have not yet developed the fine motor skills necessary to use smaller interlocking block sets.
Their hollow and lightweight design is perfect for toddlers. They are large enough for him to easily manipulate, while not being too heavy for him. Plus, when he knocks a tower over and blocks fall to his feet, is doesn't hurt because they are very lightweight.
I also love that Mattel Mega Bloks are large enough so that they do not pose a hazard for a toddler, like mine, who still ends up putting everything in his mouth.
The Benefits of Block Play
Aside from just being plain 'ol fun to play with, building blocks are also great for a toddler's development.
Motor Skills
Block play requires grasping and gripping blocks, which helps toddlers develop hand strength. Hand-eye coordination is also improved as toddlers discover how to place blocks on top of one another to build structures.
Creativity & Imagination
Open ended toys such as building blocks are great for allowing a young child to unleash their creativity and use their imagination to build whatever they desire. They can be used in countless ways!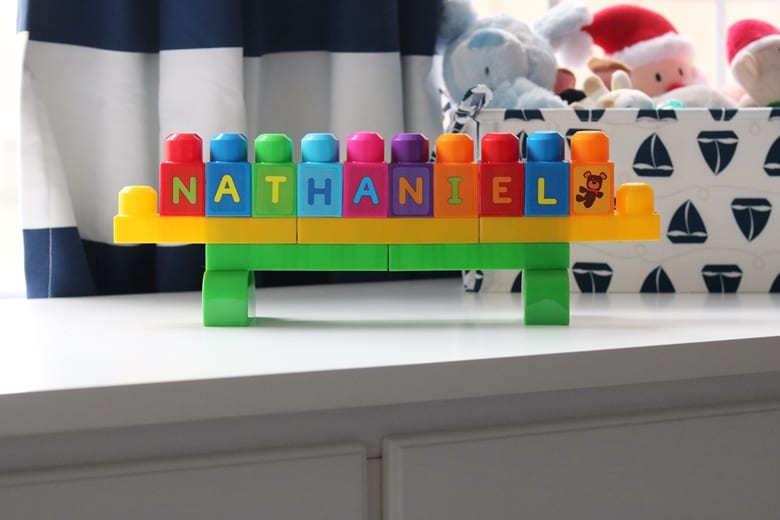 Social Skills & Language
When children play with building blocks together, it works to promote key social skills such as sharing and cooperation.
Just working together with my 1-year-old son to spell his name with blocks or build towers has been terrific. I ask him to give me another block, or point to a block, and he picks it up and hands it to me. We work together to build towers. (Although, he seems to always be the one who gets to knock them down!)
Block play can improve color recognition as well. Children can sort blocks by color, match like colors together to build structures, etc…
If you are using a set of building blocks such as Mega Bloks Sesame Street Let's Build Sesame Street that have ABC's on them, they can help to develop letter recognition as well.
Problem Solving
From figuring out how to interlock the blocks, to figuring out how to keep buildings from falling over, block play is the perfect opportunity for problem solving.
Self-Esteem
Creating something brings a sense of joy and accomplishment that works to build little one's self esteem.
I just love the smile on my son's face after he builds something — I can just see how proud he is!
Mattel Mega Bloks: The Perfect First Set of Blocks for Toddlers
We love our Mattel Mega Bloks. They are brightly colored, fun, and perfect for our 1-year-old son.
We love them so much so, in fact, that we now have 3 sets:
Mega Bloks Sesame Street Let's Build Sesame Street – Featuring ABC's and their favorite characters!
Mega Bloks Building Basics Take-along Builder – Great for families on the go!
Mega Bloks First Builders Block Scooping Wagon – Push to scoop blocks!
I love how all Mega Bloks sets are compatible with one another. Building blocks from any of our 3 Mega Bloks sets can be used with the blocks in the other sets as well.
This is perfect for us, since we don't have to worry about the sets getting "mixed up." When it is clean up time, I don't have to worry about the blocks being put back with the incorrect set, since they all work together.
Speaking of cleaning up, I love how Mega Bloks sets come with build in storage. Each of our sets comes with a place to store the blocks when they aren't in use, making clean up easy peasy.
All of these building block sets are sturdy and made well, so I have no doubt that they will last for years and years play.
Great for Holiday Gifting
So, do your toddler a favor and add Mega Bloks to their holiday wishlist.
Or, better yet, pick up a set of Mega Bloks for the toddler in your life this holiday season. Designed for children ages 1-5, they are a gift that will provide years and years of hands-on fun.
Mega Bloks are available at Walmart, in the toys & collectables aisle.
Pin for Later: