This shop has been compensated by Collective Bias, Inc. and its advertiser. All opinions are mine alone. #ProPlanPossibilities #CollectiveBias
Discover the benefits of feeding your cat a grain-free cat food, as well as the reasons behind a high-protein, grain-free diet.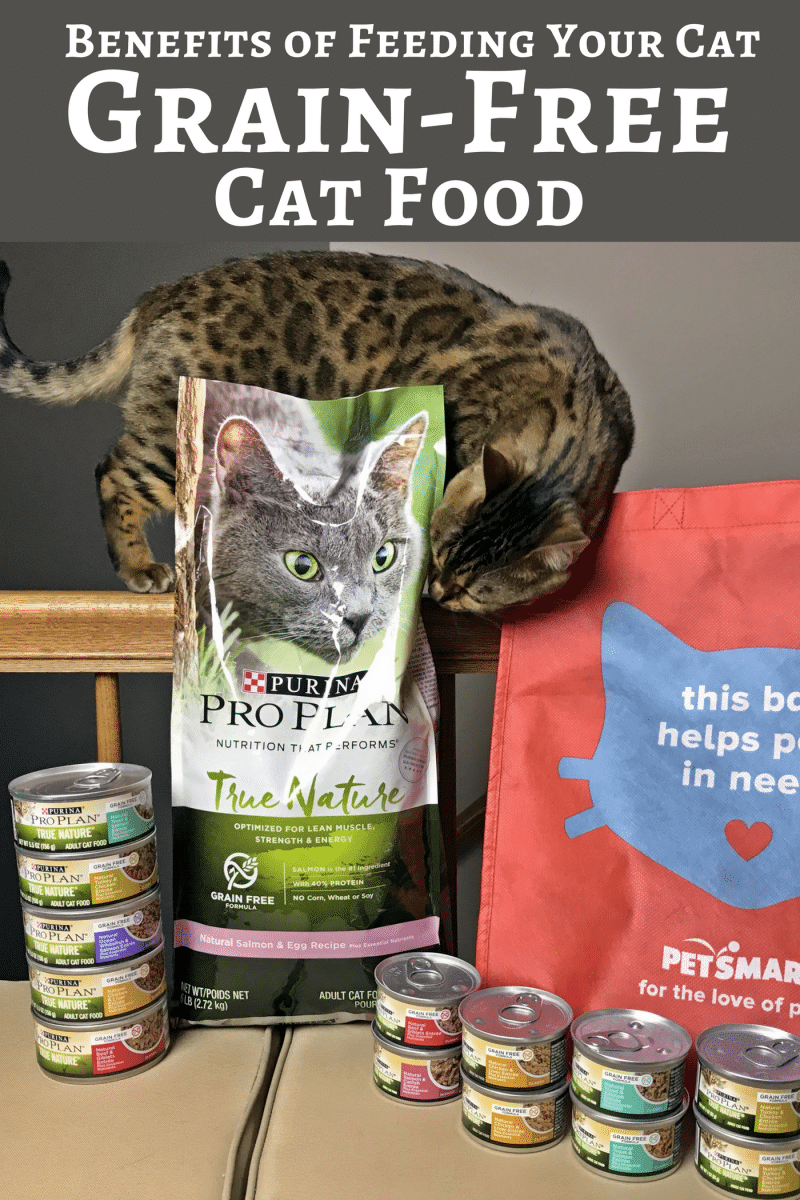 This sweet little beauty is Xena, our 1.5 year old Bengal. Her exotic "leopard spots" come from her ancestry. Bengals are the result of crossbreeding Asian leopard cats with more domestic breeds.
When we welcomed our little ball of energy into our family, we learned about the importance of feeding her a grain-free diet, much like her ancestors had enjoyed in the wild.
To be honest, my husband and I hadn't known that grain-free cat food even existed up until we brought Xena home… even though we had both been cat-owners for over 15 years.
So, we began to research the benefits of feeding cats a grain-free, high protein, diet. We learned that not only is it important for Bengals to follow a grain-free diet, but it is important for other cats as well.
Why feed your cat a grain-free diet?
Basically, a diet with a high portion of grains just isn't natural for cats. Cats are carnivores. In nature, they hunt their dinner. You wouldn't find a wild cat eating grains… you would find them eating protein-rich meat. This helps to give wild cats all the strength and energy that they need to survive. Only a very small portion of a cat's natural diet consists of carbohydrates.
While cats can tolerate some amount of grains, their systems are really not meant for grains. In order to optimize your cat's diet, choosing a natural and grain-free cat food is best.
Sure, your cat can survive on any old cat food you pick up at the store. However, if you want to ensure that your cat not only survives – but thrives – a grain-free, high-protein, diet is the way to go.
Since my husband and I learned the importance of a grain-free diet, we have been careful to only feed our cats high-protein, grain free cat foods.
So, why aren't all cat foods grain-free?
Carbohydrate-rich grains don't have a place in a wild cat's diet, so why put them in cat foods anyway? Why do many cat owners feed their cats a diet high in grains and carbohydrates?
The answer is simple – grains are much less expensive than meat. Therefore, grain-free cat food cost more. If cat owners do not know the importance of a grain-free diet, they will go ahead and grab the cheaper cat food. And no judging here either – this is why I did for 17 years! I didn't know the benefits of a grain-free diet so I fed my cat a less expensive, grain-packed, cat food. Only now that I know the importance of a grain-free diet am I be careful to watch what I purchase.
Of course, all pets are unique. The diet that may work for one cat may not work for another. It is important to find the diet that is right for your pet.
What is the best grain-free cat food?
When you are looking for a grain-free cat food brand for your pet, be sure to look for the "grain-free" designation on the label. Additionally, make sure that the cat food you select is high in protein and isn't packed with grain-free sources of carbohydrates such as potatoes.
If you are looking for a high quality cat food that will give your cat a closer diet to what they would have in the wild, I recommend Purina® Pro Plan® True Nature Grain-Free Cat Food. Purina Pro Plan cat foods are developed by a team of over 400 scientists, with nutrition as their number one goal.
Packed with protein, Purina Pro Plan True Nature Grain-Free Cat Food features fine-tuned nutrition to feed your cat's natural instincts. Their formulas are optimized for lean muscle, strength and energy.
They have both wet food and dry food, in several flavor varieties. Even their dry food formulas have poultry or fish listed as their #1 ingredient!
Instead of feeding your cat meat-flavored grains, feed your cat actual meat with Purina Pro Plan True Nature Grain-Free Cat Food.
Where to shop
When it comes to shopping for our cats, PetSmart is our one-stop-shop. I know that I can always count on PetSmart to have an ample supply of Purina Pro Plan in the cat food aisle, as well as all the other cat supplies that we need. From cat litter to scratching posts, they have it all. I especially love to spoil Xena with toys from their seasonal toy selection that they have out time of year!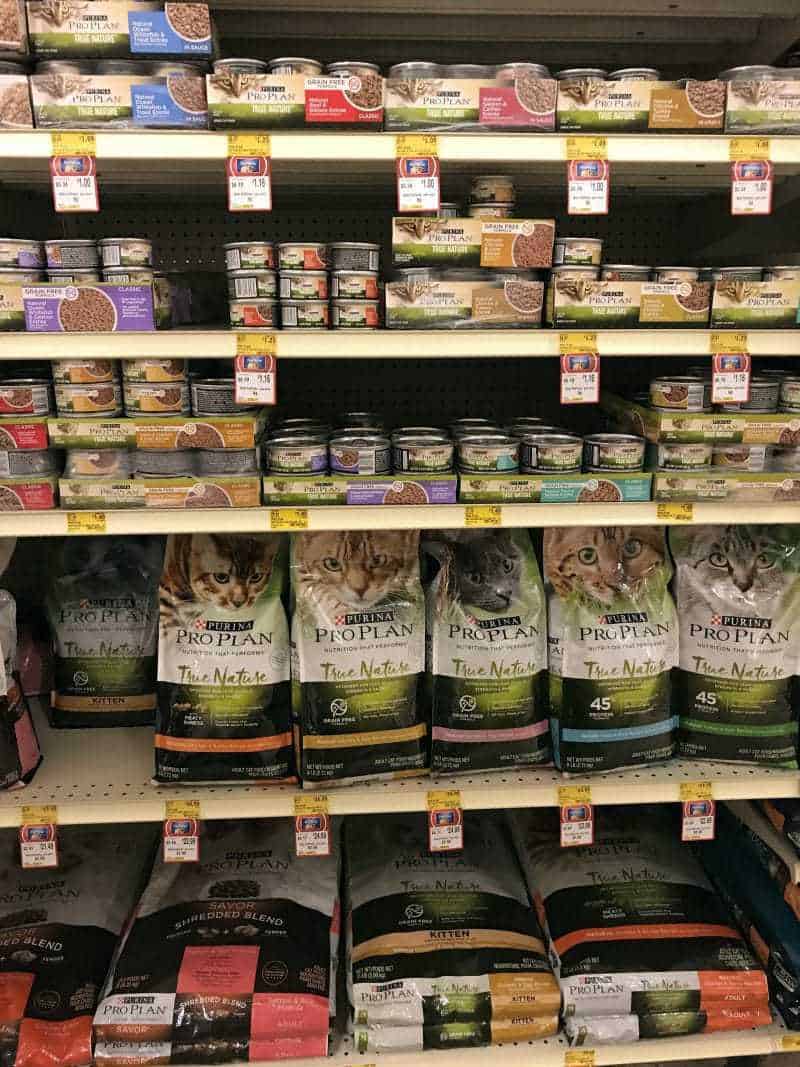 Now is the perfect time to stock up on Purina Pro Plan at PetSmart. Through 12/3/17 you can save $2 on Pro Plan dry cat food (5.5 – 7lb bags).
If you have a dog, there are deals on Pro Plan dog food that you can take advantage of as well:
Pro Plan dry dog food (47lb – 50lb bags) – $49.99
Pro Plan wet dog food 12ct Variety Packs – Save $4
For even more Pro Plan savings at PetSmart, through 11/30/17 Shopkick users can:
Earn 10 kicks by watching an educational video.
Earn 50 kicks for scanning the barcode on select Purina Pro Plan cat food, dog food or treats product.
Earn 200 kicks for purchasing select Purina Pro Plan products and submitting your receipt.
Learn more
For tips on everything from what to feed your pet to how to spoil your pet, check out the Purina Pro Plan Social Hub.
For more information on cat nutrition, check out Purina University. There is a wealth of knowledge over there!