This post was sponsored by Philips Avent as part of an Influencer Activation for Influence Central and all opinions expressed in my post are my own.
Our little guy didn't waste much time before christening us with our first shower of spit up. I say "shower" because he doesn't just spit up a little bit. The spit up doesn't just dribble out of his tiny mouth. It literally pours out like a faucet.
Of course, as first-time parents, we were totally freaked out. Our tiny little guy was producing massive amounts of spit up after every single feeding. Seriously, he wouldn't just spit up once or twice; he would do it again and again and again.
Why is our newborn baby spitting up so much?! This simply cannot be normal!
Since our baby was steadily gaining weight and not showing any signs of discomfort or distress when spitting up, our pediatrician assured us that his spit up was nothing to be alarmed about. He said that spit up is normal, and that most babies outgrow spitting up by the time that they are a year old.
Fast-forward to 7 months. We are basically pros at dealing with spit up by this point! Spoiler alert: our little guy is still spitting up. But, we have learned several ways to help reduce it, as well as control the mess when it does happen.
While it would have been fantastic to know all these tips from the start, it took us months to figure them all out. I hope that by sharing the following tips, it will help new parents that are dealing with spit up.
What causes spit up?
It is important to take a minute to understand what causes spit up, also known as reflux, in infants. Babies often swallow air along with their formula or milk. The muscle that works to keep the contents of the stomach in the stomach isn't yet fully developed in little ones, so when the air that they swallowed comes back up, it can bring some formula or milk along with it.
Is it normal for babies to spit up?
As I mentioned, our pediatrician assured us that our little guy's reflux is normal and is nothing to be worried about. If you have any concerns about your child, you should bring them up with your pediatrician.
Additionally, if your child begins spitting up suddenly, projectile vomits, shows signs of being in pain or distress, is not gaining weight, is not having enough wet diapers, or is spitting up blood or bile, it is very important that you contact your pediatrician right away. These can be signs of a more serious issue.
10 Tips for Parents Dealing with Spit Up
While eliminating spit up all together would be wonderful, it just isn't realistic. Spit up will happen. However, there are several strategies that you can utilize to help reduce the frequency of spit up and be best prepared for it when it does happen.
1. Use the right bottle
Since swallowing air causes spit-up, minimizing the amount of air baby swallows is the number one way to help reduce spit up.
Using a specially designed bottle, such as the Philips Avent Anti-colic bottle with AirFree vent, can really be a game changer when it comes to reducing spit up.
The AirFree vent in this new bottle works to keep the nipple filled with milk, not air. This helps to reduce the amount of air baby swallows, thus reducing the likelihood of spit up.
Plus, reflux isn't the only issue that the Philips Avent Anti-colic bottle can help to improve. The bottle has been shown to reduce colic and gas in babies as well.
The AirFree vent is one solid piece, making it easy to clean as well as easy to assemble.
2. Feed baby in an upright position
Instead of laying baby flat on their back during a feeding, try holding baby in more of an upright position. Let gravity work in your favor to help keep their milk or formula down.
The Philips Avent Anti-colic bottle with AirFree vent is perfect for feeding baby in an upright position. Even when held horizontally, the bottle's nipple stays full of milk, not air.
3. Keep baby upright after feeding
By the same token, try keeping baby upright for 30 minutes after a feeding. This will help keep gravity on your side, and keep the milk or formula in baby's stomach, where it belongs.
4. Feed baby less at each feeding
Now to this is a tip I have heard repeated several times: feed baby half as much, twice as often. So, for example, instead of giving baby 4 ounces every 3 hours, try feeding baby 2 ounces every hour and a half. The logic here is that the less amount of milk in baby's tummy, the quicker it will be digested, and the lower the chances are that it will come back up.
5. Burp baby multiple times during each feeding
Instead of waiting until baby is done with the feeding to burp him or her, try to stop throughout the feeding to burp them. Getting the air out more frequently could lead to less air in their tummy, and less of a chance of spit up.
6. Avoid physical play directly after feedings
Do not bounce baby on your knee, or engage in other physical play, directly after feedings.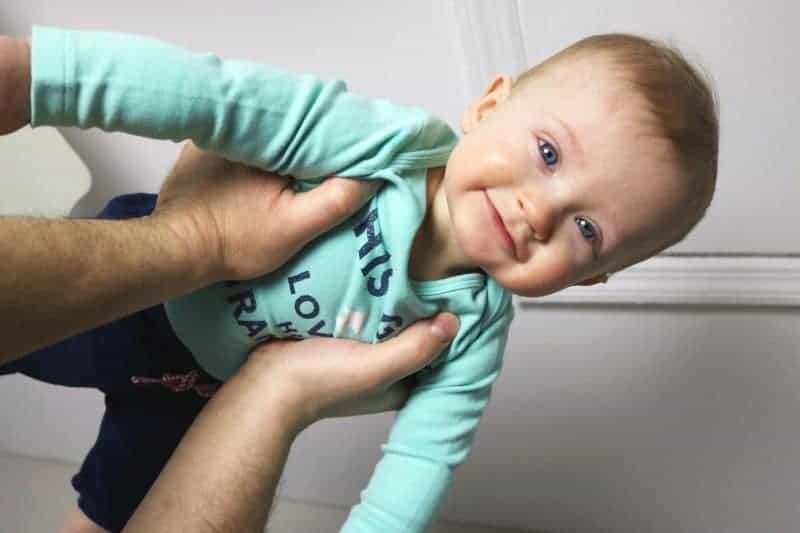 Oh, and take my word for it: avoid playing "airplane" and holding baby up in the air directly over your face as you shout, "Weeeeeeeee! Weeeeeeee!" just after a feeding. Don't ask me how I know!
7. Build baby a large wardrobe
Since some amount of spit up is inevitable, no matter what bottle you use and how well you burp your baby, it is best to be prepared. As good as having a minimal wardrobe for your little one might sound; you are going to want to have several extra sets of clothing.
I am not suggesting that you go out and spend a fortune on baby clothes, but be sure to have a few more pieces of each clothing item than you think you will need. With the frequent clothing changes that come along with spit up, you will want to be prepared.
8. Invest in several cloth diapers
I bet that you are thinking, "Cloth diapers?! I thought that this post was about spit-up, not diapers!" Don't worry, it is. Let me explain.
When you have a baby that spits up a lot, you will come to realize that the burp clothes that are on the market are a joke. They are narrow as can be and do nothing to protect you from spit up. I mean sure, they protect that one narrow strip of fabric on your shoulder, but they leave the rest of you soaked.
Instead, pick up some very affordable plain white cloth diapers. Cloth diapers are thick and cover a much wider area than burp cloths, which means less mess. They are also great for using to wipe baby's face.
9. Stock up on bibs
This tip was a complete game changer for us. It took us from changing our little guy's outfit 10 times a day to changing his bib 10 times a day. Changing a bib is much easier than changing an entire outfit, so I would consider that a major win.
Drool bibs are our favorite, as they are made with soft, absorbent fabric, and come in fun and fashionable patterns. We even found some 360 degrees bibs, which we stocked up on for when we put him in a special outfit that we really don't want any spit up on!
10. Pack that diaper bag well
Make sure that your diaper bag is packed with as much extra clothing, bibs, and cloth diapers (see #8) as it can fit.
This is one of those things that I had to learn the hard way after finding myself out of clean clothes for baby while I was out for the day. Pack more than you think you will need, just to be safe. Also, it can't hurt to pack an extra top for yourself as well since you never know when baby will get you!
I hope that you find these tips helpful in planning for and reducing the frequency your baby spit ups. Also, for more information on the Philips Avent Anti-colic bottle with AirFree vent, check out the Philips Avent website.
Please note that the information in this post is for informational purposes only and should not be used as a substitute for medical advice. See your pediatrician if you have any concern about your child, as they are the experts.